Abstract
Lightly touching a stable reference is associated with sway reduction during standing. Unexpected displacement of the touch reference results in a false-positive balance reaction in some participants, but only with the first such disturbance. This study investigated whether light touch reduces standing sway (1) after the touch reference becomes unreliable, and (2) when participants are aware the touch reference is unreliable. 40 healthy adults, 20 that were naïve to the possibility of a touch reference displacement and 20 that were made aware prior to testing, were asked to stand while lightly touching (< 1 N) a reference with normal vision or vision occluded. Motion of the center of pressure was used to estimate standing sway before and after a single displacement, and then multiple displacements, of a touch reference. Sway area was always reduced while touching the reference, compared to standing with vision occluded without touch, even when the reference was known to be unreliable. In addition, sway area was further reduced following a single touch displacement in Naïve participants when vision was occluded. These results suggest that tactile cues from the finger interact with postural control in a complex manner, depending upon the expectation and experience of the characteristics of the touched object. Taken together, light touch can (1) be used as a spatial reference that assists in sway stabilization, (2) be a source of movement variability that impacts the performance of a skilled task, or (3) introduce noise in the sensory channels impacting fidelity.
This is a preview of subscription content, log in to check access.
Access options
Buy single article
Instant access to the full article PDF.
US$ 39.95
Price includes VAT for USA
Subscribe to journal
Immediate online access to all issues from 2019. Subscription will auto renew annually.
US$ 199
This is the net price. Taxes to be calculated in checkout.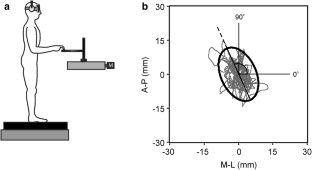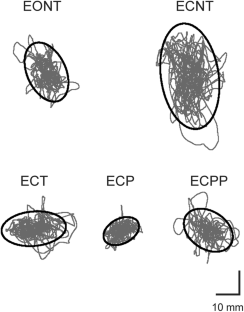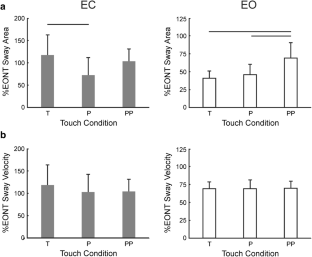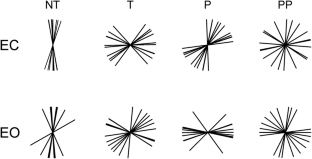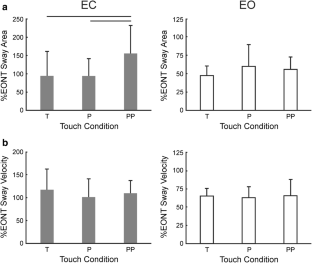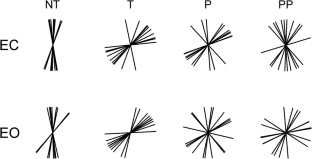 References
Assländer L, Smith CP, Reynolds RF (2018) Sensory integration of a light touch reference in human standing balance. PLoS One 13(6):e0197316. https://doi.org/10.1371/journal.pone.0197316

Barela AM, Barela JA, Rinaldi NM, de Toledo DR (2009) Influence of imposed optic flow characteristics and intention on postural responses. Mot Control 13:119–129

Barela JA, Weigelt M, Polastri PF, Godoi D, Aguiar SA, Jeka JJ (2014) Explicit and implicit knowledge of environment states induce adaptation in postural control. Neurosci Lett 566:6–10

Bove M, Bonzano L, Trompetto C, Abbruzzese G, Schieppati M (2006) The postural disorientation induced by neck muscle vibration subsides on lightly touching a stationary surface or aiming at it. Neuroscience 143(4):1095–1103

Caudron S, Boy F, Forestier N, Guerraz M (2008) Influence of expectation on postural disturbance evoked by proprioceptive stimulation. Exp Brain Res 184(1):53–59

Clapp S, Wing AM (1999) Light touch contribution to balance in normal bipedal stance. Exp Brain Res 125(4):521–524

Dickstein R, Shupert CL, Horak FB (2001) Fingertip touch improves postural stability in patients with peripheral neuropathy. Gait Posture 14(3):238–247

Honeine JL, Crisafulli O, Sozzi S, Schieppati M (2015) Processing time of addition or withdrawal of single or combined balance-stabilizing haptic and visual information. J Neurophysiol 114(6):3097–3110

Horak FB (2006) Postural orientation and equilibrium: what do we need to know about neural control of balance to prevent falls? Age Ageing 35(Suppl 2):ii7–ii11

Huang CY, Cherng RJ, Hwang IS (2009) Reciprocal influences on performances of a postural–suprapostural task by manipulating the level of task-load. J Electromyogr Kinesiol 20(3):413–419

Jeka JJ, Lackner JR (1994) Fingertip contact influences human postural control. Exp Brain Res 100:495–502

Jeka JJ, Lackner JR (1995) The role of haptic cues from rough and slippery surfaces in human postural control. Exp Brain Res 103:267–276

Jeka JJ, Easton RD, Bentzen BL, Lackner JR (1996) Haptic cues for orientation and postural control in sighted and blind individuals. Percept Psychophys 58(3):409–423

Jeka JJ, Schöner G, Dijkstra T, Ribeiro P, Lackner JR (1997) Coupling of fingertip somatosensory information to head and body sway. Exp Brain Res 113:475–483

Jeka JJ, Oie K, Schöner G, Dijkstra T, Henson E (1998) Position and velocity coupling of postural sway to somatosensory drive. J Neurophysiol 79:1661–1674

Jeka JJ, Oie KS, Kiemel T (2008) Asymmetric adaptation with functional advantage in human sensorimotor control. Exp Brain Res 191:453–463

Johnson KJ, Zaback M, Tokuno CD, Carpenter MG, Adkin AL (2017) Exploring the relationship between threat-related changes in anxiety, attention focus, and postural control. Psychol Res. https://doi.org/10.1007/s00426-017-0940-0

Kouzaki M, Masani K (2008) Reduced postural sway during quiet standing by light touch is due to finger tactile feedback but not mechanical support. Exp Brain Res 188:153–158

Maki BE, Whitelaw RS (1993) Influence of expectation and arousal on center-of-pressure responses to transient postural perturbations. J Vest Res 3:25–39

McChesney JW, Sveistrup H, Woollacott MH (1996) Influence of auditory precuing on automatic postural responses. Exp Brain Res 108(2):315–320

Mergner T (2010) A neurological view on reactive human stance control. Annu Rev Control 34:177–198

Misiaszek JE, Vander Meulen J (2017) Balance reactions to light touch displacements when standing on foam. Neurosci Lett 639:13–17

Misiaszek JE, Forero J, Hiob E, Urbanczyk T (2016) Automatic postural responses following rapid displacement of a light touch contact during standing. Neuroscience 316:1–12

Morioka S, Hiyamizu M, Yagi F (2005) The effects of an attentional demand tasks on standing posture control. J Physiol Anthropol Appl Hum Sci 24(3):215–219

Oliveira LF, Simpson DM, Nadal J (1996) Calculation of area of stabilometric signals using principal component analysis. Physiol Meas 17:305–312

Peterka RJ (2002) Sensorimotor integration in human postural control. J Neurophysiol 88:1097–1118

Prochazka A (1989) Sensorimotor gain control: a basic strategy of motor systems? Prog Neurobiol 33:281–307

Riley MA, Stoffregen TA, Grocki MJ, Turvey MT (1999) Postural stabilization for the control of touching. Hum Mov Sci 18:795–817

Schieppati M, Nardone A (1995) Time course of 'set'-related changes in muscle responses to stance perturbation in humans. J Physiol 487:787–796

Shaw JA, Stefanyk LE, Frank JS, Jog MS, Adkin AL (2012) Effects of age and pathology on stance modifications in response to increased postural threat. Gait Posture 35:658–661

Sozzi S, Monti A, De Nunzio AM, Do MC, Schieppati M (2011) Sensori-motor integration during stance: time adaptation of control mechanisms on adding or removing vision. Hum Mov Sci 30(2):172–189

Sozzi S, Do MC, Monti A, Schieppati M (2012) Sensorimotor integration during stance: processing time of active or passive addition or withdrawal of visual or haptic information. Neuroscience 212:59–76

Teixeira LA, Coutinho JFS, Coelho DB (2018) Regulation of dynamic postural control to attend manual steadiness constraints. J Neurophysiol 120:693–702

Tjernström F, Fransson PA, Patel M, Magnusson M (2010) Postural control and adaptation are influenced by preceding postural challenges. Exp Brain Res 202(3):613–621

Wing AM, Johannsen L, Endo S (2011) Light touch for balance: influence of a time-varying external driving signal. Philos Trans R Soc Lond B Biol Sci 366(1581):3133–3144

Wulf G, Mercer J, McNevin N, Guadagnoli MA (2004) Reciprocal influences of attentional focus on postural and suprapostural task performance. J Mot Behav 36:189–199
Acknowledgements
This work was supported by a grant from the Natural Sciences and Engineering Research Council (NSERC) Canada (RGPIN-2017-04175 to JEM) and NSERC studentships to JVM and SC.
Ethics declarations
Conflict of interest
The authors declare that they have no conflict of interest.
About this article
Cite this article
Bryanton, M.A., Chodan, S.D.C., Vander Meulen, J. et al. The effect of light touch on standing sway when the stability of the external touch reference becomes unreliable. Exp Brain Res 237, 663–672 (2019). https://doi.org/10.1007/s00221-018-5455-4
Received:

Accepted:

Published:

Issue Date:
Keywords
Posture

Touch

Standing

Human

Sway