Abstract
Our ability to estimate distances, be it verbally or by locomotion, is exquisite at close range (action space). At distances above 100 m (vista space), verbal estimates continue to be quite accurate, whereas locomotor estimates have been found to be grossly underestimated. Until now, however, the latter have been performed on a treadmill, which might not translate to real-world walking. We investigated if the motor underestimation found on the treadmill holds up in a natural environment. Observers viewed pictures of objects at distances between 10 and 245 m and were asked to reproduce these distances in a blindfolded walking task (using passive movement or an active production method). Active and passive locomotor judgments underestimated far distances above 100 m. We conclude that underestimation of large distances does not depend on the medium (treadmill vs. real-world) but rather on the sensory modality and effort involved in the task.
Access options
Buy single article
Instant access to the full article PDF.
USD 39.95
Price excludes VAT (USA)
Tax calculation will be finalised during checkout.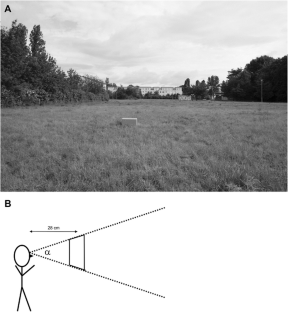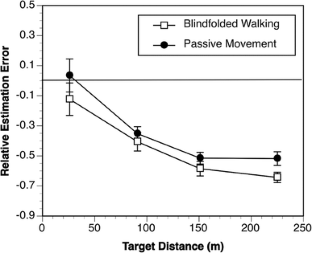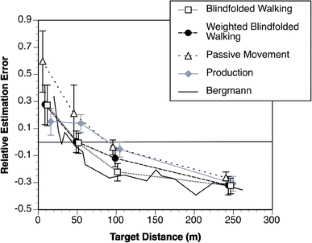 References
Andre J, Rogers S (2006) Using verbal and blind-walking distance estimates to investigate the two visual systems hypothesis. Perception Psychophys 68(3):353–361

Bach M (1996) The Freiburg visual acuity test—automatic measurement of visual acuity. Optom Vis Sci 73(1):49–53

Bergmann J, Krauß E, Münch A, Jungmann R, Oberfeld D, Hecht H (2011) Locomotor and verbal distance judgments in action and vista space. Exp Brain Res 210(1):13–23

Cohen J (1988) Statistical power analysis for the behavioral sciences, 2nd edn. L. Erlbaum Associates, Hillsdale

Daum SO, Hecht H (2009) Distance estimation in vista space. Atten Percept Psychophys 71(5):1127–1137

Gibson EJ, Bergman R (1954) The effect of training on absolute estimation of distance over the ground. J Exp Psychol 48(6):473

Gibson EJ, Bergman R, Purdy J (1955) The effect of prior training with a scale of distance on absolute and relative judgments of distance over ground. J Exp Psychol 50(2):97

Grüsser O (1983) Multimodal structure of the extra personal space. In: Hein A, Jeannerod J (eds) Spatially oriented behavior. Springer, New York, pp 327–352

He ZJ, Wu B, Ooi TL, Yarbrough G, Wu J (2004) Judging egocentric distance on the ground: Occlusion and surface integration. Perception 33(7):789–806

Hochberg Y (1988) A sharper Bonferroni procedure for multiple tests of significance. Biometrika 75(4):800–802

Iosa M, Fusco A, Morone G, Paolucci S (2012) Walking there: environmental influence on walking-distance estimation. Behav Brain Res 226(1):124–132

Lappe M, Jenkin M, Harris LR (2007) Travel distance estimation from visual motion by leaky path integration. Exp Brain Res 180(1):35–48

Lappin JS, Shelton AL, Rieser JJ (2006) Environmental context influences visually perceived distance. Percep Psychophys 68(4):571–581

Loomis JM, Knapp JM (2003) Visual perception of egocentric distance in real and virtual environments. Virtual Adapt Environ 11:21–46

Loomis JM, Da Silva JA, Fujita N, Fukusima SS (1992) Visual space perception and visually directed action. J Exp Psychol Hum Percept Perform 18(4):906

Meng JC, Sedgwick HA (2002) Distance perception across spatial discontinuities. Percep Psychophys 64(1):1–14

Philbeck JW, Loomis JM (1997) Comparison of two indicators of perceived egocentric distance under full-cue and reduced-cue conditions. J Exp Psychol Hum Percept Perform 23(1):72

Proffitt DR, Stefanucci J, Banton T, Epstein W (2003) The role of effort in perceiving distance. Psychol Sci 14(2):106–112

Rieser JJ, Ashmead DH, Talor CR, Youngquist GA (1990) Visual perception and the guidance of locomotion without vision to previously seen targets. Perception 19(5):675–689

Sadalla EK, Magel SG (1980) The perception of traversed distance. Environ Behav 12(1):65–79

Sinai MJ, Ooi TL, He ZJ (1998) Terrain influences the accurate judgement of distance. Nature 395(6701):497–500

Trinkler I, Jarchow T (2000) Non visual reproduction of long distances. In: Bülthoff H, Fahle M, Gegenfurtner KR, Mallot HA (eds) Beiträge zur 3. Tübinger Wahrnehmungskonferenz. Knirsch-Verlag, Kirchentellinsfurt, p 140

Witt JK, Proffitt DR, Epstein W (2004) Perceiving distance: a role of effort and intent. Perception 33(5):577–590
Acknowledgements
We thank Agnes Münch for her support. CvC was supported by Deutsche Forschungsgesellschaft (German Research Foundation), grant "Innenraumwahrnehmung" [Grant numbers HE 2122/10-2 (Heiko Hecht) and OB 346/5-2 (Daniel Oberfeld)].
About this article
Cite this article
Hecht, H., Ramdohr, M. & von Castell, C. Underestimation of large distances in active and passive locomotion. Exp Brain Res 236, 1603–1609 (2018). https://doi.org/10.1007/s00221-018-5245-z
Received:

Accepted:

Published:

Issue Date:

DOI: https://doi.org/10.1007/s00221-018-5245-z
Keywords