Abstract
We examined the characteristics of spontaneous movements at 9–20 weeks postterm age in very low birth-weight infants who later developed autism spectrum disorder (ASD). We analyzed video recordings of spontaneous movements of 39 children who had no clinical issues [typically developing (TD) group], 21 children who showed developmental delay, and 14 children who were diagnosed with ASD (ASD group) at 6 years of age. Head position in each video frame was classified by visual inspection. The percentage of midline head position (PMHP) and number of changes in head position were calculated. Spontaneous limb movements were quantified using six indices. The values of PMHP were significantly lower in the ASD group than in the TD group. The lower PMHP during early infancy is associated with later development of ASD. Poorer performance in maintaining midline position of the head at this period may distinguish infants who later develop ASD from those who show TD.
Access options
Buy single article
Instant access to the full article PDF.
US$ 39.95
Tax calculation will be finalised during checkout.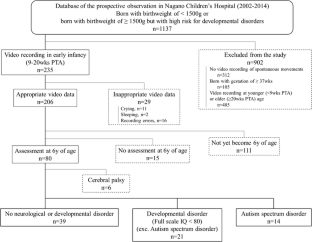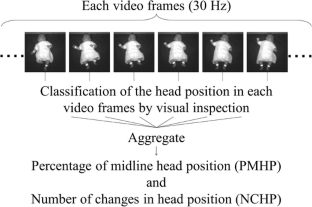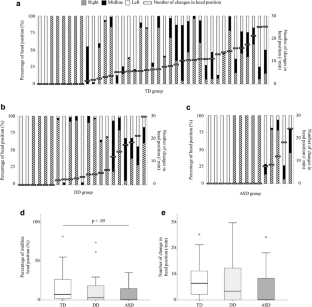 References
Adde L, Helbostad JL, Jensenius AR, Taraldsen G, Grunewaldt KH, Støen R (2010) Early prediction of cerebral palsy by computer-based video analysis of general movements: a feasibility study. Dev Med Child Neurol 52:773–778

Adrien JL, Lenoir P, Martineau J, Perrot A, Hameury L, Larmande C, Sauvage D (1993) Blind ratings of early symptoms of autism based upon family home movies. J Am Acad Child Adolesc Psychiatry 32:617–626

Baranek GT (1999) Autism during infancy: a retrospective video analysis of sensory-motor and social behaviors at 9–12 months of age. J Autism Dev Disord 29:213–224

Barbaro J, Dissanayake C (2009) Autism spectrum disorders in infancy and toddlerhood: a review of the evidence on early signs, early identification tools, and early diagnosis. J Dev Behav Pediatr 30:447–459

Bly L (1994) Motor skills acquisition in the first year: an illustrated guide to normal development. Therapy Skill Builders, Texas

Brisson J, Warreyn P, Serres J, Foussier S, Adrien-Louis J (2012) Motor anticipation failure in infants with autism: a retrospective analysis of feeding situations. Autism 16:420–429

Bryson SE, Zwaigenbaum L, Brian J, Roberts W, Szatmari P, Rombough V, McDermott C (2007) A prospective case series of high-risk infants who developed autism. J Autism Dev Disord 37:12–24

Dawson G, Rogers S, Munson J, Smith M, Winter J, Greenson J, Donaldson A, Varley J (2010) Randomized, controlled trial of an intervention for toddlers with autism: the Early Start Denver Model. Pediatrics 125:e17-23

Einspieler C, Prechtl HFR, Bos AF, Ferrari F, Cioni G (2004) Prechtl's method on the qualitative assessment of general movements in preterm, term and young infant. Mac Keith, London

Einspieler C, Sigafoos J, Bartl-Pokorny KD, Landa R, Marschik PB, Bölted S (2014) Highlighting the first 5 months of life: general movements in infants later diagnosed with autism spectrum disorder or Rett syndrome. Res Autism Spect Dis 8:286–291

Esposito G, Venuti P, Maestro S, Muratori F (2009) An exploration of symmetry in early autism spectrum disorders: analysis of lying. Brain Dev 31:131–138

Flanagan JE, Landa R, Bhat A, Bauman M (2012) Head lag in infants at risk for autism: a preliminary study. Am J Occup Ther 66:577–585

Glass HC, Costarino AT, Stayer SA, Brett CM, Cladis F, Davis PJ (2015) Outcomes for extremely premature infants. Anesth Analg 120:1337–1351

Heathcock JC, Tanner K, Robson D, Young R, Lane AE (2015) Retrospective analysis of motor development in infants at high and low risk for autism spectrum disorder. Am J Occup Ther 69:6905185070. https://doi.org/10.5014/ajot.2015.017525

Isayama T, Lee SK, Mori R, Kusuda S, Fujimura M, Ye XY, Shah PS (2012) Comparison of mortality and morbidity of very low birth weight infants between Canada and Japan. Pediatrics 130:e957-965

Johnson S, Hollis C, Kochhar P, Hennessy E, Wolke D, Marlow N (2010) Autism spectrum disorders in extremely preterm children. J Pediatr 156:525–531

Jones W, Klin A (2013) Attention to eyes is present but in decline in 2–6-month-old infants later diagnosed with autism. Nature 504:427–431

Jones MW, Morgan E, Shelton JE, Thorogood C (2007) Cerebral palsy: introduction and diagnosis (part I). J Pediatr Health Care 21:146–152

Kanemaru N, Watanabe H, Kihara H, Nakano H, Takaya R, Nakamura T, Nakano J, Taga G, Konishi Y (2013) Specific characteristics of spontaneous movements in preterm infants at term age are associated with developmental delays at age 3 years. Dev Med Child Neurol 55:713–721

Kanemaru N, Watanabe H, Kihara H, Nakano H, Nakamura T, Nakano J, Taga G, Konishi Y (2014) Jerky spontaneous movements at term age in preterm infants who later developed cerebral palsy. Early Hum Dev 90:387–392

Karmel BZ, Gardner JM, Meade LS, Cohen IL, London E, Flory MJ, Lennon EM, Miroshnichenko I, Rabinowitz S, Parab S, Barone A, Harin A (2010) Early medical and behavioral characteristics of NICU infants later classified with ASD. Pediatrics 126:457–467

Kihara H, Nakamura T (2015) Early standard development assessment characteristics in very low birth weight infants later classified with autism spectrum disorder. Early Hum Dev 91:357–359

Kusuda S, Fujimura M, Uchiyama A, Totsu S, Matsunami K (2012) Trends in morbidity and mortality among very-low-birth-weight infants from 2003 to 2008 in Japan. Pediatr Res 72:531–538

Landa R, Garrett-Mayer (2006) Development in infants with autism spectrum disorders: a prospective study. J Child Psychol Psychiatry 47:629–638

Landa RJ, Holman KC, Garrett-Mayer E (2007) Social and communication development in toddlers with early and later diagnosis of autism spectrum disorders. Arch Gen Psychiatry 64:853–864

Landa RJ, Holman KC, O'Neill AH, Stuart EA (2011) Intervention targeting development of socially synchronous engagement in toddlers with autism spectrum disorder: a randomized controlled trial. J Child Psychol Psychiatry 52:13–21

Ohgi S, Takahashi T, Nugent LK, Arisawa K, Akiyama T (2003) Neonatal behavioral characteristics and later behavioral problems. Clinl Pediatr 42:679–686

Osterling J, Dawson G (1994) Early recognition of children with autism: a study of first birthday home videotapes. J Autism Dec Disord 24:247–258

Philippi H, Karch D, Kang KS, Wochner K, Pietz J, Dickhaus H, Hadders-Algra M (2014) Computer-based analysis of general movements reveals stereotypies predicting cerebral palsy. Dev Med Child Neurol 56:960–967

Prechtl HFR, Einspieler C, Cioni G, Bos AF, Ferrari F, Sontheimer D (1997) An early marker for neurological deficits after perinatal brain lesions. Lancet 349:1361–1363

Rahmati H, Aamo OM, Stavdahl Ø, Dragon R, Adde L (2014) Video-based early cerebral palsy prediction using motion segmentation. Conf Proc IEEE Eng Med Biol Soc 2014:3779–3783

Russell G, Rodgers LR, Ford T (2013) The strengths and difficulties questionnaire as a predictor of parent-reported diagnosis of autism spectrum disorder and attention deficit hyperactivity disorder. PLoS One 8:e80247. https://doi.org/10.1371/journal.pone.0080247

Ryan TA (1960) Significance tests for multiple comparison of proportions, variances, and other statistics. Psychol Bull 57:318–328

Schendel D, Bhasin TK (2008) Birth weight and gestational age characteristics of children with autism, including a comparison with other developmental disabilities. Pediatrics 121:1155–1164

Teitelbaum P, Teitelbaum O, Nye J, Fryman J, Maurer RG (1998) Movement analysis in infancy may be useful for early diagnosis of autism. Proc Natl Acad Sci USA 95:13982–13987

Zappella M, Einspieler C, Bartl-Pokorny KD, Krieber M, Coleman M, Bölte S, Marschik PB (2015) What do home videos tell us about early motor and socio-communicative behaviours in children with autistic features during the second year of life—an exploratory study. Early Hum Dev 91:569–575
Acknowledgements
The work reported in this paper was supported by a MEXT Grant-in-Aid for Scientific Research (no. 24119002 to G. T. and no. 16K16620 to H. G.).
Electronic supplementary material
Below is the link to the electronic supplementary material.
About this article
Cite this article
Gima, H., Kihara, H., Watanabe, H. et al. Early motor signs of autism spectrum disorder in spontaneous position and movement of the head. Exp Brain Res 236, 1139–1148 (2018). https://doi.org/10.1007/s00221-018-5202-x
Received:

Accepted:

Published:

Issue Date:
Keywords
Very low birth-weight infants

Autism spectrum disorder

Early motor sign

Spontaneous movements

Head position