Abstract
It has long been suggested that increasing attentional demands can alter smooth pursuit eye movements, but the precise nature of the changes generated is not clear. Our goal was to examine smooth pursuit with a task that enhanced attention to the target and that increased demands on working memory, without distracting from the target. 15 subjects tracked a target moving around a predictable circular trajectory at a constant tangential velocity. An n-back task with two levels of additional working memory load was integrated into the pursuit target to increase cognitive demands. In the single-task conditions, subjects either performed pursuit alone or the n-back task with a stationary target. In the dual-task conditions, pursuit and the n-back task were performed together. Performance of the n-back tasks was not impaired by simultaneous smooth pursuit. The n-back tasks had negligible effects on horizontal or vertical pursuit gain, but generated increased phase lag and reduced the variability of position error during pursuit. Increasing the difficulty of the n-back task further reduced the variability of position errors. We conclude that enhanced attention does not alter the velocity gain of smooth pursuit but rather improves its consistency. As long as attention remains focused on the target, increased attentional demands further reduce pursuit variability. Increases in phase lag may serve to improve attentional processing of the target.
This is a preview of subscription content, log in to check access.
Access options
Buy single article
Instant access to the full article PDF.
US$ 39.95
Price includes VAT for USA
Subscribe to journal
Immediate online access to all issues from 2019. Subscription will auto renew annually.
US$ 199
This is the net price. Taxes to be calculated in checkout.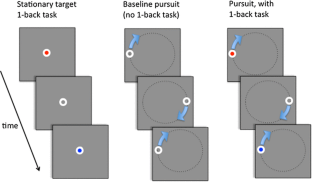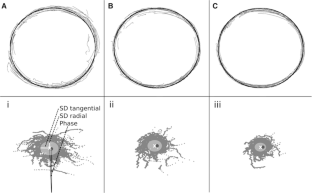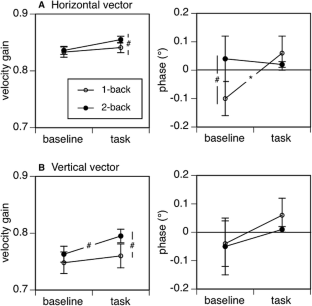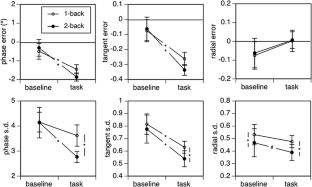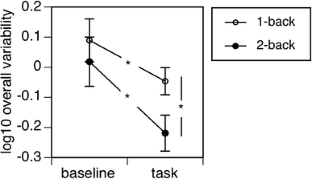 References
Acker W, Toone B (1978) Attention, eye tracking and schizophrenia. Br J Soc Clin Psychol 17:173–181

Baird B, Smallwood J, Lutz A, Schooler JW (2014) The decoupled mind: mind-wandering disrupts cortical phase-locking to perceptual events. J Cogn Neurosci 26:2596–2607. https://doi.org/10.1162/jocn_a_00656

Barnes G (2008) Cognitive processes involved in smooth pursuit eye movements. Brain Cogn 68:309–326. https://doi.org/10.1016/j.bandc.2008.08.020

Bartolomeo P, Sieroff E, Chokron S, Decaix C (2001) Variability of response times as a marker of diverted attention. Neuropsychologia 39:358–363

Brezinova V, Kendell RE (1977) Smooth pursuit eye movements of schizophrenics and normal people under stress. Br J Psychiatry 130:59–63

Castellanos FX, Sonuga-Barke EJ, Milham MP, Tannock R (2006) Characterizing cognition in ADHD: beyond executive dysfunction. Trends Cogn Sci 10:117–123. https://doi.org/10.1016/j.tics.2006.01.011

Cegalis JA, Hafez H, Wong PS (1983) What is deviant about deviant smooth pursuit eye movements in schizophrenia? Psychiatry Res 10:47–58

Chen J, Valsecchi M, Gegenfurtner K (2017) Attention is allocated closely ahead of the target during smooth pursuit eye movements: evidence from EEG frequency tagging. Neuropsychologia 102:206–216. https://doi.org/10.1016/j.neuropsychologia.2017.06.024

Clementz BA, Sweeney JA, Hirt M, Haas G (1990) Pursuit gain and saccadic intrusions in first-degree relatives of probands with schizophrenia. J Abnorm Psychol 99:327–335

Contreras R, Ghajar J, Bahar S, Suh M (2011) Effect of cognitive load on eye-target synchronization during smooth pursuit eye movement. Brain Res 1398:55–63. https://doi.org/10.1016/j.brainres.2011.05.004

Hutton S, Tegally D (2005) The effects of dividing attention on smooth pursuit eye tracking. Exp Brain Res 163:306–313. https://doi.org/10.1007/s00221-004-2171-z

Iacono WG, Tuason VB, Johnson RA (1981) Dissociation of smooth-pursuit and saccadic eye tracking in remitted schizophrenics. An ocular reaction time task that schizophrenic perform well. Arch Gen Psychiatry 38:991–996

Iacono WG, Peloquin LJ, Lumry AE, Valentine RH, Tuason VB (1982) Eye tracking in patients with unipolar and bipolar affective disorders in remission. J Abnorm Psychol 91:35–44

Jaeggi S, Buschkuehl M, Perrig W, Meier B (2010) The concurrent validity of the N-back task as a working memory measure. Memory 18:394–412. https://doi.org/10.1080/09658211003702171

Kathmann N, Hochrein A, Uwer R (1999) Effects of dual task demands on the accuracy of smooth pursuit eye movements. Psychophysiology 36:158–163. https://doi.org/10.1017/S0048577299981167

Kaufman SR, Abel LA (1986) The effects of distraction on smooth pursuit in normal subjects. Acta Otolaryngol 102:57–64

Kerzel D, Ziegler N (2005) Visual short-term memory during smooth pursuit eye movements. J Exp Psychol Hum Percept Perform 31:354–372. https://doi.org/10.1037/0096-1523.31.2.354

Kerzel D, Born S, Souto D (2009) Smooth pursuit eye movements and perception share target selection, but only some central resources. Behav Brain Res 201:66–73. https://doi.org/10.1016/j.bbr.2009.01.032

Khan A, Lefèvre P, Heinen S, Blohm G (2010) The default allocation of attention is broadly ahead of smooth pursuit. J Vis 10:7. https://doi.org/10.1167/10.13.7

Kowler E (2011) Eye movements: the past 25 years. Vis Res 51:1457–1483. https://doi.org/10.1016/j.visres.2010.12.014

Krauzlis RJ, Miles FA (1996) Initiation of saccades during fixation or pursuit: evidence in humans for a single mechanism. J Neurophysiol 76:4175–4179

Lipton RB, Frost LA, Holzman PS (1980) Smooth pursuit eye movements, schizophrenia, and distraction. Percept Mot Skills 50:159–167. https://doi.org/10.2466/pms.1980.50.1.159

Lisberger SG, Morris EJ, Tychsen L (1987) Visual motion processing and sensory-motor integration for smooth pursuit eye movements. Annu Rev Neurosci 10:97–129. https://doi.org/10.1146/annurev.ne.10.030187.000525

Lovejoy LP, Fowler GA, Krauzlis RJ (2009) Spatial allocation of attention during smooth pursuit eye movements. Vis Res 49:1275–1285. https://doi.org/10.1016/j.visres.2009.01.011

Lutz A, Slagter HA, Rawlings NB, Francis AD, Greischar LL, Davidson RJ (2009) Mental training enhances attentional stability: neural and behavioral evidence. J Neurosci 29:13418–13427. https://doi.org/10.1523/JNEUROSCI.1614-09.2009

Maruta J, Suh M, Niogi SN, Mukherjee P, Ghajar J (2010) Visual tracking synchronization as a metric for concussion screening. J Head Trauma Rehabilit 25:293–305. https://doi.org/10.1097/HTR.0b013e3181e67936

Maruta J, Heaton K, Kryskow E, Maule A, Ghajar J (2013) Dynamic visuomotor synchronization: quantification of predictive timing. Behav Res Methods 45:289–300. https://doi.org/10.3758/s13428-012-0248-3

Pavel M (1990) Predictive control of eye movement. In: Kowler E (ed) Eye movements and their role in visual and cognitive processes. Elsevier, Amsterdam, pp 71–114

Rubia K, Taylor A, Taylor E, Sergeant JA (1999) Synchronization, anticipation, and consistency in motor timing of children with dimensionally defined attention deficit hyperactivity behaviour. Percept Mot Skills 89:1237–1258. https://doi.org/10.2466/pms.1999.89.3f.1237

Schuirmann DJ (1987) A comparison of the two one-sided tests procedure and the power approach for assessing the equivalence of average bioavailability. J Pharmacokinet Biopharm 15:657–680

Shagass C, Richard R, Amadeo M (1976) Eye-tracking performance and engagement of attention. Arch Gen Psychiatry 33:121–125

Sharpe JA, Sylvester TO (1978) Effect of aging on horizontal smooth pursuit. Invest Ophthalmol Vis Sci 17:465–468

Spohn HE, Coyne L, Spray J (1988) The effect of neuroleptics and tardive dyskinesia on smooth-pursuit eye movement in chronic schizophrenics. Arch Gen Psychiatry 45:833–840

Spooner J, Sakala S, Baloh R (1980) Effect of aging on eye tracking. Arch Neurol 37:575–576

Stuss DT, Stethem LL, Hugenholtz H, Picton T, Pivik J, Richard MT (1989) Reaction time after head injury: fatigue, divided and focused attention, and consistency of performance. J Neurol Neurosurg Psychiatry 52:742–748

Stuss DT, Murphy KJ, Binns MA, Alexander MP (2003) Staying on the job: the frontal lobes control individual performance variability. Brain 126:2363–2380. https://doi.org/10.1093/brain/awg237

Sweeney JA, Clementz BA, Haas GL, Escobar MD, Drake K, Frances AJ (1994) Eye tracking dysfunction in schizophrenia: characterization of component eye movement abnormalities, diagnostic specificity, and the role of attention. J Abnorm Psychol 103:222–230

Tanaka M, Yoshida T, Fukushima K (1998) Latency of saccades during smooth-pursuit eye movement in man. Directional asymmetries. Exp Brain Res 121:92–98

van Donkelaar P (1999) Spatiotemporal modulation of attention during smooth pursuit eye movements. Neuroreport 10:2523–2526

Van Gelder P, Anderson S, Herman E, Lebedev S, Tsui WH (1990) Saccades in pursuit eye tracking reflect motor attention processes. Compr Psychiatry 31:253–260

Van Gelder P, Lebedev S, Liu P, Tsui W (1995) Anticipatory saccades in smooth pursuit: task effects and pursuit vector after saccades. Vis Res 35:667–678
Acknowledgements
We thank Miriam Spering for helpful discussions. JJSB was supported by a Canada Research Chair (950-228984) and the Marianne Koerner Chair in Brain Diseases. SLC was supported by the National Eye Institute of the National Institutes of Health under award number F32 EY023479. The content is solely the responsibility of the authors and does not necessarily represent the official views of the National Institutes of Health.
Ethics declarations
Conflict of interest
The authors declare no conflict of interest.
About this article
Cite this article
Stubbs, J.L., Corrow, S.L., Kiang, B. et al. The effects of enhanced attention and working memory on smooth pursuit eye movement. Exp Brain Res 236, 485–495 (2018). https://doi.org/10.1007/s00221-017-5146-6
Received:

Accepted:

Published:

Issue Date:
Keywords
Ocular motor

Velocity gain

Phase

Consistency

Variability

n-Back