Abstract
The purpose of this study is to investigate the control of vertical posture during obstacle avoidance in a real versus a virtual reality (VR) environment. Ten healthy participants stood upright and lifted one leg to avoid colliding with a real obstacle sliding on the floor toward a participant and with its virtual image. Virtual obstacles were delivered by a head mounted display (HMD) or a 3D projector. The acceleration of the foot, center of pressure, and electrical activity of the leg and trunk muscles were measured and analyzed during the time intervals typical for early postural adjustments (EPAs), anticipatory postural adjustments (APAs), and compensatory postural adjustments (CPAs). The results showed that the peak acceleration of foot elevation in the HMD condition decreased significantly when compared with that of the real and 3D projector conditions. Reduced activity of the leg and trunk muscles was seen when dealing with virtual obstacles (HMD and 3D projector) as compared with that seen when dealing with real obstacles. These effects were more pronounced during APAs and CPAs. The onsets of muscle activities in the supporting limb were seen during EPAs and APAs. The observed modulation of muscle activity and altered patterns of movement seen while avoiding a virtual obstacle should be considered when designing virtual rehabilitation protocols.
Access options
Buy single article
Instant access to the full article PDF.
US$ 39.95
Tax calculation will be finalised during checkout.
Subscribe to journal
Immediate online access to all issues from 2019. Subscription will auto renew annually.
US$ 119
Tax calculation will be finalised during checkout.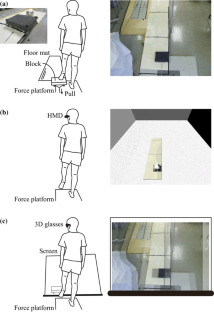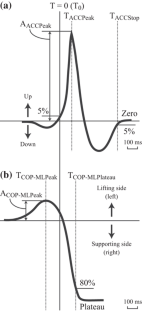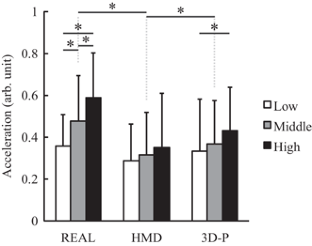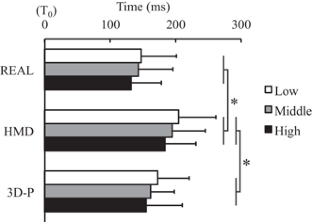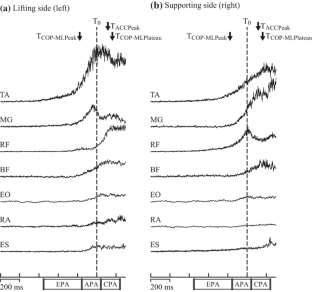 References
Alexandrov AV, Frolov AA, Horak FB, Carlson-Kuhta P, Park S (2005) Feedback equilibrium control during human standing. Biol Cybern 93:309–322. doi:10.1007/s00422-005-0004-1

Aruin AS, Latash ML (1996) Anticipatory postural adjustments during self-initiated perturbations of different magnitude triggered by a standard motor action. Electroencephalogr Clin Neurophysiol 101:497–503

Austin GP, Garrett GE, Bohannon RW (1999) Kinematic analysis of obstacle clearance during locomotion. Gait Posture 10:109–120

Basmajian JV (1980) Electromyography-dynamic gross anatomy: a review. Am J Anat 159:245–260. doi:10.1002/aja.1001590302

Belen'kii V, Gurfinkel V, Pal'tsev E (1967) On the control elements of voluntary movements. Biofizika 12:135–141

Bertucco M, Cesari P, Latash ML (2013) Fitts' Law in early postural adjustments. Neuroscience 231:61–69. doi:10.1016/j.neuroscience.2012.11.043

Blumle A, Maurer C, Schweigart G, Mergner T (2006) A cognitive intersensory interaction mechanism in human postural control. Exp Brain Res 173:357–363. doi:10.1007/s00221-006-0384-z

Brunt D, Liu SM, Trimble M, Bauer J, Short M (1999) Principles underlying the organization of movement initiation from quiet stance. Gait Posture 10:121–128

Brunt D, Santos V, Kim HD, Light K, Levy C (2005) Initiation of movement from quiet stance: comparison of gait and stepping in elderly subjects of different levels of functional ability. Gait Posture 21:297–302. doi:10.1016/j.gaitpost.2004.03.003

Cinelli ME, Patla AE (2008) Task-specific modulations of locomotor action parameters based on on-line visual information during collision avoidance with moving objects. Hum Mov Sci 27:513–531. doi:10.1016/j.humov.2007.10.001

Dessing JC, Peper CE, Beek PJ (2004) A comparison of real catching with catching using stereoscopic visual displays. Ecol Psychol 16:1–21. doi:10.1207/s15326969eco1601_1

Eikema DJ, Hatzitaki V, Tzovaras D, Papaxanthis C (2012) Age-dependent modulation of sensory reweighting for controlling posture in a dynamic virtual environment. Age 34:1381–1392. doi:10.1007/s11357-011-9310-9

Greffou S, Bertone A, Hanssens JM, Faubert J (2008) Development of visually driven postural reactivity: a fully immersive virtual reality study. J Vis 8(15):10–11. doi:10.1167/8.11.15

Henry SM, Fung J, Horak FB (1998) EMG responses to maintain stance during multidirectional surface translations. J Neurophysiol 80:1939–1950

Holden MK (2005) Virtual environments for motor rehabilitation: review. Cyberpsychol Behav 8:187–211; discussion 212–189 doi:10.1089/cpb.2005.8.187

Hwang S, Agada P, Kiemel T, Jeka JJ (2014) Dynamic reweighting of three modalities for sensor fusion. PLoS One 9:e88132. doi:10.1371/journal.pone.0088132

Kalron A, Fonkatz I, Frid L, Baransi H, Achiron A (2016) The effect of balance training on postural control in people with multiple sclerosis using the CAREN virtual reality system: a pilot randomized controlled trial. J Neuroeng Rehabil 13:13. doi:10.1186/s12984-016-0124-y

Kim YH, Song YG, Park IS, Rhyu IJ, Kim SB, Park JH (2013) Effects of task constraints on obstacle avoidance strategies in patients with cerebellar disease. Gait Posture 37:521–525. doi:10.1016/j.gaitpost.2012.09.001

Klous M, Mikulic P, Latash ML (2012) Early postural adjustments in preparation to whole-body voluntary sway. J Electromyogr Kinesiol 22:110–116. doi:10.1016/j.jelekin.2011.11.005

Krishnan V, Aruin AS, Latash ML (2011) Two stages and three components of the postural preparation to action. Exp Brain Res 212:47–63. doi:10.1007/s00221-011-2694-z

Krishnan V, Latash ML, Aruin AS (2012) Early and late components of feed-forward postural adjustments to predictable perturbations. Clin Neurophysiol 123:1016–1026. doi:10.1016/j.clinph.2011.09.014

Lee YJ, Aruin AS (2013) Three components of postural control associated with pushing in symmetrical and asymmetrical stance. Exp Brain Res 228:341–351. doi:10.1007/s00221-013-3567-4

Lee DN, Lishman JR (1975) Visual proprioceptive control of stance. J Hum Mov Stud 1:87–95

Macpherson JM, Horak FB, Dunbar DC, Dow RS (1989) Stance dependence of automatic postural adjustments in humans. Exp Brain Res 78:557–566

Massion J (1992) Movement, posture and equilibrium: interaction and coordination. Prog Neurobiol 38:35–56

Mergner T, Maurer C, Peterka RJ (2003) A multisensory posture control model of human upright stance. Prog Brain Res 142:189–201. doi:10.1016/S0079-6123(03)42014-1

Mergner T, Schweigart G, Maurer C, Blumle A (2005) Human postural responses to motion of real and virtual visual environments under different support base conditions. Exp Brain Res 167:535–556. doi:10.1007/s00221-005-0065-3

Mohapatra S, Krishnan V, Aruin AS (2012a) The effect of decreased visual acuity on control of posture. Clin Neurophysiol 123:173–182. doi:10.1016/j.clinph.2011.06.008

Mohapatra S, Krishnan V, Aruin AS (2012b) Postural control in response to an external perturbation: effect of altered proprioceptive information. Exp Brain Res 217:197–208. doi:10.1007/s00221-011-2986-3

Molina KI, Ricci NA, de Moraes SA, Perracini MR (2014) Virtual reality using games for improving physical functioning in older adults: a systematic review. J Neuroeng Rehabil 11:156. doi:10.1186/1743-0003-11-156

Montagne G, Buekers M, de Rugy A, Camachon C, Laurent M (2002) Control of human locomotion under various task constraints. Exp Brain Res 143:133–136. doi:10.1007/s00221-001-0990-8

Moraes R, Patla A (2006) Determinants guiding alternate foot placement selection and the behavioral responses are similar when avoiding a real or a virtual obstacle. Exp Brain Res 171:497–510. doi:10.1007/s00221-005-0297-2

Mouchnino L, Aurenty R, Massion J, Pedotti A (1992) Coordination between equilibrium and head-trunk orientation during leg movement: a new strategy build up by training. J Neurophysiol 67:1587–1598

Mouchnino L, Robert G, Ruget H, Blouin J, Simoneau M (2012) Online control of anticipated postural adjustments in step initiation: evidence from behavioral and computational approaches. Gait Posture 35:616–620. doi:10.1016/j.gaitpost.2011.12.009

Nardone A, Schieppati M (1988) Postural adjustments associated with voluntary contraction of leg muscles in standing man. Exp Brain Res 69:469–480

Parijat P, Lockhart TE, Liu J (2015) EMG and kinematic responses to unexpected slips after slip training in virtual reality. IEEE Trans Biomed Eng 62:593–599. doi:10.1109/TBME.2014.2361324

Petrarca M, Di Rosa G, Cappa P, Patane F (2006) Stepping over obstacles of different heights: kinematic and kinetic strategies of leading limb in hemiplegic children. Gait Posture 24:331–341. doi:10.1016/j.gaitpost.2005.10.010

Rietdyk S, Rhea CK (2006) Control of adaptive locomotion: effect of visual obstruction and visual cues in the environment. Exp Brain Res 169:272–278. doi:10.1007/s00221-005-0345-y

Robert G, Gueguen N, Avogadro P, Mouchnino L (2004) Anticipatory balance control is affected by loadless training experiences. Hum Mov Sci 23:169–183. doi:10.1016/j.humov.2004.08.001

Roetenberg D, Buurke JH, Veltink PH, Forner Cordero A, Hermens HJ (2003) Surface electromyography analysis for variable gait. Gait Posture 18:109–117

Rolland JP, Gibson W, Ariely D (1995) Towards quantifying depth and size perception in virtual environments. Presence 4:24–49

Sanchez-Vives MV, Slater M (2005) From presence to consciousness through virtual reality. Nat Rev Neurosci 6:332–339. doi:10.1038/nrn1651

Santos MJ, Aruin AS (2009) Effects of lateral perturbations and changing stance conditions on anticipatory postural adjustment. J Electromyogr Kinesiol 19:532–541. doi:10.1016/j.jelekin.2007.12.002

Santos MJ, Kanekar N, Aruin AS (2010) The role of anticipatory postural adjustments in compensatory control of posture: 1. Electromyographic analysis. J Electromyogr Kinesiol 20:388–397. doi:10.1016/j.jelekin.2009.06.006

Slobounov SM, Ray W, Johnson B, Slobounov E, Newell KM (2015) Modulation of cortical activity in 2D versus 3D virtual reality environments: an EEG study. Int J Psychophysiol 95:254–260. doi:10.1016/j.ijpsycho.2014.11.003

Sparrow W, Shinkfield AJ, Chow S, Begg R (1996) Characteristics of gait in stepping over obstacles. Hum Mov Sci 15:605–622

Staude G, Wolf W (1999) Objective motor response onset detection in surface myoelectric signals. Med Eng Phys 21:449–467

Su KJ, Hwang WJ, Wu CY, Fang JJ, Leong IF, Ma HI (2014) Increasing speed to improve arm movement and standing postural control in Parkinson's disease patients when catching virtual moving balls. Gait Posture 39:65–69. doi:10.1016/j.gaitpost.2013.05.029

Winter DA, Prince F, Frank JS, Powell C, Zabjek KF (1996) Unified theory regarding A/P and M/L balance in quiet stance. J Neurophysiol 75:2334–2343

Yelshyna D, Gago MF, Bicho E et al (2016) Compensatory postural adjustments in Parkinson's disease assessed via a virtual reality environment. Behav Brain Res 296:384–392. doi:10.1016/j.bbr.2015.08.017

Yiou E, Fourcade P, Artico R, Caderby T (2015) Influence of temporal pressure constraint on the biomechanical organization of gait initiation made with or without an obstacle to clear. Exp Brain Res. doi:10.1007/s00221-015-4319-4
Acknowledgements
This work was supported by the JSPS KAKENHI under Grant Numbers JP23700715 and JP15K01474.
Electronic supplementary material
Below is the link to the electronic supplementary material.
About this article
Cite this article
Ida, H., Mohapatra, S. & Aruin, A. Control of vertical posture while elevating one foot to avoid a real or virtual obstacle. Exp Brain Res 235, 1677–1687 (2017). https://doi.org/10.1007/s00221-017-4929-0
Received:

Accepted:

Published:

Issue Date:
Keywords
Postural control

Virtual reality

Obstacle avoidance

Foot clearance