Abstract
This study examines how the regularity of visual stimuli approaching the body influences spatial expectations of subsequent somatosensory stimuli by recording event-related brain potentials (ERPs) during a simple reaction time (RT) task involving responses to somatosensory stimuli. Twenty-one participants were instructed to put their arms on a desk, and three LEDs were placed equidistantly between their arms. Electrical stimuli were presented with a high probability (80%) of being applied to one wrist and a low probability (20%) of being applied to the opposite wrist. One trial was composed of three visual stimuli followed by one electrical stimulus. In the regular approach condition, LEDs flashed sequentially toward the wrist with the high-probability somatosensory stimulus. In the irregular approach condition, the first and second visual stimuli were presented randomly, but the third visual stimulus was invariably presented near the wrist with the high-probability stimulus. In both conditions, RTs for low-probability stimuli were slower than those for high-probability stimuli, and the low-probability stimuli elicited larger P3 amplitudes than the high-probability stimuli. Furthermore, the largest P3 amplitude was elicited by low-probability stimuli under the regular approach condition, whereas the amplitudes of contingent negative variation (CNV) elicited before the presentation of the somatosensory stimuli did not differ between conditions. These results indicate that regularity of visual stimuli approaching the body facilitates an automatic spatial expectation for subsequent somatosensory stimuli.
This is a preview of subscription content, log in to check access.
Access options
Buy single article
Instant access to the full article PDF.
US$ 39.95
Price includes VAT for USA
Subscribe to journal
Immediate online access to all issues from 2019. Subscription will auto renew annually.
US$ 199
This is the net price. Taxes to be calculated in checkout.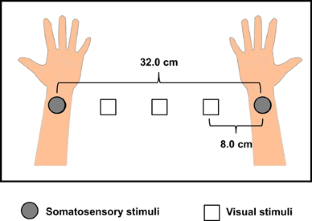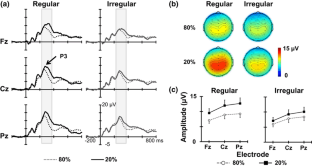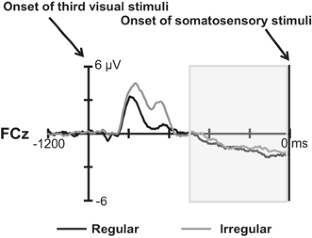 Acknowledgements
Part of this study was supported by a Grant-in-Aid for Scientific Research (B) (25285206) from the Japan Society for the Promotion of Science (JSPS) awarded to JK. The conducting of the experiment was supported by Special Research Fund A of 2015 funds from Kwansei Gakuin University awarded to JK. The experiment was conducted as a part of the project supported by the Ministry of Education, Culture, Sports, Science and Technology (MEXT), Japan, for the Strategic Research Foundation at Private Universities (2015–2019; Project number S1511032) to the Center for Applied Psychological Science (CAPS), Kwansei Gakuin University.
About this article
Cite this article
Kimura, T., Katayama, J. Regularity of approaching visual stimuli influences spatial expectations for subsequent somatosensory stimuli. Exp Brain Res 235, 1657–1663 (2017). https://doi.org/10.1007/s00221-016-4863-6
Received:

Accepted:

Published:

Issue Date:
Keywords
Multimodality interaction

Visuotactile

Spatial expectation

ERP