Abstract
The aim of this study was to determine how unilateral pain, induced in two knee extensor muscles, affects muscle coordination during a bilateral pedaling task. Fifteen participants performed a 4-min pedaling task at 130 W in two conditions (Baseline and Pain). Pain was induced by injection of hypertonic saline into the vastus medialis (VM) and vastus lateralis (VL) muscles of one leg. Force applied throughout the pedaling cycle was measured using an instrumented pedal and used to calculate pedal power. Surface electromyography (EMG) was recorded bilaterally from eight muscles to assess changes in muscle activation strategies. Compared to Baseline, during the Pain condition, EMG amplitude of muscles of the painful leg (VL and VM—the painful muscles, and RF—another quadriceps muscle with no pain) was lower during the extension phase [(mean ± SD): VL: −22.5 ± 18.9%; P < 0.001; VM: −28.8 ± 19.9%; P < 0.001, RF: −20.2 ± 13.9%; P < 0.001]. Consistent with this, pedal power applied by the painful leg was also lower during the extension phase (−16.8 ± 14.2 W, P = 0.001) during Pain compared to Baseline. This decrease was compensated for by an 11.3 ± 8.1 W increase in pedal power applied by the non-painful leg during its extension phase (P = 0.04). These results support pain adaptation theories, which suggest that when there is a clear opportunity to compensate, motor adaptations to pain occur to decrease load within the painful tissue. Although the pedaling task offered numerous possibilities for compensation, only between-leg compensations were systematically observed. This finding is discussed in relation to the mechanical and neural constraints of the pedaling task.
Access options
Buy single article
Instant access to the full article PDF.
US$ 39.95
Tax calculation will be finalised during checkout.
Subscribe to journal
Immediate online access to all issues from 2019. Subscription will auto renew annually.
US$ 119
Tax calculation will be finalised during checkout.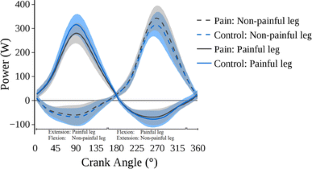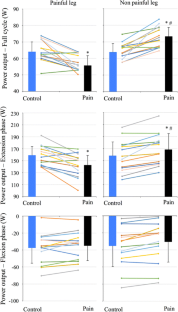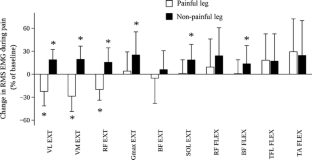 References
Bank PJ, Peper CE, Marinus J, Beek PJ, van Hilten JJ (2013) Motor consequences of experimentally induced limb pain: a systematic review. Eur J Pain 17:145–157. doi:10.1002/j.1532-2149.2012.00186.x

Bouffard J, Bouyer LJ, Roy JS, Mercier C (2014) Tonic pain experienced during locomotor training impairs retention despite normal performance during acquisition. J Neurosci 34:9190–9195. doi:10.1523/JNEUROSCI.5303-13.2014

Ciubotariu A, Arendt-Nielsen L, Graven-Nielsen T (2004) The influence of muscle pain and fatigue on the activity of synergistic muscles of the leg. Eur J Appl Physiol 91:604–614. doi:10.1007/s00421-003-1026-9

Dorel S, Couturier A, Hug F (2008) Intra-session repeatability of lower limb muscles activation pattern during pedaling. J Electromyogr Kinesiol 18:857–865. doi:10.1016/j.jelekin.2007.03.002

Dounskaia N, Shimansky Y (2016) Strategy of arm movement control is determined by minimization of neural effort for joint coordination. Exp Brain Res 234:1335–1350. doi:10.1007/s00221-016-4610-z

Fadiga L, Craighero L, Dri G, Facchin P, Destro MF, Porro CA (2004) Corticospinal excitability during painful self-stimulation in humans: a transcranial magnetic stimulation study. Neurosci Lett 361:250–253. doi:10.1016/j.neulet.2003.12.016

Falla D, Arendt-Nielsen L, Farina D (2009) The pain-induced change in relative activation of upper trapezius muscle regions is independent of the site of noxious stimulation. Clin Neurophysiol 120:150–157. doi:10.1016/j.clinph.2008.10.148

Farina D, Arendt-Nielsen L, Graven-Nielsen T (2005) Experimental muscle pain decreases voluntary EMG activity but does not affect the muscle potential evoked by transcutaneous electrical stimulation. Clin Neurophysiol 116:1558–1565. doi:10.1016/j.clinph.2005.03.009

Farina D, Arendt-Nielsen L, Roatta S, Graven-Nielsen T (2008) The pain-induced decrease in low-threshold motor unit discharge rate is not associated with the amount of increase in spike-triggered average torque. Clin Neurophysiol 119:43–51. doi:10.1016/j.clinph.2007.10.003

Gizzi L, Muceli S, Petzke F, Falla D (2015) Experimental muscle pain impairs the synergistic modular control of neck muscles. PLoS ONE 10:e0137844. doi:10.1371/journal.pone.0137844

Graven-Nielsen T, Svensson P, Arendt-Nielsen L (1997) Effects of experimental muscle pain on muscle activity and co-ordination during static and dynamic motor function. Electroencephalogr Clin Neurophysiol 105:156–164

Haddad JM, van Emmerik RE, Whittlesey SN, Hamill J (2006) Adaptations in interlimb and intralimb coordination to asymmetrical loading in human walking. Gait Posture 23:429–434. doi:10.1016/j.gaitpost.2005.05.006

Hansen EA (2015) On voluntary rhythmic leg movement behaviour and control during pedalling. Scand J Med Sci Sports 214:1–18

Henriksen M, Alkjaer T, Lund H, Simonsen EB, Graven-Nielsen T, Danneskiold-Samsoe B, Bliddal H (2007) Experimental quadriceps muscle pain impairs knee joint control during walking. J Appl Physiol 103:132–139. doi:10.1152/japplphysiol.01105.2006

Henriksen M, Alkjaer T, Simonsen EB, Bliddal H (2009) Experimental muscle pain during a forward lunge—the effects on knee joint dynamics and electromyographic activity. Br J Sports Med 43:503–507. doi:10.1136/bjsm.2008.050393

Hermens HJ, Freriks B, Disselhorst-Klug C, Rau G (2000) Development of recommendations for SEMG sensors and sensor placement procedures. J Electromyogr Kinesiol 10:361–374

Hodges PW, Tucker K (2011) Moving differently in pain: a new theory to explain the adaptation to pain. Pain 152:S90–S98. doi:10.1016/j.pain.2010.10.020

Hodges PW, Ervilha UF, Graven-Nielsen T (2008) Changes in motor unit firing rate in synergist muscles cannot explain the maintenance of force during constant force painful contractions. J Pain 9:1169–1174. doi:10.1016/j.jpain.2008.06.012

Hodges PW, Coppieters MW, MacDonald D, Cholewicki J (2013) New insight into motor adaptation to pain revealed by a combination of modelling and empirical approaches. Eur J Pain 17:1138–1146. doi:10.1002/j.1532-2149.2013.00286.x

Hug F, Dorel S (2009) Electromyographic analysis of pedaling: a review. J Electromyogr Kinesiol 19:182–198. doi:10.1016/j.jelekin.2007.10.010

Hug F, Turpin NA, Guevel A, Dorel S (2010) Is interindividual variability of EMG patterns in trained cyclists related to different muscle synergies? J Appl Physiol 108:1727–1736. doi:10.1152/japplphysiol.01305.2009

Hug F, Hodges PW, Tucker KJ (2013) Effect of pain location on spatial reorganisation of muscle activity. J Electromyogr Kinesiol 23:1413–1420. doi:10.1016/j.jelekin.2013.08.014

Hug F, Hodges PW, Tucker K (2014a) Task dependency of motor adaptations to an acute noxious stimulation. J Neurophysiol 111:2298–2306. doi:10.1152/jn.00911.2013

Hug F, Hodges PW, van den Hoorn W, Tucker K (2014b) Between-muscle differences in the adaptation to experimental pain. J Appl Physiol 117:1132–1140. doi:10.1152/japplphysiol.00561.2014

Hug F, Hodges PW, Salomoni SE, Tucker K (2014c) Insight into motor adaptation to pain from between-leg compensation. Eur J Appl Physiol 114:1057–1065. doi:10.1007/s00421-014-2840-y

Korff T, Romer LM, Mayhew I, Martin JC (2007) Effect of pedaling technique on mechanical effectiveness and efficiency in cyclists. Med Sci Sports Exerc 39:991–995. doi:10.1249/mss.0b013e318043a235

Laine CM, Martinez-Valdes E, Falla D, Mayer F, Farina D (2015) Motor neuron pools of synergistic thigh muscles share most of their synaptic input. J Neurosci 35:12207–12216. doi:10.1523/JNEUROSCI.0240-15.2015

Lund JP, Donga R, Widmer CG, Stohler CS (1991) The pain-adaptation model: a discussion of the relationship between chronic musculoskeletal pain and motor activity. Can J Physiol Pharmacol 69:683–694

Ting LH, Kautz SA, Brown DA, Zajac FE (2000) Contralateral movement and extensor force generation alter flexion phase muscle coordination in pedaling. J Neurophysiol 83:3351–3365

Tucker K, Hodges PW, Van den Hoorn W, Nordez A, Hug F (2014) Does stress within a muscle change in response to an acute noxious stimulus? PLoS ONE 9:e91899. doi:10.1371/journal.pone.0091899

van den Hoorn W, Hug F, Hodges PW, Bruijn SM, van Dieen JH (2015) Effects of noxious stimulation to the back or calf muscles on gait stability. J Biomech 48:4109–4115. doi:10.1016/j.jbiomech.2015.10.013
Acknowledgements
Project support was provided by the Region Pays de la Loire (ANOPACy project) and the French Ministry of Sport (10-R-019). ANOPACy is co-funded by the European Union. Europe commits itself to Pays de La Loire through Regional Development European funds.
About this article
Cite this article
Brøchner Nielsen, NP., Tucker, K., Dorel, S. et al. Motor adaptations to local muscle pain during a bilateral cyclic task. Exp Brain Res 235, 607–614 (2017). https://doi.org/10.1007/s00221-016-4826-y
Received:

Accepted:

Published:

Issue Date:
Keywords
Muscle coordination

Pedaling

Force

Electromyography