Abstract
The aim of the present study was to investigate the impact of dynamic distractors on the time-course of oculomotor selection using saccade trajectory deviations. Participants were instructed to make a speeded eye movement (pro-saccade) to a target presented above or below the fixation point while an irrelevant distractor was presented. Four types of distractors were varied within participants: (1) static, (2) flicker, (3) rotating apparent motion and (4) continuous motion. The eccentricity of the distractor was varied between participants. The results showed that saccadic trajectories curved towards distractors presented near the vertical midline; no reliable deviation was found for distractors presented further away from the vertical midline. Differences between the flickering and rotating distractor were found when distractor eccentricity was small and these specific effects developed over time such that there was a clear differentiation between saccadic deviation based on apparent motion for long-latency saccades, but not short-latency saccades. The present results suggest that the influence on performance of apparent motion stimuli is relatively delayed and acts in a more sustained manner compared to the influence of salient static, flickering and continuous moving stimuli.
Access options
Buy single article
Instant access to the full article PDF.
USD 39.95
Price excludes VAT (USA)
Tax calculation will be finalised during checkout.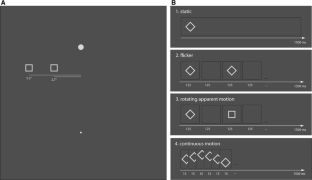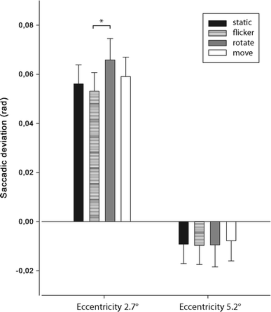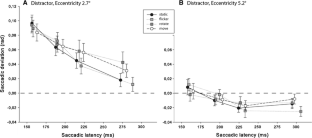 References
Abrams RA, Christ SE (2003) Motion onset captures attention. Psychol Sci 14(5):427–432

Belopolsky AV, Theeuwes J (2010) No capture outside the attentional window. Vis Res 50(23):2543–2550

Belopolsky AV, Zwaan L, Theeuwes J, Kramer AF (2007) The size of an attentional window modulates attentional capture by color singletons. Psychon Bull Rev 14(5):934–938

Christ SE, Abrams RA (2008) The attentional influence of new objects and new motion. J Vis 8(3):27-1–27-8

Donk M, van Zoest W (2008) Effects of salience are short-lived. Psychol Sci 19(7):733–739

Doyle M, Walker R (2001) Curved saccade trajectories: voluntary and reflexive saccades curve away from irrelevant distractors. Exp Brain Res 139(3):333–344

Folk CL, Remington RW (1998) Selectivity in distraction by irrelevant featural singletons: evidence for two forms of attentional capture. J Exp Psychol Hum Percept Perform 24:847–858

Folk CL, Remington RW, Johnston JC (1992) Involuntary covert orienting is contingent on attentional control settings. J Exp Psychol Hum Percept Perform 18:1030–1044

Franconeri SL, Simons DJ (2003) Moving and looming stimuli capture attention. Percept Psychophys 65(7):999–1010

Franconeri SL, Simons DJ (2005) The dynamic events that capture visual attention: a reply to Abrams and Christ (2005). Percept Psychophys 67(6):962–966

Godijn R, Theeuwes J (2004) The relationship between inhibition of return and saccade trajectory deviations. J Exp Psychol Hum Percept Perform 30(3):538–554

Hickey C, van Zoest W (2012) Reward creates oculomotor salience. Curr Biol 22(7):R219–R220

Hillstrom AP, Yantis S (1994) Visual-motion and attentional capture. Percept Psychophys 55(4):399–411

Kawahara J, Yanase K, Kitazaki M (2012) Attentional capture by the onset and offset of motion signals outside the spatial focus of attention. J Vis 12(12):10

Kruijne W, Van der Stigchel S, Meeter M (2014) A model of curved saccade trajectories: spike rate adaptation in the brainstem as the cause of deviation away. Brain Cogn 85:259–270

Laidlaw KE, Kingstone A (2010) The time course of vertical, horizontal and oblique saccade trajectories: evidence for greater distractor interference during vertical saccades. Vis Res 50(9):829–837

Ludwig CJ, Gilchrist ID (2002) Measuring saccade curvature: a curve-fitting approach. Behav Res Methods Instrum Comput 34(4):618–624

Ludwig CJ, Ranson A, Gilchrist ID (2008) Oculomotor capture by transient events: a comparison of abrupt onsets, offsets, motion, and flicker. J Vis 8(14):11-1–11-16

McPeek RM (2006) Incomplete suppression of distractor-related activity in the frontal eye field results in curved saccades. J Neurophysiol 96(5):2699–2711

McPeek RM, Han JH, Keller EL (2003) Competition between saccade goals in the superior colliculus produces saccade curvature. J Neurophysiol 89(5):2577–2590

McSorley E, Haggard P, Walker R (2005) Spatial and temporal aspects of oculomotor inhibition as revealed by saccade trajectories. Vis Res 45(19):2492–2499

McSorley E, Haggard P, Walker R (2006) Time course of oculomotor inhibition revealed by saccade trajectory modulation. J Neurophysiol 96(3):1420–1424

McSorley E, Cruickshank AG, Inman LA (2009) The development of the spatial extent of oculomotor inhibition. Brain Res 1298:92–98

Melcher D, Colby CL (2008) Trans-saccadic perception. Trends Cogn Sci 12(12):466–473

Nothdurft HC (2000) Salience from feature contrast: temporal properties of saliency mechanisms. Vis Res 40:2421–2435

Nothdurft HC (2002) Attention shifts to salient targets. Vis Res 42:1287–1306

Pinto Y, Olivers CN, Theeuwes J (2006) When is search for a static target among dynamic distractors efficient? J Exp Psychol Hum Percept Perform 32(1):59–72

Siebold A, Donk M (2014) Reinstating salience effects over time: the influence of stimulus changes on visual selection behavior over a sequence of eye movements. Atten Percept Psychophys 76(6):1655–1670

Siebold A, van Zoest W, Donk M (2011) Oculomotor evidence for top-down control following the initial saccade. PLoS One 6(9):e23552

Sunny MM, von Mühlenen A (2011) Motion onset does not capture attention when subsequent motion is "smooth". Psychon Bull Rev 18(6):1050–1056

Sunny MM, von Mühlenen A (2014) The role of flicker and abrupt displacement in attention capture by motion onsets. Atten Percept Psychophys 76(2):508–518

Tipper SP, Howard LA, Jackson SR (1997) Selective reaching to grasp: evidence for distractor interference effects. Vis Cogn 4(1):1–38

Tipper SP, Howard LA, Houghton G (2000) Behavioral consequences of selection from neural population codes. In: Monsell S, Driver J (eds) Attention and performance XVII. MIT Press, Cambridge

Trappenberg TP, Dorris MC, Munoz DP, Klein RM (2001) A model of saccade initiation based on the competitive integration of exogenous and endogenous signal in the superior colliculus. J Cogn Neurosci 13(2):256–271

Tudge L, Schubert T (2015) A comparison of early and late measures of saccade trajectory deviation. Paper presented at the European conference of eye movements

Van der Stigchel S, Theeuwes J (2005) Relation between saccade trajectories and spatial distractor locations. Brain Res Cogn Brain Res 25(2):579–582

Van der Stigchel S, Meeter M, Theeuwes J (2006) Eye movement trajectories and what they tell us. Neurosci Biobehav Rev 30(5):666–679

Van der Stigchel S, Meeter M, Theeuwes J (2007) The spatial coding of the inhibition evoked by distractors. Vis Res 47(2):210–218

van Zoest W, Donk M (2005) The effects of salience on saccadic target selection. Vis Cogn 2(2):353–375

van Zoest W, Van der Stigchel S, Barton JJS (2008) Distractor effects on saccade trajectories: a comparison of prosaccades, antisaccades, and memory-guided saccades. Exp Brain Res 186(3):431–442

van Zoest W, Donk M, Van der Stigchel S (2012) Stimulus-salience and the time-course of saccade trajectory deviations. J Vis 12(8):16

von Muhlenen A, Rempel MI, Enns JT (2005) Unique temporal change is the key to attentional capture. Psychol Sci 16(12):979–986

Walker R, McSorley E, Haggard P (2006) The control of saccade trajectories: direction of curvature depends on prior knowledge of target location and saccade latency. Percept Psychophys 68(1):129–138

White BJ, Theeuwes J, Munoz DP (2012) Interaction between visual- and goal-related neuronal signals on the trajectories of saccadic eye movements. J Cogn Neurosci 24(3):707–717

Wong JH, Peterson MS, Hillstrom AP (2007) Are changes in semantic and structural information sufficient for oculomotor capture? J Vis 7(12):3-1–3-10

Yantis S, Gibson BS (1994) Object continuity in apparent motion and attention. Can J Exp Psychol 48(2):182–204

Yantis S, Jonides J (1990) Abrupt visual onsets and selective attention: voluntary versus automatic allocation. J Exp Psychol Hum Percept Perform 16(1):121–134
Acknowledgments
We thank Madalina Dumbrava and Claudia Bonmassar for help with data collection. This work was supported by grant of the Italian Ministry for University and Research (PRIN 2008HETS3W) to F.P. This work has been realized also thanks to the support from the Provincia autonoma di Trento and the Fondazione Cassa di Risparmio di Trento e Rovereto.
About this article
Cite this article
van Zoest, W., Heimler, B. & Pavani, F. The oculomotor salience of flicker, apparent motion and continuous motion in saccade trajectories. Exp Brain Res 235, 181–191 (2017). https://doi.org/10.1007/s00221-016-4779-1
Received:

Accepted:

Published:

Issue Date:

DOI: https://doi.org/10.1007/s00221-016-4779-1
Keywords
Eye movements

Saccade deviation

Saliency

Motion

Apparent motion

Time-course