Abstract
The intentional binding effect refers to a subjective compression over a temporal interval between the start point initialized by a voluntary action and the endpoint signaled by an external sensory (visual or audio) feedback. The present study aimed to explore the influence of tactile sensory feedback on this binding effect by comparing voluntary key-press actions with voluntary key-release actions. In experiment 1, each participant was instructed to report the perceived interval (in ms) between an action and the subsequent visual sensory feedback. In this task, either the action (key-press or key-release) was voluntarily performed by the participant or a kinematically identical movement was passively applied to the left index finger of the participant. In experiment 2, we explored whether the difference in the perception of time was affected by the direction of action. In experiment 3, we developed an apparatus in which two parallel laser beams were generated by a laser emission unit and detected by a laser receiver unit; this allowed the movement of the left index finger to be detected without it touching a keyboard (i.e., without any tactile sensory feedback). Convergent results from all of the experiments showed that the temporal binding effect was only observed when the action was both voluntary and involved physical contact with the key, suggesting that the combination of intention and tactile sensory feedback, as a form of top-down processing, likely distracted attention from temporal events and caused the different binding effects.
Access options
Buy single article
Instant access to the full article PDF.
USD 39.95
Price excludes VAT (USA)
Tax calculation will be finalised during checkout.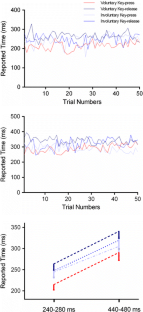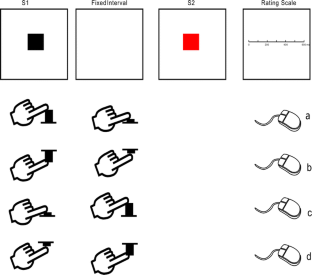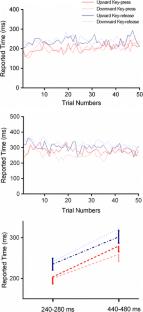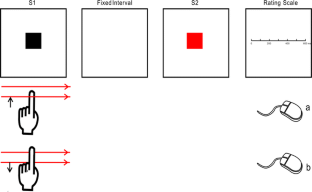 References
Buehner MJ (2012) Understanding the past, predicting the future causation, not intentional action, is the root of temporal binding. Psychol Sci 23:1490–1497

Caspar EA, Cleeremans A, Haggard P (2015) The relationship between human agency and embodiment. Conscious Cogn 33:226–236

Cravo AM, Claessens PM, Baldo MV (2009) Voluntary action and causality in temporal binding. Exp Brain Res 199:95–99

Desantis A, Waszak F, Moutsopoulou K, Haggard P (2016) How action structures time: about the perceived temporal order of action and predicted outcomes. Cognition 146:100–109

Ebert JP, Wegner DM (2010) Time warp: authorship shapes the perceived timing of actions and events. Conscious Cogn 19:481–489 

Elsner B, Hommel B (2004) Contiguity and contingency in action-effect learning. Psychol Res 68:138–154

Engbert K, Wohlschläger A (2007) Intentions and expectations in temporal binding. Conscious Cogn 16:255–264

Engbert K, Wohlschläger A, Haggard P (2008) Who is causing what? The sense of agency is relational and efferent-triggered. Cognition 107:693–704

Failing M, Theeuwes J (2016) Reward alters the perception of time. Cognition 148:19–26

Haggard P, Cole J (2007) Intention, attention and the temporal experience of action. Conscious Cogn 16:211–220

Haggard P, Clark S, Kalogeras J (2002) Voluntary action and conscious awareness. Nat Neurosci 5:382–385

Hughes G, Desantis A, Waszak F (2013) Mechanisms of intentional binding and sensory attenuation: the role of temporal prediction, temporal control, identity prediction, and motor prediction. Psychol Bull 139(133):151

Humphreys GR, Buehner MJ (2009) Magnitude estimation reveals temporal binding at super-second intervals. J Exp Psychol Hum 35:1542–1549

Moore JW, Haggard P (2008) Awareness of action: inference and prediction. Conscious Cogn 17:136–144

Moore JW, Obhi SS (2012) Intentional binding and the sense of agency: a review. Conscious Cogn 21:546–561

Moore JW, Lagnado D, Deal DC, Haggard P (2009) Feelings of control: contingency determines experience of action. Cognition 110:279–283

Moore JW, Cambridge VC, Morgan H, Giorlando F, Adapa R, Fletcher PC (2013) Time, action and psychosis: using subjective time to investigate the effects of ketamine on sense of agency. Neuropsychologia 51:377–384

Nattkemper D, Ziessler M, Frensch PA (2010) Binding in voluntary action control. Neurosci Biobehav Rev 34:1092–1101

O'Shaughnessy B (1989) The sense of touch. Australas J Philos 67:37–58

Stetson C, Cui X, Montague PR, Eagleman DM (2006) Motor-sensory recalibration leads to an illusory reversal of action and sensation. Neuron 51:651–659

Tomassini A, Gori M, Baud-Bovy G, Sandini G, Morrone MC (2014) Motor commands induce time compression for tactile stimuli. J Neurosci 34:9164–9172

Yoshie M, Haggard P (2013) Negative emotional outcomes attenuate sense of agency over voluntary actions. Curr Biol 23:2028–2032

Zhao K, Chen YH, Yan WJ, Fu X (2013) To Bind or not to bind? Different temporal binding effects from voluntary pressing and releasing actions. PLoS One 8:e64819

Zhao K, Chen YH, Fu X (2014a) Device for voluntary/involuntary action. China Patent No. ZL201420250191.2

Zhao K, Gu R, Wang L, Xiao P, Chen YH, Liang J, Hu L, Fu X (2014b) Voluntary pressing and releasing actions induce different senses of time: evidence from event-related brain responses. Sci Rep 4:6047
Acknowledgments
This work was supported by the Natural Science Foundation of China (31400876 to K.Z.; 81371631 and 81422024 to L.W.), the Scientific Foundation of the Institute of Psychology, Chinese Academy of Sciences (Y4CX132005 to K.Z.), the Key Laboratory of Mental Health, Chinese Academy of Sciences (No. KLMH2014ZG11 to K.Z.), the Beijing Nova Program (Z141110001814068 to L.W.), the Thousand Youth Talents Plan (Y4HX072006 to L.W.).
About this article
Cite this article
Zhao, K., Hu, L., Qu, F. et al. Voluntary action and tactile sensory feedback in the intentional binding effect. Exp Brain Res 234, 2283–2292 (2016). https://doi.org/10.1007/s00221-016-4633-5
Received:

Accepted:

Published:

Issue Date:

DOI: https://doi.org/10.1007/s00221-016-4633-5
Keywords