Abstract
The present study investigated the attention allocation during reactive stepping using a continuous finger-tapping task. Ten healthy young subjects were recruited to participate in this study. Subjects were required to perform a rapid voluntary step with either left or right leg after hearing an auditory tone while tapping their right index finger on a handhold numeric keypad. Step initiation conditions included simple and choice reaction forward stepping with three variants of continuous tapping task that were: (1) single task—no concurrent finger-tapping task; (2) dual task easy—one-button tapping task; (3) dual task hard—four-button tapping task. Types of anticipatory postural adjustment (APA) were determined by the center of pressure trajectory. Reaction time, APA duration, and stepping latency were compared between APA types and various dual-task conditions. Wavelet analysis was performed on the stimulus-locked finger-tapping data to determine the frequency change of tapping speed related to reactive stepping. Results showed that postural performance was negatively affected only by the high-attention-demanding cognitive task. Significant reduction of finger-tapping speed post-stimulus presentation was observed across all test conditions, indicating attention shift during the execution of a step. In addition, the DTH condition induced early postural prioritization in choice reaction stepping when different motor programs needed to be planned and executed. Error APA also triggered larger deterioration of tapping performance compared to correct APA, indicating the perceived error and the remedial action require additional attentional resources.
Access options
Buy single article
Instant access to the full article PDF.
USD 39.95
Price excludes VAT (USA)
Tax calculation will be finalised during checkout.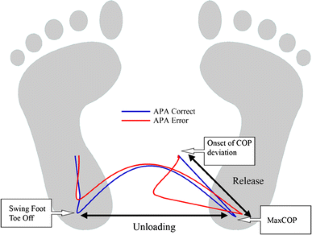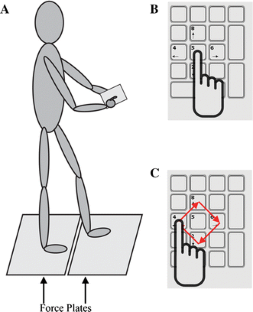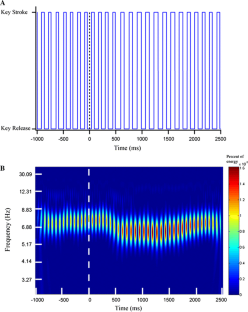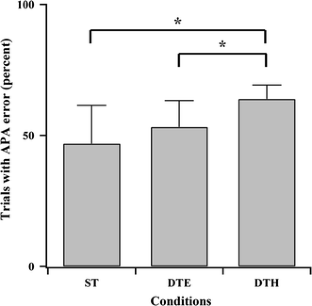 References
Al-Yahya E, Dawes H, Smith L, Dennis A, Howells K, Cockburn J (2011) Cognitive motor interference while walking: a systematic review and meta-analysis. Neurosci Biobehav Rev 35:715–728

Cohen RG, Nutt JG, Horak FB (2011) Errors in postural preparation lead to increased choice reaction times for step initiation in older adults. J Gerontol A Biol Sci Med Sci 66:705–713. doi:10.1093/gerona/glr054

Dalton E, Bishop M, Tillman MD, Hass CJ (2011) Simple change in initial standing position enhances the initiation of gait. Med Sci Sports Exerc 43:2352

Iannetti GD, Hughes NP, Lee MC, Mouraux A (2008) Determinants of laser-evoked EEG responses: pain perception or stimulus saliency? J Neurophysiol 100:815–828

Kelly VE, Janke AA, Shumway-Cook A (2010) Effects of instructed focus and task difficulty on concurrent walking and cognitive task performance in healthy young adults. Exp Brain Res 207:65–73

Kelly VE, Eusterbrock AJ, Shumway-Cook A (2013) Factors influencing dynamic prioritization during dual-task walking in healthy young adults. Gait Posture 37:131–134

Lord SR, Fitzpatrick RC (2001) Choice stepping reaction time: a composite measure of falls risk in older people. J Gerontol A Biol Sci Med Sci 56:M627–M632

MacKinnon CD, Bissig D, Chiusano J et al (2007) Preparation of anticipatory postural adjustments prior to stepping. J Neurophysiol 97:4368–4379

McIlroy WE, Norrie RG, Brooke JD, Bishop DC, Nelson AJ, Maki BE (1999) Temporal properties of attention sharing consequent to disturbed balance. NeuroReport 10:2895–2899

Melzer I, Shtilman I, Rosenblatt N, Oddsson LI (2007) Reliability of voluntary step execution behavior under single and dual task conditions. J Neuroeng Rehabil 4:16. doi:10.1186/1743-0003-4-16

Mickelborough J, van der Linden ML, Tallis RC, Ennos AR (2004) Muscle activity during gait initiation in normal elderly people. Gait Posture 19:50–57

Norrie RG, Maki BE, Staines WR, McIlroy WE (2002) The time course of attention shifts following perturbation of upright stance. Exp Brain Res 146:315–321

Oldfield RC (1971) The assessment and analysis of handedness: the Edinburgh inventory. Neuropsychologia 9:97–113

Posner MI, Petersen SE (1990) The attention system of the human brain. Annu Rev Neurosci 13:25–42

Rochet N, Spieser L, Casini L, Hasbroucq T, Burle B (2014) Detecting and correcting partial errors: evidence for efficient control without conscious access. Cognit Affect Behav Neurosci 14:970–982

Schrodt LA, Mercer VS, Giuliani CA, Hartman M (2004) Characteristics of stepping over an obstacle in community dwelling older adults under dual-task conditions. Gait Posture 19:279–287

Shelton J, Kumar GP (2010) Comparison between auditory and visual simple reaction times. Neurosci Med 1:30

Shiffrin RM, Schneider W (1977) Controlled and automatic human information processing: II. Perceptual learning, automatic attending and a general theory. Psychol Rev 84:127

Sparto PJ, Fuhrman SI, Redfern MS, Jennings JR, Perera S, Nebes RD, Furman JM (2013) Postural adjustment errors reveal deficits in inhibition during lateral step initiation in older adults. J Neurophysiol 109:415–428. doi:10.1152/jn.00682.2012

St George RJ, Fitzpatrick RC, Rogers MW, Lord SR (2007) Choice stepping response and transfer times: effects of age, fall risk, and secondary tasks. J Gerontol Ser Biol Sci Med Sci 62:537–542

Sun R, Guerra R, Shea JB (2015) The posterior shift anticipatory postural adjustment in choice reaction step initiation. Gait Posture 41:894–898

Suzuki M, Miyai I, Ono T, Oda I, Konishi I, Kochiyama T, Kubota K (2004) Prefrontal and premotor cortices are involved in adapting walking and running speed on the treadmill: an optical imaging study. Neuroimage 23:1020–1026

Uemura K, Yamada M, Nagai K, Tateuchi H, Mori S, Tanaka B, Ichihashi N (2012) Effects of dual-task switch exercise on gait and gait initiation performance in older adults: preliminary results of a randomized controlled trial. Arch Gerontol Geriatr 54:e167–e171

Uemura K, Oya T, Uchiyama Y (2013) Effects of visual interference on initial motor program errors and execution times in the choice step reaction. Gait Posture 38:68–72

Walshe EA, Patterson MR, Commins S, Roche RA (2015) Dual-task and electrophysiological markers of executive cognitive processing in older adult gait and fall-risk. Front Hum Neurosci 9:e200–e200

Woollacott M, Shumway-Cook A (2002) Attention and the control of posture and gait: a review of an emerging area of research. Gait Posture 16:1–14

Yogev-Seligmann G, Rotem-Galili Y, Mirelman A, Dickstein R, Giladi N, Hausdorff JM (2010) How does explicit prioritization alter walking during dual-task performance? Effects of age and sex on gait speed and variability. Phys Ther 90:177–186

Yogev-Seligmann G, Hausdorff JM, Giladi N (2012) Do we always prioritize balance when walking? Towards an integrated model of task prioritization. Mov Disord 27:765–770
Acknowledgments
We would like to extend acknowledgment to Caleb Hartley for his contributions early in the project. We would also like to thank Dr. Aina Puce for guidance on performing the wavelet analysis.
Ethics declarations
Informed consent
Informed consent was obtained from all individual participants included in the study.
Ethical approval
All procedures performed in studies involving human participants were in accordance with the ethical standards of the institutional and/or national research committee and with the 1964 Helsinki Declaration and its later amendments or comparable ethical standards.
About this article
Cite this article
Sun, R., Shea, J.B. Probing attention prioritization during dual-task step initiation: a novel method. Exp Brain Res 234, 1047–1056 (2016). https://doi.org/10.1007/s00221-015-4534-z
Received:

Accepted:

Published:

Issue Date:

DOI: https://doi.org/10.1007/s00221-015-4534-z
Keywords
Step initiation

Dual task

Attention

Anticipatory postural adjustment

Postural control