Abstract
Local anesthetic may cause neurotoxicity in developing neurons. In this study, we examined the molecular mechanisms of microRNA-210 (miR-210) in regulating bupivacaine-induced dorsal root ganglia (DRG) neurotoxicity in vitro. Young mouse (P30) DRG explants were cultured in vitro and treated with 5 mM bupivacaine to induce neurotoxicity. QRT-PCR was used to evaluate the expression profiles of miRNAs within 24 h after bupivacaine treatment. MiR-210 was downregulated in DRG, and its effects on bupivacaine-induced neurotoxicity were evaluated by apoptosis and neurite growth assays, respectively. Putative downstream target of miR-210 in DRG, BDNF, was evaluated by dual-luciferase assay, qRT-PCR, and western blot, respectively. BDNF was then knocked down by siRNA to assess its associated effects in regulating DRG neurotoxicity. Within the initial 24 h after bupivacaine treatment, various patterns of miRNA expression were observed, whereas miR-210 was constantly upregulated. Application of miR-210 inhibitor efficiently downregulated endogenous miR-210, protected apoptosis and neurite retraction in bupivacaine damaged DRG neurons. Using dual-luciferase assay, qRT-PCR, and western blot, BDNF was confirmed to the downstream target of miR-210 in DRG. SiRNA-mediated BDNF downregulation reversed the effect of miR-210 downregulation in DRG neurotoxicity. MiR-210, through the regulation of BDNF, plays important role in anesthetics-induced DRG neurotoxicity.
Access options
Buy single article
Instant access to the full article PDF.
USD 39.95
Price excludes VAT (USA)
Tax calculation will be finalised during checkout.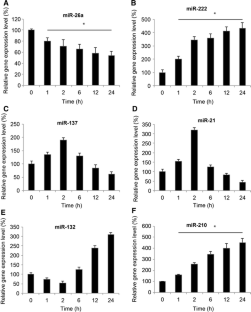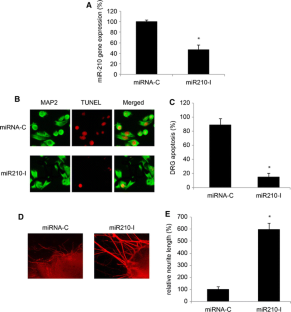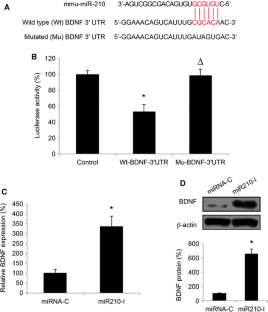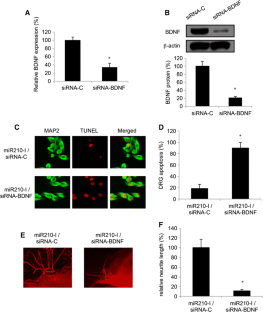 References
Boyce VS, Mendell LM (2014) Neurotrophic factors in spinal cord injury. Handb Exp Pharmacol 220:443–460

Camps C, Buffa FM, Colella S, Moore J, Sotiriou C, Sheldon H, Harris AL, Gleadle JM, Ragoussis J (2008) hsa-miR-210 is induced by hypoxia and is an independent prognostic factor in breast cancer. Clin Cancer Res 14(5):1340–1348

Chio CC, Lin JW, Cheng HA, Chiu WT, Wang YH, Wang JJ, Hsing CH, Chen RM (2013) MicroRNA-210 targets antiapoptotic Bcl-2 expression and mediates hypoxia-induced apoptosis of neuroblastoma cells. Arch Toxicol 87(3):459–468

Cui C, Xu G, Qiu J, Fan X (2015) Up-regulation of miR-26a promotes neurite outgrowth and ameliorates apoptosis by inhibiting PTEN in bupivacaine injured mouse dorsal root ganglia. Cell Biol Int 39(8):933–942

Deng YS, Zhong JH, Zhou XF (2000) BDNF is involved in sympathetic sprouting in the dorsal root ganglia following peripheral nerve injury in rats. Neurotox Res 1(4):311–322

Drummond JC (2015) Early childhood anesthetic neurotoxicity and unmeasured covariates: there's the RUB. Anesthesiology 122(1):216–217

Fasanaro P, Greco S, Lorenzi M, Pescatori M, Brioschi M, Kulshreshtha R, Banfi C, Stubbs A, Calin GA, Ivan M et al (2009) An integrated approach for experimental target identification of hypoxia-induced miR-210. J Biol Chem 284(50):35134–35143

Giannakakis A, Sandaltzopoulos R, Greshock J, Liang S, Huang J, Hasegawa K, Li C, O'Brien-Jenkins A, Katsaros D, Weber BL et al (2008) miR-210 links hypoxia with cell cycle regulation and is deleted in human epithelial ovarian cancer. Cancer Biol Ther 7(2):255–264

Gunter JB (2002) Benefit and risks of local anesthetics in infants and children. Paediatr Drugs 4(10):649–672

Huang EJ, Reichardt LF (2001) Neurotrophins: roles in neuronal development and function. Annu Rev Neurosci 24:677–736

Ma R, Wang X, Lu C, Li C, Cheng Y, Ding G, Liu L, Ding Z (2010) Dexamethasone attenuated bupivacaine-induced neuron injury in vitro through a threonine-serine protein kinase B-dependent mechanism. Neuroscience 167(2):329–342

Martinez-Levy GA, Cruz-Fuentes CS (2014) Genetic and epigenetic regulation of the brain-derived neurotrophic factor in the central nervous system. Yale J Biol Med 87(2):173–186

Miller FD, Kaplan DR (2001) Neurotrophin signalling pathways regulating neuronal apoptosis. Cell Mol Life Sci 58(8):1045–1053

Miska EA (2005) How microRNAs control cell division, differentiation and death. Curr Opin Genet Dev 15(5):563–568

Park CJ, Park SA, Yoon TG, Lee SJ, Yum KW, Kim HJ (2005) Bupivacaine induces apoptosis via ROS in the Schwann cell line. J Dent Res 84(9):852–857

Radwan IA, Saito S, Goto F (2002) The neurotoxicity of local anesthetics on growing neurons: a comparative study of lidocaine bupivacaine mepivacaine and ropivacaine. Anesth Analg 94(2):319–324

Sebert ME, Shooter EM (1993) Expression of mRNA for neurotrophic factors and their receptors in the rat dorsal root ganglion and sciatic nerve following nerve injury. J Neurosci Res 36(4):357–367

Shen KF, Crain SM (1989) Dual opioid modulation of the action potential duration of mouse dorsal root ganglion neurons in culture. Brain Res 491(2):227–242

Tal TL, Tanguay RL (2012) Non-coding RNAs—novel targets in neurotoxicity. Neurotoxicology 33(3):530–544

Tong M, Brugeaud A, Edge AS (2013) Regenerated synapses between postnatal hair cells and auditory neurons. J Assoc Res Otolaryngol 14(3):321–329

Twaroski D, Bosnjak ZJ, Bai X (2015) MicroRNAs: new players in anesthetic-induced developmental neurotoxicity. Pharm Anal Acta 6:357

Wang X, Zhang X, Cheng Y, Li C, Zhang W, Liu L, Ding Z (2010) Alpha-lipoic acid prevents bupivacaine-induced neuron injury in vitro through a PI3 K/Akt-dependent mechanism. Neurotoxicology 31(1):101–112

Weishaupt N, Blesch A, Fouad K (2012) BDNF: the career of a multifaceted neurotrophin in spinal cord injury. Exp Neurol 238(2):254–264

Zhao G, Ding X, Guo Y, Chen W (2014) Intrathecal lidocaine neurotoxicity: combination with bupivacaine and ropivacaine and effect of nerve growth factor. Life Sci 112(1–2):10–21

Zhou S, Shen D, Wang Y, Gong L, Tang X, Yu B, Gu X, Ding F (2012) microRNA-222 targeting PTEN promotes neurite outgrowth from adult dorsal root ganglion neurons following sciatic nerve transection. PLoS ONE 7(9):e44768

Ziu M, Fletcher L, Savage JG, Jimenez DF, Digicaylioglu M, Bartanusz V (2014) Spatial and temporal expression levels of specific microRNAs in a spinal cord injury mouse model and their relationship to the duration of compression. Spine J 14(2):353–360
Ethics declarations
Conflict of interest
None.
Electronic supplementary material
Below is the link to the electronic supplementary material.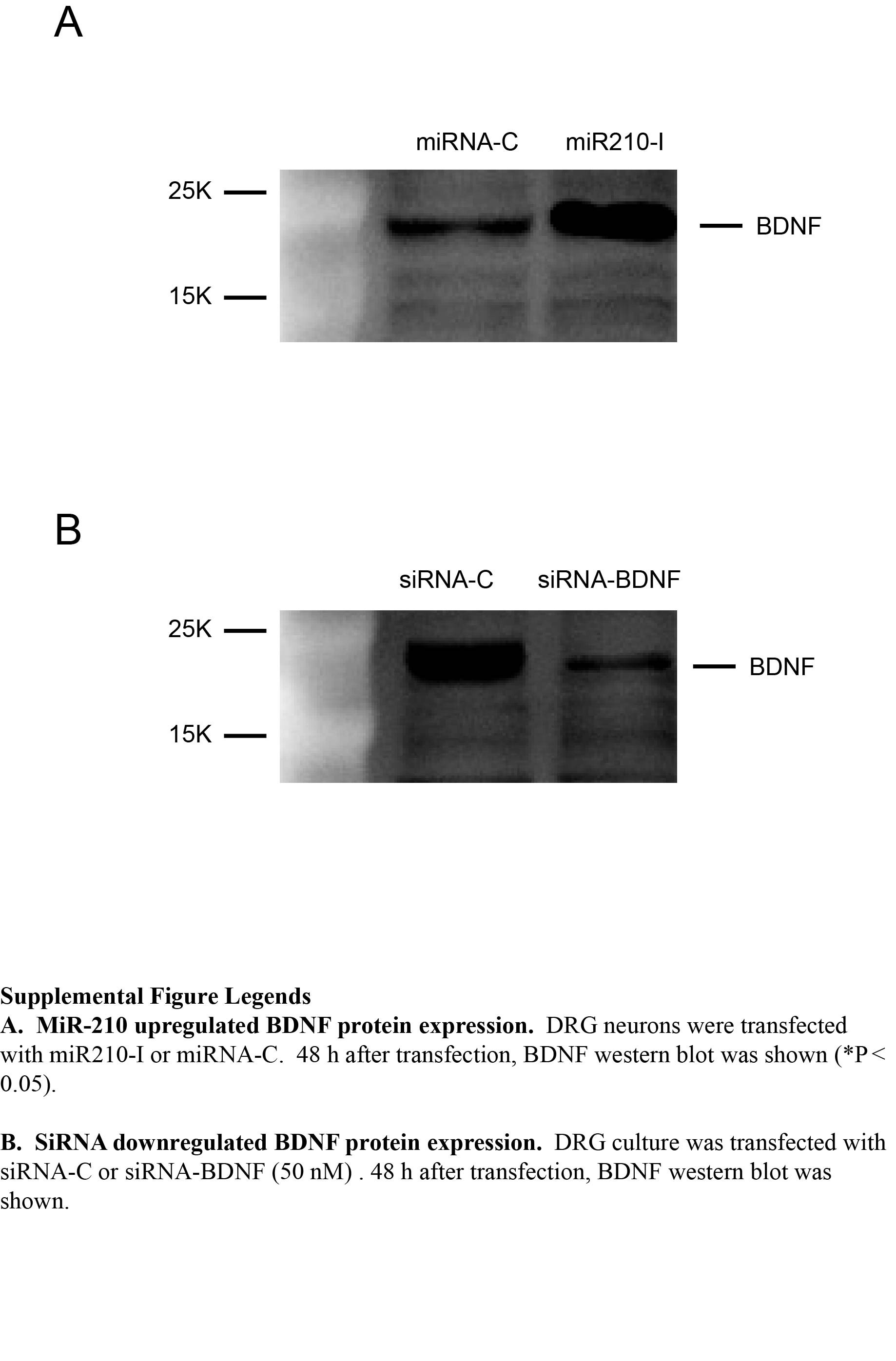 About this article
Cite this article
Wang, Y., Ni, H., Zhang, W. et al. Downregulation of miR-210 protected bupivacaine-induced neurotoxicity in dorsal root ganglion. Exp Brain Res 234, 1057–1065 (2016). https://doi.org/10.1007/s00221-015-4513-4
Received:

Accepted:

Published:

Issue Date:

DOI: https://doi.org/10.1007/s00221-015-4513-4
Keywords