Abstract
Motion sickness is more common among women than among men. Previous research has shown that standing body sway differs between women and men. In addition, research has shown that postural sway differs between individuals who experience visually induced motion sickness and those who do not and that those differences exist before exposure to visual motion stimuli. We asked whether sex differences in postural sway would be related to sex differences in the incidence of visually induced motion sickness. We measured unperturbed standing body sway before participants were exposed to visual motion stimuli that induced motion sickness in some participants. During postural testing, participants performed different visual tasks. Results revealed that postural sway was affected by visual tasks, consistent with the literature. In addition, we found a statistically significant three-way interaction between visual tasks, sex, and (subsequent) motion sickness status. These results suggest that sex differences in motion sickness may be related to sex differences in the control of postural balance.
Access options
Buy single article
Instant access to the full article PDF.
US$ 39.95
Tax calculation will be finalised during checkout.
Subscribe to journal
Immediate online access to all issues from 2019. Subscription will auto renew annually.
US$ 119
Tax calculation will be finalised during checkout.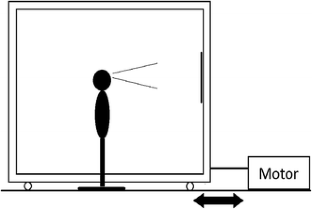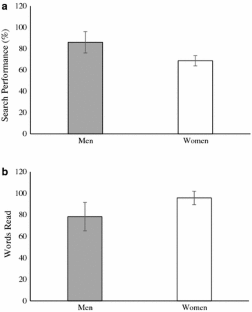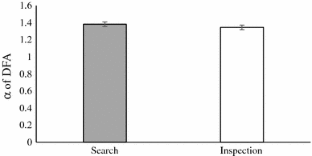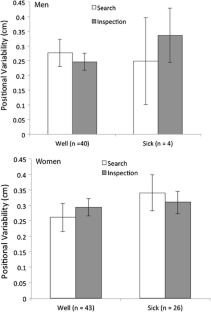 References
Akiduki H, Nishiike S, Watanabe H, Matsuoka K, Kubo T, Takeda N (2003) Visual-vestibular conflict induced by virtual reality in humans. Neurosci Lett 340:197–200

Balasubramaniam R, Riley MA, Turvey MT (2000) Specificity of postural sway to the demands of a precision task. Gait Pos 11:12–24

Bonnet CT, Faugloire EM, Riley MA, Bardy BG, Stoffregen TA (2006) Motion sickness preceded by unstable displacements of the center of pressure. Hum Move Sci 25:800–820

Chang C-H, Pan W-W, Tseng L-Y, Stoffregen TA (2012) Postural activity and motion sickness during video game play in children and adults. Exp Brain Res 217:299–309

Chen F-C, Stoffregen TA (2012) Specificity of postural sway to the demands of a precision task at sea. J Exper Psych Appl 18:203–212

Chen Z, Ivanov PC, Hu K, Stanley HE (2002) Effect of nonstationarities on detrended fluctuation analysis. Phys Rev E Stat Nonlin Soft Matter Phys 65(4 (Pt. 1)):041107-1–041107-15

Chiari L, Rocchi L, Cappello A (2002) Stabilometric parameters are affected by anthropometry and foot placement. Clin Biomech 17:666–677

Davies A (2015) A bit of barf can teach us lots about self-driving cars. http://www.wired.com/2015/07/bit-barf-can-teach-us-lots-self-driving-cars/ Accessed July 28 2015

Dobie T, McBride D, Dobie T, May J (2001) The effects of age and sex on susceptibility to motion sickness. Aviat Space Environ Med 72:13–20

Dong X, Yoshida K, Stoffregen TA (2011) Control of a virtual vehicle influences postural activity and motion sickness. J Exp Psychol Appl 17:128–138

Era P, Sainio P, Koskinen S, Haavisto P, Vaara M, Aromaa A (2006) Postural balance in a random sample of 7,979 subjects aged 30 years and over. Gerontol 52:204–213

Faugloire E, Bardy BG, Stoffregen TA (2006) The dynamics of learning new postural patterns. J Motor Behav 38:299–312

Fessler DMT, Haley KJ, Lal RD (2005) Sexual dimorphism in foot length proportionate to stature. Ann Hum Biol 32:44–59

Flanagan MB, May JG, Dobie TG (2005) Sex differences in tolerance to visually-induced motion sickness. Aviat Space Environ Med 76:642–646

Gao J, Hu J, Tung W-W, Cao Y, Sarshar N, Roychowdhury VP (2006) Assessment of long-range correlation in time series: how to avoid pitfalls. Phys Rev E 73:016117

Gates AI (1961) Sex differences in reading ability. Elem Sch J 61:431–434

Giammarco EA, Schneider TJ, Carswell JJ, Knipe WS (2015) Video game preferences and their relation to career interests. Pers Individ Diff 73:98–104

Golding JF (2006) Motion sickness susceptibility. Autonom Neurosci Basic Clin 129:67–76

Golding JF, Kadzere P, Gresty MA (2005) Motion sickness susceptibility fluctuates through the menstrual cycle. Aviat Space Environ Med 76:970–973

Howarth HVC, Griffin MJ (2003) Effect of roll oscillation frequency on motion sickness. Aviat Space Environ Med 74:326–331

Kennedy RS, Lane NE, Berbaum KS, Lilienthal MG (1993) Simulator sickness questionnaire: an enhanced method for quantifying simulator sickness. Int J Aviat Psychol 3(3):203–220

Kennedy RS, Lanham DS, Massey CJ, Drexler JM, Lilienthal MG (1995) Gender differences in simulator sickness incidence: implications for military virtual reality systems. Safe J 25:69–76

Kim JW, Eom GM, Kim CS, Kim DH, Lee JH, Park BK, Hong J (2010) Sex differences in the postural sway characteristics of young and elderly subjects during quiet natural standing. Geriat Geront Int 10:191–198

Koslucher F, Wade MG, Nelson B, Lim K, Chen F-C, Stoffregen TA (2012) Nintendo Wii Balance Board is sensitive to effects of visual tasks on standing sway in healthy elderly adults. Gait Pos 36:605–608

Koslucher FC, Haaland E, Stoffregen TA (2014) Body load and the postural precursors of motion sickness. Gait Pos 39:606–610

Koslucher FC, Haaland E, Malsch A, Webeler J, Stoffregen TA (2015) Sex differences in the incidence of motion sickness induced by linear visual oscillation. Aviat Med Hum Perf 86:787–793

Lamb S, Kwok KCS, Walton D (2013) Occupant comfort in wind-excited tall buildings: motion sickness, compensatory behaviors, and complaint. J Wind Eng Ind Aerodyn 119:1–12

Lawther A, Griffin MJ (1988) A survey of the occurrence of motion sickness amongst passengers at sea. Aviat Space Environ Med 59:399–406

Lin D, Seol H, Nussbaum MA, Madigan ML (2008) Reliability of COP-based postural sway measures and age-related differences. Gait Posture 28:337–342

Meissner K, Enck P, Muth ER, Kellerman S, Klosterhalfen S (2009) Cortisol levels predict motion sickness tolerance in women but not in men. Physiol Behav 97:102–106

Merhi O, Faugloire E, Flanagan M, Stoffregen TA (2007) Motion sickness, console video games, and head mounted displays. Hum Fact 49:920–934

Miller JW, Goodson JE (1960) Motion sickness in a helicopter simulator. Aerospace Med 31:204–212

Oman CM (1982) A heuristic mathematical model for the dynamics of sensory conflict and motion sickness hearing in classical musicians. Acta Otolaryngol 94(Suppl 392):4–44

Park AH-Y, Hu S (1999) Gender differences in motion sickness history and susceptibility to optokinetic rotation-induced motion sickness. Aviat Space Environ Med 70:1077–1080

Parsons TD, Larson P, Kratz K, Thiebaux M, Bluestein B, Buckwalter JG, Rizzo AA (2004) Sex differences in mental rotation and spatial rotation in a virtual environment. Neuropsychologia 42:555–562

Reason JT (1978) Motion sickness adaptation: a neural mismatch model. J R Soc Med 71(11):819–829

Riccio GE, Stoffregen TA (1991) An ecological theory of motion sickness and postural instability. Ecol Psychol 3:195–240

Sivak M, Schoettle B (2015) Motion sickness in self-driving vehicles. UMTRI-2015-12. Ann Arbor: University of Michigan Transportation Research Institute

Smart LJ, Stoffregen TA, Bardy BG (2002) Visually-induced motion sickness predicted by postural instability. Hum Fact 44:451–465

Stoffregen TA, Smart LJ (1998) Postural instability precedes motion sickness. Brain Res Bull 47:437–448

Stoffregen TA, Smart LJ, Bardy BG, Pagulayan RJ (1999) Postural stabilization of looking. J Exper Psych Hum Perc Perf 25:1641–1658

Stoffregen TA, Hettinger LJ, Haas MW, Roe M, Smart LJ (2000a) Postural instability and motion sickness in a fixed-base flight simulator. Hum Fact 42:458–469

Stoffregen TA, Pagulayan RJ, Bardy BG, Hettinger LJ (2000b) Modulating postural control to facilitate visual performance. Hum Move Sci 19:203–220

Stoffregen TA, Hove P, Bardy BG, Riley MA, Bonnet CT (2007) Postural stabilization of perceptual but not cognitive performance. J Mot Beh 39:126–138

Stoffregen TA, Faugloire E, Yoshida K, Flanagan M, Merhi O (2008) Motion sickness and postural sway in console video games. Hum Fact 50:322–331

Stoffregen TA, Yoshida K, Villard S, Scibora L, Bardy BG (2010) Stance width influences postural stability and motion sickness. Ecol Psychol 22:169–191

Stoffregen TA, Villard S, Chen F-C, Yu Y (2011) Standing body sway on land and at sea. Ecol Psychol 23:19–36

Stoffregen TA, Chen F-C, Varlet M, Alcantara C, Bardy BG (2013) Getting your sea legs. PLOS One 8(6):e66949. doi:10.1371/journal.pone.0066949

Stoffregen TA, Chen Y-C, Koslucher FC (2014) Motion control, motion sickness, and the postural dynamics of mobile devices. Exp Brain Res 232:1389–1397. doi:10.1007/s00221-014-3859-3

Sullivan EV, Rose J, Rohlfing T, Pfefferbaum A (2009) Postural sway reduction in aging men and women: relation to brain structure, cognitive status, and stabilizing factors. Neurobiol Aging 30:793–807

The Guardian (2013) http://www.theguardian.com/technology/2013/sep/27/ios-7-motion-sickness-nausea. Accessed July 28 2015

Turner M, Griffin MJ (1999) Motion sickness in public road transport: the relative importance of motion, vision, and individual differences. Br J Psychol 90:519–530

Villard S, Flanagan MB, Albanese G, Stoffregen TA (2008) Postural instability and motion sickness in a virtual moving room. Hum Fact 50:332–345

Woollacott MH, Shumway-Cook A (2002) Attention and the control of posture and gait: a review of an emerging area of research. Gait Pos 16:1–14

Yu Y, Chung H-C, Hemingway L, Stoffregen TA (2013) Standing body sway in women with and without morning sickness in pregnancy. Gait and Posture 37:103–107
About this article
Cite this article
Koslucher, F., Haaland, E. & Stoffregen, T.A. Sex differences in visual performance and postural sway precede sex differences in visually induced motion sickness. Exp Brain Res 234, 313–322 (2016). https://doi.org/10.1007/s00221-015-4462-y
Received:

Accepted:

Published:

Issue Date:
Keywords
Postural control

Motion sickness

Sex differences