Abstract
We have previously shown that sinusoidal galvanic vestibular stimulation (sGVS), delivered bilaterally at frequencies of 0.08–2.00 Hz, causes a pronounced modulation of muscle sympathetic nerve activity (MSNA) and skin sympathetic nerve activity (SSNA), together with robust frequency-dependent illusions of side-to-side motion. At low frequencies of sGVS (≤0.2 Hz), some subjects report nausea, so we tested the hypothesis that vestibular modulation of MSNA and SSNA is augmented in individuals reporting nausea. MSNA was recorded via tungsten microelectrodes inserted into the left common peroneal nerve in 22 awake, seated subjects; SSNA was recorded in 14 subjects. Bipolar binaural sGVS (±2 mA, 100 cycles) was applied to the mastoid processes at 0.08, 0.13, and 0.18 Hz. Nausea was reported by 21 out of 36 subjects (58 %), but across frequencies of sGVS there was no difference in the magnitude of the vestibular modulation of MSNA in subjects who reported nausea (27.1 ± 1.8 %) and those who did not (30.4 ± 2.9 %). This contrasts with the significantly greater vestibular modulation of SSNA with nausea (41.1 ± 2.0 vs. 28.7 ± 3.1 %) and indicates an organ-specific modulation of sympathetic outflow via the vestibular system during motion sickness.
This is a preview of subscription content, log in to check access.
Access options
Buy single article
Instant access to the full article PDF.
US$ 39.95
Price includes VAT for USA
Subscribe to journal
Immediate online access to all issues from 2019. Subscription will auto renew annually.
US$ 199
This is the net price. Taxes to be calculated in checkout.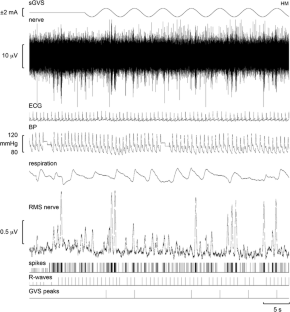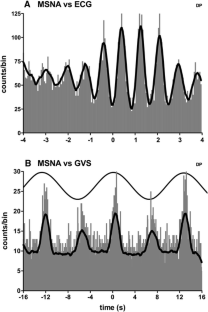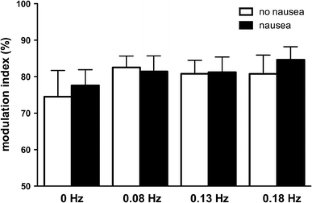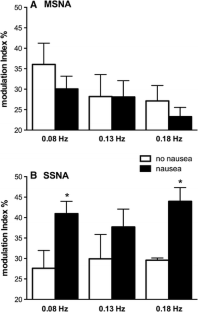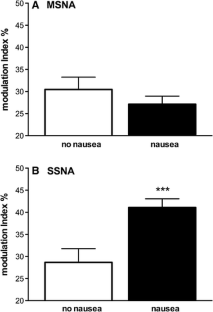 References
Bent LR, Bolton PS, Macefield VG (2006) Modulation of muscle sympathetic bursts by sinusoidal galvanic vestibular stimulation in human subjects. Exp Brain Res 174:701–711

Blessing WW, Nalivaiko E (2001) Raphe magnus/pallidus neurons regulate tail but not mesenteric arterial blood flow in rats. Neuroscience 105:923–929

Bolton PS, Wardman DL, Macefield VG (2004) Absence of short-term vestibular modulation of muscle sympathetic outflow, assessed by brief galvanic vestibular stimulation. Exp Brain Res 154:39–43

Britton TC, Day BL, Brown P, Rothwell JC, Thompson PD, Marsden CD (1993) Postural electromyographic responses in the arm and leg following galvanic vestibular stimulation in man. Exp Brain Res 94:143–151

Carter JR, Ray CA (2008) Sympathetic responses to vestibular activation in humans. Am J Physiol Regul Integr Comp Physiol 294:681–688

Cohen B, Yakushin SB, Holstein GR (2012) What does galvanic vestibular stimulation actually activate? Front Neurol 2:90

Costa F, Lavin P, Robertson D, Biaggioni I (1995) Effect of neurovestibular stimulation on autonomic regulation. Clin Auton Res 5:289–293

Crampton G (1990) Motion and space sickness. CRC Press, Boca Raton

Cui J, Mukai C, Iwase S, Sawasaki N, Kitazawa H, Mano T, Sugiyama Y, Wada Y (1997) Response to vestibular stimulation of sympathetic outflow to muscle in humans. J Auton Nerv Syst 66:154–162

Curthoys IS, Macdougall HG (2012) What galvanic vestibular stimulation actually activates. Front Neurol 3:117

Dampney RA, Horiuchi J, Tagawa T, Fontes MA, Potts PD, Polson JW (2003a) Medullary and supramedullary mechanisms regulating sympathetic vasomotor tone. Acta Physiol Scand 177:209–218

Dampney RA, Polson JW, Potts PD, Hirooka Y, Horiuchi J (2003b) Functional organization of brain pathways subserving the baroreceptor reflex: studies in conscious animals using immediate early gene expression. Cell Mol Neurobiol 23:597–616

Day BL, Severac-Cauquil A, Bartolomei L, Pastor MA, Lyon IN (1997) Human body-segment tilts induced by galvanic stimulation: a vestibularly driven balance protection mechanism. J Physiol 500:661–672

Delius W, Hagbarth KE, Hongell A, Wallin BG (1972) Manoeuvres affecting sympathetic outflow in human skin nerves. Acta Physiol Scand 84:177–186

Forbes PA, Siegmund GP, Schouten AC, Blouin JS (2015) Task, muscle and frequency dependent vestibular control of posture. Front Integr Neurosci 8:94

Golding JF (2006) Motion sickness susceptibility. Auton Neurosci 129:67–76

Grewal T, James C, Macefield VG (2009) Frequency-dependent modulation of muscle sympathetic nerve activity by sinusoidal galvanic vestibular stimulation in human subjects. Exp Brain Res 197:379–386

Hammam E, James C, Dawood T, Macefield VG (2011) Low-frequency sinusoidal galvanic stimulation of the left and right vestibular nerves reveals two peaks of modulation in muscle sympathetic nerve activity. Exp Brain Res 213:507–514

Hammam E, Dawood T, Macefield VG (2012) Low-frequency galvanic vestibular stimulation evokes two peaks of modulation in skin sympathetic nerve activity. Exp Brain Res 219:441–446

Himi N, Koga T, Nakamura E, Kobashi M, Yamane M, Tsujioka K (2004) Differences in autonomic responses between subjects with and without nausea while watching an irregularly oscillating video. Auton Neurosci 116:46–53

Hume KM, Ray CA (1999) Sympathetic responses to head-down rotations in humans. J Appl Physiol 86:1971–1976

James C, Stathis A, Macefield VG (2010) Vestibular and pulse-related modulation of skin sympathetic nerve activity during sinusoidal galvanic vestibular stimulation in human subjects. Exp Brain Res 202:291–298

Kaufmann H, Biaggioni I, Voustianiouk A, Diedrich A, Costa F, Clarke R, Gizzi M, Raphan T, Cohen B (2002) Vestibular control of sympathetic activity. An otolith-sympathetic reflex in humans. Exp Brain Res 143:463–469

Kerman IA, Yates BJ, McAllen RM (2000) Anatomic patterning in the expression of vestibulosympathetic reflexes. Am J Physiol Regul Integr Comp Physiol 279:R109–R117

Lackner JR (2014) Motion sickness: more than nausea and vomiting. Exp Brain Res 232:2493–2510

Macefield VG, Wallin BG (1995) Effects of static lung inflation on sympathetic activity in human muscle nerves at rest and during asphyxia. J Auton Nerv Syst 53:148–156

McAllen RM, Farrell M, Johnson JM, Trevaks D, Cole L, McKinley MJ, Jackson G, Denton DA, Egan GF (2006) Human medullary responses to cooling and rewarming the skin: a functional MRI study. Proc Natl Acad Sci U S A 103:809–813

Miller JC, Sharkey TJ, Graham GA, McCauley ME (1993) Autonomic physiological data associated with simulator discomfort. Aviat Space Environ Med 64:813–819

Money K (1970) Motion sickness. Physiol Rev 50:1–39

Mullen TJ, Berger RD, Oman CM, Cohen RJ (1998) Human heart rate variability relation is unchanged during motion sickness. J Vestib Res 8:95–105

Raphan T, Cohen B (2002) The vestibulo-ocular reflex in three dimensions. Exp Brain Res 145:1–27

Ray CA, Monahan KD (2002) The vestibulosympathetic reflex in humans: neural interactions between cardiovascular reflexes. Clin Exp Pharmacol Physiol 29:98–102

Tyler DB, Bard P (1949) Motion sickness. Physiol Rev 29:311–369

Yates BJ, Yamagata Y, Bolton PS (1991) The ventrolateral medulla of the cat mediates vestibulosympathetic reflexes. Brain Res 552:265–272

Yates BJ, Goto T, Bolton PS (1993) Responses of neurons in the rostral ventrolateral medulla of the cat to natural vestibular stimulation. Brain Res 601:255–264

Yates BJ, Bolton PS, Macefield VG (2014) Vestibulo-sympathetic responses. Compr Physiol 4:851–887

Yokota Y, Aoki M, Mizuta K, Ito Y, Isu N (2005) Motion sickness susceptibility associated with visually induced postural instability and cardiac autonomic responses in healthy subjects. Acta Otolaryngol 125:280–285
Acknowledgments
This work was supported by the Australian Research Council (ARC Discovery Project 1096179).
About this article
Cite this article
Klingberg, D., Hammam, E. & Macefield, V.G. Motion sickness is associated with an increase in vestibular modulation of skin but not muscle sympathetic nerve activity. Exp Brain Res 233, 2433–2440 (2015). https://doi.org/10.1007/s00221-015-4313-x
Received:

Accepted:

Published:

Issue Date:
Keywords
Muscle sympathetic nerve activity

Nausea

Skin sympathetic nerve activity

Vestibulosympathetic reflexes