Abstract
Visually induced motion sickness (VIMS) is a common side effect in virtual environments and simulators. Several countermeasures against VIMS exist, but a reliable method to prevent or ease VIMS is unfortunately still missing. In the present study, we tested whether olfactory cues can alleviate VIMS. Sixty-two participants were exposed to a 15-min-long video showing a first-person-view bicycle ride that had successfully induced VIMS in previous studies. Participants were randomly assigned to one of three groups; the first group was exposed to a pleasant odor (rose) while watching the video, the second group was exposed to an unpleasant odor (leather), and the third group was not exposed to any odor. VIMS was measured using a verbal rating scale (0–20) and the Simulator Sickness Questionnaire. Results showed that only half of the participants who were exposed to the odor did notice it (n = 21), whereas the other half failed to detect the odor. However, among those participants who did notice the odor, the rose scent significantly reduced the severity of VIMS compared to the group that did not notice the odor. A moderate positive correlation between odor sensitivity and VIMS showed that participants with higher odor sensitivity also reported stronger VIMS. Our results demonstrate that olfaction can modulate VIMS and that a pleasant odor can potentially reduce VIMS. The relationship between olfactory perception, olfactory sensibility, and VIMS is discussed.
Access options
Buy single article
Instant access to the full article PDF.
USD 39.95
Price excludes VAT (USA)
Tax calculation will be finalised during checkout.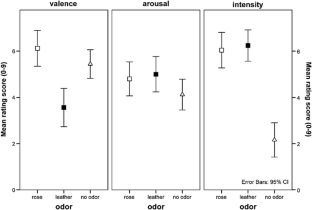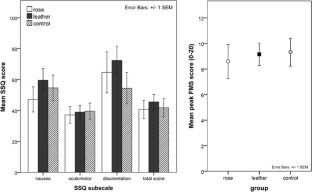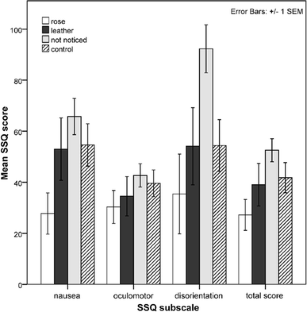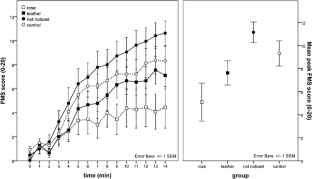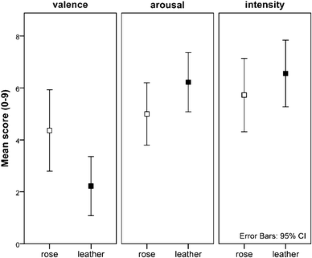 Notes
Note that the experimental settings (i.e., stimuli, apparatus, and response measures) were identical with a study published recently by Keshavarz and Hecht (2014). In their study, the role of music was tested when participants were exposed to the same video that was used in the present study. Due to the identical procedure, the control group ("no sound") used by Keshavarz and Hecht (2014) acted as a control group for the present study as well.

We chose a nonparametric test over an ANOVA as the sample sizes were small in some of the groups (n < 10) and varied extensively between the groups, violating the assumptions of ANOVAs. However, note that we also calculated ANOVAs and found similar results.

Note that the threshold is likely to be one incorporating attention as we did not alert participants to the fact that there was an odor. Thus, the psychophysical threshold in a forced choice scenario could be much lower.
References
Akizuki H, Uno A, Arai K et al (2005) Effects of immersion in virtual reality on postural control. Neurosci Lett 379:23–26. doi:10.1016/j.neulet.2004.12.041

Bailer J, Witthöft M, Rist F (2006) The Chemical Odor Sensitivity Scale: reliability and validity of a screening instrument for idiopathic environmental intolerance. J Psychosom Res 61:71–79. doi:10.1016/j.jpsychores.2005.11.005

Bernhardson B-M, Tishelman C, Rutqvist LE (2009) Taste and smell changes in patients receiving cancer chemotherapy: distress, impact on daily life, and self-care strategies. Cancer Nurs 32:45–54. doi:10.1097/01.NCC.0000343368.06247.74

Bijveld MMC, Bronstein AM, Golding JF, Gresty MA (2008) Nauseogenicity of off-vertical axis rotation vs. equivalent visual motion. Aviat Space Environ Med 79:661–665. doi:10.3357/ASEM.2241.2008

Black FO, Wall C, Rockette HE, Kitch R (1982) Normal subject postural sway during the Romberg test. Am J Otolaryngol 3:309–318

Bos JE, Bles W, Groen EL (2008) A theory on visually induced motion sickness. Displays 29:47–57. doi:10.1016/j.displa.2007.09.002

Bradley MM, Lang PJ (1994) Measuring emotion: the self-assessment manikin and the semantic differential. J Behav Ther Exp Psychiatry 25:49–59

Brauchli P, Rüegg PB, Etzweiler F, Zeier H (1995) Electrocortical and autonomic alteration by administration of a pleasant and an unpleasant odor. Chem Senses 20:505–515

Cameron EL (2014) Pregnancy and olfaction: a review. Front Psychol. doi:10.3389/fpsyg.2014.00067

Cheung B, Hofer K (2005) Desensitization to strong vestibular stimuli improves tolerance to simulated aircraft motion. Aviat Space Environ Med 76:1099–1104

Chu H, Li M-H, Juan S-H, Chiou W-Y (2012) Effects of transcutaneous electrical nerve stimulation on motion sickness induced by rotary chair: a crossover study. J Altern Complement Med 18:494–500. doi:10.1089/acm.2011.0366

Cian C, Ohlmann T, Ceyte H et al (2011) Off vertical axis rotation motion sickness and field dependence. Aviat Space Environ Med 82:959–963. doi:10.3357/ASEM.3049.2011

Colzato LS, Sellaro R, Rossi Paccani C, Hommel B (2014) Attentional control in the attentional blink is modulated by odor. Atten Percept Psychophys 76:1510–1515. doi:10.3758/s13414-014-0733-0

Cowings PS, Toscano WB (2000) Autogenic-feedback training exercise is superior to promethazine for control of motion sickness symptoms. J Clin Pharmacol 40:1154–1165

Croy I, Buschhüter D, Seo H-S et al (2010) Individual significance of olfaction: development of a questionnaire. Eur Arch Otorhinolaryngol 267:67–71. doi:10.1007/s00405-009-1054-0

Denise P, Etard O, Zupan L, Darlot C (1996) Motion sickness during off-vertical axis rotation: prediction by a model of sensory interactions and correlation with other forms of motion sickness. Neurosci Lett 203:183–186. doi:10.1016/0304-3940(96)12303-X

Doty RL, Shaman P, Dann M (1984) Development of the University of Pennsylvania Smell Identification Test: a standardized microencapsulated test of olfactory function. Physiol Behav 32:489–502

Draper MH, Viirre ES, Furness TA, Gawron VJ (2001) Effects of image scale and system time delay on simulator sickness within head-coupled virtual environments. Hum Factors J Hum Factors Ergon Soc 43:129–146. doi:10.1518/001872001775992552

Duh H, Parker DE, Philips JO, Furness TA (2004) Conflicting motion cues to the visual and vestibular self-motion systems around 0.06 Hz evoke simulator sickness. Hum Factors J Hum Factors Ergon Soc 46:142–153. doi:10.1518/hfes.46.1.142.30384

Ebenholtz SM (1992) Motion sickness and oculomotor systems in virtual environments. Presence Teleoper Virtual Environ 1:302–305

Estrada A, LeDuc PA, Curry IP et al (2007) Airsickness prevention in helicopter passengers. Aviat Space Environ Med 78:408–413

Fernández-Marcos A, Martín M, Sanchez JJ et al (1996) Acute and anticipatory emesis in breast cancer patients. Support Care Cancer 4:370–377

Ferruggiari L, Ragione B, Rich ER, Lock K (2012) The effect of aromatherapy on postoperative nausea in women undergoing surgical procedures. J PeriAnesth Nurs 27:246–251. doi:10.1016/j.jopan.2012.01.013

Golding JF (2006) Motion sickness susceptibility. Auton Neurosci 129:67–76. doi:10.1016/j.autneu.2006.07.019

Golding JF, Gresty MA (2005) Motion sickness. Curr Opin Neurol 18:29–34

Goodwin TM (2002) Nausea and vomiting of pregnancy: an obstetric syndrome. Am J Obstet Gynecol 186:S184–S189. doi:10.1067/mob.2002.122592

Groen EL, Bos JE (2008) Simulator sickness depends on frequency of the simulator motion mismatch: an observation. Presence Teleoper Virtual Environ 17:584–593

Hecht H, Brown EL, Young LR (2002) Adapting to artificial gravity (AG) at high rotational speeds. J Gravit Physiol 9:P1–p5

Herz RS (2005) Odor-associative learning and emotion: effects on perception and behavior. Chem Senses 30:i250–i251. doi:10.1093/chemse/bjh209

Herz RS, Beland SL, Hellerstein M (2004) Changing odor hedonic perception through emotional associations in humans. Int J Comp Psychol 17:315–338

Hummel T, von Mering R, Huch R, Kölble N (2002) Olfactory modulation of nausea during early pregnancy? BJOG 109:1394–1397

Kamen C, Tejani MA, Chandwani K et al (2014) Anticipatory nausea and vomiting due to chemotherapy. Eur J Pharmacol. doi:10.1016/j.ejphar.2013.09.071

Keller A, Hempstead M, Gomez IA et al (2012) An olfactory demography of a diverse metropolitan population. BMC Neurosci 13:122. doi:10.1186/1471-2202-13-122

Kennedy RS, Lane NE, Berbaum KS, Lilienthal MG (1993) Simulator Sickness Questionnaire: an enhanced method for quantifying simulator sickness. Int J Aviat Psychol 3:203–220. doi:10.1207/s15327108ijap0303_3

Keshavarz B, Hecht H (2011) Validating an efficient method to quantify motion sickness. Hum Factors 53:415–426

Keshavarz B, Hecht H (2012) Stereoscopic viewing enhances visually induced motion sickness but sound does not. Presence 21:213–228

Keshavarz B, Hecht H (2014) Pleasant music as a countermeasure against visually induced motion sickness. Appl Ergon 45:521–527. doi:10.1016/j.apergo.2013.07.009

Keshavarz B, Hecht H, Zschutschke L (2011) Intra-visual conflict in visually induced motion sickness. Displays 32:181–188. doi:10.1016/j.displa.2011.05.009

Keshavarz B, Hecht H, Lawson BD (2014) Visually induced motion sickness: characteristics, causes, and countermeasures. In: Hale KS, Stanney KM (eds) Handbook of virtual environments: design, implementation, and applications, 2nd edn. CRC Press, Boca Raton, pp 648–697

Lawson BD (2014) Motion sickness symptomatology and origins. In: Hale KS, Stanney KM (eds) Handbook of virtual environments: design, implementation, and applications, 2nd edn. CRC Press, Boca Raton, pp 531–599

Li C-A, Yeh S-L (2011) What you smell affects different components of your visual attention. i-Perception 2:942. doi:10.1068/ic942

Lien H-C, Sun WM, Chen Y-H et al (2003) Effects of ginger on motion sickness and gastric slow-wave dysrhythmias induced by circular vection. Am J Physiol Gastrointest Liver Physiol 284:G481–G489. doi:10.1152/ajpgi.00164.2002

Michael GA, Jacquot L, Millot J-L, Brand G (2005) Ambient odors influence the amplitude and time course of visual distraction. Behav Neurosci 119:708–715. doi:10.1037/0735-7044.119.3.708

Moss JD, Muth ER (2011) Characteristics of head-mounted displays and their effects on simulator sickness. Hum Factors J Hum Factors Ergon Soc 53:308–319. doi:10.1177/0018720811405196

Paillard A, Jacquot L, Millot JL (2011) Olfactory perception and motion sickness. Chem Senses. 36(1):E35. https://www.escholar.manchester.ac.uk/uk-ac-man-scw:121290

Paillard AC, Lamôré M, Etard O et al (2014) Is there a relationship between odors and motion sickness? Neurosci Lett 566:326–330. doi:10.1016/j.neulet.2014.02.049

Patterson R, Winterbottom MD, Pierce BJ (2006) Perceptual issues in the use of head-mounted visual displays. Hum Factors 48:555–573

Quarck G, Etard O, Oreel M, Denise P (2000) Motion sickness occurrence does not correlate with nystagmus characteristics. Neurosci Lett 287:49–52

Reason JT (1978) Motion sickness adaptation: a neural mismatch model. J R Soc Med 71:819–829

Reason JT, Brand JJ (1975) Motion sickness. Academic Press, London

Riccio GE, Stoffregen TA (1991) An ecological theory of motion sickness and postural instability. Ecol Psychol 3:195–240. doi:10.1207/s15326969eco0303_2

Sherman CR (2002) Motion sickness: review of causes and preventive strategies. J Travel Med 9:251–256. doi:10.2310/7060.2002.24145

Shupak A, Gordon CR (2006) Motion sickness: advances in pathogenesis, prediction, prevention, and treatment. Aviat Space Environ Med 77:1213–1223

Sobel N, Prabhakaran V, Hartley CA et al (1998) Odorant-induced and sniff-induced activation in the cerebellum of the human. J Neurosci 18:8990–9001

Stanney KM, Kennedy RS (1997) The psychometrics of cybersickness. Commun ACM 40:66–68. doi:10.1145/257874.257889

Stern RM, Koch KL, Andrews P (2011) Nausea: mechanisms and management. Oxford University Press, New York

Stevens JC, Cain WS, Burke RJ (1988) Variability of olfactory thresholds. Chem Senses 13:643–653. doi:10.1093/chemse/13.4.643

Stoffregen TA, Riccio GE (1991) An ecological critique of the sensory conflict theory of motion sickness. Ecol Psychol 3:159–194. doi:10.1207/s15326969eco0303_1

Swallow BL, Lindow SW, Aye M et al (2005) Smell perception during early pregnancy: no evidence of an adaptive mechanism. BJOG 112:57–62. doi:10.1111/j.1471-0528.2004.00327.x

Tate S (1997) Peppermint oil: a treatment for postoperative nausea. J Adv Nurs 26:543–549

Yates BJ, Catanzaro MF, Miller DJ, McCall AA (2014) Integration of vestibular and emetic gastrointestinal signals that produce nausea and vomiting: potential contributions to motion sickness. Exp Brain Res 232:2455–2469. doi:10.1007/s00221-014-3937-6

Yen Pik Sang FD, Billar JP, Golding JF, Gresty MA (2003a) Behavioral methods of alleviating motion sickness: effectiveness of controlled breathing and a music audiotape. J Travel Med 10:108–111

Yen Pik Sang FD, Golding JF, Gresty MA (2003b) Suppression of sickness by controlled breathing during mildly nauseogenic motion. Aviat Space Environ Med 74:998–1002

Young SD, Adelstein BD, Ellis SR (2007) Demand characteristics in assessing motion sickness in a virtual environment: or does taking a motion sickness questionnaire make you sick? IEEE Trans Vis Comput Graph 13:422–428. doi:10.1109/TVCG.2007.1041
Acknowledgments
We thank Pia Hauck and Wanja Hemmerich for helping collecting the data and Agnes Muench for technical support. We also thank Firmenich, Switzerland, for kindly providing the odors.
About this article
Cite this article
Keshavarz, B., Stelzmann, D., Paillard, A. et al. Visually induced motion sickness can be alleviated by pleasant odors. Exp Brain Res 233, 1353–1364 (2015). https://doi.org/10.1007/s00221-015-4209-9
Received:

Accepted:

Published:

Issue Date:

DOI: https://doi.org/10.1007/s00221-015-4209-9
Keywords