Abstract
The physical stumble caused by stepping onto a stationary (broken) escalator represents a locomotor aftereffect (LAE) that attests to a process of adaptive motor learning. Whether such learning is primarily explicit (requiring attention resources) or implicit (independent of attention) is unknown. To address this question, we diverted attention in the adaptation (MOVING) and aftereffect (AFTER) phases of the LAE by loading these phases with a secondary cognitive task (sequential naming of a vegetable, fruit and a colour). Thirty-six healthy adults were randomly assigned to 3 equally sized groups. They performed 5 trials stepping onto a stationary sled (BEFORE), 5 with the sled moving (MOVING) and 5 with the sled stationary again (AFTER). A 'Dual-Task-MOVING (DTM)' group performed the dual-task in the MOVING phase and the 'Dual-Task-AFTEREFFECT (DTAE)' group in the AFTER phase. The 'control' group performed no dual task. We recorded trunk displacement, gait velocity and gastrocnemius muscle EMG of the left (leading) leg. The DTM, but not the DTAE group, had larger trunk displacement during the MOVING phase, and a smaller trunk displacement aftereffect compared with controls. Gait velocity was unaffected by the secondary cognitive task in either group. Thus, adaptive locomotor learning involves explicit learning, whereas the expression of the aftereffect is automatic (implicit). During rehabilitation, patients should be actively encouraged to maintain maximal attention when learning new or challenging locomotor tasks.
Access options
Buy single article
Instant access to the full article PDF.
US$ 39.95
Tax calculation will be finalised during checkout.
Subscribe to journal
Immediate online access to all issues from 2019. Subscription will auto renew annually.
US$ 119
Tax calculation will be finalised during checkout.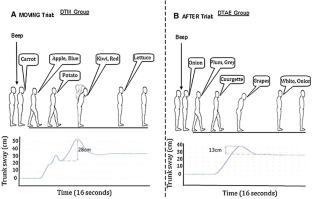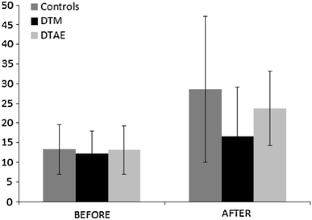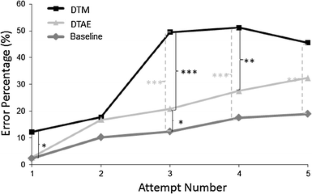 References
Barra J, Bray A, Sahni V, Golding JF, Gresty MA (2006) Increasing cognitive load with increasing balance challenge: recipe for catastrophe. Exp Brain Res 174:734–745. doi:10.1007/s00221-006-0519-2

Bastian AJ (2008) Understanding sensorimotor adaptation and learning for rehabilitation. Curr Opin Neurol 21:628–633. doi:10.1097/WCO.0b013e328315a293

Beauchet O, Annweiler C, Dubost V et al (2009) Stops walking when talking: a predictor of falls in older adults? Eur J Neurol 16:786–795. doi:10.1111/j.1468-1331.2009.02612.x

Brashers-Krug T, Shadmehr R, Bizzi E (1996) Consolidation in human motor memory. Nature 382:252–255

Bronstein AM, Bunday KL, Reynolds R (2009) What the "broken escalator" phenomenon teaches us about balance. Ann N Y Acad Sci 1164:82–88. doi:10.1111/j.1749-6632.2009.03870.x

Brown ID (1967) Measurement of control skills, vigilance, and performance on a subsidiary task during 12 hours of car driving. Ergonomics 10:665–673. doi:10.1080/00140136708930920

Bunday KL, Bronstein AM (2008) Visuo-vestibular influences on the moving platform locomotor aftereffect. J Neurophysiol 99:1354–1365. doi:10.1152/jn.01214.2007

Bunday KL, Bronstein AM (2009) Locomotor adaptation and aftereffects in patients with reduced somatosensory input due to peripheral neuropathy. J Neurophysiol 102:3119–3128. doi:10.1152/jn.00304.2009

Bunday KL, Reynolds RF, Kaski D, Rao M, Salman S, Bronstein AM (2006) The effect of trial number on the emergence of the 'broken escalator' locomotor aftereffect. Exp Brain Res 174:270–278. doi:10.1007/s00221-006-0446-2

Chen C, Leys D, Esquenazi A (2013) The interaction between neuropsychological and motor deficits in patients after stroke. Neurology 80:S27–S34. doi:10.1212/WNL.0b013e3182762569

de Fockert JW, Rees G, Frith CD, Lavie N (2001) The role of working memory in visual selective attention. Science 291:1803–1806. doi:10.1126/science.1056496

Fukui T, Kimura T, Kadota K, Shimojo S, Gomi H (2009) Odd sensation induced by moving-phantom which triggers subconscious motor program. PLoS ONE 4:e5782. doi:10.1371/journal.pone.0005782

Goh HT, Sullivan KJ, Gordon J, Wulf G, Winstein CJ (2012) Dual-task practice enhances motor learning: a preliminary investigation. Exp Brain Res 222:201–210. doi:10.1007/s00221-012-3206-5

Green DA, Bunday KL, Bowen J, Carter T, Bronstein AM (2010) What does autonomic arousal tell us about locomotor learning? Neuroscience 170:42–53. doi:10.1016/j.neuroscience.2010.06.079

Gresty MA, Golding JF (2009) Impact of vertigo and spatial disorientation on concurrent cognitive tasks. Ann N Y Acad Sci 1164:263–267. doi:10.1111/j.1749-6632.2008.03744.x

Gresty MA, Waters S, Bray A, Bunday K, Golding JF (2003) Impairment of spatial cognitive function with preservation of verbal performance during spatial disorientation. Curr Biol 13:R829–R830

Grossman M, Smith EE, Koenig P, Glosser G, DeVita C, Moore P, McMillan C (2002) The neural basis for categorization in semantic memory. Neuroimage 17:1549–1561

Hemond C, Brown RM, Robertson EM (2010) A distraction can impair or enhance motor performance. J Neurosci 30:650–654. doi:10.1523/JNEUROSCI.4592-09.2010

Holtzer R, Mahoney JR, Izzetoglu M, Izzetoglu K, Onaral B, Verghese J (2011) fNIRS study of walking and walking while talking in young and old individuals. J Gerontol A Biol Sci Med Sci 66:879–887. doi:10.1093/gerona/glr068

Kaski D, Quadir S, Patel M, Yousif N, Bronstein AM (2012) Enhanced locomotor adaptation aftereffect in the "broken escalator" phenomenon using anodal tDCS. J Neurophysiol 107:2493–2505. doi:10.1152/jn.00223.2011

Krakauer JW, Mazzoni P (2011) Human sensorimotor learning: adaptation, skill, and beyond. Curr Opin Neurobiol 21:636–644. doi:10.1016/j.conb.2011.06.012

Lajoie Y, Teasdale N, Bard C, Fleury M (1993) Attentional demands for static and dynamic equilibrium. Exp Brain Res 97:139–144

Liao CM, Masters RS (2001) Analogy learning: a means to implicit motor learning. J Sports Sci 19:307–319. doi:10.1080/02640410152006081

Malone LA, Bastian AJ (2010) Thinking about walking: effects of conscious correction versus distraction on locomotor adaptation. J Neurophysiol 103:1954–1962. doi:10.1152/jn.00832.2009

Mazzoni P, Krakauer JW (2006) An implicit plan overrides an explicit strategy during visuomotor adaptation. J Neurosci 26:3642–3645. doi:10.1523/JNEUROSCI.5317-05.2006

Reynolds RF, Bronstein AM (2003) The broken escalator phenomenon. After-effect of walking onto a moving platform. Exp Brain Res 151:301–308. doi:10.1007/s00221-003-1444-2

Reynolds RF, Bronstein AM (2004) The moving platform after-effect: limited generalization of a locomotor adaptation. J Neurophysiol 91:92–100. doi:10.1152/jn.00495.2003

Rosenthal CR, Roche-Kelly EE, Husain M, Kennard C (2009) Response-dependent contributions of human primary motor cortex and angular gyrus to manual and perceptual sequence learning. J Neurosci 29:15115–15125. doi:10.1523/JNEUROSCI.2603-09.2009

Schmidt RA (2005) Motor control and learning: a behavioural emphasis, 4th edn

Shadmehr R, Holcomb HH (1997) Neural correlates of motor memory consolidation. Science 277:821–825

Tang KS, Kaski D, Allum JH, Bronstein AM (2013) The effect of gait approach velocity on the broken escalator phenomenon. Exp Brain Res 226:335–346. doi:10.1007/s00221-013-3438-z

Taylor JA, Ivry RB (2012) The role of strategies in motor learning. Ann N Y Acad Sci 1251:1–12. doi:10.1111/j.1749-6632.2011.06430.x

Taylor JA, Thoroughman KA (2008) Motor adaptation scaled by the difficulty of a secondary cognitive task. PLoS ONE 3:e2485. doi:10.1371/journal.pone.0002485

Torres-Oviedo G, Vasudevan E, Malone L, Bastian AJ (2011) Locomotor adaptation. Prog Brain Res 191:65–74. doi:10.1016/B978-0-444-53752-2.00013-8

Voss M, Ingram JN, Wolpert DM, Haggard P (2008) Mere expectation to move causes attenuation of sensory signals. PLoS ONE 3:e2866. doi:10.1371/journal.pone.0002866

Yardley L, Gardner M, Bronstein A, Davies R, Buckwell D, Luxon L (2001) Interference between postural control and mental task performance in patients with vestibular disorder and healthy controls. J Neurol Neurosurg Psychiatry 71:48–52
About this article
Cite this article
Patel, M., Kaski, D. & Bronstein, A.M. Attention modulates adaptive motor learning in the 'broken escalator' paradigm. Exp Brain Res 232, 2349–2357 (2014). https://doi.org/10.1007/s00221-014-3931-z
Received:

Accepted:

Published:

Issue Date:
Keywords
Motor adaptation

Locomotion

Attention

Dual-task

Implicit motor learning