Abstract
Two-point discrimination threshold is commonly used for assessing tactile spatial resolution. Since the effect of temporal features of cutaneous test stimulation on spatial discrimination ability is not yet well known, we determined whether the ability to discriminate between two stimulus locations varies with the interstimulus interval (ISI) of sequentially presented tactile stimuli or the length of the stimulus train. Electrotactile stimuli were applied to one or two locations on the skin of the thenar eminence of the hand in healthy human subjects. Tactile discrimination ability was determined using methods based on the signal detection theory allowing the assessment of sensory performance, independent of the subject's response criterion. With stimulus pairs, the ability to discriminate spatial features of stimulation (one location vs. two stimulus locations 4 cm apart) was improved when the ISI was equal to or longer than that required for tactile temporal discrimination. With stimulus trains, the ability to discriminate spatial features of stimulation was significantly improved with an increase in the stimulus train (from 3 to 11 pulses corresponding to train lengths from 40 to 200 ms). These results indicate that temporal features of tactile stimulation significantly influence sensory performance in a tactile spatial discrimination task. Precise control of temporal stimulus parameters should help to reduce variations in results on the two-point discrimination threshold.
Access options
Buy single article
Instant access to the full article PDF.
US$ 39.95
Tax calculation will be finalised during checkout.
Subscribe to journal
Immediate online access to all issues from 2019. Subscription will auto renew annually.
US$ 119
Tax calculation will be finalised during checkout.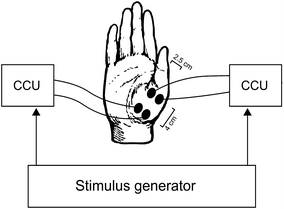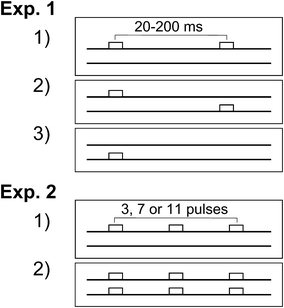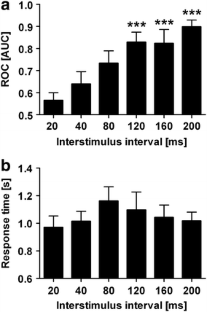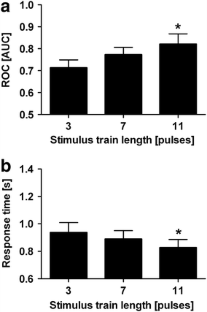 References
Anema HA, de Haan AM, Gebuis T, Dijkerman HC (2012) Thinking about touch facilitates tactile but not auditory processing. Exp Brain Res 218:373–380

Cook H, von Frey M (1911) Der Einfluss der Reizstärke auf den Wert der simultanen Raumschwelle der Haut. Zeit Biol 56:537–573

Craig JC, Johnson KO (2000) The two-point threshold: not a measure of tactile spatial resolution. Curr Dir Psychol Sci 9:29–32

Cybulska-Klosowicz A, Meftah El-M, Raby M, Lemieux ML, Chapman CE (2011) A critical speed for gating of tactile detection during voluntary movement. Exp Brain Res 210:291–301

Dinse HR, Ragert P, Pleger B, Schwenkreis P, Tegenthoff M (2003) Pharmacological modulation of perceptual learning and associated cortical reorganization. Science 301:91–94

Friedman RM, Chen LM, Roe AW (2008) Responses of areas 3b and 1 in anesthetized squirrel monkeys to single- and dual-site stimulation of the digits. J Neurophysiol 100:3185–3196

Gardner EP, Costanzo RM (1980) Spatial integration of multiple-point stimuli in primary somatosensory cortical receptive fields of alert monkeys. J Neurophysiol 43:420–443

Gardner EP, Spencer WA (1972) Sensory funneling. I. Psychophysical observations of human subjects and responses of cutaneous mechanoreceptive afferents in the cat to patterned skin stimuli. J Neurophysiol 35:925–953

Gibson RH (1968) Electrical stimulation of pain and touch. In: Kenshalo DR (ed) The skin senses. CC Thomas, Springfield, pp 223–260

Gogulski J, Boldt R, Savolainen P, Guzmán-López J, Carlson S, Pertovaara A (2013) A segregated neural pathway for prefrontal top-down control of tactile discrimination. Cereb Cortex. doi:10.1093/cercor/bht211

Haggard P, Christakou A, Serino A (2007) Viewing the body modulates tactile receptive fields. Exp Brain Res 180:187–193

Hannula H, Neuvonen T, Savolainen P, Tukiainen T, Salonen O, Carlson S, Pertovaara A (2008) Navigated transcranial magnetic stimulation of the primary somatosensory cortex impairs perceptual processing of tactile temporal discrimination. Neurosci Lett 437:144–147

Janig W, Schoultz T, Spencer WA (1977) Temporal and spatial parameters of excitation and afferent inhibition in cuneothalamic relay neurons. J Neurophysiol 40:822–835

Jänig W, Spencer WA, Younkin SG (1979) Spatial and temporal features of afferent inhibition of thalamocortical relay cells. J Neurophysiol 42:1450–1460

Johnson KO, Hsiao SS (1992) Neural mechanisms of tactual form and texture perception. Annu Rev Neurosci 15:227–250

Johnson KO, Phillips JR (1981) Tactile spatial resolution. I. Two-point discrimination, gap detection, grating resolution, and letter recognition. J Neurophysiol 46:1177–1191

Johnson KO, Van Boven RW, Hsiao SS (1994) The perception of two points is not the spatial resolution threshold. In: Boivie J, Hansson P, Lindblom U (eds) Touch, temperature, and pain in health and disease: mechanisms and assessments. IASP Press, Seattle, pp 389–404

Kekoni J, Tikkala I, Pertovaara A, Hämäläinen H (1990) Spatial features of vibrotactile masking effects on airpuff-elicited sensations in the human hand. Somatosens Mot Res 7:353–363

Kennett S, Taylor-Clarke M, Haggard P (2001) Noninformative vision improves the spatial resolution of touch in humans. Curr Biol 11:1188–1191

Laskin SE, Spencer WA (1979a) Cutaneous masking. I. Psychophysical observations on interactions of multipoint stimuli in man. J Neurophysiol 42:1048–1060

Laskin SE, Spencer WA (1979b) Cutaneous masking. II. Geometry of excitatory and inhibitory receptive fields of single units in somatosensory cortex of the cat. J Neurophysiol 42:1061–1082

Lundborg G, Rosén B (2004) The two-point discrimination test–time for a re-appraisal? J Hand Surg Br 29:418–422

Macaluso E, Frith CD, Driver J (2000) Modulation of human visual cortex by crossmodal spatial attention. Science 289:1206–1208

Overvliet KE, Anema HA, Brenner E, Dijkerman HC, Smeets JB (2011) Relative finger position influences whether you can localize tactile stimuli. Exp Brain Res 208:245–255

Pastor MA, Day BL, Macaluso E, Friston KJ, Frackowiak RS (2004) The functional neuroanatomy of temporal discrimination. J Neurosci 24:2585–2591

Pertovaara A, Huopaniemi T, Tukeva T (1986) Liminal and supraliminal response characteristics of mechanoreceptive neurons in the cuneate nucleus of cat. Exp Brain Res 62:486–494

Schlereth T, Magerl W, Treede RD (2001) Spatial discrimination thresholds for pain and touch in human hairy skin. Pain 92:187–194

Swets JA (1973) The relative operating characteristic in psychology: a technique for isolating effects of response bias finds wide use in the study of perception and cognition. Science 182:990–1000

Verrillo RT (1968) A duplex mechanism of mechanoreception. In: Kenshalo DR (ed) The skin senses. CC Thomas, Springfield, pp 139–156

Vierck CJ Jr, Jones MB (1969) Size discrimination on the skin. Science 163:488–489

Weinstein S (1968) Intensive and extensive aspects of tactile sensitivity as a function of body part, sex, and laterality. In: Kenshalo DR (ed) The skin senses. CC Thomas, Springfield, pp 195–218

Ylioja S, Pertovaara A, Koivisto J, Korvenoja A, Artchakov D, Carlson S (2004) The effect of interstimulus interval on somatosensory point localization. Somatosens Mot Res 2004:3–7

Ylioja S, Carlson S, Raij TT, Pertovaara A (2006) Localization of touch versus heat pain in the human hand: a dissociative effect of temporal parameters on discriminative capacity and decision strategy. Pain 121:6–13
Acknowledgments
This work was supported by the aivoAalto project of the Aalto University, Espoo, Finland, the Sigrid Jusélius Foundation, Helsinki, Finland, and the Academy of Finland, Helsinki, Finland.
Conflict of interest
The authors are not aware of any conflict of interest concerning this study.
Additional information
Robert Boldt and Juha Gogulski shared the first authorship.
About this article
Cite this article
Boldt, R., Gogulski, J., Gúzman-Lopéz, J. et al. Two-point tactile discrimination ability is influenced by temporal features of stimulation. Exp Brain Res 232, 2179–2185 (2014). https://doi.org/10.1007/s00221-014-3908-y
Received:

Accepted:

Published:

Issue Date:
Keywords
Cutaneous masking

Receiver operating characteristics

Tactile spatial resolution

Two-point discrimination