Abstract
Regular physical activity can have positive effects on brain function and plasticity. Indeed, there is some limited evidence that even a single bout of exercise may promote plasticity within the cortex. However, the mechanisms by which exercise acutely promotes plasticity are not clear. To further explore the effects of acute exercise on cortical function, we examined whether a single bout of exercise was associated with changes in cortical excitability and inhibition. Using standard techniques, cortical stimulus–response curves [90 % resting motor threshold (RMT)–150 % RMT] were investigated in nine subjects (four females, 31.1 ± 11.7 years) and short-interval intracortical inhibition (SICI) [interstimulus interval 2 ms and 3 ms, conditioning intensities of 80 % active motor threshold (AMT) and 90 % AMT] in 13 subjects (six females, 28.4 ± 5.1 years) before and at 0 and 15 min following 30 min of ergometer cycling at low–moderate or moderate–high intensity. There were no changes in cortical excitability following exercise but less SICI at both 0 and 15 min post-exercise (F [2, 24] = 7.7, P = 0.003). These findings show that a short period of exercise can transiently reduce SICI. Such a change in inhibition after exercise may contribute to the development of a cortical environment that would be more optimal for plasticity and may partially explain previous findings of enhanced neuroplasticity following low-intensity exercise.
Access options
Buy single article
Instant access to the full article PDF.
US$ 39.95
Tax calculation will be finalised during checkout.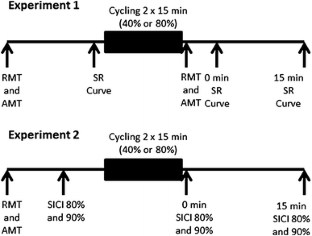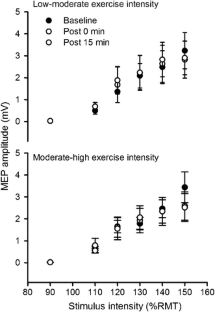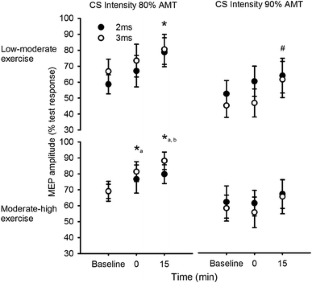 References
Baroncelli L, Braschi C, Spolidoro M, Begenisic T, Sale A, Maffei L (2010) Nurturing brain plasticity: impact of environmental enrichment. Cell Death Differ 17:1092–1103. doi:10.1038/cdd.2009.193

Baroncelli L, Bonaccorsi J, Milanese M et al (2012) Enriched experience and recovery from amblyopia in adult rats: impact of motor, social and sensory components. Neuropharmacology 62:2388–2397. doi:10.1016/j.neuropharm.2012.02.010

Bramham CR, Messaoudi E (2005) BDNF function in adult synaptic plasticity: the synaptic consolidation hypothesis. Prog Neurobiol 76:99–125

Brünig I, Penschuck S, Berninger B, Benson J, Fritschy J-M (2001) BDNF reduces miniature inhibitory postsynaptic currents by rapid downregulation of GABAA receptor surface expression. Eur J Neurosci 13:1320–1328. doi:10.1046/j.0953-816x.2001.01506.x

Cirillo J, Lavender AP, Ridding MC, Semmler JG (2009) Motor cortex plasticity induced by paired associative stimulation is enhanced in physically active individuals. J Physiol 587:5831–5842. doi:10.1113/jphysiol.2009.181834

Cotman CW, Berchtold NC (2002) Exercise: a behavioral intervention to enhance brain health and plasticity. Trends Neurosci 25:295–301

Craig CL, Marshall AL, Sjostrom M et al (2003) International physical activity questionnaire: 12-country reliability and validity. Med Sci Sports Exerc 35:1381–1395. doi:10.1249/01.MSS.0000078924.61453.FB

Davidson T, Tremblay F (2013) Age and hemispheric differences in transcallosal inhibition between motor cortices: an ipsilateral silent period study. BMC Neurosci 14:62

Dilazzaro V, Oliviero A, Profice P et al (1998) Comparison of descending volleys evoked by transcranial magnetic and electric stimulation in conscious humans. Electroencephal Clin Neurophysiol Electromyogr Mot Control 109:397–401

Ferris LT, Williams JS, Shen CL (2007) The effect of acute exercise on serum brain-derived neurotrophic factor levels and cognitive function. Med Sci Sports Exerc 39:728–734. doi:10.1249/mss.0b013e31802f04c7

Hanajima R, Ugawa Y, Terao Y, Sakai K, Furubayashi T, Machii K, Kanazawa I (1998) Paired-pulse magnetic stimulation of the human motor cortex: differences among i waves. J Physiol Lond 509:607–618

Hoogendam JM, Ramakers GM, Di Lazzaro V (2010) Physiology of repetitive transcranial magnetic stimulation of the human brain. Brain Stimul 3:95–118. doi:10.1016/j.brs.2009.10.005

Kemppainen J, Aalto S, Fujimoto T et al (2005) High intensity exercise decreases global brain glucose uptake in humans. J Physiol 568:323–332. doi:10.1113/jphysiol.2005.091355

Kujirai T, Caramia MD, Rothwell JC et al (1993) Corticocortical inhibition in human motor cortex. J Physiol 471:501–519

McDonnell MN, Buckley JD, Opie GM, Ridding MC, Semmler JG (2013) A single bout of aerobic exercise promotes motor cortical neuroplasticity. J Appl Physiol (1985) 114:1174–1182. doi:10.1152/japplphysiol.01378.2012

McGregor KM, Zlatar Z, Kleim E et al (2011) Physical activity and neural correlates of aging: a combined TMS/fMRI study. Behav Brain Res 222:158–168. doi:10.1016/j.bbr.2011.03.042

McGregor KM, Nocera JR, Sudhyadhom A et al (2013) Effects of aerobic fitness on aging-related changes of interhemispheric inhibition and motor performance. Front Aging Neurosci 5:66. doi:10.3389/fnagi.2013.00066

McHugh IJ, Williams AD, Fell JW (2008) Practical application of the Sports Medicine Australia pre-exercise screening system. J Sci Med Sport 11:182–184. doi:10.1016/j.jsams.2007.05.003

Norton K, Norton L (2012) Pre-exercise screening: guide to the Australian adult pre-exercise screening system. In: Exercise and Sports Science Australia, Fitness Australia and Sports Medicine Australia. ISBN 978-0-646-56771-6

Norton K, Olds T, Bowes D, Van Ly S, Gore C (1998) Applying the sports medicine Australia pre-exercise screening procedures: who will be excluded? J Sci Med Sport 1:38–51

Orth M, Snijders AH, Rothwell JC (2003) The variability of intracortical inhibition and facilitation. Clin Neurophysiol 114:2362–2369

Peurala SH, Muller-Dahlhaus JF, Arai N, Ziemann U (2008) Interference of short-interval intracortical inhibition (SICI) and short-interval intracortical facilitation (SICF). Clin Neurophysiol 119:2291–2297. doi:10.1016/j.clinph.2008.05.031

Rossi S, Hallett M, Rossini PM, Pascual-Leone A (2009) Safety, ethical considerations, and application guidelines for the use of transcranial magnetic stimulation in clinical practice and research. Clin Neurophysiol 120:2008–2039

Sale A, Maya Vetencourt JF, Medini P, Cenni MC, Baroncelli L, De Pasquale R, Maffei L (2007) Environmental enrichment in adulthood promotes amblyopia recovery through a reduction of intracortical inhibition. Nat Neurosci 10:679–681. http://www.nature.com/neuro/journal/v10/n6/suppinfo/nn1899_S1.html

Sale A, Berardi N, Maffei L (2009) Enrich the environment to empower the brain. Trends Neurosci 32:233–239. doi:10.1016/j.tins.2008.12.004

Sidhu SK, Cresswell AG, Carroll TJ (2012) Motor cortex excitability does not increase during sustained cycling exercise to volitional exhaustion. J Appl Physiol (1985) 113:401–409. doi:10.1152/japplphysiol.00486.2012

Sidhu SK, Cresswell AG, Carroll TJ (2013) Short-interval intracortical inhibition in knee extensors during locomotor cycling. Acta Physiol (Oxf) 207:194–201. doi:10.1111/apha.12004

Smith AE, Ridding MC, Higgins RD, Wittert GA, Pitcher JB (2009) Age-related changes in short-latency motor cortex inhibition. Exp Brain Res 198:489–500. doi:10.1007/s00221-009-1945-8

Stefan K, Kunesch E, Cohen LG, Benecke R, Classen J (2000) Induction of plasticity in the human motor cortex by paired associative stimulation. Brain 123(Pt 3):572–584

Stefan K, Kunesch E, Benecke R, Cohen LG, Classen J (2002) Mechanisms of enhancement of human motor cortex excitability induced by interventional paired associative stimulation. J Physiol 543:699–708

Takahashi K, Maruyama A, Hirakoba K, Maeda M, Etoh S, Kawahira K, Rothwell JC (2011) Fatiguing intermittent lower limb exercise influences corticospinal and corticocortical excitability in the nonexercised upper limb. Brain Stimul 4:90–96. doi:10.1016/j.brs.2010.07.001

Vazquez-Sanroman D, Sanchis-Segura C, Toledo R, Hernandez ME, Manzo J, Miquel M (2013) The effects of enriched environment on BDNF expression in the mouse cerebellum depending on the length of exposure. Behav Brain Res 243:118–128. doi:10.1016/j.bbr.2012.12.047

Verin E, Ross E, Demoule A et al (2004) Effects of exhaustive incremental treadmill exercise on diaphragm and quadriceps motor potentials evoked by transcranial magnetic stimulation. J Appl Physiol (1985) 96:253–259. doi:10.1152/japplphysiol.00325.2003

Ziemann U, Corwell B, Cohen LG (1998) Modulation of plasticity in human motor cortex after forearm ischemic nerve block. J Neurosci 18:1115–1123

Ziemann U, Muellbacher W, Hallett M, Cohen LG (2001) Modulation of practice-dependent plasticity in human motor cortex. Brain 124:1171–1181
Acknowledgments
This work was funded by a grant from the National Health and Medical Research Council (NHMRC) of Australia held by MCR.
Conflict of interest
None.
Additional information
Ashleigh E. Smith and Mitchell R. Goldsworthy are postdoctoral research fellows.
About this article
Cite this article
Smith, A.E., Goldsworthy, M.R., Garside, T. et al. The influence of a single bout of aerobic exercise on short-interval intracortical excitability. Exp Brain Res 232, 1875–1882 (2014). https://doi.org/10.1007/s00221-014-3879-z
Received:

Accepted:

Published:

Issue Date:
Keywords
Motor cortex

Short-interval intracortical inhibition

GABAA

Transcranial magnetic stimulation

Physical activity