Abstract
Although there is a wealth of behavioral data regarding grasping movements in non-human primates, how posture influences the kinematics of prehensile behavior is not yet clearly understood. The purpose of this study was to examine and compare kinematic descriptions of grip behaviors while primates (macaque monkeys) were in a sitting posture or when stopping after quadrupedal locomotion (i.e., tripedal stance). Video footage taken while macaques grasped objects was analyzed frame-by-frame using digitalization techniques. Each of the two grip types considered (power and precision grips) was found to be characterized by specific, distinct kinematic signatures for both the reaching and the grasping components when those actions were performed in a sitting position. The grasping component did not differentiate in relation to the type of grip that was needed when, instead, the prehensile action took place in a tripedal stance. Quadrupedal locomotion affected the concomitant organization of prehensile activities determining in fact a similar kinematic patterning for the two grips regardless of the size of the object to be grasped. It is suggested that using a single kinematic grip patterning for all prehensile activities might be both the by-product of planning a grasping action while walking and a way to simplify motor programming during unstable tripedal stance.
Access options
Buy single article
Instant access to the full article PDF.
US$ 39.95
Tax calculation will be finalised during checkout.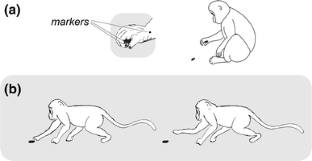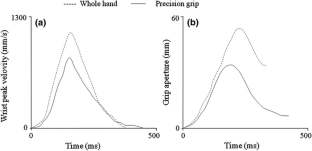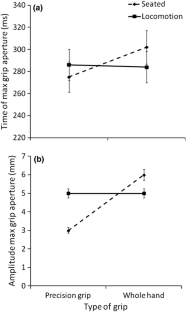 References
Altmann J (1974) Observational study of behavior—sampling methods. Behaviour 49:227–267

Bishop A (1964) Use of the hand in lower primates. In: Buettner-Janush J (ed) Evolutionary and genetic biology of primates. Academic Press, New York, pp 135–225

Castiello U (2005) The neuroscience of grasping. Nat Rev Neurosci 6:726–736

Christel M (1993) Grasping techniques and hand preferences in hominoidea. In: Preuschoft H, Chivers DJ (eds) Hands of primates. Springer, New York, pp 91–108

Christel MI, Billard A (2002) Comparison between macaques' and humans' kinematics of prehension: the role of morphological differences and control mechanisms. Behav Brain Res 131:169–184

Costello MB, Fragaszy DM (1988) Prehension in Cebus and Saimiri: grip type and hand preference. Am J Primatol 15:235–245

Crast J, Fragaszy DM, Hayashi M, Matsuzawa T (2009) Dynamic in-hand movements in adult and young juvenile chimpanzees (Pan troglodytes). Am J Phys Anthropol 138:274–285

D'Amico M, Ferrigno G (1990) Technique for the evaluation of derivatives from noisy biomechanical displacement data using a model-based bandwidth-selection procedure. Med Biol Eng Comput 28:407–415

D'Amico M, Ferrigno G (1992) Comparison between the more recent techniques for smoothing and derivative assessment in biomechanics. Med Biol Eng Comput 30:193–204

Dunbar DC, Badam GL (1998) Development of posture and locomotion in free ranging primates. Neurosci Biobehav Rev 22:541–546

Fitts PM (1954) The information capacity of the human motor system in controlling the amplitude of movement. J Exp Psychol 47:381–391

Fogassi L, Gallese V, Gentilucci M, Chieffi S, Rizzolatti G (1991) Studio cinematico dei movimenti di raggiungimento e prensione nella scimmia. Boll Soc Ital Biol Sper 7:715–721

Gentilucci M, Castiello U, Corradini ML, Scarpa M, Umiltà C, Rizzolatti G (1991) Influence of different types of grasping on the transport component of prehension movements. Neuropsychologia 29:361–378

Hildebrand M (1985) Walking and running. In: Hildebrand M, Bramble DM, Liem KF, Wake DB (eds) Functional vertebrate morphology. Harvard University Press, Cambridge, pp 38–57

Hopkins WD (1993) Posture and reaching in chimpanzees (Pan troglodytes) and orangutans (Pongopygmaeus). J Comp Psychol 17:162–168

Hopkins WD, Bennett A, Bales S, Lee J, Ward JP (1993) Behavioral laterality in captive bonobos (Pan paniscus). J Comp Psychol 107:403–410

Hopkins WD, Cantalupo C, Wesley MJ, Hostetter AB (2002) Grip morphology and hand use in chimpanzees (Pan troglodytes): evidence of a left hemisphere specialization in motor skill. J Exp Psychol Gen 131:412–423

Jakobson LS, Goodale MA (1991) Factors affecting higher-order movement planning: a kinematic analysis of human prehension. Exp Brain Res 86:199–208

Jeannerod M (1984) The timing of natural prehension movements. J Mot Behav 16:235–254

Jindrich DL, Courtine G, Liu JJ et al (2011) Unconstrained three-dimensional reaching in Rhesus monkeys. Exp Brain Res 209:35–50

Larson SG (1998) Unique aspects of quadrupedal locomotion in nonhuman primates. In: Strasser E, Fleagle J, Rosenberger A, McHenry H (eds) Primate locomotion: recent advances. Plenum Press, New York, pp 157–173

Macfarlane NBV, Graziano MSA (2009) Diversity of grip in Macaca mulatta. Exp Brain Res 197:255–268

Marzke MW (1994) Evolution. In: Castiello U, Bennett KMB (eds) Insights into the reach to grasp movement. Elsevier, Amsterdam, pp 19–36

Napier JR (1956) The prehensile movements of the human hand. J Bone Joint Surg Br 38:902–913

Napier JR (1961) Prehensibility and opposability in the hands of primates. Symp Zool Soc Lond 5:115–132

Olson DA, Ellis JE, Nadler RD (1990) Hand preferences in captive gorillas, orangutans, and gibbons. Am J Primatol 20:83–94

Patel B (2010) The interplay between speed, kinetics, and hand postures during primate terrestrial locomotion. Am J Phys Anthrop 141:222–234

Pouydebat E, Berge C, Gorce P, Coppens Y (2006) Grasping among primates: precision, tools and evolutionary implications. CR Palevol 5:597–602

Pouydebat E, Laurin M, Gorce P, Bels V (2008) Evolution of grasping among anthropoids. J Evol Biol 21:1732–1743

Pouydebat E, Gorce P, Coppens Y, Bels V (2009) Biomechanical study of grasping according to the volume of the object: human versus non-human primates. J Biomech 42:266–272

Pouydebat E, Reghem E, Borel A, Gorce P (2011) Diversity of grip in adults and young humans and chimpanzees (Pan troglodytes). Behav Brain Res 218:21–28

Reghem E, Tia B, Bels V, Pouydebat E (2011) Food prehension and manipulation in Microcebus murinus (Prosimii, Cheirogaleidae). Folia Primatol (Basel) 82:177–188

Reghem E, Chèze L, Coppens Y, Pouydebat E (2013) Grasping's kinematic in five primates: Lemur catta, Sapajus xanthosternos, Gorilla gorilla, Pan troglodytes, Homo sapiens. J Hum Evol 65:303–312

Rizzolatti G, Luppino G (2001) The cortical motor system. Neuron 31:889–901

Roy AC, Paulignan Y, Farne A, Jouffrais C, Boussaoud D (2000) Hand kinematics during reaching and grasping in the macaque monkey. Behav Brain Res 117:75–82

Roy AC, Paulignan Y, Meunier M, Boussaoud D (2002) Prehension movements in the macaque monkey: effects of object size and location. J Neurophysiol 88:1491–1499

Roy AC, Paulignan Y, Meunier M, Boussaoud D (2006) Prehension movements in the macaque monkey: effects of perturbation of object size and location. Exp Brain Res 169:182–193

Sacrey LA, Alaverdashvili M, Wishaw IQ (2009) Similar hand shaping in reaching-for-food (skilled reaching) in rats and humans provides evidence of homology in release, collection, and manipulation movements. Behav Brain Res 204:153–161

Sartori L, Camperio Ciani A, Bulgheroni M, Castiello U (2013a) Reaching and grasping behavior in Macaca fascicularis: a kinematic study. Exp Brain Res 224:119–124

Sartori L, Camperio Ciani A, Bulgheroni M, Castiello U (2013b) Reach-to-grasp movements in Macaca fascicularis monkeys: the isochrony principle at work. Front Psychol 4:1–5

Scott SH, Kalaska JF (1997) Reaching movements with similar hand paths but different arm orientations. I. Activity of individual cells in motor cortex. J Neurophysiol 77:826–852

Smeets JBJ, Brenner E (1999) A new view on grasping. Mot Control 3:237–271

Spinozzi G, Truppa V (1999) Hand preference in different tasks by tufted capuchins (Cebus apella). Int J Primatol 20:827–848

Spinozzi G, Truppa V, Laganà T (2004) Grasping behaviour in tufted capuchin monkeys (Cebus apella): grip types and manual laterality for picking up a small food item. Am J Phys Anthropol 125:30–41

Sustaita D, Pouydebat E, Abdala V, Manzano A, Herrel A (2013) Getting a grip on tetrapod grasping: form, function and evolution. Biol Rev 88:380–405

Toussaint S, Reghem E, Chotard H, Herrel A, Ross CF, Pouydebat E (2013) Food acquisition on arboreal substrates by the grey mouse lemur: implication for primate grasping evolution. J Zool 291:235–242

Walker JA (1998) Estimating velocities and accelerations of animal locomotion: a simulation experiment comparing numerical differentiation algorithms. J Exp Biol 201:981–995

Wing AM, Turton A, Fraser C (1986) Grasp size and accuracy of approach in reaching. J Mot Behav 18:245–260
About this article
Cite this article
Sartori, L., Camperio-Ciani, A., Bulgheroni, M. et al. How posture affects macaques' reach-to-grasp movements. Exp Brain Res 232, 919–925 (2014). https://doi.org/10.1007/s00221-013-3804-x
Received:

Accepted:

Published:

Issue Date:
Keywords
Grasping

Kinematics

Macaques

Evolution

Primatology