Abstract
Sleep deprivation impacts subjective mood states, but very little research has examined the impact on processing emotional information. In the current study, we investigated the impact of total sleep deprivation on neural responses to emotional facial expressions as well as the accuracy and speed with which these faces were categorized. Forty-nine participants completed two tasks in which they were asked to categorize emotional facial expressions as Happy, Sad, Angry, or Fearful. They were shown the 'full' expression of the emotions in one task and more subtle expressions in a second task in which expressions were 'morphed' with neutral faces so that the intensity of emotion varied. It was expected that sleep deprivation would lead to greater reactivity (indexed by larger amplitude N170 event-related potentials), particularly for negative and more subtle facial expressions. In the full face task, sleep-deprived (SD) participants were significantly less accurate than controls (C) at identifying Sad faces and slower to identify all emotional expressions. P1 was smaller and N170 was larger for the SD compared to C group, but for all emotions, indicating generalized impairment in low-level visual processing. In the more difficult morphed face task, SD participants were less accurate than C participants for Sad faces; as well, the group difference in reaction time was greatest for Sad faces. For the SD group, N170 increased in amplitude with increasing perceptual difficulty for the Fearful and Angry faces, but decreased in amplitude with increasing difficulty for Sad faces. These data illustrate that sleep deprivation led to greater neural reactivity for the threat-related negative emotions as they became more subtle; however, there was a failure to engage these perceptual resources for the processing of Sad faces. Sleep loss preferentially impacted the processing of Sad faces; this has widespread implications for sleep-deprived groups.
This is a preview of subscription content,
to check access.
Access this article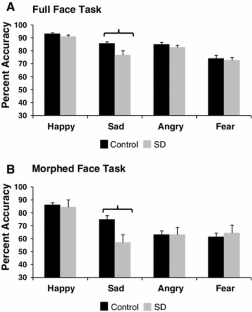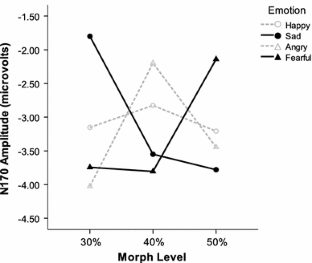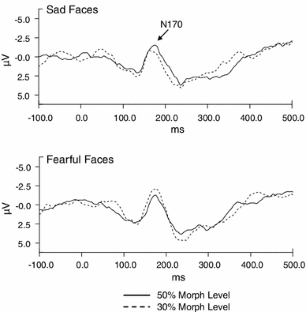 References
Adolphs R (2002) Recognizing emotions from facial expressions: psychological and neurological mechanisms. Behav Cog Neurosci Rev 1:21–62

Batty M, Taylor MJ (2003) Early processing of the six basic facial emotional expressions. Cog Brain Res 17:613–620

Bentin S, Golland Y (2002) Meaningful processing of meaningless stimuli: the influence of perceptual experience on early visual processing of stimuli. Cognition 86:B1–B14

Blau VC, Maurer U, Tottenham N, McCandliss BD (2007) The face-specific N170 component is modulated by emotional facial expression. Behav Brain Funct 3:1–13

Bullock M, Russell JA (1984) Preschool children's interpretation of facial expressions of emotion. Int J Behav Dev 7:193–214

Colrain IM, Campbell KB (2007) The use of evoked potentials in sleep research. Sleep Med Rev 11:277–293

Cote KA, McCormick CM, Geniole SN, Renn RP, MacAulay SD (2013) Sleep deprivation lowers aggression and testosterone in men. Biol Psych 92:249–256

Eimer M (2000) The face-specific N170 component reflects late stages in the structural encoding of faces. Neuro Rep 11:2319–2324

Ekman P, Friesen WV, Tompkins SS (1971) Facial affect scoring technique: a first validity study. Semiotica 3:37–47

Franzen PL, Buysse DJ, Dahl RE, Thompson W, Siegle GJ (2009) Sleep deprivation alters pupillary reactivity to emotional stimuli in healthy young adults. Biol Psych 80:300–305

George N, Jemel B, Fiori N, Chaby L, Renault B (2005) Electrophysiological correlates of facial decision: insights from upright and upside-down Mooney-face perception. Cog Brain Res 24:663–673

Goel N, Rao H, Durmer JS, Dinges DF (2009) Neurocognitive consequences of sleep deprivation. Semin Neurol 29:320–339

Gujar N, Yoo S, Hu P, Walker MP (2011) Sleep deprivation amplifies reactivity of brain reward networks biasing the appraisal of positive emotional experiences. J Neurosci 31:4466–4474

Harrison Y, Horne JA (2000) The impact of sleep deprivation on decision making: a review. J Exp Psychol 6:236–249

Haxby JV, Hoffman EA, Gobbini MI (2002) The distributed human neural system for face perception. Trends Cog Sci 4:223–233

Huck NO, McBride SA, Kendall AP, Grugle NL, Killgore WDS (2008) The effects of modafinil, caffeine, and dextroamphetamine on judgments of simple versus complex emotional expressions following sleep deprivation. Int J Neurosci 118:487–502

Humphrey DG, Kramer AF, Stanny RR (1994) Influence of extended wakefulness on automatic and nonautomatic processing. Hum Factors 36:652–669

Itier RJ, Taylor MJ (2004) N170 or N1? Spatiotemporal differences between object and face processing using ERPs. Cereb Cortex 14:132–142

Jacques C, d'Arripe O, Rossion B (2007) The time course of the inversion effect during individual face discrimination. J Vis 7:1–9

Killgore WDS (2010) Effects of sleep deprivation on cognition. Prog Brain Res 185:105–129

Macchi Cassia V, Kuefner D, Westerlund A, Nelson CA (2006) The role of vertical symmetry and up-down featural arrangement. J Cog Neurosci 18:1343–1358

Meaux E, Roux S, Batty M (2013) Early visual ERPs are influenced by individual emotional skills. Soc Cogn Affect Neurosci [Epub ahead of print]

Mondloch CJ, Segalowitz SJ, Lewis TL, Dywan J, Le Grand R, Maurer D (2013) The effect of early visual deprivation on the development of face detection. Dev Sci. doi:10.1111/desc.12065

Pallesen S, Johnsen BH, Hansen A, Eid J, Thayer JF, Olsen T, Hugdahl K (2004) Sleep deprivation and hemispheric asymmetry for facial recognition reaction time and accuracy. Percept Motor Skills 98:1305–1314

Patrick GTW, Gilbert JA (1896) On the effects of loss of sleep. Psych Rev 3:469–483

Pilcher JJ, Huffcutt AJ (1996) Effects of sleep deprivation on performance: a meta-analysis. Sleep 19:318–326

Renn RP, Cote KA (2013) Performance monitoring following total sleep deprivation: effects of task type and error rate. Int J Psychophys 88:64–73

Rosales-Lagarde A, Armony JL, Del Río-Portilla Y, Trejo-Martínez D, Conde R, Corsi-Cabrera M (2012) Enhanced emotional reactivity after selective REM sleep deprivation in humans: an fMRI study. Front Behav Neurosci 18(6):25

Rossion B, Caharel S (2011) ERP evidence for the speed of face categorization in the human brain: disentangling the contribution of low-level visual cues from face perception. Vis Res 51:1297–1311

Rossion B, Jacques C (2008) Does physical interstimulus variance account for early electrophysiological face sensitive responses in the human brain? Ten lessons on the N170. Neuroimage 39:1959–1979

Rossion B, Jacques C (2012) The N170: understanding the time-course of face perception in the human brain. In: Luck S, Kappenman E (eds) The Oxford handbook of ERP components. Oxford University Press, Oxford, pp 115–142

Rossion B, Gauthier I, Tarr MJ, Despland P, Bruyer R, Linotte S, Crommelinck M (2000) The N170 occipito-temporal component is delayed and enhanced to inverted faces but not to inverted objects: an electrophysiological account of face-specific processes in the human brain. Neuro Rep 11:69–72

Rousselet GA, Husk JS, Bennett PJ, Sekuler AB (2008) Time course and robustness of ERP object and face differences. J Vis 8:1–18

Russell JA (1994) Is there universal recognition of emotion from facial expression? A review of the cross-cultural studies. Psychol Bull 115:102–141

Sadeh B, Yovel G (2010) Why is the N170 enhanced for inverted faces? An ERP competition experiment. Neuroimage 53:782–789

Tempesta A, Couyoumdjian A, Curcio G, Moroni F, Marzano C, De Gennaro L, Ferrara M (2010) Lack of sleep affects the evaluation of emotional stimuli. Brain Res Bull 82:104–108

Tottenham N, Tanaka JW, Leon AC, McCarry T, Nurse M, Hare TA, Nelson C (2009) The NimStim set of facial expressions: judgments from untrained research participants. Psychiatry Res 168:242–249

van der Helm E, Gujar N, Walker M (2010) Sleep deprivation impairs the accurate recognition of human emotions. Sleep 33:335–342

Yoo S-S, Gujar N, Hu P, Jolesz FA, Walker MP (2007) The human emotional brain without sleep—a prefrontal amygdala disconnect. Current Biol 17:877–878

Zheng X, Mondloch CJ, Nishimura M, Vida M, Segalowitz S (2011) Telling one face from another: electrocortical correlates of individual facial characteristics. Neuropsycologia 49:3254–3264

Zheng X, Mondloch CJ, Segalowitz S (2012) The timing of individual face recognition in the brain. Neuropsychologia 50:1451–1461
Acknowledgments
This research was carried out in the Brock University Sleep Research Laboratory, which is funded by the Natural Science and Engineering Research Council (NSERC) of Canada. Face stimuli were created in C. Mondloch's Face Perception Lab through support by an Insight Grant from the Social Science and Humanities Research Council (SSHRC) of Canada.
About this article
Cite this article
Cote, K.A., Mondloch, C.J., Sergeeva, V. et al. Impact of total sleep deprivation on behavioural neural processing of emotionally expressive faces. Exp Brain Res 232, 1429–1442 (2014). https://doi.org/10.1007/s00221-013-3780-1
Received:

Accepted:

Published:

Issue Date:

DOI: https://doi.org/10.1007/s00221-013-3780-1
Keywords