Abstract
We hypothesized that difficulty in understanding the goals of others' actions in autism spectrum disorder (ASD) might be linked to a diminished attention and responsivity to relevant social cues. Using an eye-tracking paradigm, we investigated how 24 children with ASD and 24 matched children without ASD responded to the observation of uncompleted actions without a clear target (neutral condition) versus a condition in which the actor's gaze direction indicated the target of the actions (head-turning condition). Children without ASD significantly increased their attention to the actor's face and to the action's target in the head-turning condition compared to the neutral condition, while this was not the case in the ASD group. Overall, our findings suggest a diminished monitoring and responsivity to social cues signalling goal-directedness, which might impact on the ability to understand other's action goals in young children with ASD.
Access options
Buy single article
Instant access to the full article PDF.
US$ 39.95
Tax calculation will be finalised during checkout.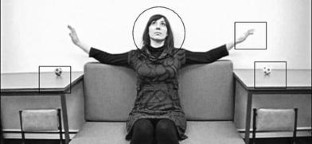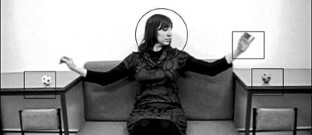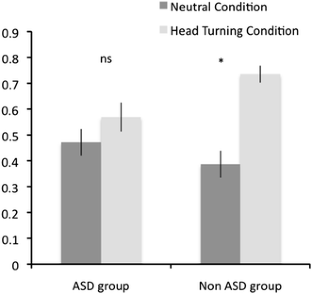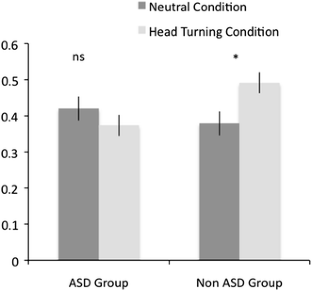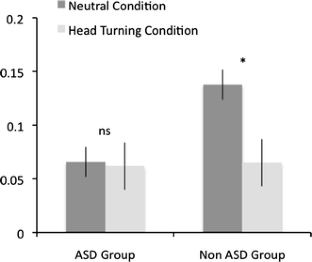 References
Aldridge MA, Stone KR, Sweeney MH, Bower T (2000) Preverbal children with autism understand the intentions of others. Dev Sci 3:294–301

American Psychiatric Association (1994) Diagnostic criteria from DSM-IV. The Association, Washington, D.C.

Baron-Cohen S, Baldwin DA, Crowson M (1997) Do children with autism use the speaker's direction of gaze strategy to crack the code of language? Child Dev 68:48–57

Beer JS, Ochsner KN (2006) Social cognition: a multi level analysis. Brain Res 1079:98–105

Biro S (2012) The role of the efficiency of novel actions in infants' goal anticipation. J Exp Child Psychol 116(2):415–427

Boria S, Fabbri-Destro M, Cattaneo L, Sparaci L, Sinigaglia C, Santelli E, Cossu G, Rizzolatti G (2009) Intention understanding in autism. PLoS One 4:e5596

Bruner J (1995) From joint attention to the meeting of minds: an introduction. In: Moore C, Dunham PJ (eds) Joint attention: its origins and role in development. Lawrence Erlbaum, Hillsdale, pp 1–14

Cannon EN, Woodward AL (2012) Infants generate goal-based action predictions. Dev Sci 15:292–298

Cannon EN, Woodward AL, Gredeback G, von Hofsten C, Turek C (2012) Action production influences 12-month-old infants' attention to others' actions. Dev Sci 15:35–42

Carpenter M (2010) Social cognition and social motivations in infancy. In: Goswami U (ed) The Wiley-Blackwell handbook of childhood cognitive development, 2nd edn. Wiley-Blackwell, Oxford, pp 106–128

Carpenter M, Pennington BF, Rogers SJ (2001) Understanding of others' intentions in children with autism. J Autism Dev Disord 31:589–599

Cattaneo L, Fabbri-Destro M, Boria S, Pieraccini C, Monti A, Cossu G, Rizzolatti G (2007) Impairment of actions chains in autism and its possible role in intention understanding. Proc Natl Acad Sci USA 104:17825–17830

Csibra G, Gergely G (2007) 'Obsessed with goals': functions and mechanisms of teleological interpretation of actions in humans. Acta Psychol (Amst) 124:60–78

Dyckens EM, Lense M (2011) Intellectual disabilities and autism spectrum disorder: a cautionary note. In: Amaral D, Dawson G, Geschwind D (eds) Autism spectrum disorders. Oxford University Press, New York, pp 261–269

Falck-Ytter T (2010) Young children with autism spectrum disorder use predictive eye movements in action observation. Biol Lett 6:375–378

Falck-Ytter T, Gredeback G, von Hofsten C (2006) Infants predict other people's action goals. Nat Neurosci 9:878–879

Flanagan JR, Johansson RS (2003) Action plans used in action observation. Nature 424:769–771

Frith U, Frith CD (2003) Development and neurophysiology of mentalizing. Philos Trans R Soc Lond B Biol Sci 358:459–473

Leekam SR, Ramsden CA (2006) Dyadic orienting and joint attention in preschool children with autism. J Autism Dev Disord 36:185–197

Leekam SR, Lopez B, Moore C (2000) Attention and joint attention in preschool children with autism. Dev Psychol 36:261–273

Lord C, Jones RM (2012) Annual research review: re-thinking the classification of autism spectrum disorders. J Child Psychol Psychiatry 53:490–509

Lord C, Risi S, Lambrecht L, Cook EH Jr, Leventhal BL, DiLavore PC, Pickles A, Rutter M (2000) The autism diagnostic observation schedule-generic: a st measure of social and communication deficits associated with the spectrum of autism. J Autism Dev Disord 30:205–223

Moll H, Tomasello M (2004) 12- and 18-month-old infants follow gaze to spaces behind barriers. Dev Sci 7:F1–F9

Mullen EM (1992) Mullen Scales of Early Learning manual. T.O.T.A.L. Child, Inc., Cranston

Nuske HJ, Vivanti G, Dissanayake C (2013) Are emotion impairments unique to, universal, or specific in autism spectrum disorder? A comprehensive review. Cogn Emot 27(6):1042–1061

Phillips AT, Wellman HM, Spelke ES (2002) Infants' ability to connect gaze and emotional expression to intentional action. Cognition 85:53–78

Poulin-Dubois D, Brooker I, Chow V (2009) The developmental origins of naive psychology in infancy. Adv Child Dev Behav 37:55–104

Rutherford MD, Troje NF (2012) IQ predicts biological motion perception in autism spectrum disorders. J Autism Dev Disord 42:557–565

Rutter M, Bailey AJ, Lord C (2003) The social communication questionnaire. Western Psychological Services, Los Angeles

Shevell M, Ashwal S, Donley D, Flint J, Gingold M, Hirtz D, Majnemer A, Noetzel M, Sheth R (2003) Practice parameter: evaluation of the child with global developmental delay report of the quality standards subcommittee of the American Academy of Neurology and The Practice Committee of the Child Neurology Society. Neurology 60:367–380

Striano T, Vaish A (2006) Seven to 9 month old infants use facial expressions to interpret others' actions. Br J Dev Psychol 24:753–760

Tabachnick BG, Fidell LS (1996) Using multivariate statistics. HarperCollins College Publishers, New York

Tomasello M, Carpenter M, Call J, Behne T, Moll H (2005) Understanding and sharing intentions: the origins of cultural cognition. Behav Brain Sci 28:675–691 (discussion 691–735)

Vivanti G, McCormick C, Young GS, Abucayan F, Hatt N, Nadig A, Ozonoff S, Rogers SJ (2011) Intact and impaired mechanisms of action understanding in autism. Dev Psychol 47:841–856

Vivanti G, Dissanayake C, Zierhut C, Rogers SJ (2013a) Brief report: predictors of outcomes in the early start Denver model delivered in a group setting. J Autism Dev Disord 43:1717–1724

Vivanti G, Barbaro J, Hudry K, Dissanayake C, Prior M (2013b) Intellectual development in autism spectrum disorders: new insights from longitudinal studies. Front Hum Neurosci 7:354
Acknowledgments
We would like to acknowledge the children and parents involved in the study,  the ASELCC Team who worked with our ASD sample, and the Kalparrin Early Intervention Centre staff. We would also like to acknowledge the valuable contribution of Cherie Green, Heather Nuske, Nicole Young, Carmela Germano and Caterina Suares.
About this article
Cite this article
Vivanti, G., Trembath, D. & Dissanayake, C. Atypical monitoring and responsiveness to goal-directed gaze in autism spectrum disorder. Exp Brain Res 232, 695–701 (2014). https://doi.org/10.1007/s00221-013-3777-9
Received:

Accepted:

Published:

Issue Date:
Keywords
Autism spectrum disorders

Action prediction

Goal understanding

Eye-tracking

Eye movements