Abstract
In the early 1980s, Libet found that a readiness potential (RP) over central scalp locations begins on average several hundred milliseconds before the reported time of awareness of willing to move (W). Haggard and Eimer Exp Brain Res 126(1):128–133, (1999) later found no correlation between the timing of the RP and W, suggesting that the RP does not reflect processes causal of W. However, they did find a positive correlation between the onset of the lateralized readiness potential (LRP) and W, suggesting that the LRP might reflect processes causal of W. Here, we report a failure to replicate Haggard and Eimer's LRP finding with a larger group of participants and several variations of their analytical method. Although we did find a between-subject correlation in just one of 12 related analyses of the LRP, we crucially found no within-subject covariation between LRP onset and W. These results suggest that the RP and LRP reflect processes independent of will and consciousness. This conclusion has significant implications for our understanding of the neural basis of motor action and potentially for arguments about free will and the causal role of consciousness.
Access options
Buy single article
Instant access to the full article PDF.
USD 39.95
Price includes VAT (USA)
Tax calculation will be finalised during checkout.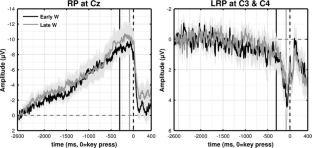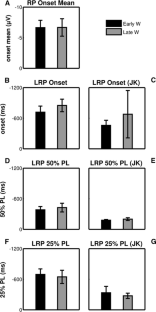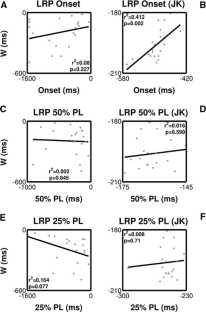 References
Aarts H, Van den Bos K (2011) On the foundations of beliefs in free will: international binding and unconscious priming in self-agency. Psychol Sci 22:532–537

Baker KS, Piriyapunyaporn T, Cunnington R (2012) Neural activity in readiness for incidental and explicitly timed actions. Neuropsychologia 50(5):715–722

Banks WP, Isham EA (2009) We infer rather than perceive the moment we decided to act. Psychol Sci 20:17–21

Castro A, Díaz F, Van Boxtel GJM (2005) What happens to the readiness potential when the movement is not executed? NeuroReport 16(15):1609–1613

Desantis A, Roussel C, Waszak F (2011) On the influence of causal beliefs on the feeling of agency. Conscious Cogn 20:1211–1220

Dijksterhuis A, Aarts H (2010) Goals, attention and (Un)consciousness. Annu Rev Psychol 61:467–490

Donchin E, Gerbrandt LA, Leifer L, Tucker L (1972) Is the contingent negative variation contingent on a motor response? Psychophysiology 9(2):178–188

Eimer M (1998) The lateralized readiness potential as an on-line measure of central response activation processes. Behav Res Methods Instrum Comput 30(1):146–156

Fried I, Mukamel R, Kreiman G (2011) Internally generated preactivation of single neurons in human medial frontal cortex predicts volition. Neuron 69(3):548–562

Gomes G (2010) Preparing to move and deciding not to move. Conscious Cognit 19(1):457–459

Haggard P (2008) Human volition: towards a neuroscience of will. Nat Rev Neurosci 9(12):934–946

Haggard P, Eimer M (1999) On the relation between brain potentials and the awareness of voluntary movements. Exp Brain Res 126(1):128–133

Herrmann CS, Pauen M, Min BK, Busch NA, Rieger JW (2008) Analysis of a choice-reaction task yields a new interpretation of Libet's experiments. Int J Psychophysiol 67(2):151–157

Ikeda A, Shibasaki H, Nagamine T, Terada K, Kaji R, Fukuyama H, Kimura J (1994) Dissociation between contingent negative variation and Bereitschaftspotential in a patient with cerebellar efferent lesion. Electroencephalogr Clin Neurophysiol 90(5):359–364

Ikeda A, Shibasaki H, Kaji R, Terada K, Nagamine T, Honda M, Kimura J (1997) Dissociation between contingent negative variation (CNV) and Bereitschaftspotential (BP) in patients with parkinsonism. Electroencephalogr Clin Neurophysiol 102(2):142–151

Jasper HH (1958) The ten-twenty system of the international federation. Electroencephalogr Clin Neurophysiol 10:371–375

Kornhuber HH, Deecke L (1965) Hirnpotentialänderungen bei Willkürbewegungen und passiven Bewegungen des Menschen: bereitschaftspotential und reafferente Potentiale. Pflügers Archiv. Eur J Physiol 284(1):1–17

Lau HC, Rogers RD, Passingham RE (2007) Manipulating the experienced onset of intention after action execution. J Cogn Neurosci 19(1):81–90

Libet B, Gleason CA, Wright EW, Pearl DK (1983) Time of conscious intention to act in relation to onset of cerebral activity (readiness-potential). The unconscious initiation of a freely voluntary act. Brain 106(3):623–642

Matsuhashi M, Hallett M (2008) The timing of the conscious intention to move. Eur J Neurosci 28(11):2344–2351

Mill JS (1843) A system of logic, ratiocinative and inductive: being a connected view of the principles of evidence and the methods of scientific investigation. John W. Parker, Oxford University, Oxford

Miller J, Patterson T, Ulrich R (1998) Jackknife-based method for measuring LRP onset latency differences. Psychophysiology 35(1):99–115

Moore JW, Lagnado DA, Deal DC, Haggard P (2009a) Feelings of control: contingency determines experience of action. Cognition 110:279–283

Moore JW, Wegner DM, Haggard P (2009b) Modulating the sense of agency with external cues. Conscious Cogn 18:1056–1064

Schröter H, Leuthold H (2008) Effects of response sequence length on motor programming: a chronometric analysis. Acta Psychologica 128(1):186–196

Schurger A, Sitt JD, Dehaene S (2012) An accumulator model for spontaneous neural activity prior to self-initiated movement. Proc Natl Acad Sci 109(42):E2904–E2913

Sinnot-Armstrong W, Nadel L (eds) (2010) Conscious will and responsibility, 1st edn. Oxford University Press, USA

Sirigu A, Daprati E, Ciancia S, Giraux P, Nighoghossian N, Posada A, Haggard P (2004) Altered awareness of voluntary action after damage to the parietal cortex. Nature Neurosci 7(1):80–84

Synofzik M, Vosgerau G, Lindner A (2009) Me or not me—an optimal integration of agency cues? Conscious Cogn 18:1065–1068

Trevena J, Miller J (2010) Brain preparation before a voluntary action: evidence against unconscious movement initiation. Conscious Cogn 19(1):447–456

van Boxtel G, Brunia C (1994) Motor and non-motor components of the contingent negative variation. Int J Psychophysiol 17(3):269–79

van Boxtel G, van den Boogaart B, Brunia C (1993) The contingent negative variation in a choice reaction time task. J Psychophysiol 7:11–23

Wegner DM (2002) The Illusion of conscious will. MIT Press, Cambridge, MA

Wegner DM, Wheatley T (1999) Apparent mental causation: sources of the experience of will. Am Psychol 54:480–492

Wheatley T, Looser CE (2010) Prospective codes fulfilled: a potential neural mechanism of will. In: Sinnott-Armstrong W, Nadel L (eds) Conscious will and responsibility: a tribute to benjamin libet. Oxford University Press, USA
Acknowledgments
We would like to thank Devin Routh for assisting with data collection. This study was supported by a grant from the Templeton Foundation as part of the Big Questions in Free Will project led by Alfred Mele (to T.W., P.T., W.S-A, and A.R.).
About this article
Cite this article
Schlegel, A., Alexander, P., Sinnott-Armstrong, W. et al. Barking up the wrong free: readiness potentials reflect processes independent of conscious will. Exp Brain Res 229, 329–335 (2013). https://doi.org/10.1007/s00221-013-3479-3
Received:

Accepted:

Published:

Issue Date:
Keywords
Readiness potential

Libet

Volition

Consciousness

Free will