Abstract
Evidence suggests that the serotonin 2A receptor (5-HT2AR) modulates the therapeutic activity of selective serotonin reuptake inhibitors (SSRIs). Indeed, among the genetic factors known to influence the individual response to antidepressants, the HTR2A gene has been associated with SSRIs response in depressed patients. However, in these pharmacogenetic studies, the consequences of HTR2A gene polymorphisms on 5-HT2AR expression or function are lacking and the precise role of this receptor is still matter of debate. This study examined the effect of 5-HT2AR agonism or antagonism with DOI and MDL100907, respectively, on the serotonergic system and the antidepressant-like activity of the SSRI escitalopram in mouse. The 5-HT2AR agonist DOI decreased the firing rate of 5-HT neurons in the dorsal raphe (DR) nucleus of 5-HT2AR+/+ anesthetized mice. This inhibitory response persisted in 5-HT2CR−/− but was completely blunted in 5-HT2AR−/− mutants. Moreover, the suppressant effect of DOI on DR 5-HT neuronal activity in 5-HT2AR+/+ mice was attenuated by the loss of noradrenergic neurons induced by the neurotoxin DSP4. Conversely, in 5-HT2AR+/+ mice, the pharmacological inactivation of the 5-HT2AR by the selective antagonist MDL100907 reversed escitalopram-induced decrease in DR 5-HT neuronal activity. Remarkably, in microdialysis experiments, a single injection of escitalopram increased cortical extracellular 5-HT, but not NE, levels in awake 5-HT2AR+/+ mice. Although the addition of MDL100907 did not potentiate 5-HT neurotransmission, it allowed escitalopram to increase cortical NE outflow and consequently to elicit an antidepressant-like effect in the forced swimming test. These results suggest that the blockade of the 5-HT2AR may strengthen the antidepressant-like effect of escitalopram by facilitating the enhancement of the brain NE transmission. They provide support for the use of atypical antipsychotics with SSRIs as a relevant antidepressant augmentation strategy.
Access options
Buy single article
Instant access to the full article PDF.
US$ 39.95
Tax calculation will be finalised during checkout.
Subscribe to journal
Immediate online access to all issues from 2019. Subscription will auto renew annually.
US$ 119
Tax calculation will be finalised during checkout.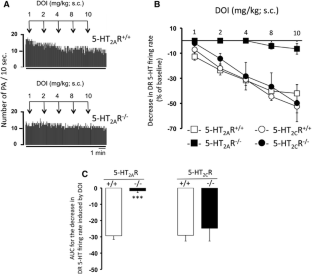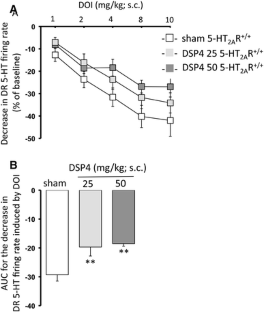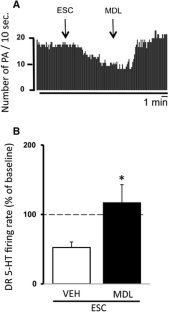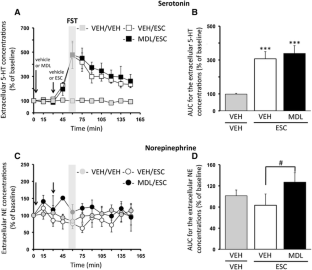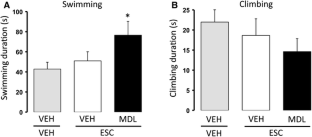 Abbreviations
5-HT:

Serotonin

5-HT2AR:

Serotonin 2A receptor

AAP:

Atypical antipsychotic

DR:

Dorsal raphe

FST:

Forced swimming test

LC:

Locus coeruleus

MDD:

Major depressive disorder

NE:

Norepinephrine

NET:

Norepinephrine transporter

SERT:

Serotonin transporter

SSRI:

Selective serotonin reuptake inhibitor
References
Aghajanian GK, Vandermaelen CP (1982) Intracellular recording in vivo from serotonergic neurons in the rat dorsal raphe nucleus: methodological considerations. J Histochem Cytochem 30(8):813–814

Baraban JM, Aghajanian GK (1980) Suppression of firing activity of 5-HT neurons in the dorsal raphe by alpha-adrenoceptor antagonists. Neuropharmacology 19(4):355–363

Blier P, Blondeau C (2011) Neurobiological bases and clinical aspects of the use of aripiprazole in treatment-resistant major depressive disorder. J Affect Disord 128(Suppl 1):S3–S10. doi:10.1016/S0165-0327(11)70003-9

Blier P, Szabo ST (2005) Potential mechanisms of action of atypical antipsychotic medications in treatment-resistant depression and anxiety. J Clin Psychiatr 66(Suppl 8):30–40

Boothman LJ, Sharp T (2005) A role for midbrain raphe gamma aminobutyric acid neurons in 5-hydroxytryptamine feedback control. NeuroReport 16(9):891–896

Boothman LJ, Allers KA, Rasmussen K, Sharp T (2003) Evidence that central 5-HT2A and 5-HT2B/C receptors regulate 5-HT cell firing in the dorsal raphe nucleus of the anaesthetised rat. Br J Pharmacol 139(5):998–1004. doi:10.1038/sj.bjp.0705328

Bortolozzi A, Amargos-Bosch M, Adell A, Diaz-Mataix L, Serrats J, Pons S, Artigas F (2003) In vivo modulation of 5-hydroxytryptamine release in mouse prefrontal cortex by local 5-HT(2A) receptors: effect of antipsychotic drugs. Eur J Neurosci 18(5):1235–1246

Brunello N, Mendlewicz J, Kasper S, Leonard B, Montgomery S, Nelson J, Paykel E, Versiani M, Racagni G (2002) The role of noradrenaline and selective noradrenaline reuptake inhibition in depression. Eur Neuropsychopharmacol 12(5):461–475

Cassano T, Gaetani S, Morgese MG, Macheda T, Laconca L, Dipasquale P, Taltavull J, Shippenberg TS, Cuomo V, Gobbi G (2009) Monoaminergic changes in locus coeruleus and dorsal raphe nucleus following noradrenaline depletion. Neurochem Res 34(8):1417–1426. doi:10.1007/s11064-009-9928-5

Chen J, Gao K, Kemp DE (2011) Second-generation antipsychotics in major depressive disorder: update and clinical perspective. Curr Opin Psychiatr 24(1):10–17. doi:10.1097/YCO.0b013e3283413505

Choi MJ, Kang RH, Ham BJ, Jeong HY, Lee MS (2005) Serotonin receptor 2A gene polymorphism (-1438A/G) and short-term treatment response to citalopram. Neuropsychobiology 52(3):155–162. doi:10.1159/000087847

Cryan JF, Page ME, Lucki I (2002) Noradrenergic lesions differentially alter the antidepressant-like effects of reboxetine in a modified forced swim test. Eur J Pharmacol 436(3):197–205

DeBattista C, Hawkins J (2009) Utility of atypical antipsychotics in the treatment of resistant unipolar depression. CNS Drugs 23(5):369–377. doi:10.2165/00023210-200923050-00002

Dell'Osso B, Palazzo MC, Oldani L, Altamura AC (2011) The noradrenergic action in antidepressant treatments: pharmacological and clinical aspects. CNS Neurosci Ther 17(6):723–732. doi:10.1111/j.1755-5949.2010.00217.x

Denys D, Klompmakers AA, Westenberg HG (2004) Synergistic dopamine increase in the rat prefrontal cortex with the combination of quetiapine and fluvoxamine. Psychopharmacology 176(2):195–203. doi:10.1007/s00213-004-1880-0

Detke MJ, Rickels M, Lucki I (1995) Active behaviors in the rat forced swimming test differentially produced by serotonergic and noradrenergic antidepressants. Psychopharmacology 121(1):66–72

Dremencov E, El Mansari M, Blier P (2007a) Noradrenergic augmentation of escitalopram response by risperidone: electrophysiologic studies in the rat brain. Biol Psychiatr 61(5):671–678. doi:10.1016/j.biopsych.2006.05.015

Dremencov E, El Mansari M, Blier P (2007b) Distinct electrophysiological effects of paliperidone and risperidone on the firing activity of rat serotonin and norepinephrine neurons. Psychopharmacology 194(1):63–72. doi:10.1007/s00213-007-0818-8

El Mansari M, Sanchez C, Chouvet G, Renaud B, Haddjeri N (2005) Effects of acute and long-term administration of escitalopram and citalopram on serotonin neurotransmission: an in vivo electrophysiological study in rat brain. Neuropsychopharmacology 30(7):1269–1277. doi:10.1038/sj.npp.1300686

Franberg O, Marcus MM, Svensson TH (2012) Involvement of 5-HT(2A) receptor and alpha(2)-adrenoceptor blockade in the asenapine-induced elevation of prefrontal cortical monoamine outflow. Synapse 66(7):650–660. doi:10.1002/syn.21551

Gardier AM, Malagie I, Trillat AC, Jacquot C, Artigas F (1996) Role of 5-HT1A autoreceptors in the mechanism of action of serotoninergic antidepressant drugs: recent findings from in vivo microdialysis studies. Fundam Clin Pharmacol 10(1):16–27

Garratt JC, Kidd EJ, Wright IK, Marsden CA (1991) Inhibition of 5-hydroxytryptamine neuronal activity by the 5-HT agonist. Eur J Pharmacol 199(3):349–355

Ghaemi SN, Katzow JJ (1999) The use of quetiapine for treatment-resistant bipolar disorder: a case series. Ann Clin Psychiatr 11(3):137–140

Gobert A, Millan MJ (1999) Serotonin (5-HT)2A receptor activation enhances dialysate levels of dopamine and noradrenaline, but not 5-HT, in the frontal cortex of freely-moving rats. Neuropharmacology 38(2):315–317

Guiard BP, El Mansari M, Merali Z, Blier P (2008) Functional interactions between dopamine, serotonin and norepinephrine neurons: an in vivo electrophysiological study in rats with monoaminergic lesions. Int J Neuropsychopharmacol 11(5):625–639. doi:10.1017/S1461145707008383

Guiard BP, Mansari ME, Murphy DL, Blier P (2012) Altered response to the selective serotonin reuptake inhibitor escitalopram in mice heterozygous for the serotonin transporter: an electrophysiological and neurochemical study. Int J Neuropsychopharmacol 15(3):349–361. doi:10.1017/S1461145711000484

Hirose S, Ashby CR Jr (2002) An open pilot study combining risperidone and a selective serotonin reuptake inhibitor as initial antidepressant therapy. J Clin Psychiatr 63(8):733–736

Hof PR, Young WG, Bloom FE, Belichenko PV, Celio MR (2000) Comparative cytoarchitecture atlas of the C57BL/6 and 129/Sv mouse brains with CD ROM. Elsevier, San Diego

Holick KA, Lee DC, Hen R, Dulawa SC (2008) Behavioral effects of chronic fluoxetine in BALB/cJ mice do not require adult hippocampal neurogenesis or the serotonin 1A receptor. Neuropsychopharmacology 33(2):406–417. doi:10.1038/sj.npp.1301399

Huang M, Ichiwaka J, Li Z, Dai J, Meltzer HY (2006) Augmentation by citalopram of risperidone-induced monoamine release in rat prefrontal cortex. Psychopharmacology 185(3):274–281. doi:10.1007/s00213-005-0206-1

Kato M, Zanardi R, Rossini D, De Ronchi D, Okugawa G, Kinoshita T, Colombo C, Serretti A (2009) 5-HT2A gene variants influence specific and different aspects of antidepressant response in Japanese and Italian mood disorder patients. Psychiatr Res 167(1–2):97–105. doi:10.1016/j.psychres.2007.12.012

Kishi T, Yoshimura R, Kitajima T, Okochi T, Okumura T, Tsunoka T, Yamanouchi Y, Kinoshita Y, Kawashima K, Naitoh H, Nakamura J, Ozaki N, Iwata N (2010) HTR2A is associated with SSRI response in major depressive disorder in a Japanese cohort. Neuromolecular Med 12(3):237–242. doi:10.1007/s12017-009-8105-y

Koch S, Perry KW, Bymaster FP (2004) Brain region and dose effects of an olanzapine/fluoxetine combination on extracellular monoamine concentrations in the rat. Neuropharmacology 46(2):232–242

Li HF, Yu X, Yang K, He CY, Kou SJ, Cao SX, Xie GR (2012) The relationship between single nucleotide polymorphisms in 5-HT2A signal transduction-related genes and the response efficacy to selective serotonin reuptake inhibitor treatments in Chinese patients with major depressive disorder. Genet Test Mol Biomarkers 16(7):667–671. doi:10.1089/gtmb.2011.0232

Liu R, Jolas T, Aghajanian G (2000) Serotonin 5-HT(2) receptors activate local GABA inhibitory inputs to serotonergic neurons of the dorsal raphe nucleus. Brain Res 873(1):34–45

Lucae S, Ising M, Horstmann S, Baune BT, Arolt V, Muller-Myhsok B, Holsboer F, Domschke K (2010) HTR2A gene variation is involved in antidepressant treatment response. Eur Neuropsychopharmacol 20(1):65–68. doi:10.1016/j.euroneuro.2009.08.006

Mansari ME, Wiborg O, Mnie-Filali O, Benturquia N, Sanchez C, Haddjeri N (2007) Allosteric modulation of the effect of escitalopram, paroxetine and fluoxetine: in vitro and in vivo studies. Int J Neuropsychopharmacol 10(1):31–40. doi:10.1017/S1461145705006462

Marek GJ, Aghajanian GK (1999) 5-HT2A receptor or alpha1-adrenoceptor activation induces excitatory postsynaptic currents in layer V pyramidal cells of the medial prefrontal cortex. Eur J Pharmacol 367(2–3):197–206

Marek GJ, Martin-Ruiz R, Abo A, Artigas F (2005) The selective 5-HT2A receptor antagonist M100907 enhances antidepressant-like behavioral effects of the SSRI fluoxetine. Neuropsychopharmacology 30(12):2205–2215. doi:10.1038/sj.npp.1300762

Martin-Ruiz R, Puig MV, Celada P, Shapiro DA, Roth BL, Mengod G, Artigas F (2001) Control of serotonergic function in medial prefrontal cortex by serotonin-2A receptors through a glutamate-dependent mechanism. J Neurosci 21(24):9856–9866

Massou JM, Trichard C, Attar-Levy D, Feline A, Corruble E, Beaufils B, Martinot JL (1997) Frontal 5-HT2A receptors studied in depressive patients during chronic treatment by selective serotonin reuptake inhibitors. Psychopharmacology 133(1):99–101

McMahon FJ, Buervenich S, Charney D, Lipsky R, Rush AJ, Wilson AF, Sorant AJ, Papanicolaou GJ, Laje G, Fava M, Trivedi MH, Wisniewski SR, Manji H (2006) Variation in the gene encoding the serotonin 2A receptor is associated with outcome of antidepressant treatment. Am J Hum Genet 78(5):804–814. doi:10.1086/503820

Meyer JH, Kapur S, Eisfeld B, Brown GM, Houle S, DaSilva J, Wilson AA, Rafi-Tari S, Mayberg HS, Kennedy SH (2001) The effect of paroxetine on 5-HT(2A) receptors in depression: an [(18)F]setoperone PET imaging study. Am J Psychiatr 158(1):78–85

Mongeau R, Blier P, de Montigny C (1997) The serotonergic and noradrenergic systems of the hippocampus: their interactions and the effects of antidepressant treatments. Brain Res Brain Res Rev 23(3):145–195

Nguyen HT, Guiard BP, Bacq A, David DJ, David I, Quesseveur G, Gautron S, Sanchez C, Gardier AM (2012) Blockade of the high-affinity norepinephrine transporter (NET) by the selective serotonin reuptake inhibitor escitalopram: an in vivo microdialysis study in mice. Br J Pharmacol. doi:10.1111/j.1476-5381.2012.01850.x

Ostroff RB, Nelson JC (1999) Risperidone augmentation of selective serotonin reuptake inhibitors in major depression. J Clin Psychiatr 60(4):256–259

Page ME, Detke MJ, Dalvi A, Kirby LG, Lucki I (1999) Serotonergic mediation of the effects of fluoxetine, but not desipramine, in the rat forced swimming test. Psychopharmacology 147(2):162–167

Pandey DK, Mahesh R, Kumar AA, Rao VS, Arjun M, Rajkumar R (2010) A novel 5-HT(2A) receptor antagonist exhibits antidepressant-like effects in a battery of rodent behavioural assays: approaching early-onset antidepressants. Pharmacol Biochem Behav 94(3):363–373. doi:10.1016/j.pbb.2009.09.018

Patel JG, Bartoszyk GD, Edwards E, Ashby CR Jr (2004) The highly selective 5-hydroxytryptamine (5-HT)2A receptor antagonist, EMD 281014, significantly increases swimming and decreases immobility in male congenital learned helpless rats in the forced swim test. Synapse 52(1):73–75. doi:10.1002/syn.10308

Peters EJ, Slager SL, Jenkins GD, Reinalda MS, Garriock HA, Shyn SI, Kraft JB, McGrath PJ, Hamilton SP (2009) Resequencing of serotonin-related genes and association of tagging SNPs to citalopram response. Pharmacogenet Genomics 19(1):1–10. doi:10.1097/FPC.0b013e3283163ecd

Petit-Demouliere B, Chenu F, Bourin M (2005) Forced swimming test in mice: a review of antidepressant activity. Psychopharmacology 177(3):245–255. doi:10.1007/s00213-004-2048-7

Quesseveur G, Nguyen HT, Gardier AM, Guiard BP (2012) 5-HT2 ligands in the treatment of anxiety and depression. Expert Opin Investig Drugs. doi:10.1517/13543784.2012.719872

Rainer Q, Nguyen HT, Quesseveur G, Gardier AM, David DJ, Guiard BP (2012) Functional status of somatodendritic serotonin 1A autoreceptor after long-term treatment with fluoxetine in a mouse model of anxiety/depression based on repeated corticosterone administration. Mol Pharmacol 81(2):106–112. doi:10.1124/mol.111.075796

Seager MA, Huff KD, Barth VN, Phebus LA, Rasmussen K (2004) Fluoxetine administration potentiates the effect of olanzapine on locus coeruleus neuronal activity. Biol Psychiatr 55(11):1103–1109. doi:10.1016/j.biopsych.2004.02.012

Shelton RC, Williamson DJ, Corya SA, Sanger TM, Van Campen LE, Case M, Briggs SD, Tollefson GD (2005) Olanzapine/fluoxetine combination for treatment-resistant depression: a controlled study of SSRI and nortriptyline resistance. J Clin Psychiatr 66(10):1289–1297

Sibille E, Sarnyai Z, Benjamin D, Gal J, Baker H, Toth M (1997) Antisense inhibition of 5-hydroxytryptamine2a receptor induces an antidepressant-like effect in mice. Mol Pharmacol 52(6):1056–1063

Sotty F, Folgering JH, Brennum LT, Hogg S, Mork A, Hertel P, Cremers TI (2009) Relevance of dorsal raphe nucleus firing in serotonin 5-HT(2C) receptor blockade-induced augmentation of SSRIs effects. Neuropharmacology 57(1):18–24. doi:10.1016/j.neuropharm.2009.03.016

Szabo ST, Blier P (2001) Functional and pharmacological characterization of the modulatory role of serotonin on the firing activity of locus coeruleus norepinephrine neurons. Brain Res 922(1):9–20

Szabo ST, de Montigny C, Blier P (1999) Modulation of noradrenergic neuronal firing by selective serotonin reuptake blockers. Br J Pharmacol 126(3):568–571. doi:10.1038/sj.bjp.0702343

Szabo ST, de Montigny C, Blier P (2000) Progressive attenuation of the firing activity of locus coeruleus noradrenergic neurons by sustained administration of selective serotonin reuptake inhibitors. Int J Neuropsychopharmacol 3(1):1–11. doi:10.1017/S1461145700001772

Tecott LH, Sun LM, Akana SF, Strack AM, Lowenstein DH, Dallman MF, Julius D (1995) Eating disorder and epilepsy in mice lacking 5-HT2c serotonin receptors. Nature 374(6522):542–546. doi:10.1038/374542a0

Thase ME, Corya SA, Osuntokun O, Case M, Henley DB, Sanger TM, Watson SB, Dube S (2007) A randomized, double-blind comparison of olanzapine/fluoxetine combination, olanzapine, and fluoxetine in treatment-resistant major depressive disorder. J Clin Psychiatr 68(2):224–236

Vandermaelen CP, Aghajanian GK (1983) Electrophysiological and pharmacological characterization of serotonergic dorsal raphe neurons recorded extracellularly and intracellularly in rat brain slices. Brain Res 289(1–2):109–119

Viikki M, Huuhka K, Leinonen E, Illi A, Setala-Soikkeli E, Huuhka M, Mononen N, Lehtimaki T, Kampman O (2011) Interaction between two HTR2A polymorphisms and gender is associated with treatment response in MDD. Neurosci Lett 501(1):20–24. doi:10.1016/j.neulet.2011.06.031

Weisstaub NV, Zhou M, Lira A, Lambe E, Gonzalez-Maeso J, Hornung JP, Sibille E, Underwood M, Itohara S, Dauer WT, Ansorge MS, Morelli E, Mann JJ, Toth M, Aghajanian G, Sealfon SC, Hen R, Gingrich JA (2006) Cortical 5-HT2A receptor signaling modulates anxiety-like behaviors in mice. Science 313(5786):536–540. doi:10.1126/science.1123432

Wilkie MJ, Smith G, Day RK, Matthews K, Smith D, Blackwood D, Reid IC, Wolf CR (2009) Polymorphisms in the SLC6A4 and HTR2A genes influence treatment outcome following antidepressant therapy. Pharmacogenomics J 9(1):61–70. doi:10.1038/sj.tpj.6500491

Wright IK, Garratt JC, Marsden CA (1990) Effects of a selective 5-HT2 agonist, DOI, on 5-HT neuronal firing in the dorsal raphe nucleus and 5-HT release and metabolism in the frontal cortex. Br J Pharmacol 99(2):221–222

Xie H, Ma F, Zhang YQ, Gao X, Wu GC (2002) Expression of 5-HT(2A) receptor mRNA in some nuclei of brain stem enhanced in monoarthritic rats. Brain Res 954(1):94–99

Zanardi R, Artigas F, Moresco R, Colombo C, Messa C, Gobbo C, Smeraldi E, Fazio F (2001) Increased 5-hydroxytryptamine-2 receptor binding in the frontal cortex of depressed patients responding to paroxetine treatment: a positron emission tomography scan study. J Clin Psychopharmacol 21(1):53–58

Zaniewska M, McCreary AC, Wydra K, Filip M (2010) Effects of serotonin (5-HT)2 receptor ligands on depression-like behavior during nicotine withdrawal. Neuropharmacology 58(7):1140–1146. doi:10.1016/j.neuropharm.2010.02.006

Zhang W, Perry KW, Wong DT, Potts BD, Bao J, Tollefson GD, Bymaster FP (2000) Synergistic effects of olanzapine and other antipsychotic agents in combination with fluoxetine on norepinephrine and dopamine release in rat prefrontal cortex. Neuropsychopharmacology 23(3):250–262. doi:10.1016/S0893-133X(00)00119-6
Acknowledgments
This work has been supported by the technical assistance of the Animal Care Facility of the Institut Fédératif de Recherche IFR141 of the University of Paris Sud 11. We particularly thank Dr Isabelle Seif and Pauline Robert for their active role in the breeding of 5-HT2AR/5-HT2CR wild-type and knock-out mice. The authors also thank Dr M. El Mansari for helpful discussions and critical reading of the manuscript.
Conflict of interest
None.
Additional information
G. Quesseveur and C. Repérant contributed equally to this study.
About this article
Cite this article
Quesseveur, G., Repérant, C., David, D.J. et al. 5-HT2A receptor inactivation potentiates the acute antidepressant-like activity of escitalopram: involvement of the noradrenergic system. Exp Brain Res 226, 285–295 (2013). https://doi.org/10.1007/s00221-013-3434-3
Received:

Accepted:

Published:

Issue Date:
Keywords
5-HT

5-HT2A receptor

Antidepressants

Antipsychotics

Norepinephrine

SSRIs