Abstract
The study of body representation and ownership has been a very active research area in recent years. Synchronous multisensory stimulation has been used for the induction of the illusion of ownership over virtual body parts and even full bodies, and it has provided experimental paradigms for the understanding of the brain processing of body representation. However, the illusion of ownership of a virtual body has rarely been used for patient evaluation and diagnosis. Here we propose a method that exploits ownership of a virtual body in combination with a simple brain computer interface (BCI) and basic physiological measures to complement neurological assessment. A male patient presenting a fixed posture dystonia featuring a permanently closed left fist participated in this case study. The patient saw a virtual body that substituted his own after donning a head-mounted display and thereby entering the virtual reality. The left virtual hand had the same posture as his corresponding real hand. After inducing virtual hand ownership by correlated visuo-tactile stimulation and dynamic reflections in a virtual mirror, the virtual hand would open either automatically or through a cognitive task assessed through a BCI that required him to focus attention on the virtual hand. The results reveal that body ownership induced changes on electromyography and BCI performance in the patient that were different from those in five healthy controls. Overall, the case study shows that the induction of virtual body ownership combined with simple electrophysiological measures could be useful for the diagnosis of patients with neurological conditions.
Access options
Buy single article
Instant access to the full article PDF.
US$ 39.95
Tax calculation will be finalised during checkout.
Subscribe to journal
Immediate online access to all issues from 2019. Subscription will auto renew annually.
US$ 119
Tax calculation will be finalised during checkout.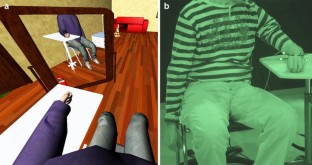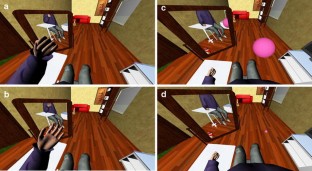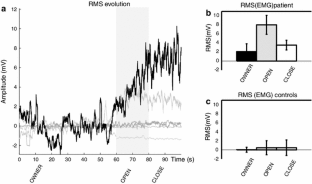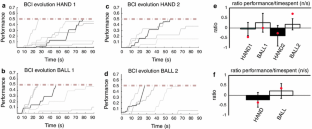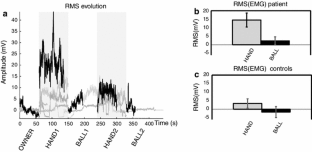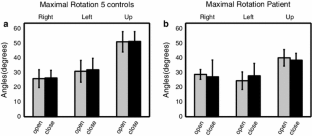 References
Adamovich SV, Fluet GG, Tunik E, Merians AS (2009) Sensorimotor training in virtual reality: a review. NeuroRehabilitation 25(1):29–44. doi:10.3233/nre-2009-0497

Blanke O (2012) Multisensory brain mechanisms of bodily self-consciousness. Nat Rev Neurosci 13(8). doi:http://dx.doi.org/10.1038/nrn3292

Blanke O, Ortigue S, Landis T, Seeck M (2002) Stimulating illusory own-body perceptions. Nature 419(6904):269–270. doi:10.1038/419269a

Botvinick M, Cohen J (1998) Rubber hands 'feel' touch that eyes see. Nature 391(6669):756. doi:10.1038/35784

Brütsch K, Schuler T, Koenig A, Zimmerli L, Koeneke SM, Lünenburger L, Riener R, Jäncke L, Meyer-Heim A (2010) Influence of virtual reality soccer game on walking performance in robotic assisted gait training for children. J Neuroeng Rehabil 7:15. doi:10.1186/1743-0003-7-15

Edwards M, Alonso-Canovas A, Schrag A, Bloem B, Thompson P, Bhatia K (2011) Limb amputations in fixed dystonia: a form of body integrity identity disorder? Mov Disord 26(8):1410–1414. doi:10.1002/mds.23671

Ehrsson HH (2007) The experimental induction of out-of-body experiences. Science 317(5841):1048. doi:10.1126/science.1142175

Ehrsson H, Spence C, Passingham RE (2004) That's my hand! Activity in premotor cortex reflects feeling of ownership of a limb. Science 305(5685):875–877. doi:10.1126/science.1097011

George L, Lotte F, Abad RV, Lécuyer A (2011) Using scalp electrical biosignals to control an object by concentration and relaxation tasks: design and evaluation. Annu Int Conf IEEE Eng Med Biol Soc 2011:6299–6302. doi:10.1109/iembs.2011.6091554

Gevins AS, Zeitlin GM, Doyle JC, Schaffer RE, Callaway E (1979) EEG patterns during 'cognitive' tasks. II. Analysis of controlled tasks. Electroencephalogr Clin Neurophysiol 47(6):704–710. doi:10.1016/0013-4694(79)90297-9

Gillies M, Spanlang B (2010) Comparing and evaluating real-time character engines for virtual environments. Presence Teleoper Virtual Environ 19(2):95–117

González-Franco M, Pérez-Marcos D, Spanlang B, Slater M (2010) The contribution of real-time mirror reflections of motor actions on virtual body ownership in an immersive virtual environment. In: IEEE virtual reality conference, 2010. IEEE, pp 111–114

Hänsel A, Lenggenhager B, von Känel R, Curatolo M, Blanke O (2011) Seeing and identifying with a virtual body decreases pain perception. Eur J Pain 15(8):874–879. doi:10.1016/j.ejpain.2011.03.013

He P, Wilson G, Russell C (2004) Removal of ocular artifacts from electro-encephalogram by adaptive filtering. Med Biol Eng Comput 42(3):407–412. doi:10.1007/bf02344717

Hoffman HG, Doctor JN, Patterson DR, Carrougher GJ, Furness TA (2000a) Virtual reality as an adjunctive pain control during burn wound care in adolescent patients. Pain 85(1–2):305–309

Hoffman HG, Patterson DR, Carrougher GJ (2000b) Use of virtual reality for adjunctive treatment of adult burn pain during physical therapy: a controlled study. Clin J Pain 16(3):244–250

Kalckert A, Ehrsson HH (2012) Moving a rubber hand that feels like your own: a dissociation of ownership and agency. Front Hum Neurosci 6(March):40. doi:10.3389/fnhum.2012.00040

Lenggenhager B, Tadi T, Metzinger T, Blanke O (2007) Video ergo sum: manipulating bodily self-consciousness. Science 317(5841):1096–1099. doi:10.1126/science.1143439

Lin TA, John LR (2006) Quantifying mental relaxation with EEG for use in computer games. In: International conference on internet computing, 2006, pp 409–415

Mercier C, Sirigu A (2009) Training with virtual visual feedback to alleviate phantom limb pain. Neurorehabil Neural Repair 23(6):587–594. doi:10.1177/1545968308328717

Moseley GL, Olthof N, Venema A, Don S, Wijers M, Gallace A, Spence C (2008) Psychologically induced cooling of a specific body part caused by the illusory ownership of an artificial counterpart. Proc Natl Acad Sci USA 105(35):13169–13173. doi:10.1073/pnas.0803768105

Murray CD, Pettifer S, Howard T (2007) The treatment of phantom limb pain using immersive virtual reality: three case studies. Disabil Rehabil 29(18):1465–1469

Neuper C, Pfurtscheller G (2010) Neurofeedback training for BCI control. In: Brain-computer interfaces. The frontiers collection. Springer, Berlin, Heidelberg, pp 65–78. doi:10.1007/978-3-642-02091-9

Newport R, Pearce R, Preston C (2010) Fake hands in action: embodiment and control of supernumerary limbs. Exp Brain Res 204(3):385–395. doi:10.1007/s00221-009-2104-y

Perez-Marcos D, Slater M, Sanchez-Vives MV (2009) Inducing a virtual hand ownership illusion through a brain–computer interface. NeuroReport 20(6):589–594. doi:10.1097/WNR.0b013e32832a0a2a

Petkova VI, Ehrsson HH (2008) If I were you: perceptual illusion of body swapping. PLoS ONE 3(12):e3832. doi:10.1371/journal.pone.0003832

Pfurtscheller G (1989) Spatiotemporal analysis of alpha frequency components with the ERD technique. Brain Topogr 2(1–2):3–8

Ramachandran VS, Rogers-Ramachandran D, Cobb S (1995) Touching the phantom limb. Nature 377(6549):489–490. doi:10.1038/377489a0

Ray W, Cole H (1985) EEG alpha activity reflects attentional demands, and beta activity reflects emotional and cognitive processes. Science 228(4700):750–752. doi:10.1126/science.3992243

Rizzo AA, Buckwalter JG (1997) The status of virtual reality for the cognitive rehabilitation of persons with neurological disorders and acquired brain injury. Stud Health Technol Inform 39:22–33

Rizzo AS, Kim GJ (2005) A SWOT analysis of the field of virtual reality rehabilitation and therapy. Presence Teleoper Virtual Environ 14(2):119–146. doi:10.1162/1054746053967094

Sanchez-Vives MV, Spanlang B, Frisoli A, Bergamasco M, Slater M (2010) Virtual hand illusion induced by visuomotor correlations. PLoS ONE 5(4):e10381. doi:10.1371/journal.pone.0010381

Sato K, Fukumori S, Matsusaki T, Maruo T, Ishikawa S, Nishie H, Takata K, Mizuhara H, Mizobuchi S, Nakatsuka H, Matsumi M, Gofuku A, Yokoyama M, Morita K (2010) Nonimmersive virtual reality mirror visual feedback therapy and its application for the treatment of complex regional pain syndrome: an open-label pilot study. Pain Med 11(4):622–629. doi:10.1111/j.1526-4637.2010.00819.x

Schrag A, Trimble M, Quinn N, Bhatia K (2004) The syndrome of fixed dystonia: an evaluation of 103 patients. Brain J Neurol 127(10):2360–2372. doi:10.1093/brain/awh262

Shaw JC (1996) Intention as a component of the alpha-rhythm response to mental activity. Int J Psychophysiol 24(1–2):7–23

Slater M, Perez-Marcos D, Ehrsson HH, Sanchez-Vives MV (2008) Towards a digital body: the virtual arm illusion. Front Hum Neurosci 2(6). doi:10.3389/neuro.09.006.2008

Slater M, Perez-Marcos D, Ehrsson HH, Sanchez-Vives MV (2009) Inducing illusory ownership of a virtual body. Front Neurosci 3(2):214. doi:10.3389/neuro.01.029.2008

Slater M, Spanlang B, Sanchez-Vives M, Blanke O (2010) First person experience of body transfer in virtual reality. PLoS ONE 5(5):e10564. doi:10.1371/journal.pone.0010564

Sveistrup H (2004) Motor rehabilitation using virtual reality. J Neuroeng Rehabil 1(1):10. doi:10.1186/1743-0003-1-10

Taylor RM, Hudson TC, Seeger A, Weber H, Juliano J, Helser AT (2001) VRPN: a device-independent, network-transparent VR peripheral system. In: Proceedings of the ACM symposium on virtual reality software and technology, New York, NY, USA. ACM Press, pp 55–61. doi:10.1145/505008.505019

Tecchia F, Carrozzino M, Bacinelli S, Rossi F, Vercelli D, Marino G, Gasparello P, Bergamasco M (2010) A flexible framework for wide-spectrum vr development. Presence Teleoper Virtual Environ 19(4):302–312

Tsakiris M, Hesse MD, Boy C, Haggard P, Fink GR (2007) Neural signatures of body ownership: a sensory network for bodily self-consciousness. Cereb Cortex (New York, NY: 1991) 17(10):2235–2244. doi:10.1093/cercor/bhl131
Acknowledgments
We would like to acknowledge Pere Sivecas for his help during the experiment. JLL work was funded by the "Fundació de la Marató de TV3" project 71531 to MS. MG-F was supported by the FI-DGR grant from the Catalan Government (CUR-Gencat) cofounded by the European Social Found (EC-ESF). This work was also funded by the "Fundació de la Marató de TV3" project 110930 to JV-S, and by European Union FP7 Integrated Project BEAMING (248620) to MS and MS-V. MS is also supported by an ERC grant TRAVERSE (#227985).
About this article
Cite this article
Llobera, J., González-Franco, M., Perez-Marcos, D. et al. Virtual reality for assessment of patients suffering chronic pain: a case study. Exp Brain Res 225, 105–117 (2013). https://doi.org/10.1007/s00221-012-3352-9
Received:

Accepted:

Published:

Issue Date:
Keywords
Body ownership

Immersive virtual reality

Pain

Assessment