Abstract
This study examined perception–action learning in younger adults in their 20s compared to older adults in their 70s and 80s. The goal was to provide, for the first time, quantitative estimates of perceptuo-motor learning rates for each age group and to reveal how these learning rates change between these age groups. We used a visual coordination task in which participants are asked to learn to produce a novel-coordinated rhythmic movement. The task has been studied extensively in young adults, and the characteristics of the task are well understood. All groups showed improvement, although learning rates for those in their 70s and 80s were half the rate for those in their 20s. We consider the potential causes of these differences in learning rates by examining performance across the different coordination patterns examined as well as recent results that reveal age-related deficits in motion perception.
Access options
Buy single article
Instant access to the full article PDF.
US$ 39.95
Tax calculation will be finalised during checkout.
Subscribe to journal
Immediate online access to all issues from 2019. Subscription will auto renew annually.
US$ 119
Tax calculation will be finalised during checkout.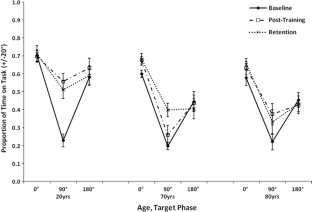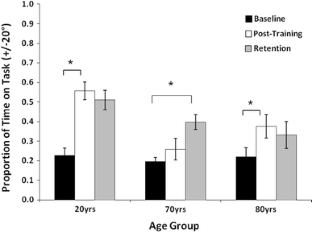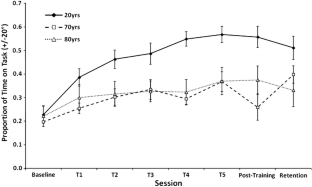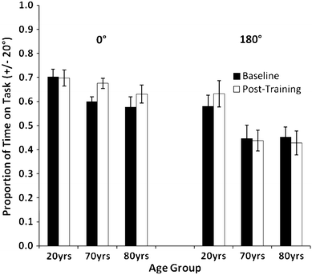 References
Anderson GJ (2012) Aging and vision: changes in function and performance from optics to perception. WIREs Cogn Sci 3(3):403–410

Ball K, Sekuler R (1986) Improving visual perception in older observers. J Gerontol 41(2):176–182

Betts LR, Taylor CP, Sekuler AB, Bennett PJ (2005) Aging reduces center-surround antagonism in visual motion processing. Neuron 45:361–366

Billino J, Bremmer F, Genefurtner KR (2008) Differential aging of motion processing mechanisms: evidence against general perceptual decline. Vis Res 48:1254–1261

Bingham GP (2001) A perceptually driven dynamical model of rhythmic limb movement and bimanual coordination. In: 23rd annual conference of the cognitive science society. LEA Publishers, Hillsdale, pp 75–79

Bingham GP (2004a) A perceptually driven dynamical model of bimanual rhythmic movement (and phase perception). Ecol Psychol 16(1):45–53

Bingham GP (2004b) Another timing variable composed of state variables: phase perception and phase driven oscillators. In: Hecht H, Savelsbergh G (eds) Theories of time-to-contact. MIT Press, Boston

Bingham GP, Schmidt RC, Zaal F (1999) Visual perception of the relative phasing of human limb movements. Percept Psychophys 61(2):246–258

Brainard DH (1997) The psychophysics toolbox. Spat Vis 10:433–436

Buckingham T, Whitaker D, Banford D (1987) Movement in decline? Oscillatory movement displacement thresholds increase with ageing. Ophthalmic Physiol Opt 7:411–413

Donovan JJ, Radosevich DJ (1999) A meta-analytic review of the distribution of practice effect: now you see it, now you don't. J Appl Psychol 84(5):795–805

Ghisletta P, Kennedy KM, Rodrigue KM, Lindenberger U, Raz N (2010) Adult age differences and the role of cognitive resources in perceptual-motor skill acquisition: application of a multilevel negative exponential model. J Gerontol B Psychol Sci Soc Sci 65B(2):163–173

Gilmore GC, Wenk HE, Naylor LA, Stuve TA (1992) Motion perception and aging. Psychol Aging 7(4):654–660

Habak C, Faubery J (2000) Larger effect of aging on the perception of higher-order stimuli. Vis Res 40:943–950

Haken H, Kelso JA, Bunz H (1985) A theoretical model of phase transition in human hand movements. Biol Cybern 51:347–356

Kay BA, Kelso JAS, Saltzman ES, Schoner G (1987) The space-time behavior of single and bimanual rhythmical movements. J Exp Psychol Hum Percept Perform 13:564–583

Kelso JAS (1981) On the oscillatory basis of movement. Bull Psychon Soc 18:63

Kelso JAS (1984) Phase-transitions and critical-behavior in human bimanual coordination. Am J Physiol 246:1000–1004

Kleiner M, Brainard D, Pelli D (2007) What's new in Psychtoolbox-3? Perception 36, ECVP Abstract Supplement

Kovacs AJ, Buchanan JJ, Shea CH (2009a) Bimanual 1:1 with 90 degrees continuous relative phase: difficult or easy! Exp Brain Res 193(1):129–136

Kovacs AJ, Buchanan JJ, Shea CH (2009b) Using scanning trials to assess intrinsic coordination dynamics. Neurosci Lett 455(3):162–167

Leech JA, Wilson AD (submitted) Coordinated rhythmic movement is a perception-action task: the consequences of visual feedback and muscle homology on learning and performance

Liang Z, Yang Y, Li G, Zhang J, Wang Y, Zhou Y et al (2010) Aging affects the direction selectivity of MT cells in rhesus monkeys. Neurobiol Aging 31(5):863–873

Mechsner F, Kerzel D, Knoblich G, Prinz W (2001) Perceptual basis of bimanual coordination. Nature 414:69–73

Nedelko V, Hassaa T, Hamzeib F et al (2010) Age-independent activation in areas of the mirror neuron system during action observation and action imagery. A fMRI study. Restor Neurol Neurosi 28:737–747

Norman JF, Dawson TE, Butler AK (2000) The effects of age upon the perception of depth and 3-D shape from differential motion and binocular disparity. Perception 29:1335–1359

Norman JF, Ross HE, Hawkes LM, Long JR (2003) Aging and the perception of speed. Perception 32:85–96

Panzer S, Gruetzmacher N, Fries U, Krueger M, Shea CH (2011) Age-related effects in interlimb practice on coding complex movement sequences. Hum Mov Sci 30(2):459–474

Pedhazur EJ (1982) Multiple regression in behavioral research: explanation and prediction. Holt, Rinehart and Winston, New York

Pelli DG (1997) The VideoToolbox software for visual psychopysics: transforming numbers into movies. Spat Vis 10:437–442

Pfeiffer E (1975) A short portable mental status questionnaire for the assessment of organic brain deficit in elderly patients. J Am Geriatr Soc 23(10):433–441

Schmidt RC, Carello C, Turvey MT (1990) Phase transitions and critical fluctuations in the visual coordination of rhythmic movements between people. J Exp Psychol Hum Percept Perform 16:227–247

Serrien DJ, Swinnen SP, Stelmach GE (2000) Age-related deterioration of coordinated interlimb behaviour. J Gerontol 55B(5):295–303

Snapp-Childs W, Wilson AD, Bingham GP (2011) The stability of rhythmic movement coordination depends on relative speed: the Bingham model supported. Exp Brain Res 215:89–100

Snowden RJ, Kavanagh E (2006) Motion perception in the ageing visual system: minimum motion, motion coherence, and speed discrimination thresholds. Perception 35:9–24

Swinnen SP, Verschueren SMP, Bogaerts H, Dounskaia N (1998) Age-related deficits in motor learning and differences in feedback processing during the production of a bimanual coordination pattern. Cogn Neuropsychol 15(5):439–466

Temprado JJ, Swinnen SP, Carson RG, Tourment A, Laurent M (2003) Interaction of directional, neuromuscular and egocentric constraints on the stability of preferred bimanual coordination patterns. Hum Mov Sci 22:339–363

Trick GL, Silverman SE (1991) Visual sensitivity to motion—age-related changes and deficits in senile dementia of the Alzheimer type. Neurology 41:1437–1440

Voelcker-Rehage C (2008) Motor-skill learning in older adults—a review of studies on age-related differences. Eur Rev Aging Phys Activ 5:5–16

Wilson AD, Bingham GP (2008) Identifying the information for the visual perception of relative phase. Percept Psychophys 70:465–476

Wilson AD, Bingham GP, Craig JC (2003) Proprioceptive perception of phase variability. J Exp Psychol Hum Percept Perform 29(6):1179–1190

Wilson AD, Collins DR, Bingham GP (2005a) Perceptual coupling in rhythmic movement coordination—stable perception leads to stable action. Exp Brain Res 164:517–528

Wilson AD, Collins DR, Bingham GP (2005b) Human movement coordination implicates relative direction as the information for relative phase. Exp Brain Res 165:351–361

Wilson AD, Snapp-Childs W, Bingham GP (2010a) Perceptual learning immediately yields new stable motor coordination. Exp Brain Res 36(6):1508–1514

Wilson AD, Snapp-Childs W, Coats RO, Bingham GP (2010b) Learning a coordinated rhythmic movement with task-appropriate coordination feedback. Exp Brain Res 205(4):513–520

Wimmers RH, Beek PJ, Wieringen PCW (1992) Phase transitions in rhythmic tracking movements: a case of unilateral coupling. Hum Mov Sci 11(1–2):217–226

Wishart LR, Lee TD, Cunningham SJ, Murdoch JE (2002) Age-related differences and the role of augmented visual feedback in learning a bimanual coordination pattern. Acta Psychol 110:247–263

Yamanishi J, Kawato M, Suzuki R (1980) Two coupled oscillators as a model for the coordinated finger tapping by both hands. Biol Cybern 37:219–225

Zaal F, Bingham GP, Schmidt RC (2000) Visual perception of relative phase and phase variability. J Exp Psychol Hum Percept Perform 26(3):1209–1220

Zanone PG, Kelso JAS (1992) Evolution of behavioral attractors with learning: nonequilibrium phase transitions. J Exp Psychol Hum Percept Perform 18(2):403–421
About this article
Cite this article
Coats, R.O., Snapp-Childs, W., Wilson, A.D. et al. Perceptuo-motor learning rate declines by half from 20s to 70/80s. Exp Brain Res 225, 75–84 (2013). https://doi.org/10.1007/s00221-012-3349-4
Received:

Accepted:

Published:

Issue Date:
Keywords
Rhythmic coordination

Older adults

Aging

Learning

Perception