Abstract
Recent research demonstrated that background noise relative to silence impaired subjects' performance in a cognitively driven odor discrimination test. The current study aimed to investigate whether the background noise can also modulate performance in an odor sensitivity task that is less cognitively loaded. Previous studies have shown that the effect of background noise on task performance can be different in relation to degree of extraversion and/or type of noise. Accordingly, we wanted to examine whether the influence of background noise on the odor sensitivity task can be altered as a function of the type of background noise (i.e., nonverbal vs. verbal noise) and the degree of extraversion (i.e., introvert vs. extrovert group). Subjects were asked to conduct an odor sensitivity task in the presence of either nonverbal noise (e.g., party sound) or verbal noise (e.g., audio book), or silence. Overall, the subjects' mean performance in the odor sensitivity task was not significantly different across three auditory conditions. However, with regard to the odor sensitivity task, a significant interaction emerged between the type of background noise and the degree of extraversion. Specifically, verbal noise relative to silence significantly impaired or improved the performance of the odor sensitivity task in the introvert or extrovert group, respectively; the differential effect of introversion/extraversion was not observed in the nonverbal noise-induced task performance. In conclusion, our findings provide new empirical evidence that type of background noise and degree of extraversion play an important role in modulating the effect of background noise on subjects' performance in an odor sensitivity task.
Access options
Buy single article
Instant access to the full article PDF.
USD 39.95
Price includes VAT (USA)
Tax calculation will be finalised during checkout.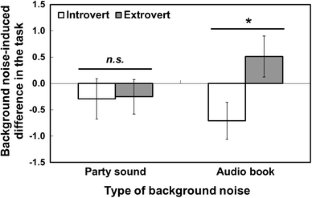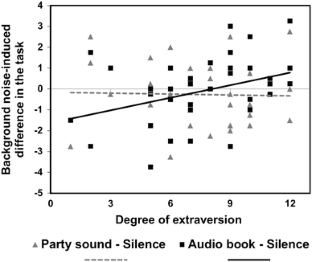 References
Anderson L, Bende M, Millqvist E, Nordin S (2009) Attention bias and sensitization in chemical sensitivity. J Psychosom Res 65:407–416

Anderson L, Lundberg C, Åström J, Nordin S (2011) Chemosensory attention, habituation and detection in women and men. Int J Psychophysiol 79:316–322

Belkin K, Martin R, Kemp SE, Gilbert AN (1997) Auditory pitch as a perceptual analogue to odor quality. Psychol Sci 8:340–342

Belojevic G, Slepcevic V, Jakovljevic B (2001) Mental performance in the noise: the role of introversion. J Environ Psychol 21:209–213

Bensafi M, Rouby C, Farget V, Bertrand B, Vigouroux M, Holley A (2003) Perceptual, affective, and cognitive judgments of odors: pleasantness and handedness effects. Brain Cogn 51:270–275

Boesveldt S, Verbaan D, Knol DL, Visser M, van Rooden SM, van Hilten JJ, Berendse HW (2008) A comparative study of odor identification and odor discrimination deficits in Parkinson's disease. Mov Disord 23:1984–1990

Calvert GA (2001) Crossmodal processing in the human brain: insights from functional neuroimaging studies. Cereb Cortex 11:1110–1123

Cassidy G, MacDonald RAR (2007) The effect of background music and background noise on the task performance of introverts and extraverts. Psychol Music 35:517–537

Crawford HJ, Strapp CM (1994) Effects of vocal and instrumental music on visuospatial and verbal performance as moderated by studying preference and personality. Pers Individ Diff 16:237–245

Djordjevic J, Jones-Gotman M, De Sousa K, Chertkow H (2008) Olfaction in patients with mild cognitive impairment and Alzheimer's disease. Neurobiol Aging 29:693–706

Doyle PJ, Anderson DW, Pijl S (1984) The tuning fork: an essential instrument in otologic practice. J Otolaryngol 13:83–86

Dulay MF, Gesteland RC, Shear PK, Ritchey PN, Frank RA (2008) Assessment of the influence of cognition and cognitive processing speed on three tests of olfaction. J Clin Exp Neuropsychol 30:327–337

Eysenck H (1967) The biological basis of personality. C.C. Thomas Publisher, Springfield

Eysenck HJ, Eysenck SBG (1991) Manual of the Eysenck personality scales (EPS adult). Hodder and Stoughton, London

Farley F, Farley SV (1967) Extroversion and stimulus-seeking motivation. J Consult Psychol 31:215–216

Folstein MF, Folstein SE, McHugh PR (1975) Mini-mental state: a practical method for grading the cognitive state of patients for the clinician. J Psychiatr Res 12:189–198

Furnham A, Allass K (1999) The influence of musical distraction of varying complexity on the cognitive performance of extroverts and introverts. Eur J Pers 13:27–38

Furnham A, Bradley A (1997) Music while you work: the differential distraction of background music on the cognitive test performance of introverts and extroverts. Appl Cogn Psychol 11:445–455

Furnham A, Strbac L (2002) Music is as distracting as noise: the differential distraction of background music and noise on the cognitive test performance of introverts and extraverts. Ergonomics 45:203–217

Furnham A, Trew S, Sneade I (1999) The distracting effects of vocal and instrumental music on the cognitive test performance of introverts and extraverts. Pers Individ Diff 27:381–392

Geisler MW, Murphy C (2000) Event-related brain potentials to attended and ignored olfactory and trigeminal stimuli. Int J Psychophysiol 37:309–315

Hedner M, Larsson M, Arnold N, Zucco GM, Hummel T (2010) Cognitive factors in odor detection, odor discrimination, and odor identification tasks. J Clin Exp Neuropsychol 32:1062–1067

Hockey GRJ (1972) Effects of noise on human efficiency and some individual differences. J Sound Vib 20:299–304

Hummel T, Sekinger B, Wolf SR, Pauli E, Kobal G (1997) 'Sniffin' sticks': olfactory performance assessed by the combined testing of odor identification, odor discrimination and olfactory threshold. Chem Senses 22:39–52

Hummel T, Konnerth OG, Rosenheim K, Kobal G (2001) Screening of olfactory function with a four-minute odor identification test: reliability, normative data, and investigations in patients with olfactory loss. Ann Otol Rhinol Laryngol 110:976–981

Hummel T, Kobal G, Gudziol H, Mackay-Sim A (2007) Normative data for the "Sniffin' Sticks" including tests of odor identification, odor discrimination, and olfactory thresholds: an upgrade based on a group of more than 3,000 subjects. Eur Arch Otorhinolaryngol 264:237–243

Koelega HS (1970) Extraversion, sex, arousal and olfactory sensitivity. Acta Psychol 34:51–66

Krauel J, Pause BM, Sojka B, Schott P, Ferstl R (1998) Attentional modulation of central odor processing. Chem Senses 23:423–432

Kumari V, Ffytche DH, Williams SCR, Gray JA (2004) Personality predicts brain responses to cognitive demands. J Neurosci 24:10636–10641

LeCompte DC, Neely CB, Wilson JR (1997) Irrelevant speech and irrelevant tones: the relative importance of speech to the irrelevant speech effect. J Exp Psychol Learn Mem Cogn 23:472–483

MacDonald AW, Cohen JD, Stenger V, Carter CS (2000) Dissociating the role of the dorsolateral prefrontal cortex and anterior cingulate in cognitive control. Science 288:1835–1836

Masago R, Shimomura Y, Iwanaga K, Katsuura T (2001) The effects of hedonic properties of odors and attentional modulation on the olfactory event-related potentials. J Physiol Anthropol Appl Human Sci 20:7–13

Morgenstern S, Hodgson RJ, Law L (1974) Work efficiency and personality: a comparison of introverted and extraverted subjects exposed to conditions of distraction and distortion of stimulus in a learning task. Ergonomics 17:211–220

Mozolic JL, Joyner D, Hugenschmidt CE, Peiffer AM, Kraft RA, Maldjian JA, Laurienti PJ (2008) Cross-modal deactivations during modality-specific selective attention. BMC Neurol 8:35

Oldfield RC (1971) The assessment and analysis of handedness: the Edinburgh inventory. Neuropsychologia 9:97–113

Oldham GR, Cummings A, Mischel LJ, Schmidtke JM, Zhou J (1995) Listen while you work? Quasi-experimental relations between personal-stereo headset use and employee work responses. J Appl Psychol 80:547–564

Plailly J, Howard JD, Gitelman DR, Gottfried JA (2008) Attention to odor modulates thalmocortical connectivity in the human brain. J Neurosci 28:5257–5267

Royet J-P, Plailly J, Delon-Martin C, Kareken DA, Segebarth C (2003) fMRI of emotional responses to odors: influence of hedonic valence and judgment, handedness, and gender. Neuroimage 20:713–728

Ruch W (1999) Die revidierte Fassung des Eysenck personality questionnaire und die Konstruktion des deutschen EPQ-R bzw. EPQ-RK. Zeitschrift für Differentielle und Diagnostische Psychologie 20:1–24

Seo H-S, Hummel T (2011) Auditory-olfactory integration: congruent or pleasant sounds amplify odor pleasantness. Chem Senses 36:301–309

Seo H-S, Jeon KJ, Hummel T, Min BC (2009) Influences of olfactory impairment on depression, cognitive performane, and quality of life in Korean elderly. Eur Arch Otorhinolaryngol 266:1739–1745

Seo H-S, Gudziol V, Hähner A, Hummel T (2011) Background sound modulates the performance of odor discrimination task. Exp Brain Res 212:305–314

Small DM, Jones-Gotman M, Zatorre RJ, Petrides M, Evans AC (1997) Flavor processing: more than the sum of its parts. NeuroReport 8:3913–3917

Smith AP (1968) Acute effects of noise exposure. An experimental investigation of the effects of noise and task parameters on cognitive vigilance task. Int Arch Occup Enviorn Health 60:307–310

Spence C, Shankar MU (2010) The influence of auditory cues on the perception of, and responses to, food and drink. J Sens Stud 25:406–430

Spence C, McGlone FP, Kettenmann B, Kobal G (2001) Attention to olfaction. A psychophysical investigation. Exp Brain Res 138:432–437

Stenberg G, Wendt PE, Risberg J (1993) Regional cerebral blood flow and extraversion. Pers Individ Diff 15:547–554

Veldhuizen MG, Small DM (2011) Modality-specific neural effects of selective attention to taste and odor. Chem Senses 36:747–760

Wesson DW, Wilson DA (2010) Smelling sounds: olfactory-auditory sensory convergence in the olfactory tubercle. J Neurosci 30:3013–3021
Acknowledgments
This research was supported by a grant from the Centre National de la Recherche Scientifique to T.H. (European associated laboratory; EAL 549, CNRS-TUD) and was partly supported by a start-up fund from University of Arkansas to H.-S.S. In addition, all authors appreciate Dr. Willibald Ruch and Ms. Claudia Harzer (Department of Psychology, University of Zurich) for providing their EPQ-RK.
About this article
Cite this article
Seo, HS., Hähner, A., Gudziol, V. et al. Influence of background noise on the performance in the odor sensitivity task: effects of noise type and extraversion. Exp Brain Res 222, 89–97 (2012). https://doi.org/10.1007/s00221-012-3222-5
Received:

Accepted:

Published:

Issue Date:
Keywords
Auditory–olfactory integration

Background noise

Eysenck Personality Questionnaire

Introversion/extraversion

Odor sensitivity task

Verbal noise