Abstract
Boredom is a common experience, prevalent in neurological and psychiatric populations, yet its cognitive characteristics remain poorly understood. We explored the relationship between boredom proneness, sustained attention and adult symptoms of attention deficit hyperactivity disorder (ADHD). The results showed that high boredom-prone individuals (HBP) performed poorly on measures of sustained attention and showed increased symptoms of ADHD and depression. The results also showed that HBP individuals can be characterised as either apathetic—in which the individual is unconcerned with his/her environment, or as agitated—in which the individual is motivated to engage in meaningful activities, although attempts to do so fail to satisfy. Apathetic boredom proneness was associated with attention lapses, whereas agitated boredom proneness was associated with decreased sensitivity to errors of sustained attention, and increased symptoms of adult ADHD. Our results suggest there is a complex relationship between attention and boredom proneness.
This is a preview of subscription content, log in to check access.
Access options
Buy single article
Instant access to the full article PDF.
US$ 39.95
Price includes VAT for USA
Subscribe to journal
Immediate online access to all issues from 2019. Subscription will auto renew annually.
US$ 199
This is the net price. Taxes to be calculated in checkout.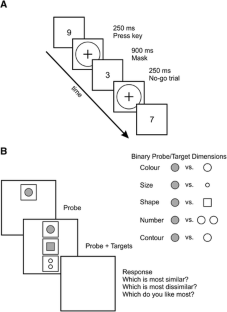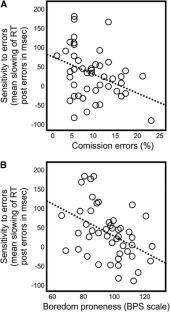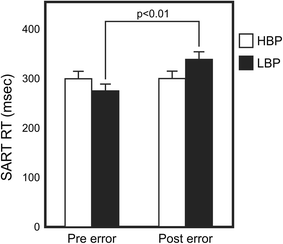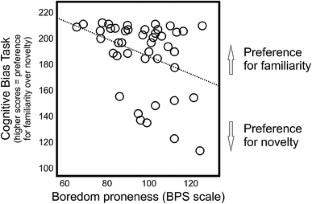 Notes
1.

We could have chosen the 2-factor structure suggested by Ahmed (1990) or the short-form 2-factor structure used by Vodanovich et al. (2005). We chose the 5-factor structure for two reasons: first, a previous data set (Goldberg et al. 2011) had confirmed the existence of a 5-factor structure in a larger sample (n = 823). Second, when we split the group based on Ahmed's (1990) structure, no participant changed group (i.e., the individuals identified as experiencing apathetic or agitated boredom proneness by the 5-factor structure were the same individuals identified by the 2-factor structure).
References
Ahmed SMS (1990) Psychometric properties of the Boredom Proneness Scale. Percept Mot Skills 71:963–966

Antony MM, Bieling PJ, Cox BJ, Murray WE, Swinson RP (1998) Psychometric properties of the 42-item and 21-item versions of the Depression Anxiety Stress Scales in clinical groups and community sample. Psych Assess 2:176–181

Barkley RA (2006) The nature of ADHD: attention-deficit hyperactivity disorder. A handbook for diagnosis and treatment, 3rd edn. Guilford Publications, NY

Bracke P, Verhaeghe M (2010) Structural determinants of boredom among the clients of psychosocial and vocational rehabilitation centers. J Appl Soc Psych 40:1969–1998

Brown KW, Ryan RM (2003) The benefits of being present: mindfulness and its role in psychological well-being. J Pers Soc Psych 84:822–848

Carriere JSA, Cheyne JA, Smilek D (2008) Everyday attention lapses and memory failures: the affective consequences of mindlessness. Conscious Cogn 17:835–847

Cheyne JA, Carriere JS, Smilek D (2006) Absent-mindedness: lapses of conscious awareness and everyday cognitive failures. Conscious Cogn 15:578–592

Chisholm JD, Kingstone A (2012) Improved top-down control reduces oculomotor capture: the case of action video game players. Atten Percept Psychophys 74:257–262

Conners CK, Erhardt D, Sparrow MA (2003) Conners' adult ADHD Rating Scales (CAARS). Arch Clin Neuropsych 18:431–437

DeCoster J (2007) Applied Linear Regression Notes set 1. Retrieved May, 1st, 2012 from http://www.stat-help.com/notes.html

Farmer R, Sundberg ND (1986) Boredom proneness: the development and correlates of a new scale. J Pers Assess 50:4–17

Goldberg E, Podell K (2000) Adaptive decision making, ecological validity, and the frontal lobes. J Clin Exp Neuropsych 22:56–68

Goldberg E, Harner R, Lovell M, Podell K, Riggio S (1994) Cognitive bias, functional cortical geometry, and the frontal lobes: laterality, sex, and handedness. J Cogn Neurosci 6:276–296

Goldberg Y, Eastwood J, LaGuardia J, Danckert J (2011) Boredom: an emotional experience distinct from apathy, anhedonia or depression. J Soc Clin Psych 30:646–665

Greenson RR (1951) Apathetic and agitated boredom. Psychoanalytic Quart 20:346–347

Kass SJ, Vodanovich SJ, Callander A (2001) State-trait boredom: the relationship to absenteeism, tenure and job satisfaction. J Bus Psych 16:317–327

Kass SJ, Wallace C, Vodanovich SJ (2003) Boredom proneness and sleep disorders as predictors of adult attention deficit scores. J Att Dis 7:83–90

Kingstone A, Smilek D, Eastwood JD (2008) Cognitive ethology: a new approach for studying human cognition. Br J Psychol 99:317–340

Kooij SJ, Bejerot S, Blackwell A, Caci H, Casas-Brugue M, Carpentier DE et al (2010) European consensus statement on diagnosis and treatment of adult ADHD: the European network adult ADHD. BMC Psychiatry 10(67):1–24

Kreutzer JS, Seel RT, Gourley E (2001) The prevalence and symptom rates of depression after traumatic brain injury: a comprehensive examination. Brain Inj 15:563–576

Mikulas W, Vodanovich S (1993) The essence of boredom. Psych Record 43:3–12

Molenberghs P, Gillebert CR, Schoofs H, Dupont P, Peeters R, Vandenberghe R (2009) Lesion neuroanatomy of the sustained attention to response task. Neuropsychologia 47:2866–2875

Munsterberg H (1913) Psychology and industrial efficiency. Houghton-Mifflin, Boston, Massachusetts

O'Hanlon JF (1981) Boredom: practical consequences of a theory. Acta Psychol 49:53–82

Pekrun R, Daniels LM, Goetz T, Stupnisky RH, Perry RP (2010) Boredom in achievement settings: exploring control-value antecedents and performance outcomes of a neglected emotion. J Educ Psych 102:531–549

Posner MI (1980) Orienting of attention. Quart J Exp Psych 32:3–25

Rizzo M, Robin DA (1990) Simultagnosia: a defect of sustained attention yields insight on visual information processing. Neurology 40:447–455

Rizzo M, Robin DA (1996) Bilateral effects of unilateral visual cortex lesions in humans. Brain 19:951–963

Robertson IH, Manly T, Andrade J, Baddeley BT, Yiend J (1997) Oops!: performance correlates of everyday attentional failures in traumatic brain injured and normal subjects. Neuropsychologia 35:747–758

Smallwood J, Schooler JW (2006) The restless mind. Psychol Bull 132:946–958

Todman M (2003) Boredom and psychotic disorders: cognitive and motivational issues. Psychiatry 66:146–167

Vodanovich SJ (2003) Psychometric measures of boredom: a review of the literature. J Psychol 137:569–595

Vodanovich SJ, Kass SJ (1990) A factor analytic study of the boredom proneness scale. J Pers Assess 55:115–123

Vodanovich SJ, Wallace JC, Kass SJ (2005) A confirmatory approach to the factor structure of the Boredom Proneness Scale: evidence for a two-factor short form. J Pers Assess 85:295–303

Zuckerman M (1992) Dimensions of sensation seeking. J Consult Clin Psych 36:45–52
About this article
Cite this article
Malkovsky, E., Merrifield, C., Goldberg, Y. et al. Exploring the relationship between boredom and sustained attention. Exp Brain Res 221, 59–67 (2012). https://doi.org/10.1007/s00221-012-3147-z
Received:

Accepted:

Published:

Issue Date:
Keywords
Boredom

Sustained attention

ADHD

TBI