Abstract
Handedness, a preference towards using the right or left hand, is established in early childhood. Such specialisation allows a higher level of skill to be maintained in the preferred hand on specific tasks through continuous practice and performance. Hand asymmetries might be expected to increase with age because of the time spent practising with the preferred hand. However, neurophysiological work has suggested reduced hemispheric function lateralisation in the ageing brain, and behavioural studies have found reduced motor asymmetries in older adults (Przybyla et al., in Neurosci Lett 489:99–104, 2011). We therefore tested the predictions of behavioural change from reduced hemispheric function by measuring tracing performance (arguably one of the most lateralised of human behaviours) along paths of different thickness in a group of healthy young and older adults. Participants completed the task once with their preferred (right) hand and once with their non-preferred (left) hand. Movement time (MT) and shape accuracy (SA) were dependant variables. A composite measure of MT and SA, the speed accuracy cost function (SACF) provided an overall measure of motor performance. Older participants were slower and less accurate when task demands were high. Combined analyses of both hands revealed reduced asymmetries in MT and SACF in the older group. The young were significantly faster when tracing with their preferred hand, but older participants were equally slow with either hand. Our results are consistent with the growing literature reporting decreased hemispheric function lateralisation in the ageing brain.
This is a preview of subscription content, log in to check access.
Access options
Buy single article
Instant access to the full article PDF.
US$ 39.95
Price includes VAT for USA
Subscribe to journal
Immediate online access to all issues from 2019. Subscription will auto renew annually.
US$ 199
This is the net price. Taxes to be calculated in checkout.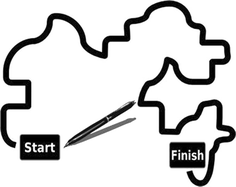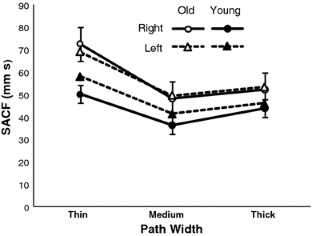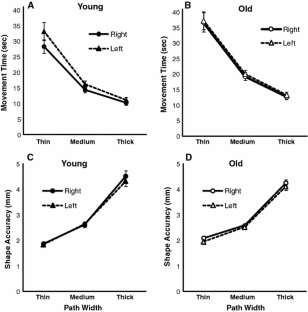 References
Bagesteiro LB, Sainburg RL (2002) Handedness: dominant arm advantages in control of limb dynamics. J Neurophysiol 88:2408–2421

Cabaza R, Grady CL, Nyberg L, McIntosh R, Tulving E, Kapur S (1997) Age-related differences in neural activity during memory encoding and retrieval: a positron emission tomogpraphy study. J Neurosci 17:391–400

Cabeza R (2002) Hemispheric asymmetry reduction in Older Adults: The HAROLD model. Psychol Aging 17(1):85–100

Cabeza R, Anderson ND, Locantore JK, McIntosh AR (2002) Aging gracefully: compensatory brain activity in high-performing older adults. NeuroImage 17:1394–1402

Calautti C, Serrati C, Baron J-C (2001) Efffects of age on brain activitaion during audiotry-cued thumb-to-index opposition. Stroke 32:139–146

Culmer PR, Levesley MC, Mon-Williams M, Williams JHG (2009) A new tool for assessing human movement: the kinematic assessment tool. J Neurosci Meth 184(1):184–192

Daselaar SM, Rombouts SA, Veltman DJ, Raaijmakers JG, Jonker C (2003) Similar network activated by young and old adults during the acquisition of a motor sequence. Neurobiol Aging 24(7):1013–1019

Desrosiers J, Hebert R, Bravo G, Dutil E (1995) Upper-extremity motor coordination of healthy elderly people. Age Ageing 24:108–112

Fagard J (1987) Does manual asymmetry of right-handers change between six and nine years of age? Hum Movement Sci 6(4):321–322

Fang M, Li J, Lu G, Gong X, Yew DT (2005) A fMRI study of age related differential cortical patterns during cued motor movement. Brain Topogr 17(3):127–137

Grady CL, Bernstein LJ, Beig S, Siegenthaler AL (2002) The effects of encoding task on age-related differences in the functional neuroanatomy of face memory. Psychol Aging 17(1):7–23

Johnson RL, Culmer P, Burke MR, Mon-Williams M, Wilkie RM (2010) Exploring structural learning in handwriting. Exp Brain Res 207(3–4):291–295

Mattay VS, Fera F, Tessutire A, Hariri AR, Das S, Callicott JH, Weinberger DR (2002) Neurophysiological correlates of age-related changes in human motor function. Neurology 58:630–635

Morgan M, Phillips JG, Bradshaw JL, Mattingly JB, Iansek R, Bradshaw JA (1994) Age-related motor slowness: simply strategic? J Gerontol Med Sci 49(3):M133–M139

Myronenko A, SongPoint X (2010) Point set registration: coherent drift point. IEEE Trans Pattern Anal Mach Intell 32:1–14

Oldfield RC (1971) The assessment and analysis of handedness: the Edinburgh inventory. Neuropsychologia 9(1):97–113

Peinemann A, Lehner C, Conrad B, Siebner HR (2001) Age-related decrease in paired-pulse intracortical inhibition in the human primary motor cortex. Neurosci Lett 313:33–36

Pohl PS, Winstein CJ, Fisher BE (1995) The locus of age-related movement slowing: sensory processing in continuous goal-directed aiming. J Gerontol B Psychol Sci Soc Sci 51B(2):94–102

Przybyla A, Haaland KY, Bagesterio LB, Sainburg RL (2011) Motor asymmetry reduction in older adults. Neurosci Lett 489:99–104

Raw RK, Kountouriotis GK, Mon-Williams M, Wilkie RM (in press) Movement control in older adults: does old age mean middle of the road? J Exp Psychol Human

Rowe JB, Sibner H, Filipovic SR, Cordivari C, Gerschlager W, Rothwell J, Frackowiak R (2006) Aging is associated with contrasting changes in local and distant cortical connectivity in the human motor system. NeuroImage 32:747–760

Sainburg RL, Kalakanis D (2000) Differences in control of limb dynamic during dominant and nondominant arm reaching. J Neurophysiol 83(5):2661–2675

Teixeira LA (2008) Categories of manual asymmetry and their variation with advancing age. Cortex 44:707–716

Truman G, Hammond GR (1990) Temporal regularity of tapping by the left and right hands in timed and untimed finger tapping. J Motor Behav 22(4):521–535

Verkerk PH, Schouten JP, Oosterhuis HJGH (1990) Measurement of the handcoordination. Clin Neurol Neurosur 92(2):105–109

Wang J, Pryzbyla A, Wuebbenhorst K, Haaland KY, Sainburg RL (2011) Aging reduces asymmetries in interlimb transfer of visuomotor adaptation. Exp Brain Res 210:283–290

Ward NS, Frackowiak RSJ (2003) Age-related changes in the neural correlates of motor performance. Brain 126:873–888

Welsh TN, Higgins L, Elliot D (2007) Are there age-related differences in learning to optimize speed, accuracy and energy expenditure? Hum Movement Sci 26:892–912
Acknowledgments
Rachael Raw was funded by a Medical Research Council (MRC, UK) CASE PhD studentship along with The Magstim Company Ltd.
About this article
Cite this article
Raw, R.K., Wilkie, R.M., Culmer, P.R. et al. Reduced motor asymmetry in older adults when manually tracing paths. Exp Brain Res 217, 35–41 (2012). https://doi.org/10.1007/s00221-011-2971-x
Received:

Accepted:

Published:

Issue Date:
Keywords
Manual control

Movement

Kinematic

Motor asymmetry

Ageing

Older adult