Abstract
Although imaging studies suggest activation of cortical areas by vestibular input, there is little evidence of an adverse effect of non-veridical vestibular input on cognitive function. To test the hypothesis that degraded vestibular afferent input adversely affects cognition, we compared performance on a cognitive test battery in a group undergoing suprathreshold bilateral bipolar Galvanic vestibular stimulation (GVS) with a control group receiving no GVS or subthreshold stimulation. The battery consisted of six cognitive tests as follows: reaction time, dual tasking, Stroop, mental rotation, perspective-taking and matching-to-sample, as well as a simple visuomotor (manual tracking) task. Subjects performed the test battery before, during and after suprathreshold GVS exposure or subthreshold stimulation. Suprathreshold GVS significantly increased error rate for the match-to-sample and perspective-taking tasks relative to the subthreshold group, demonstrating a negative effect of non-veridical vestibular input in these specific cognitive tasks. Reaction time, dual tasking, mental rotation and manual tracking were unaffected by GVS exposure. The adverse effect of suprathreshold GVS on perspective taking but not mental rotation is consistent with imaging studies, which have demonstrated that egocentric mental transformations (perspective taking) occur primarily in cortical areas that receive vestibular input (the parietal–temporal junction and superior parietal lobule), whereas object-based transformations (mental rotation) occur in the frontoparietal region. The increased error rate during the match-to-sample task is likely due to interference with hippocampal processing related to spatial memory, as suggested by imaging studies on vestibular patients.
Access options
Buy single article
Instant access to the full article PDF.
US$ 39.95
Tax calculation will be finalised during checkout.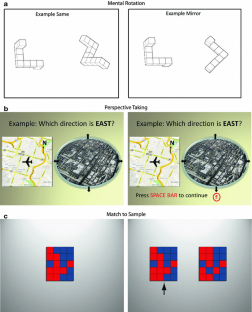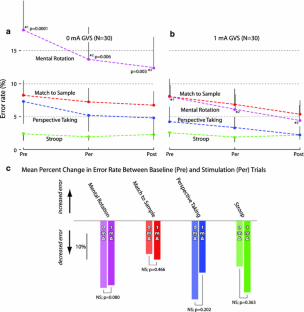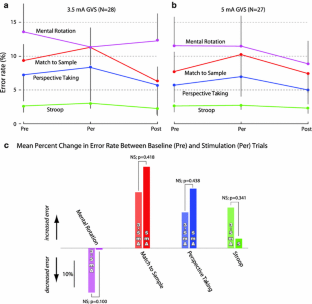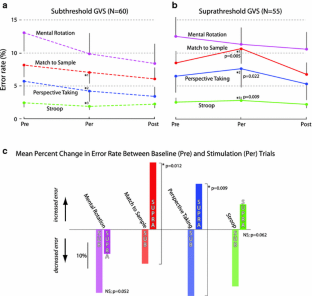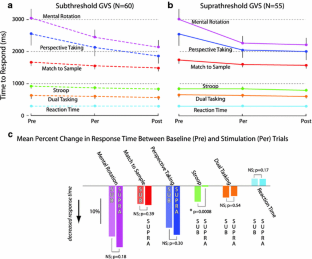 References
Andersson G, Hagman J, Talianzadeh R, Svedberg A, Larsen HC (2002) Effect of cognitive load on postural control. Brain Res Bull 58:135–139

Andersson G, Hagman J, Talianzadeh R, Svedberg A, Larsen HC (2003) Dual-task study of cognitive and postural interference in patients with vestibular disorders. Otol Neurotol 24:289–293

Benke T, Koserenko O, Watson NV, Gerstenbrand F (1993) Space and cognition: the measurement of behavioral functions during a 6-day space mission. Aviat Space Environ Med 64:376–379

Bock O, Fowler B, Comfort D (2001) Human sensorimotor coordination during spaceflight: an analysis of pointing and tracking responses during the "Neurolab" space shuttle mission. Aviat Space Environ Med 72:877–883

Bottini G, Karnath HO, Vallar G, Sterzi R, Frith CD, Frackowiak RS, Paulesu E (2001) Cerebral representations for egocentric space: functional-anatomical evidence from caloric vestibular stimulation and neck vibration. Brain 124:1182–1196

Brandt T, Schautzer F, Hamilton DA, Bruning R, Markowitsch HJ, Kalla R, Darlington C, Smith P, Strupp M (2005) Vestibular loss causes hippocampal atrophy and impaired spatial memory in humans. Brain 128:2732–2741

Carretta TR (2005) Development and Validation of the Test of Basic Aviation Skills (TBAS). United States Air Force, Wright-Patterson AFB. AFRL-HE-WP-TR-2005-0172. Retrieved September 2011 from http://www.dtic.mil/cgi-bin/GetTRDoc?Location=U2&doc=GetTRDoc.pdf&AD=ADA442563

Deutschlander A, Bense S, Stephan T, Schwaiger M, Brandt T, Dieterich M (2002) Sensory system interactions during simultaneous vestibular and visual stimulation in PET. Hum Brain Mapp 16:92–103

Dilda V, MacDougall HG, Moore ST (2011) Tolerance to extended galvanic vestibular stimulation: optimal exposure for astronaut training. Aviat Space Environ Med 82:770–774

Eddy DR, Schiflett SG, Schlegel RE, Shehab RL (1998) Cognitive performance aboard the life and microgravity spacelab. Acta Astronaut 43:193–210

Ellis SR (2000) Collision in space: human factors elements of the Mir Progress 234 collision. Ergon Des 8(1):4–9

Fink GR, Marshall JC, Weiss PH, Stephan T, Grefkes C, Shah NJ, Zilles K, Dieterich M (2003) Performing allocentric visuospatial judgments with induced distortion of the egocentric reference frame: an fMRI study with clinical implications. Neuroimage 20:1505–1517

Fitzpatrick RC, Day BL (2004) Probing the human vestibular system with galvanic stimulation. J Appl Physiol 96:2301–2316

Gandiga PC, Hummel FC, Cohen LG (2006) Transcranial DC stimulation (tDCS): a tool for double-blind sham-controlled clinical studies in brain stimulation. Clin Neurophysiol 117:845–850

Goldberg JM, Smith CE, Fernandez C (1984) Relation between discharge regularity and responses to externally applied galvanic currents in vestibular nerve afferents of the squirrel monkey. J Neurophysiol 51:1236–1256

Hanes DA, McCollum G (2006) Cognitive-vestibular interactions: a review of patient difficulties and possible mechanisms. J Vestib Res 16:75–91

Kane RL, Short P, Sipes W, Flynn CF (2005) Development and validation of the spaceflight cognitive assessment tool for windows (WinSCAT). Aviat Space Environ Med 76:B183–B191

Leigh JR, Zee D (1999) The neurology of eye movements. Oxford University Press, New York

Lenggenhager B, Lopez C, Blanke O (2008) Influence of galvanic vestibular stimulation on egocentric and object-based mental transformations. Exp Brain Res 184:211–221

Leone G, Lipshits M, Gurfinkel V, Berthoz A (1995) Is there an effect of weightlessness on mental rotation of three-dimensional objects? Brain Res Cogn Brain Res 2:255–267

Lobel E, Kleine JF, Bihan DL, Leroy-Willig A, Berthoz A (1998) Functional MRI of galvanic vestibular stimulation. J Neurophysiol 80:2699–2709

Lobel E, Kleine JF, Leroy-Willig A, Van de Moortele PF, Le Bihan D, Grusser OJ, Berthoz A (1999) Cortical areas activated by bilateral galvanic vestibular stimulation. Ann NY Acad Sci 871:313–323

MacDougall HG, Brizuela AE, Burgess AM, Curthoys IS (2002) Between-subject variability and within-subject reliability of the human eye-movement response to bilateral galvanic (DC) vestibular stimulation. Exp Brain Res 144:69–78

MacDougall H, Moore ST, Curthoys IS, Black FO (2006) Modeling postural instability with galvanic vestibular stimulation. Exp Brain Res 172:208–220

Moore ST, MacDougall H, Peters BT, Bloomberg JJ, Curthoys IS, Cohen H (2006) Modeling locomotor dysfunction following spaceflight with galvanic vestibular stimulation. Exp Brain Res 174:647–659

Moore ST, MacDougall HG, Paloski W (2010) Effects of head-down bed rest and artificial gravity on spatial orientation. Exp Brain Res 204:617–622

Moore ST, Dilda V, MacDougall HG (2011) Galvanic vestibular stimulation as an analogue of spatial disorientation after spaceflight. Aviat Space Environ Med 82:535–542

Nashner LM (1993) Computerized dynamic posturography. In: Jacobson GP, Newman CW, Kartush JM (eds) Handbook of balance function testing. Mosby Year Book, St Louis, pp 298–301

Ott D, Seidman SH, Leigh RJ (1992) The stability of human eye orientation during visual fixation. Neurosci Lett 142:183–186

Pal S, Rosengren SM, Colebatch JG (2009) Stochastic galvanic vestibular stimulation produces a small reduction in sway in Parkinson's disease. J Vestib Res 19:137–142

Peters M, Battista C (2008) Applications of mental rotation figures of the Shepard and Metzler type and description of a mental rotation stimulus library. Brain Cogn 66:260–264

Risey J, Briner W (1990) Dyscalculia in patients with vertigo. J Vestib Res 1:31–37

Severac Cauquil A, Faldon M, Popov K, Day BL, Bronstein AM (2003) Short-latency eye movements evoked by near-threshold galvanic vestibular stimulation. Exp Brain Res 148:414–418

Shepard RN, Metzler J (1971) Mental rotation of three-dimensional objects. Science 171:701–703

Smith PF, Darlington CL, Zheng Y (2010) Move it or lose it—is stimulation of the vestibular system necessary for normal spatial memory? Hippocampus 20:36–43

Suzuki M, Kitano H, Ito R, Kitanishi T, Yazawa Y, Ogawa T, Shiino A, Kitajima K (2001) Cortical and subcortical vestibular response to caloric stimulation detected by functional magnetic resonance imaging. Cogn Brain Res 12:441–449

Utz KS, Keller I, Kardinal M, Kerkhoff G (2011) Galvanic vestibular stimulation reduces the pathological rightward line bisection error in neglect-a sham stimulation-controlled study. Neuropsychologia 49:1219–1225

Van Rijn LJ, Van der Steen J, Collewijn H (1994) Instability of ocular torsion during fixation: cyclovergence is more stable than cycloversion. Vision Res 34:1077–1087

Vitte E, Derosier C, Caritu Y, Berthoz A, Hasboun D, Soulie D (1996) Activation of the hippocampal formation by vestibular stimulation: a functional magnetic resonance imaging study. Exp Brain Res 112:523–526

Wilkinson D, Nicholls S, Pattenden C, Kilduff P, Milberg W (2008) Galvanic vestibular stimulation speeds visual memory recall. Exp Brain Res 189:243–248

Wood S, Black FO, MacDougall HG, Moore ST (2009) Electrotactile feedback of sway position improves postural performance during galvanic vestibular stimulation. Ann NY Acad Sci 1164:492–498

Yakovleva I, Bokhov B, Kornilova L (1976) Study of space perception functioning during simulation of certain space flight factors. Life Sci Space Res 14:295–300

Yamamoto Y, Struzik ZR, Soma R, Ohashi K, Kwak S (2005) Noisy vestibular stimulation improves autonomic and motor responsiveness in central neurodegenerative disorders. Ann Neurol 58:175–181

Zacks JM, Michelon P (2005) Transformations of visuospatial images. Behav Cogn Neurosci Rev 4:96–118
Acknowledgments
This project was supported by a grant from the National Space Biomedical Research Institute through NASA contract NCC 9-58 (Dr. Steven Moore) and the Garnett Passe and Rodney Williams Memorial Foundation (Dr. MacDougall). Dr. Bandar Hakim (Human Aerospace Laboratory) implemented the cognitive tests in Matlab, and John Holden (School of Psychology, University of Sydney) developed the GVS equipment.
About this article
Cite this article
Dilda, V., MacDougall, H.G., Curthoys, I.S. et al. Effects of Galvanic vestibular stimulation on cognitive function. Exp Brain Res 216, 275–285 (2012). https://doi.org/10.1007/s00221-011-2929-z
Received:

Accepted:

Published:

Issue Date:
Keywords
Egocentric mental transformation

Spatial memory

Hippocampus

Perspective taking

Microgravity