Abstract
There is an ongoing debate as to whether a greater degree of sensory–motor control is required to maintain skills as humans progress to be septuagenarians. Here, we investigate the dependence of older participants upon vision to execute skilled prehension movements. In a first experiment, participants were required to place a small, round peg in one of three randomly cued holes. A mirror apparatus was used to create conditions where they could always see the target locations, but vision of their hand approaching the target could be removed, and we explored end position accuracy. In a second experiment, we examined the ability of participants to precisely control their grasp action under conditions where they could see the objects but not their hands completing the action. The results showed that in Experiment 1, the older adults undershot the target in their primary submovement and hence had to move further in their secondary movement to achieve their goal. In Experiment 2, the older adults spent longer in the final adjustment phase (a near zero velocity phase at the end of the reach) when vision of the hand was unavailable. These findings suggest that older adults are indeed more reliant on visual feedback than the young in tasks that require precise manual control, and this clarifies conflicting accounts in the prior literature.
Access options
Buy single article
Instant access to the full article PDF.
US$ 39.95
Tax calculation will be finalised during checkout.
Subscribe to journal
Immediate online access to all issues from 2019. Subscription will auto renew annually.
US$ 119
Tax calculation will be finalised during checkout.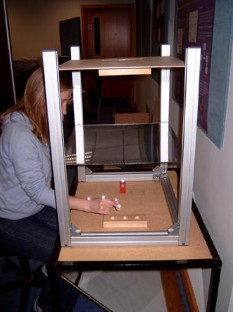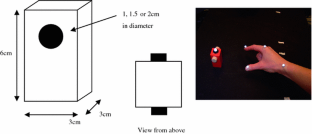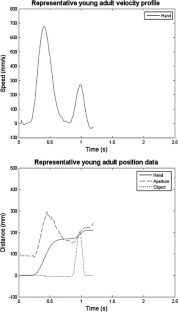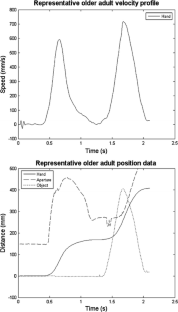 References
Andersen GJ, Enriquez A (2006) Aging and the detection of observer and moving object collisions. Psychol Aging 21(1):74–85

Boisseau E, Scherzer P, Cohen H (2002) Eye-hand coordination in aging and in Parkinson's disease. Aging Neuropsychol Cogn 9(4):266–275

Brown SH (1996) Control of simple arm movements in the elderly. In: Ferrandez AM, Teasdale N (eds) Changes in sensory-motor behaviour in aging. Elsevier, The Netherlands

Elliot D, Helsen WF, Chua R (2001) A century later: Woodworth's (1899) two-component model of goal-directed aiming. Psychol Bull 127(3):342–357

Elliott D, Carson RG, Goodman D, Chua R (1991) Discrete vs. continual visual control of manual aiming. Hum Mov Sci 10:393–418

Gallagher S, Lajoie Y, Guay M (2001) Walking with visual restrictions in healthy elderly and young adults. Can J Aging 21(2):295–301

Goggin NL, Stelmach GE (1990) Age-related differences in a kinematic analysis of precued movements. Can J Aging 9(4):371–385

Murrell KFH, Entwisle DG (1960) Age differences in movement pattern. Nature 185:948–949

Norman JF, Dawson TE, Butler AK (2000) The effects of age upon the perception of depth and 3-D shape from differential motion and binocular disparity. Percept 29:1335–1359

Norman JF, Crabtree CE, Norman HF, Moncrief BK, Herrmann M, Kapley N (2006) Aging and the visual, haptic, and cross-modal perception of natural object shape. Percept 35:1383–1395

Norman JF, Norman HF, Craft AE, Walton CL, Bartholomew AN, Burton CL, Wiesemann EY, Crabtree CE (2008) Stereopsis and aging. Vis Res 48:2456–2465

O'Keefe DJ (2003) Colloquy: should familywise alpha be adjusted? Hum Commun Res 29(3):431–447

Pratt J, Chasteen AL, Abrams R (1994) Rapid aimed limb movements: age differences and practice effects in component submovements. Psychol Aging 9(2):325–334

Saling M, Stelmach GE, Mescheriakov S, Berger M (1996) Prehension with trunk assisted reaching. Behav Brain Res 80:153–160

Seidler-Dobrin RD, Stelmach GE (1998) Persistence in visual feedback control by the elderly. Exp Brain Res 119:467–474

Smyth MM, Collins AF, Morris PE, Levy P (1994) Cognition in action, 2nd edn. Psychology Press, Erlbaum

Smyth M, Peacock K, Katamba J (2004) The role of sight of the hand in the development of prehension in childhood. Q J Exp Psychol 57 A(2):269–296

Wade MG, Lindquist R, Taylor JR, Treat-Jacobson D (1995) Optical flow, spatial orientation, and the control of posture in the elderly. J Gerontol Psychol Sci 50B:51–58

Weir PL, MacDonald JR, Mallat BJ, Leavitt JL, Roy EA (1998) Age-related differences in prehension: the influence of task goals. J Mot Behav 30(1):79–89

Woodworth RS (1899) The accuracy of voluntary movement. Psychol Rev 3(3, Suppl. 13):1–119
About this article
Cite this article
Coats, R.O., Wann, J.P. The reliance on visual feedback control by older adults is highlighted in tasks requiring precise endpoint placement and precision grip. Exp Brain Res 214, 139 (2011). https://doi.org/10.1007/s00221-011-2813-x
Received:

Accepted:

Published:
Keywords
Elderly

Older adults

Prehension

Reaching

Visual feedback