Abstract
Transcranial direct current stimulation (TDCS) is a non-invasive form of brain stimulation applied via a weak electrical current passed between electrodes on the scalp. In recent studies, TDCS has been shown to improve learning when applied to the prefrontal cortex (e.g., Kincses et al. in Neuropsychologia 42:113–117, 2003; Clark et al. Neuroimage in 2010). The present study examined the effects of TDCS delivered at the beginning of training (novice) or after an hour of training (experienced) on participants' ability to detect cues indicative of covert threats. Participants completed two 1-h training sessions. During the first 30 min of each training session, either 0.1 mA or 2.0 mA of anodal TDCS was delivered to the participant. The anode was positioned near F8, and the cathode was placed on the upper left arm. Testing trials immediately followed training. Accuracy in classification of images containing and not-containing threat stimuli during the testing sessions indicated: (1) that mastery of threat detection significantly increased with training, (2) that anodal TDCS at 2 mA significantly enhanced learning, and (3) TDCS was significantly more effective in enhancing test performance when applied in novice learners than in experienced learners. The enhanced performance following training with TDCS persisted into the second session when TDCS was delivered early in training.
Access options
Buy single article
Instant access to the full article PDF.
US$ 39.95
Tax calculation will be finalised during checkout.
Subscribe to journal
Immediate online access to all issues from 2019. Subscription will auto renew annually.
US$ 119
Tax calculation will be finalised during checkout.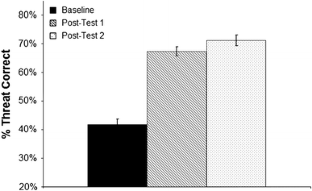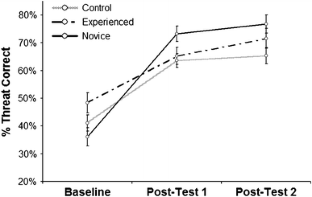 References
Antal A, Varga ET, Kincses TZ, Nitsche MA, Paulus W (2004) Oscillatory brain activity and transcranial direct current stimulation in humans. Neuroreport 15(Pt 8):1307–1310. doi:10.1097/01.wnr.0000127460.08361.84

Antal A, Brepohl N, Poreisz C, Boros K, Csifcsak G, Paulus W (2008) Transcranial direct current stimulation over somatosensory cortex decrease experimentally induced acute pain perception. Clin J Pain 24(Pt 1):56–63. doi:10.1097/AJP.0b013e318157233b

Bechara A, Damasio H, Damasio AR (2000) Emotion, decision making and the orbitofrontal cortex. Cereb Cortex 10:295–307

Bikson M, Inoue M, Akiyama H, Deans JK, Fox JE, Miyakawa H, Jefferys JGR (2004) Effects of uniform extracellular DC electric fields on excitability in rat hippocampal slices in vitro. J Physiol 557(Pt. 1):175–190. doi:10.1113/jphysiol.2003.055772

Bindman LJ, Lippold OCJ, Redfearn JWT (1962) Long-lasting changes in the level of the electrical activity of the cerebral cortex produced by polarizing currents. Nature 196:584–585

Boggio PS, Nunes A, Rigonatti SP, Nitsche MA, Pascual-Leone A, Fregni F (2007) Repeated sessions of noninvasive brain DC stimulation is associated with motor function improvement in stroke patients. Restor Neurol Neurosci 25:123–129

Boggio PS, Sultani N, Fecteau S, Merabet L, Mecca T, Pascual-Leone A, Basaglia A, Fregni F (2008) Prefrontal cortex modulation using transcranial DC stimulation reduces alcohol craving: a double-blind, sham-controlled study. Drug Alcohol Depen 92(Pt. 1–3):55–60. doi:10.1016/j.drugalcdep.2007.06.011

Chong TTJ, Williams MA, Cunnington R, Mattingley JB (2008) Selective attention modulates inferior frontal gyrus activity during action observation. Neuroimage 40:298–307. doi:10.1016/j.neuroimage.2007.11.030

Clark VP, Coffman BA, Mayer AR, Weisend MP, Lane TDR, Calhoun VD, Raybourn EM, Garcia CM, Wassermann EM (2010) TDCS guided using fMRI significantly accelerates learning to identify concealed objects. Neuroimage. doi:10.1016/j.neuroimage.2010.11.036

Elmer S, Burkard M, Renz B, Meyer M, Jancke L (2009) Direct current induced short-term modulation of the left dorsolateral prefrontal cortex while learning auditory presented nouns. Behav Brain Funct 5(Pt. 29). doi:10.1186/1744-9081-5-29

Floel A, Rosser N, Michka O, Knecht S, Breitenstein C (2008) Noninvasive brain stimulation improves language learning. J Cogn Neurosci 20(Pt. 8):1415–1422

Fregni F, Boggio PS, Nitsche M, Bermpohl F, Antal A, Feredoes E, Marcolin MA, Rigonatti AP, Silva MTA, Paulus W, Pascual-Leone A (2005) Anodal transcranial direct current stimulation of prefrontal cortex enhances working memory. Exp Brain Res 166:23–30. doi:10.1007/s00221-005-2334-6

Fregni F, Boggio PS, Lima MC, Ferreira MJL, Wagner T, Rigonatti SP, Castro AW, Souza DR, Riberto M, Freedman SD, Nitsche MA, Pascual-Leone A (2006) A sham-controlled, phase II trial of transcranial direct current stimulation for the treatment of central pain in traumatic spinal cord injury. Pain 122(Pt. 1–2):197–209. doi:10.1016/j.pain.2006.02.023

Goldman-Rakie PS, Cools AR, Srivastava K (1996) The prefrontal landscape: implications of functional architecture for understanding human mentation and the central executive. Philos Trans Biol Sci 351(Pt. 1346):1445–1453

Hecht D, Walsh V, Lavidor M (2010) Transcranial direct current stimulation facilitates decision making in a probabilistic guessing task. J Neurosci 301(Pt. 12):4241–4245. doi:10.1523/JNEUROSCI.2924-09.2010

Kincses TZ, Antal A, Nitsche MA, Bartfai O, Paulus W (2003) Facilitation of probabilistic classification learning by transcranial direct current stimulation of the prefrontal cortex in the human. Neuropsychologia 42:113–117. doi:10.1016/s0028-3932(03)00124-6

Lang N, Siebner HR, Ward NS, Lee L, Nitsche MA, Paulus W, Rothwell JC, Lemon RN, Frackowiak RS (2005) How does transcranial DC stimulation of the primary motor cortex alter regional neuronal activity in the human brain? Eur J Neurosci 22(Pt. 2):495–504. doi:10.1111/j.1460-9568.2005.04233.x

Liebetanz D, Nitsche MA, Tergau F, Paulus W (2002) Pharmacological approach to the mechanisms of transcranial DC-stimulation-induced after-effects of human motor cortex excitability. Brain 125:2238–2247

Lutz A, Greischar LL, Perlman DM, Davidson RJ (2009) BOLD signal in insula is differentially related to cardiac function during compassion meditation in experts vs. novices. Neuroimage 47:1038–1045. doi:10.1016/j.neuroimage.2009.04.081

MacMillan J, Alexander AL, Weil SA, Littleton B, Aptima I, Woburn MA, Roberts B et al. (2005) DARWARS: An architecture that supports effective experimental training. DARWARS research papers. http://www.darwars.com/downloads/2005% 20IITSEC% 20White% 20Paper% 20v2.pdf

McClure SM, York MK, Montague PR (2004) The neural substrates of reward processing in humans: the modern role of fMRI. Neuroscientist 10(Pt. 3):260–268. doi:10.1177/1073858404263526

Merzagora AC, Foffani G, Panyavin I, Mordillo-Mateos L, Aguilar J, Onaral B, Oliviero A (2010) Prefrontal hemodynamic changes produced by anodal direct current stimulation. Neuroimage 49:2304–2310. doi:10.1016/j.neuroimage.2009.10.044

Murphy DN, Boggio P, Fregni F (2009) Transcranial direct current stimulation as a therapeutic tool for the treatment of major depression: insights from past and recent clinical studies. Neuropsychiatry 22:306–311. doi:10.1097/YCO.0b013e32832a133f

Nitsche MA, Paulus W (2000) Excitability changes induced in the human motor cortex by weak transcranial direct current stimulation. J Physiol 527(Pt. 3):633–639

Nitsche MA, Paulus W (2001) Sustained excitability elevations induced by transcranial DC motor cortex stimulation in humans. Neurology 57:1899–1901

Nitsche MA, Paulus W (2009) Noninvasive brain stimulation protocols in the treatment of epilepsy: current state and perspectives. Neurotherapeutics 6(Pt. 2):244–250

Nitsche MA, Doemkes S, Karakose T, Antal A, Liebetanz D, Lang N, Tergau F, Paulus W (2007) Shaping the effects of transcranial direct current stimulation of the human motor cortex. J Neurophysiol 97:3109–3117. doi:10.1152/jn.01312.2006

Ohn SH, Park C, Yoo WK, Ko MH, Choi KP, Kim GM, Lee YT, Kim YH (2008) Time-dependent effect of transcranial direct current stimulation on the enhancement of working memory. Neuroreport 19(Pt. 1):43–47

Priori A (2003) Brain polarization in humans: a reappraisal of an old tool for prolonged non-invasive modulation of brain excitability. Clin Neuropsychol 114:589–595. doi:10.1016/s1388-2457(02)00437-6

Siebner HR, Lang N, Rizzo V, Nitsche MA, Paulus W, Lemon RN, Rothwell JC (2004) Preconditioning of low-frequency repetitive transcranial magnetic stimulation with transcranial direct current stimulation: evidence for homeostatic plasticity in the human motor cortex. J Neurosci 24(Pt. 13):3379–3385. doi:10.1523/JNEUROSCIE.5316-03.2004

Stagg CJ, Best JG, Stephenson MC, O'Shea J, Wylezinska M, Kincses ZT, Morris PG, Matthews PM, Johansen-Berg H (2009) Polarity-sensitivity modulation of cortical neurotransmitters by transcranial stimulation. J Neurosci 29(Pt. 16):5202–5206. doi:10.1523/JNEUROSCI.4432-08.2009

Tecchio F, Zappasodi F, Assenza G, Tombini M, Vollaro S, Barbati G, Rossini PM (2010) Anodal transcranial direct current stimulation enhances procedural consolidation. J Neurophysiol 104:1134–1140. doi:10.1152/jn.00661.2009

Wassermann EM, Grafman J (2005) Recharging cognition with DC brain polarization. Trends Cogn Neurosci 9(Pt. 11):503–505. doi:10.1016/j.tics.2005.09.001

Wright MJ, Bishop DT, Jackson RC, Abernethy B (2010) Functional MRI reveals expert-novice differences during sport-related anticipation. Neuroreport 21:94–98. doi:10.1097/WNR.0b013e328333dff2
Acknowledgments
This work was supported by The Defense Advanced Research Projects Agency (Government Contract No. NBCHC070103; Approved for Public Release, Distribution Unlimited). The views, opinions, and/or findings contained in this article/presentation are those of the author/presenter and should not be interpreted as representing the official views or policies, either expressed or implied, of the Defense Advanced Research Projects Agency or the Department of Defense. The authors acknowledge their collaboration with Eric M. Wassermann, Donald Puffer, and Elaine M. Raybourn.
About this article
Cite this article
Bullard, L.M., Browning, E.S., Clark, V.P. et al. Transcranial direct current stimulation's effect on novice versus experienced learning. Exp Brain Res 213, 9–14 (2011). https://doi.org/10.1007/s00221-011-2764-2
Received:

Accepted:

Published:

Issue Date:
Keywords
Transcranial direct current stimulation

Learning

Training

Threat detection