Abstract
Sleep deprivation alters attentional functions like vigilance or tonic alerting (i.e., sustaining an alert state over a period of time). However, the effects of sleep loss on both orienting and executive control are still not clear, and no study has assessed whether sleep deprivation might affect the relationships among these three attentional systems. In order to investigate the efficiency of the three attentional networks—alerting, orienting and executive control—within a single task, we used the Attention Network Test (ANT). Eighteen right-handed male participants took part in the experiment, which took place on two consecutive days. On the first day, each participant performed a 20 min training session of the ANT. On the second day, participants remained awake for 24 h during which time the ANT was performed once at 5:00 p.m. and once at 4:00 a.m. Results showed an overall slowing of reaction times in the nocturnal session, indicating a strong decrease in vigilance. Furthermore, sleep deprivation did affect attentional orienting and executive control. Results are consistent with the hypothesis that the tonic component of alerting interacts with both attentional orienting and executive functions.
Access options
Buy single article
Instant access to the full article PDF.
USD 39.95
Price excludes VAT (USA)
Tax calculation will be finalised during checkout.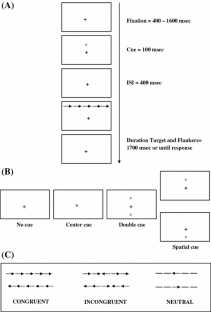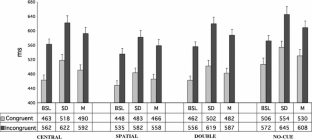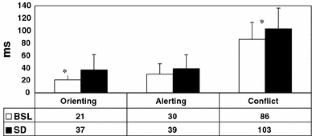 References
Banks S, Dinges DF (2007) Behavioral and physiological consequences of sleep restriction. J Clin Sleep Med 3:519–528

Barger LK, Ayas NT, Cade BE, Cronin JW, Rosner B, Speizer FE, Czeisler CA (2006) Impact of extended-duration shifts on medical errors, adverse events, and attentional failures. PLoS Med 3:487

Bell-Mcginty S, Habeck C, Hilton HJ, Rakitin B, Scarmeas N, Zarahn E, Flynn J, Delapaz R, Basner R, Stern Y (2004) Identification and differential vulnerability of a neural network in sleep deprivation. Cereb Cortex 14:496–502

Binks BG, Waters WF, Hurry M (1999) Short-term total sleep deprivations does not selectively impair higher cortical functioning. Sleep 22:328–334

Bocca ML, Denise P (2006) Total sleep deprivation effect on disengagement of spatial attention as assessed by saccadic eye movements. Clin Neurophysiol 117:894–899

Callejas A, Lupiánez J, Funes MJ, Tudela P (2004) The three attentional networks: on the independence and interactions. Brain Cogn 54:225–227

Callejas A, Lupianez J, Funes MJ, Tudela P (2005) Modulations between the attentional networks. Exp Brain Res 167:27–37

Carskadon MA, Dement WC (1979) Effects of total sleep loss on sleep tendency. Percept Mot Skills 48:495–506

Casagrande M, Martella D, DiPace E, Pirri F, Guadalupi F (2006) Orienting and alerting: effects of 24 hours of prolonged wakefulness. Exp Brain Res 171:184–193

Chee MW, Tan JC (2010) Lapsing when sleep deprived: neural activation characteristics of resistant and vulnerable individuals. Neuroimage 51(2):835–843

Chee MWL, Chuah LYM, Venkatraman V, Chan WY, Philip P, Dinges DF (2006) Functional imaging of working memory following normal sleep and after 24 and 35 h of sleep deprivation: correlations of fronto-parietal activation with performance. NeuroImage 31:419–428

Chee MWL, Tan JC, Zheng H, Parimal S, Weissman DH, Zagorodnov V, Dinges DF (2008) Lapsing during sleep deprivation is associated with distributed changes in brain activation. J Neurosci 28(21):5519–5528

Chuah LYM, Chee MWL (2008) Cholinergic augmentation modulates visual task performance in sleep-deprived young adults. J Neurosci 28(44):11369–11377

Connor J, Whitlock G, Norton R, Jackson R (2001) The role of driver sleepiness in car crashes: a systematic review of epidemiological studies. Accid Anal Prev 33(1):31–41

Curcio G, Casagrande M, Bertini M (2001) Sleepiness: evaluating and quantifying methods. Intern J Psychophys 41(3):251–263

Dijk DJ, Czeisler CA (1995) Contribution of the circadian pacemaker and the sleep homeostat to sleep propensity, sleep structure, electroencephalographic slow waves, and sleep spindle activity in humans. J Neurosci 15(5):3526–3538

Dinges DF (1992) Probing the limits of functional capability: the effects of sleep loss on short-duration tasks. In: Broughton RJ, Ogilvie RD (eds) Sleep, Arousal, and Performance. Birkhauser, Boston, pp 176–188

Dinges DF, Pack F, Williams K, Gillen KA, Powell JW, Ott GE, Aptowicz C, Pack AI (1997) Cumulative sleepiness, mood disturbance, and psychomotor vigilance performance decrements during a week of sleep restricted to 4–5 hours per night. Sleep 20:267–277

Eriksen BA, Eriksen CW (1974) Effects of noise letters upon the identification of a target letter in a nonsearch task. Percept Psychophys 16:143–149

Fallone G, Acebo C, Arnedt JT, Seifer R, Carskadon MA (2001) Effects of acute sleep restriction on behaviour, sustained attention, and response inhibition in children. Percept Mot Skills 93:213–229

Fan J, McCandliss BD, Sommer T, Raz A, Posner MI (2002) Testing the efficiency and independence of attentional networks. J Cogn Neurosci 14:340–347

Fan J, Raz A, Posner MI (2003) Attentional mechanisms. In: Aminoff MJ, Daroff RB (eds) Encyclopaedia of the neurological science, vol 1. Academic Press, San Diego, pp 292–299

Fan J, McCandliss BD, Fossella J, Flombaum JI, Posner MI (2005) The activation of attentional networks. Neuroimage 26(2):471–479

Fan J, Gu X, Guise KG, Liu X, Fossella J, Wang H, Posner MI (2009) Testing the behavioural interaction and integration of attentional networks. Brain Cogn 70:209–220

Fimm B, Willmes K, Spijkers W (2006) The effect of low arousal on visuo-spatial attention. Neuropsychologia 44:1261–1268

Fuentes LJ, Campoy G (2008) The time course of alerting effect over orienting in the attention network test. Exp Brain Res 185:667–672

Gillberg M, Kecklund G, Akerstedt T (1994) Relations between performance and subjective ratings of sleepiness during a night awake. Sleep 17:236–241

Gosselin A, De Koninck J, Campbell KB (2005) Total sleep deprivation and novelty processing: implications for frontal lobe functioning. Clin Neurophysiol 116:211–222

Harrison Y, Horne JA (1997) Sleep deprivation affects speech. Sleep 20:871–878

Harrison Y, Horne JA (1998) Sleep loss impairs short and novel language tasks having a prefrontal focus. J Sleep Res 7:95–100

Harrison Y, Horne JA (2000) The impact of sleep deprivation on decision making: a review. J Exp Psychol Appl 6:236–249

Harrison Y, Horne JA, Rothwell A (2000) Prefrontal neuropsychological effects of sleep deprivation in young adults: a model for healthy aging? Sleep 23:1067–1073

Heil M, Osman A, Wiegelmann J, Rolke B, Hennighausen E (2000) N200 in the Eriksen-Task: inhibitory executive processes? J Psychophysiol 14:218–225

Heuer H, Kleinsorge T, Klein W, Kohlisch O (2004) Total sleep deprivation increases the costs of shifting between simple cognitive tasks. Acta Psychol 117:29–64

Heuer H, Kohlisch O, Klein W (2005) The effects of total sleep deprivation on the generation of random sequences of key-presses, numbers and nouns. Q J Exp Psychol A 58:275–307

Hill J (2004) Sleep deprivation. Lancet 363:996

Hsieh S, Cheng IC, Tsai LL (2007) Immediate error correction process following sleep deprivation. J Sleep Res 16:137–147

Ivanoff J, Klein RM (2003) Orienting of attention without awareness is affected by measurement-induced attentional control settings. J Vis 3:32–40

Jones K, Harrison Y (2001) Frontal lobe function, sleep loss and fragmented sleep. Sleep Med Rev 5:463–475

Jonides J (1981) Voluntary vs. automatic control over the mind's eye's movement. In: Posner MI, Marin O (eds) Attention and performance. Lawrence Erlbaum, Hillsdale, pp 187–205

Killgore WDS, Balkin TJ, Wesensten NJ (2006) Impaired decision making following 49 h of sleep deprivation. J Sleep Res 15:7–13

Kjellberg A (1977) Sleep deprivation and some aspects of performance, I. Problems of arousal changes. Waking Sleep 1:139–143

Lavie P (2001) Sleep-wake as a biological rhythm. Annu Rev Psychol 52:277–303

Lingenfelser T, Kaschel R, Weber A, Zaiser-Kaschel H, Jakober B, Kupfer J (1994) Young hospital doctors after night duty: their task-specific cognitive status and emotional condition. Med Educ 28:566–572

McCarthy ME, Waters WF (1997) Decreased attentional responsivity during sleep deprivation: orienting response latency, amplitude, and habituation. Sleep 20:115–123

Mckenna BS, Dicjinson DL, Orff HJ, Drummond SP (2007) The effects of one night of sleep deprivation on known-risk and ambiguous-risk decisions. J Sleep Res 16:245–252

Mikulincer M, Babkoff H, Caspy T, Sing H (1989) The effects of 72 hours of sleep loss on psychological variables. Br J Psychol 80:145–162

Mittler MM, Carskadon MA, Czeisller CA, Dement WC, Dinges DF, Curtis L, Graeber R (1988) Catastrophes, sleep and public policy: consensus report. Sleep 11(1):100–109

Murphy TI, Richard M, Masaki H, Segalowitz SJ (2006) The effect of sleepiness on performance monitoring: I know what I am doing, but do I care? J Sleep Res 15:15–21

Nilsson JP, Soderstrom M, Karlsson AU, Lekander M, Akerstedt T, Lindroth NE, Axelsson J (2005) Less effective executive functioning after one night's sleep deprivation. J Sleep Res 14:1–6

Philip P (2005) Sleepiness of occupational drivers. Ind Health 43(1):30–33

Philip P, Akerstedt T (2006) Transport and industrial safety, how are they affected by sleepiness and sleep restriction? Sleep Med Rev 10:347–356

Posner MI (1980) Orienting of attention. Q J Exp Psychol 32:3–25

Posner MI, DiGirolamo FJ (2000) Cognitive neuroscience: origins and promise. Psychol Bull 126(6):873–889

Posner MI, Fan J (2008) Attention as an organ system. In: Pomerantz JR (ed) Topics in integrative neuroscience: From cells to cognition 31-619. Cambridge University Press, Cambridge

Posner MI, Petersen S (1990) The attention system of human brain. Ann Rev Neurosci 13:25–42

Raz A (2004) Anatomy of attentional network. The anatomical record (part B: new anat) 281B:21–36

Rueda MR, Fan J, McCandliss BD, Halparin JD, Gruber DB, Lercari LP, Posner MI (2004) Development of attentional networks in childhood. Neuropsychologia 42:1029–1040

Sagaspe P, Charles A, Taillard J, Bioulac B, Philip P (2003) Inhibition and working memory: effect of acute sleep deprivation on a random letter generation task. Can J Exp Psychol 57:265–273

Sagaspe P, Sanchez-Ortuno M, Charles A, Taillard J, Valtat C, Bioulac B, Philip P (2006) Effects of sleep deprivation on Color-Word, Emotional, and Specific Stroop interference and on self-reported anxiety. Brain Cogn 60:76–87

Salmaso D, Longoni AM (1985) Problems in the assessment of hand preference. Cortex 21:533–549

Tsai LL, Young HY, Hsieh S, Lee CS (2005) Impairment of error monitoring following sleep deprivation. Sleep 28:707–713

Urrila AS, Stenuit P, Huhdankoski O, Kerkhofs M, Poskka-Heiskanen T (2007) Psychomotor vigilance task performance during total sleep deprivation in young and postmenopausal women. Behav Brain Res 180:42–47

Van den Berg J, Neely G (2006) Performance on a simple reaction time task while sleep deprived. Percept Mot Skills 102:589–599

Van Dongen HP, Baynard MD, Maislin G, Dinges DF (2004) Systematic interindividual differences in neurobehavioral impairment from sleep loss: evidence of trait-like differential vulnerability. Sleep 27:423–433

Vandewalle G, Archer SN, Wuillaume C, Balteau E, Degueldre C, Luxen A, Maquet P, Dijk DJ (2009) Functional magnetic resonance imaging-assessed brain responses during an executive task depend on interaction of sleep homeostasis, circadian phase, and PER3 genotype. J Neurosci 29(25):7948–7956

Versace F, Cavallero C, De Min Tona G, Mozzato M, Stegagno L (2006) Effect of sleep reduction on spatial attention. Biol Psychol 71:248–255

Yarkoni T, Barch DM, Gray JR, Conturo TE, Braver TS (2009) BOLD correlates of trial-by-trial reaction time variability in gray and white matter: a multi-study fMRI analysis. PLoS ONE 4(1):e4257. doi:10.1371/journal.pone.000425
Acknowledgments
We would like to thank Franco Amodeo for English support, the research participants who volunteered in this study, and Carlo Marzi and other three anonymous reviewers for providing constructive comments that have improved the quality of the paper. This research was supported by the grants "Ricerca di Ateneo Federato AST 2007—prot. C26F07S5KC"—"Sapienza"—Università di Roma and Spanish Ministry of Science and Education: PSI2008-03595PSIC.
About this article
Cite this article
Martella, D., Casagrande, M. & Lupiáñez, J. Alerting, orienting and executive control: the effects of sleep deprivation on attentional networks. Exp Brain Res 210, 81–89 (2011). https://doi.org/10.1007/s00221-011-2605-3
Received:

Accepted:

Published:

Issue Date:

DOI: https://doi.org/10.1007/s00221-011-2605-3
Keywords
Attention Network Test

Sleep deprivation

Alertness

Spatial attention

Executive functions

Orienting effect

Conflict effect

Alerting effect