Abstract
Learning to write requires the repeated manual production of spatial patterns. It remains unclear whether tracing or copying provides better training: tracing provides accurate and immediate performance feedback, whereas copying may require greater use of memory and recall during training. We asked sixteen adults to copy or trace novel patterns then reproduce these from memory using a stylus and tablet PC. A week later, a retention test was performed. Sophisticated analyses indexed the extent to which participants had learned the dimensions and shape of patterns. We found that participants: (a) showed better shape and dimensional accuracy when tracing; (b) had better shape and dimensional retention immediately after tracing; (c) showed no differences between copying and tracing in their ability to redraw the pattern (shape or dimensions) 1 week later. Our methods provide a useful starting point for examining training and feedback on the generation and recall of spatial patterns.
Access options
Buy single article
Instant access to the full article PDF.
US$ 39.95
Tax calculation will be finalised during checkout.
Subscribe to journal
Immediate online access to all issues from 2019. Subscription will auto renew annually.
US$ 119
Tax calculation will be finalised during checkout.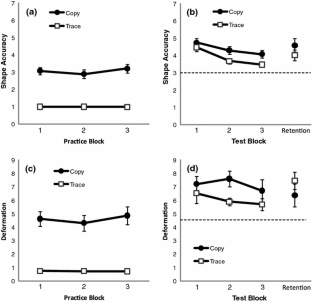 References
Abeele S, Bock O (2001) Mechanisms for sensorimotor adaptation to rotated visual input. Exp Brain Res 139:248–253

Askov EN (1975) Handwriting: copying versus tracing as the most effective type of practice. J Educ Res 69:96–98

Charvin M, Proteau L (1996) Developmental differences in the processing of afferent information for motor control. Dev Neuropsychol 2:347–387

Culmer PR, Levesley MC, Mon-Williams M, Williams JHG (2009) A new tool for assessing human movement: the kinematic assessment tool. J Neurosci Methods 184:184–192

Kirk U (1980) Learning to copy letters: a cognitive rule-governed task. Elem Sch J 81:28–33

Longcamp M, Zerbato-Poudou MT, Velay JL (2005) The influence of writing practice on letter recognition in preschool children: a comparison between handwriting and typing. Acta Psychol 119:67–79

Longcamp M, Boucard C, Gilhodes JC, Velay JC (2006) Remembering the orientation of newly learned characters depends on the associated writing knowledge: a comparison between handwriting and typing. Hum Mov Sci 25:646–656

Longcamp M, Boucard C, Gilhodes JC, Anton JL, Roth M, Nazarian B, Velay JL (2008) Learning through hand- or type-writing influences visual recognition of new graphic shapes: behavioral and functional imaging evidence. J Cogn Neurosci 20:802–815

Miall RC, Haggard P (1995) The curvature of human arm movements in the absence of visual experience. Exp Brain Res 103:421–428

Morasso P (1981) Spatial control of arm movements. Exp Brain Res 42:223–227

Myronenko A, Song X (2010) Point set registration: coherent point drift. IEEE Trans Pattern Anal Mach Intell 32(12):2262–2275

Proteau L, Marteniuk RG, Girouard Y, Dugas C (1987) On the type of information used to control and learn an aiming movement after moderate and extensive training. Hum Mov Sci 6:181–199

Salmoni AW, Schmidt RA, Walter CB (1984) Knowledge of results and motor learning: a review and critical reappraisal. Psychol Bull 95:355–386

Thorndike L, Woodworth RS (1901) The influence of improvement in one mental function upon efficiency of other functions. Psychol Rev 8:247–261

Thoroughman KA, Shadmehr R (2000) Learning of action through adaptive combination of motor primitives. Nature 407:742–747

Topka H, Konczak J, Dichgans J (1998) Coordination of multi-joint arm movements in cerebellar ataxia: analysis of hand and angular kinematics. Exp Brain Res 119:483–492

Wolpert DM, Flanagan JR (2010) Motor learning. Curr Biol 20:R467–R472

Wright CD, Wright JP (1980) Handwriting: the effectiveness of copying from moving versus still models. J Educ Res 74:95–98
Acknowledgments
Thanks to the Wellcome Trust, the MRC-UK and The Magstim Company Ltd for funding various aspects of this work.
About this article
Cite this article
Gonzalez, C., Anderson, J., Culmer, P. et al. Is tracing or copying better when learning to reproduce a pattern?. Exp Brain Res 208, 459–465 (2011). https://doi.org/10.1007/s00221-010-2482-1
Received:

Accepted:

Published:

Issue Date:
Keywords
Tracing

Copying

Writing

Learning

Training

Hand writing

Kinematic analysis