Abstract
Alpha waves are traditionally considered a passive consequence of the lack of stimulation of sensory areas. However, recent results have challenged this view by showing a modulation of alpha activity in cortical areas representing unattended information during active tasks. These data have led us to think that alpha waves would support a 'gating function' on sensorial stimulation that actively inhibits unattended information in attentional tasks. Visual suppression occurring during a saccade and blink entails an inhibition of incoming visual information, and it seems to occur at an early processing stage. In this study, we hypothesized that the neural mechanism through which the visual system exerts this inhibition is the active imposition of alpha oscillations in the occipital cortex, which in turn predicts an increment of alpha amplitude during a visual suppression phenomena. We measured visual suppression occurring during short closures of the eyelids, a situation well suited for EEG recordings and stimulated the retinae with an intra-oral light administered through the palate. In the behavioral experiment, detection thresholds were measured with eyes steady open and steady closed, showing a reduction of sensitivity in the latter case. In the EEG recordings performed under identical conditions we found stronger alpha activity with closed eyes. Since the stimulation does not depend on whether the eyes were open or closed, we reasoned that this should be a central effect, probably due to a functional role of alpha oscillation in agreement with the 'gating function' theory.
Access options
Buy single article
Instant access to the full article PDF.
US$ 39.95
Tax calculation will be finalised during checkout.
Subscribe to journal
Immediate online access to all issues from 2019. Subscription will auto renew annually.
US$ 119
Tax calculation will be finalised during checkout.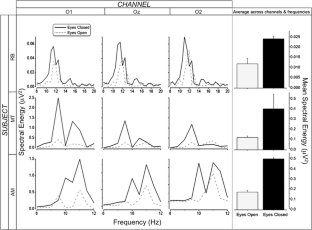 References
Adrian ED, Matthews BH (1934) The Berger rhythm: potential changes from the occipital lobes in man. Brain 57:355–385

Bell C (1823) On the motions of the eye in illustration of the uses of the muscles and nerves of the orbit. Phil Trans R Soc Lond 113:166–186

Berger H (1929) Uber das elektroenkephalogramm des Menschen. Arch Psychiatr Nervenkr 87:527–570

Bishop G (1933) Cyclical changes in excitability of the optic pathway of the rabbit. Am J Physiol 103:213–224

Bonds AB (1992) Spatial and temporal nonlinearities in receptive fields of the cat striate cortex. In: Pinter RB, Nabet B (eds) Nonlinear vision: determination of neural receptive field, functions and networks. CRC Press, Ann Arbor, pp 329–352

Burr D (2004) Eye movements: keeping vision stable. Curr Biol 14(5):R195–R197

Burr D (2005) Vision: in the blink of an eye. Curr Biol 15(14):R554–R556

Burr DC, Morrone MC, Ross J (1994) Selective suppression of the magnocellular visual pathway during saccadic eye movements. Nature 371(6497):511–513

Cantero JL, Atienza M, Salas RM (2002) Human alpha oscillations in wakefulness, drowsiness period, and REM sleep: different electroencephalographic phenomena within the alpha band. Neurophysiol Clin 32(1):54–71

Diamond MR, Ross J, Morrone MC (2000) Extraretinal control of saccadic suppression. J Neurosci 20(9):3449–3455

Efron B, Tibshirani RJ (1994) An introduction to the bootstrap (Monographs on statistics and applied probability). Chapman & Hall/CRC, New York

Horne JA (1988) Why we sleep: the functions of sleep in humans and other animals. Oxford University Press, Oxford

Kelly SP, Lalor EC, Reilly RB, Foxe JJ (2006) Increases in alpha oscillatory power reflect an active retinotopic mechanism for distracter suppression during sustained visuospatial attention. J Neurophysiol 95(6):3844–3851

Lopes da Silva F (1991) Neural mechanisms underlying brain waves: from neural membranes to networks. Electroencephalogr Clin Neurophysiol 79(2):81–93

Lopes da Silva FH, Vos JE, Mooibroek J, Van Rotterdam A (1980) Relative contributions of intracortical and thalamo-cortical processes in the generation of alpha rhythms, revealed by partial coherence analysis. Electroencephalogr Clin Neurophysiol 50(5–6):449–456

Merton PA (1961) The accuracy of directing the eyes and the hand in the dark. J Physiol 156:555–577

Morrone MC, Burr DC, Maffei L (1982) Functional implications of cross-orientation inhibition of cortical visual cells. I. Neurophysiological evidence. Proc R Soc Lond B Biol Sci 216(1204):335–354

Pfurtscheller G, Lopes da Silva FH (1999) Event-related EEG/MEG synchronization and desynchronization: basic principles. Clin Neurophysiol 110(11):1842–1857

Pfurtscheller G, Stancak A Jr, Neuper C (1996) Event-related synchronization (ERS) in the alpha band–an electrophysiological correlate of cortical idling: a review. Int J Psychophysiol 24(1–2):39–46

Posner MI, Snyder CR, Davidson BJ (1980) Attention and the detection of signals. J Exp Psychol 109(2):160–174

Ridder WH 3rd, Tomlinson A (1997) A comparison of saccadic and blink suppression in normal observers. Vision Res 37(22):3171–3179

Rihs TA, Michel CM, Thut G (2007) Mechanisms of selective inhibition in visual spatial attention are indexed by alpha-band EEG synchronization. Eur J Neurosci 25(2):603–610

Romei V, Gross J, Thut G (2010) On the role of prestimulus alpha rhythms over occipito-parietal areas in visual input regulation: correlation or causation? J Neurosci 30(25):8692–8697

Thilo KV, Santoro L, Walsh V, Blakemore C (2004) The site of saccadic suppression. Nat Neurosci 7(1):13–14

Thut G, Nietzel A, Brandt SA, Pascual-Leone A (2006) Alpha-band electroencephalographic activity over occipital cortex indexes visuospatial attention bias and predicts visual target detection. J Neurosci 26(37):9494–9502

Volkmann FC (1986) Human visual suppression. Vision Res 26(9):1401–1416

Volkmann FC, Riggs LA, Moore RK (1980) Eyeblinks and visual suppression. Science 207(4433):900–902

Volkmann FC, Riggs LA, Ellicott AG, Moore RK (1982) Measurements of visual suppression during opening, closing and blinking of the eyes. Vision Res 22(8):991–996

Wiener N (1948) Cybernetics: or control and communication in the animal and the machine. MIT Press, Cambridge, MA

Worden MS, Foxe JJ, Wang N, Simpson GV (2000) Anticipatory biasing of visuospatial attention indexed by retinotopically specific alpha-band electroencephalography increases over occipital cortex. J Neurosci 20(6):RC63
Acknowledgments
This work was funded by the ERC project STANIB and by the italian PRIN project. We would like to thank the school "Sismondi & Pacinotti" of Pescia (Italy) and Leonardo Marasti for the assistance in the development of the electronic device. We also thank our naive observers for having volunteered for long lasting recordings sessions and David Murphy for useful comments on the manuscript.
About this article
Cite this article
Toscani, M., Marzi, T., Righi, S. et al. Alpha waves: a neural signature of visual suppression. Exp Brain Res 207, 213–219 (2010). https://doi.org/10.1007/s00221-010-2444-7
Received:

Accepted:

Published:

Issue Date:
Keywords
Alpha oscillations

Visual suppression

Attention

EEG