Abstract
Hemi-seesaw nystagmus (hemi-SSN) is a jerk-waveform nystagmus with conjugate torsional and disjunctive vertical components. Halmagyi et al. in Brain 117(Pt 4):789–803 (1994), reported hemi-SSN in patients with unilateral lesions in the vicinity of the Interstitial Nucleus of Cajal (INC) and suggested that an imbalance in projections from the vestibular nuclei to the INC was the source of the nystagmus. However, this hypothesis was called into question by Helmchen et al. in Exp Brain Res 119(4):436–452 (1998), who inactivated INC in monkeys with muscimol (a GABAA agonist) and induced failure of vertical gaze-holding (neural integrator) function but not hemi-SSN. We injected 0.1–0.2 μl of 2% muscimol into the supraoculomotor area, 1–2 mm dorso-lateral to the right oculomotor nucleus and caudal to the right INC. A total of seven injections in two juvenile rhesus monkeys were performed. Hemi-SSN was noted within 5–10 min after injection for six of the injections. Around the time the hemi-SSN began, a small skew deviation also developed. However, there was no limitation of horizontal or vertical eye movements, suggesting that the nearby oculomotor nucleus was not initially compromised. Limitations in eye movement range developed about ½–1 h following the injections. Clinical signs that were observed after the animal was released to his cage included a moderate to marked head tilt toward the left (contralesional) side, consistent with an ocular tilt reaction. We conclude that hemi-SSN can be caused by lesions just caudal to the INC, whereas lesions of the INC itself cause down-beat nystagmus and vertical gaze-holding failure, as demonstrated by Helmchen et al. Combined deficits may be encountered with lesions that involve several midbrain structures.
Access options
Buy single article
Instant access to the full article PDF.
USD 39.95
Price excludes VAT (USA)
Tax calculation will be finalised during checkout.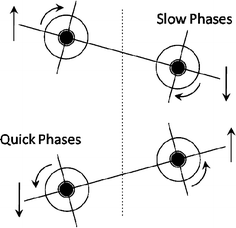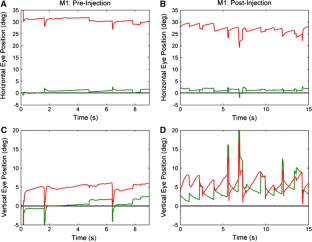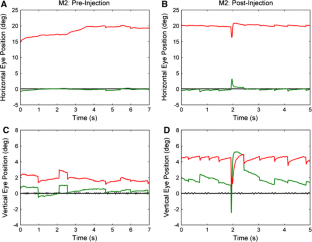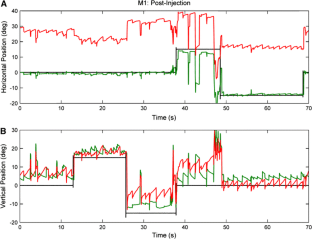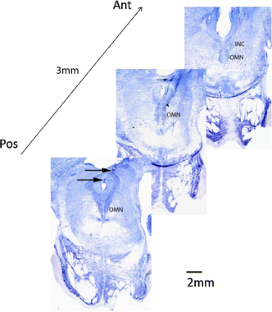 References
Arikan R, Blake NM, Erinjeri JP, Woolsey TA, Giraud L, Highstein SM (2002) A method to measure the effective spread of focally injected muscimol into the central nervous system with electrophysiology and light microscopy. J Neurosci Methods 118(1):51–57

Averbuch-Heller L, Rottach KG, Zivotofsky AZ, Suarez JI, Pettee AD, Remler BF, Leigh RJ (1997) Torsional eye movements in patients with skew deviation and spasmodic torticollis: responses to static and dynamic head roll. Neurology 48(2):506–514

Brandt T, Dieterich M (1987) Pathological eye-head coordination in roll: tonic ocular tilt reaction in mesencephalic and medullary lesions. Brain 110(Pt 3):649–666

Brodsky MC, Donahue SP (2001) Primary oblique muscle overaction: the brain throws a wild pitch. Arch Ophthalmol 119(9):1307–1314

Buttner-Ennever JA (1988) Neuroanatomy of the oculomotor system. Elseiver, Amsterdam

Choi KD, Jung DS, Park KP, Jo JW, Kim JS (2004) Bowtie and upbeat nystagmus evolving into hemi-seesaw nystagmus in medial medullary infarction: possible anatomic mechanisms. Neurology 62(4):663–665

Crawford JD, Cadera W, Vilis T (1991) Generation of torsional and vertical eye position signals by the interstitial nucleus of Cajal. Science 252(5012):1551–1553

Das VE (2009) Alternating fixation and saccade behavior in nonhuman primates with alternating occlusion-induced exotropia. Invest Ophthalmol Vis Sci 50(8):3703–3710

Das VE, Mustari MJ (2007) Correlation of cross-axis eye movements and motoneuron activity in non-human primates with "A" pattern strabismus. Invest Ophthalmol Vis Sci 48(2):665–674

Das VE, Ono S, Tusa RJ, Mustari MJ (2004) Conjugate adaptation of saccadic gain in non-human primates with strabismus. J Neurophysiol 91(2):1078–1084

Das VE, Fu LN, Mustari MJ, Tusa RJ (2005) Incomitance in monkeys with strabismus. Strabismus 13(1):33–41

Das VE, Swann M, Thurtell M, Leigh RJ (2009) Muscimol micro-injections in the vicinity of the interstitial nucleus of Cajal induces hemi-seesaw nystagmus. Soc Neurosci Abstr 356:23

Fu L, Tusa RJ, Mustari MJ, Das VE (2007) Horizontal saccade disconjugacy in strabismic monkeys. Invest Ophthalmol Vis Sci 48(7):3107–3114

Guyton DL, Weingarten PE (1994) Sensory torsion as the cause of primary oblique muscle overaction/underaction and A- and V-pattern strabismus. Binocul Vis Strabismus Q 9(3):209–236

Guyton DL, Cheeseman EW Jr, Ellis FJ, Straumann D, Zee DS (1998) Dissociated vertical deviation: an exaggerated normal eye movement used to damp cyclovertical latent nystagmus. Trans Am Ophthalmol Soc 96:389–424 (discussion 424–429)

Halmagyi GM, Brandt T, Dieterich M, Curthoys IS, Stark RJ, Hoyt WF (1990) Tonic contraversive ocular tilt reaction due to unilateral meso-diencephalic lesion. Neurology 40(10):1503–1509

Halmagyi GM, Aw ST, Dehaene I, Curthoys IS, Todd MJ (1994) Jerk-waveform see-saw nystagmus due to unilateral meso-diencephalic lesion. Brain 117(Pt 4):789–803

Helmchen C, Rambold H, Fuhry L, Buttner U (1998) Deficits in vertical and torsional eye movements after uni- and bilateral muscimol inactivation of the interstitial nucleus of Cajal of the alert monkey. Exp Brain Res 119(4):436–452

Horn AK (2006) The reticular formation. Prog Brain Res 151:127–155

Horn AK, Buttner-Ennever JA, Gayde M, Messoudi A (2000) Neuroanatomical identification of mesencephalic premotor neurons coordinating eyelid with upgaze in the monkey and man. J Comp Neurol 420(1):19–34

Horn AK, Helmchen C, Wahle P (2003) GABAergic neurons in the rostral mesencephalon of the macaque monkey that control vertical eye movements. Ann NY Acad Sci 1004:19–28

Judge SJ, Richmond BJ, Chu FC (1980) Implantation of magnetic search coils for measurement of eye position: an improved method. Vis Res 20:535–538

Kokkoroyannis T, Scudder CA, Balaban CD, Highstein SM, Moschovakis AK (1996) Anatomy and physiology of the primate interstitial nucleus of Cajal I. efferent projections. J Neurophysiol 75(2):725–739

Leigh RJ, Zee DS (2006) The neurology of eye movements. Oxford University Press, New York

Lueck CJ, Hamlyn P, Crawford TJ, Levy IS, Brindley GS, Watkins ES, Kennard C (1991) A case of ocular tilt reaction and torsional nystagmus due to direct stimulation of the midbrain in man. Brain 114(Pt 5):2069–2079

Mays LE (1984) Neural control of vergence eye movements: convergence and divergence neurons in midbrain. J Neurophysiol 51(5):1091–1108

Moschovakis AK, Scudder CA, Highstein SM (1996) The microscopic anatomy and physiology of the mammalian saccadic system. Prog Neurobiol 50(2–3):133–254

Ono S, Das VE, Mustari MJ (2003) Role of the dorsolateral pontine nucleus in short-term adaptation of the horizontal vestibuloocular reflex. J Neurophysiol 89(5):2879–2885

Partsalis AM, Highstein SM, Moschovakis AK (1994) Lesions of the posterior commissure disable the vertical neural integrator of the primate oculomotor system. J Neurophysiol 71(6):2582–2585

Porter JD, Burns LA, May PJ (1989) Morphological substrate for eyelid movements: innervation and structure of primate levator palpebrae superioris and orbicularis oculi muscles. J Comp Neurol 287(1):64–81

Rambold H, Helmchen C, Buttner U (1999) Unilateral muscimol inactivations of the interstitial nucleus of Cajal in the alert rhesus monkey do not elicit seesaw nystagmus. Neurosci Lett 272(2):75–78

Waitzman DM, Silakov VL, DePalma-Bowles S, Ayers AS (2000) Effects of reversible inactivation of the primate mesencephalic reticular formation. I. Hypermetric goal-directed saccades. J Neurophysiol 83(4):2260–2284

Westheimer G, Blair SM (1975) The ocular tilt reaction—a brainstem oculomotor routine. Invest Ophthalmol 14(11):833–839

Zimmerman CF, Roach ES, Troost BT (1986) See-saw nystagmus associated with Chiari malformation. Arch Neurol 43(3):299–300
Acknowledgments
We wish to thank Dr. Yoland Smith, Yerkes National Primate Center, for processing the brain tissue for histology. This work was supported by NIH grant RO1-EY015312 (VED); UHCO core grant P30 EY 07551 (VED) and Yerkes base grant RR00165 (VED). RJL was supported by NIH R01-EY06717, Department of Veterans Affairs, and Evenor Armington Fund.
About this article
Cite this article
Das, V.E., Leigh, R.J., Swann, M. et al. Muscimol inactivation caudal to the interstitial nucleus of Cajal induces hemi-seesaw nystagmus. Exp Brain Res 205, 405–413 (2010). https://doi.org/10.1007/s00221-010-2376-2
Received:

Accepted:

Published:

Issue Date:

DOI: https://doi.org/10.1007/s00221-010-2376-2
Keywords