Mirror neurons: from discovery to autism
How the things started
In the winter of 1991 I (GR) sent to
Nature
a report on a surprising set of neurons that we (Giuseppe Di Pellegrino, Luciano Fadiga, Leonardo Fogassi, Vittorio Gallese) had found in the ventral premotor cortex of the monkey. The fundamental characteristic of these neurons was that they discharged both when the monkey performed a certain motor act (e.g., grasping an object) and when it observed another individual (monkey or human) performing that or a similar motor act (Di Pellegrino et al.
1992
). These neurons are now known as mirror neurons (Fig.
1
).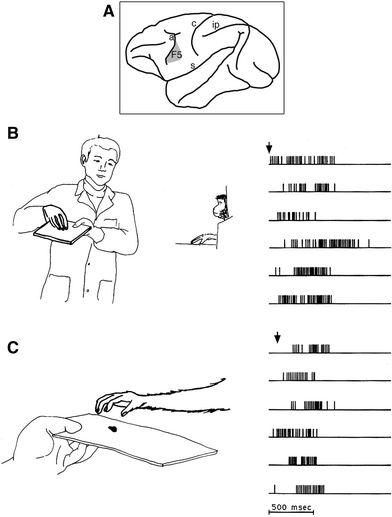 Keywords
Autistic Spectrum Disorder 
Transcranial Magnetic Stimulation 
Typically Develop 
Inferior Frontal Gyrus 
Mirror Neuron 
These keywords were added by machine and not by the authors. This process is experimental and the keywords may be updated as the learning algorithm improves.
Notes
Acknowledgments
The study was supported by Fondazione Monte Parma and by a grant (FIL) of the University of Parma to GR. M.F-D. was supported by Fondazione Cassa di Risparmio di Ferrara. We thank Rachel Wood for her comments on the article.