Abstract
Spatial perception is sensitive to the energetic costs required to perform intended actions. For example, hills look steeper to people who are fatigued or burdened by a heavy load. Similarly, perceived distance is also influenced by the energy required to walk or throw to a target. Such experiments demonstrate that perception is a function, not just of optical information, but also of the perceiver's potential to act and the energetic costs associated with the intended action. In the current paper, we expand on the notion of "cost" by examining perceived distance in patients diagnosed with chronic pain, a multifactorial disease, which is experienced while walking. We found that chronic pain patients perceive target distances to be farther away compared with a control group. These results indicate the physical, and perhaps emotional, costs of chronic pain affect spatial perceptions.
This is a preview of subscription content,
to check access.
Access this article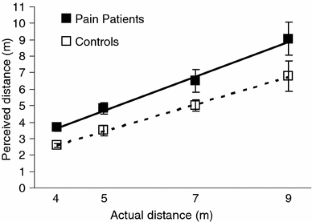 References
Bhalla M, Proffitt DR (1999) Visual-motor recalibration in geographical slant perception. J Exp Psychol Hum Percept Perform 25:1076–1096

Flor H, Hermann C (2004) Biopsychosocial models of pain. In: Dworkin RH, Breitbart WS (eds) Psychosocial aspects of pain: a handbook for health care providers, progress in pain research and management, vol 28. IASP Press, Seattle, pp 283–304

Geisser ME, Roth RS, Robinson ME (1997) Assessing depression among persons with chronic pain using the center for epidemiological studies-depression scale and the beck depression inventory: a comparative analysis. Clin J Pain 13:163–170

Kori SH, Miller RP, Todd DD (1990) Kinesiophobia: a new view of chronic pain behavior. Pain Manag 3:35–43

Kreitler S, Niv D (2007) Cognitive impairment in chronic pain. Pain Clin Updates 15(4):1–4

Leeuw M, Goossens ME, Linton SJ, Crombez G, Boersma K, Vlaeyen JWS (2007) The fear-avoidance model of musculoskeletal pain: current state of scientific evidence. J Behav Med 30:77–94

Linkenauger SL, Zadra J, Witt JK, Proffitt DR (2008) Effort affects perceived distance to objects within reach. University of Virginia, Charlottesville (in preparation)

Loomis JM, Da Silva JA, Fujita N, Fukusima SS (1992) Visual space perception and visually directed action. J Exp Psychol Hum Percept Perform 18:906–921

Picavet HS, Vlaeyen JW, Schouten JS (2002) Pain catastrophizing and kinesiophobia: predictors of chronic low back pain. Am J Epidemiol 156:1028–1034

Pijpers JR, Oudejans R, Bakker F (2007) Changes in the perception of action possibilities while climbing to fatigue on a climbing wall. J Sports Sci 25:97–110

Proffitt DR (2006) Embodied perception in the economy of action. Perspect Psychol Sci 1:110–122

Proffitt DR, Bhalla M, Gossweiler R, Midgett J (1995) Perceiving geographical slant. Psychon Bull Rev 2:409–428

Proffitt DR, Stefanucci JK, Banton T, Epstein W (2003) The role of effort in distance perception. Psychol Sci 14:106–113

Riener C (2007) An effect of mood on perception of slant. Unpublished doctoral dissertation, University of Virginia, Charlottesville

Witt JK, Proffitt DR, Epstein W (2004) Perceiving distance: a role of effort and intent. Perception 33:577–590

Witt JK, Proffitt DR, Epstein W (2005) Tool use affects perceived distance but only when you intend to use it. J Exp Psychol Hum Percept Perform 31:880–888
Acknowledgments
This research was supported by an NIH RO1MH075781-01A2 grant to Dennis Proffitt.
About this article
Cite this article
Witt, J.K., Linkenauger, S.A., Bakdash, J.Z. et al. The long road of pain: chronic pain increases perceived distance. Exp Brain Res 192, 145–148 (2009). https://doi.org/10.1007/s00221-008-1594-3
Received:

Accepted:

Published:

Issue Date:

DOI: https://doi.org/10.1007/s00221-008-1594-3
Keywords