Abstract
Feedback is a central feature of neural systems and of crucial importance to human behaviour as shown in goal directed actions such as reaching-to-grasp. One important source of feedback in reach-to-grasp behaviour arises from the haptic information obtained after grasping an object. We manipulated the felt distance and/or size of a visually constant object to explore the role of haptic information in the calibration of reaching and grasping. Crucially, our design explored post-adaptation effects rather than the previously documented role of haptic information in movement organisation. A post-adaptation reach-to-grasp task showed: (1) distorted haptic feedback caused recalibration; (2) reach distance and grasp size could be calibrated separately but, if calibrated simultaneously, then (3) recalibration was greater when distance and size changed in a consistent (e.g. reaching for a larger object at a greater distance) rather than an inconsistent (e.g. a smaller object at a greater distance) fashion. These interactions reveal the integral nature of reach-to-grasp organization, that is, that reaching and grasping are integrated components of a single action system.
Access options
Buy single article
Instant access to the full article PDF.
US$ 39.95
Tax calculation will be finalised during checkout.
Subscribe to journal
Immediate online access to all issues from 2019. Subscription will auto renew annually.
US$ 119
Tax calculation will be finalised during checkout.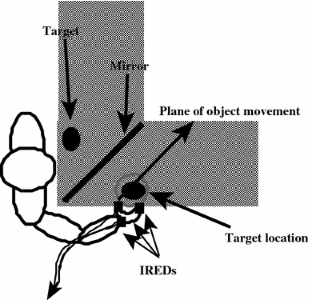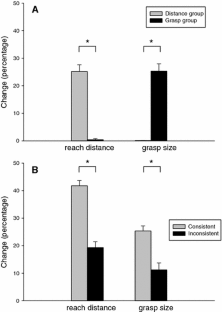 Notes
1.

Bingham and Romack (1999) showed that errors in reach direction resulted in recalibration of subsequent feedforward control even when feedback guidance allowed online correction of errors to yield accurate acquisition of the target at the end of each reach.
References
Bingham G, Pagano C (1998) The necessity of a perception/action approach to definite distance perception: monocular distance perception to guide reaching. J Exp Psychol Hum Percept Perform 24:145–168

Bingham GP, Romack JL (1999) The rate of adaptation to displacement prisms remains constant despite acquisition of rapid calibration. J Exp Psychol Hum Percept Perform 25(5):1331–1346

Bingham GP, Bradley A, Bailey M, Vinner R (2001) Accommodation, occlusion and disparity matching are used to guide reaching: a comparison of actual versus virtual environments. J Exp Psychol Hum Percept Perform 27(6):1314–1344

Bingham GP, Coats RO, Mon-Williams M (2007) Natural prehension in the absence of haptic feedback when calibration is allowed. Neuropsychologia 45:288–294

Desmurget M, Grafton S (2000) Forward modeling allows feedback control for fast reaching movement. Trends Cogn Sci 4:423–431

Gentilucci M, Daprati E, Toni I, Chieffi S, Saetti MC (1995) Unconscious updating of grasp motor program. Exp Brain Res 105:291–303

Gentilucci M, Toni I, Daprati E, Gangitano M (1997) Tactile input of the hand and the control of reaching to grasp movements. Exp Brain Res 114:130–137

Goodale MA, Jakobson LS, Keillor JM (1994) Differences in the visual control of pantomimed and natural grasping movements. Neuropsychologia 32:1159–1178

Jeannerod M (1988) The neural and behavioural organization of goal-directed movements. Oxford University Press, Oxford

Mon-Williams M, Bingham GP (2007) Calibrating reach distance to visual targets. J Exp Psychol HPP 33:645–656

Mon-Williams M, McIntosh RD (2000) A test between two hypotheses and a possible third way for the control of prehension. Exp Brain Res 134:268–273

Mon-Williams M, Tresilian JR (1999) The size-distance paradox is a cognitive phenomenon. Exp Brain Res 126:578–582

Mon-Williams M, Tresilian JR (2001) A simple rule of thumb for elegant prehension. Curr Biol 11:1058–1061

Patchay S, Haggard P, Castiello U (2003) A cross-modal interference effect in grasping objects. Psychon Bull Rev 10:924–931

Redding GM, Wallace B (1997) Adaptive spatial alignment. Lawrence Erlbaum, New Jersey

Schor CM, Narayan V (1982) Graphical analysis of prism adaptation, convergence accommodation, and accommodative convergence. Am J Optom Physiol Opt 59:774–784

Smeets JBJ, Brenner E (1999) A new view on grasping. Motor Control 3:237–271

Vindras P, Viviani P (1998) Frames of reference and control parameters in visuomanual pointing. J Exp Psychol Hum Percept Perform 24:569–591

von Helmholtz H (1894/1924) Physiological Optics (New York: Dover 1962); English translation by J.P.C. Southall for the Optical Society of America (1924) from the 3rd German edition of Handbuch der Physiologiscen Optik (Hamburg: Voss 1909)

Wann JP, Rushton SK, Mon-Williams M (1995) Natural problems in the perception of virtual environments. Vision Res 35:2731–2736

Wolpert DM, Ghahramani Z, Flanagan JR (2001) Perspectives and problems in motor learning. Trends Cogn Sci 5:487–494
About this article
Cite this article
Coats, R., Bingham, G.P. & Mon-Williams, M. Calibrating grasp size and reach distance: interactions reveal integral organization of reaching-to-grasp movements. Exp Brain Res 189, 211–220 (2008). https://doi.org/10.1007/s00221-008-1418-5
Received:

Accepted:

Published:

Issue Date:
Keywords
Prehension

Motor control

Calibration

Somatosensory

Haptic

Feedback