Abstract
Target distance affects movement duration in aiming tasks but its effect on reaction time (RT) is poorly documented. RT is a function of both preparation and initiation. Experiment 1 pre-cued movement (allowing advanced preparation) and found no influence of distance on RT. Thus, target distance does not affect initiation time. Experiment 2 removed pre-cue information and found that preparing a movement of increased distance lengthens RT. Experiment 3 explored movements to targets of cued size at non-cued distances and found size altered peak speed and movement duration but RT was influenced by distance alone. Thus, amplitude influences preparation time (for reasons other than altered duration) but not initiation time. We hypothesise that the RT distance effect might be due to the increased number of possible trajectories associated with further targets: a hypothesis that can be tested in future experiments.
Access options
Buy single article
Instant access to the full article PDF.
US$ 39.95
Tax calculation will be finalised during checkout.
Subscribe to journal
Immediate online access to all issues from 2019. Subscription will auto renew annually.
US$ 119
Tax calculation will be finalised during checkout.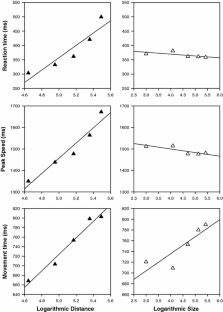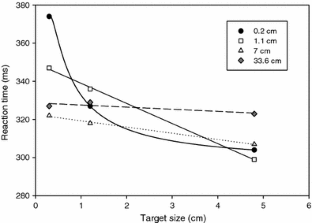 References
Christina RW (1992) The 1991 C.H. McCloy research lecture: unravelling the mystery of response complexity in skilled movement. Res Q Exerc Sport 63:218–230

Elliott D, Helsen WF, Chua R (2001) A century later: Woodworth's (1899) two-component model of goal-directed aiming. Psychol Bull 127:342–357

Fischman MG (1984) Programming time as a function of number of movement parts and changes in movement direction. J Motor Behav 16:405–423

Fitts PM (1954) The information capacity of the human motor system in controlling the amplitude of the movement. J Exp Psychol 47:381–391

Fitts PM, Peterson JR (1964) Information capacity of discrete motor responses. J Exp Psychol 67:103–112

Henry FM, Rogers DE (1960) Increased response latency for complicated movements and a "memory drum" theory of neuromotor reaction. Res Q 31:448–458

Hick WE (1952) On the rate of gain of information. Q J Exp Psychol 4:11–26

Kveraga KV, Boucher L, Hughes HC (2002) Saccades operate in violation of Hick's Law. Exp Brain Res 146:307–314

Kerr R (1978) Diving, adaptation and Fitts' law. J Motor Behav 10:255–260

Khan MA, Buckolz E, Franks IM (2006) Programming strategies for rapid aiming movements under simple and choice reaction time conditions. Q J Exp Psychol 59:524–542

Klapp S (1975) T Feedback versus motor programming in the control of aimed movements. J Exp Psychol: Hum Percept Perform 1:147–153

Klapp ST (1996) Reaction time analysis of central motor control. In: Zelaznik HN (eds) Advances in motor learning and control. Human Kinetics, Champaign, IL, pp 13–35

Klapp ST, Erwin CI (1976) Relation between programming time and duration of the response being programmed. J Exp Psychol: Hum Percept Perform 2:591–598

Lajoie JM, Franks IM (1997) The control of rapid aiming movements: variations in response accuracy and complexity. Acta Psychol 97:289–305

MacKenzie IS (1989) A note on the information-theoretic basis for Fitts' law. J Motor Behav 21:323–330

Plamondon R, Alimi AM (1997) Speed/accuracy trade-offs in target-directed movements. Behav Brain Sci 20:279–349

Riek S, Tresilian JR, Mon-Williams M, Coppard VL, Carson RG (2003) Bimanual aiming and overt attention: one law for two hands. Exp Brain Res 153:59–75

Rosenbaum DA, Patashnik O (1980) Time to time in the human motor system. In: Nickerson RS (ed) Attention and performance VIII. Erlbaum, Hillsdale, NJ, pp 93–106

Sheridan MR (1979) A reappraisal of Fitts' law. J Motor Behav 11:179–188

Sidaway B, Sekiya H, Fairweather M (1995) Movement variability as a function of accuracy demand in programmed serial aiming responses. J Motor Behav 27:67–76

Quinn JT, Schmidt RA, Zelaznik HN, Hawkins B, McFarqhuar R (1980) Target size influences on reaction time with movement time controlled. J Motor Behav 12:239–261

Welford AT (1968) The fundamentals of skill. Methuen, London

Wright CE, Marino VF, Belovsky SA, Chubb C (2007) Visually guided, aimed movements can be unaffected by stimulus-response uncertainty. Exp Brain Res 179:475–496
Acknowledgement
We are grateful to Jemma Whyte, Laura Wilson, Diane Bishop and Ariadne Oddy for their help with data collection. We are grateful to James Tresilian for his helpful comments with regard to the results. A grant to Mark Mon-Williams and Justin Williams from Action Medical Research and Scottish Enterprise helped support this research work.
About this article
Cite this article
Munro, H., Plumb, M.S., Wilson, A.D. et al. The effect of distance on reaction time in aiming movements. Exp Brain Res 183, 249–257 (2007). https://doi.org/10.1007/s00221-007-1040-y
Received:

Accepted:

Published:

Issue Date:
Keywords
Movement

Reaction time

Preparation

Fitts' law

Aiming