Abstract
Recently, we compared the encoding of movement direction in primary motor cortex (MI) under three coordinate systems, an extrinsic cartesian (CA), an intrinsic joint angle (JA), and an intermediate shoulder-centered (SC) and found that no single coordinate system was uniquely represented in MI. Here we extend this investigation to the premotor area which is regarded as a major source of input to the MI. Multiple single units were simultaneously recorded from the caudal portions of dorsal premotor (PMd) and ventral premotor (PMv) cortices as a behaving monkey moved its hand over the horizontal work space. We compared the mutual information between the neuronal firing rate of each unit and hand movement direction under each of the three coordinate systems. As in the MI study, the results showed that there was no evidence for a unique coordinate system representation. There was a bias towards the SC system in PMd, albeit weaker than the SC bias observed in MI. In PMv, there was a strong bias for both SC and JA coordinate systems as compared to a CA coordinate system. These results provided further evidence against a unique coordinate system for movement direction within the motor cortex. However, the directional information within both PMd and PMv was significantly less than that of MI suggesting that factors other than the detailed motion of the arm account for much of the variance of activity within the premotor cortex.
Access options
Buy single article
Instant access to the full article PDF.
US$ 39.95
Tax calculation will be finalised during checkout.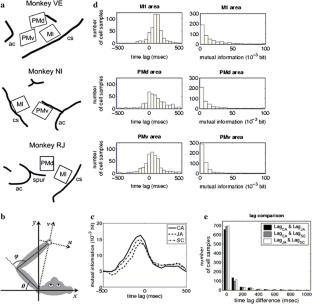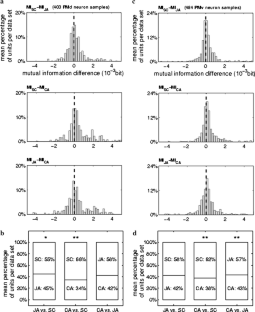 References
Ajemian R, Bullock D, Grossberg S (2000) Kinematic coordinates in which motor cortical cells encode movement direction. J Neurophysiol 84:2191–2203

Alexander GE, Crutcher MD (1990) Neural representations of the target (goal) of visually guided arm movements in three motor areas of the monkey. J Neurophysiol 64:164–178

Caminiti R, Johnson P, Urbano A (1990) Making arm movements within different parts of space dynamic aspects in the primate motor cortex. J Neurosci 10:2039–2058

Caminiti R, Johnson P, Galli C, Ferraina S, Burnod Y (1991) Making arm movements within different parts of space the premotor and motor cortical representation of a coordinate system for reaching to visual targets. J Neurosci 11:1182–1197

Dum RP, Strick PL (1991) The origin of corticospinal projections from the premotor areas in the frontal lobe. J Neurosci 11:667–689

Dum RP, Strick PL (2002) Motor areas in the frontal lobe of the primate. Physiol Behav 77:677–682

Dum RP, Strick PL (2005) Frontal lobe inputs to the digit representations of the motor areas on the lateral surface of the hemisphere. J Neurosci 25:1375–1386

Fortier PA, Kalaska JF, Smith AM (1989) Cerebellar neuronal activity related to whole-arm reaching movements in the monkey. J Neurophysiol 62:198–211

Georgopoulos AP, Kalaska JF, Caminiti R, Massey JT (1982) On the relations between the direction of two-dimensional arm movements and cell discharge in primate motor cortex. J Neurosci 2:1527–1537

Hocherman S, Wise S (1991) Effects of hand movement path on motor cortical activity in awake, behaving rhesus monkeys. Exp Brain Res 83:285–302

Kakei S, Hoffman DS, Strick PL (1999) Muscle and movement representation in the primary motor cortex. Science 285:2136–2139

Kakei S, Hoffman DS, Strick PL (2001) Direction of action is represented in the ventral premotor cortex. Nat Neurosci 4:1020–1025

Kalaska JF, Caminiti R, Georgopoulos AP (1983) Cortical mechanisms related to the direction of two-dimensional arm movements relations in parietal area 5 and comparison with motor cortex. Exp Brain Res 51:247–260

Lacquaniti F, Guigon E, Bianchi L, Ferraina S, Caminiti R (1995) Representing spatial information for limb movement role of area 5 in the monkey. Cereb Cortex 5:391–409

Martino AM, Strick PL (1987) Corticospinal projections originate from the arcuate premotor area. Brain Res 404:307–312

Matelli M, Luppino G, Rizzolatti G (1985) Patterns of cytochrome oxidase activity in the frontal agranular cortex of the macaque monkey. Behav Brain Res 18:125–136

Moran DW, Schwartz AB (1999) Motor cortical activity during drawing movements: population representation during spiral tracing. J Neurophysiol 82:2693–2704

Muakkassa KF, Strick PL (1979) Frontal lobe inputs to primate motor cortex evidence for four somatotopically organized 'premotor' areas. Brain Res 177:176–182

Pesaran B, Nelson M, Andersen R (2006) Dorsal premotor neurons encode the relative position of the hand, eye, and goal during reach planning. Neuron 51:125–134

Schwartz AB, Moran DW, Reina GA (2004) Differential representation of perception and action in the frontal cortex. Science 303:380–383

Soechting JF, Flanders M (1992) Moving in three-dimensonal space frames of reference, vectors and coordinate systems. Annu Rev Neurosci 15:167–191

Wu W, Hatsopoulos N (2006) Evidence again a single coordinate system representation in the motor cortex. Exp Brain Res 175:197–210
Acknowledgments
We thank S. Francis, Z. Haga, D. Paulsen, and J. Reimer for training the monkeys and collecting the data. This work was supported by NIH-NINDS R01 NS45853-01. N. Hatsopoulos has stock ownership in a company, Cyberkinetics Inc., that is commercializing neural prostheses for severely motor disabled people.
About this article
Cite this article
Wu, W., Hatsopoulos, N.G. Coordinate system representations of movement direction in the premotor cortex. Exp Brain Res 176, 652–657 (2007). https://doi.org/10.1007/s00221-006-0818-7
Received:

Accepted:

Published:

Issue Date:
Keywords
Mutual Information

Firing Rate

Movement Direction

Joint Angle

Primary Motor Cortex