Abstract
In everyday life our reaching behaviour has to be guided not only by the location and properties of the target object, but also by the presence of potential obstacles in the workspace. Recent evidence from neglect and optic ataxia patients has suggested that this automatic obstacle avoidance is mediated by the dorsal, rather than the ventral, stream of visual processing. We tested this idea in two studies involving patients with visual form agnosia resulting from bilateral ventral-stream damage. In the first study, we asked patient DF to reach out and pick up a target object in the presence of obstacles placed at varying distances to the left or right of the target. We found that both DF and controls shifted their trajectories away from the potential obstacles and adjusted their grip aperture in such a way as to minimize risk of collision. In a second study, we asked DF and a second patient, SB, to either reach between, or to bisect the space between, two cylinders presented at varying locations. We found that both patients adjusted their reach trajectories to account for shifts in cylinder location in the reaching task, despite showing significantly worse performance than control subjects when asked to make a bisection judgement. Taken together, these data indicate that automatic obstacle avoidance behaviour is spared in our patients with visual form agnosia. We attribute their ability to the functional intactness of the dorsal stream of visual processing, and argue that the ventral stream plays no important role in automatic obstacle avoidance.
Access options
Buy single article
Instant access to the full article PDF.
US$ 39.95
Tax calculation will be finalised during checkout.
Subscribe to journal
Immediate online access to all issues from 2019. Subscription will auto renew annually.
US$ 119
Tax calculation will be finalised during checkout.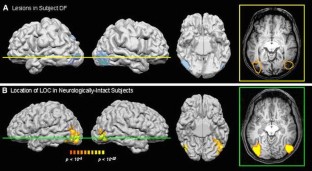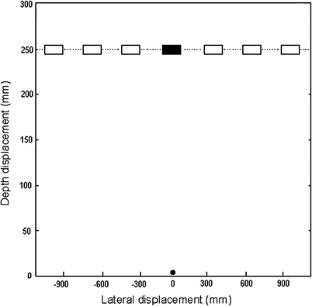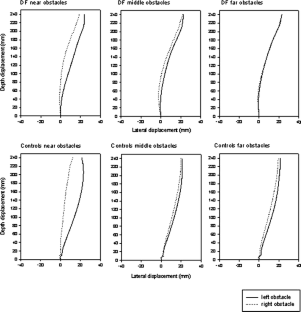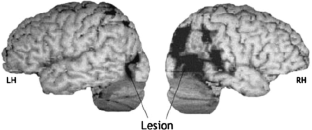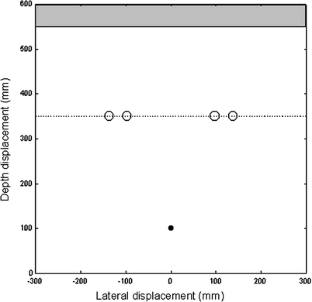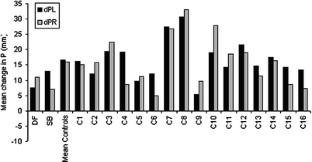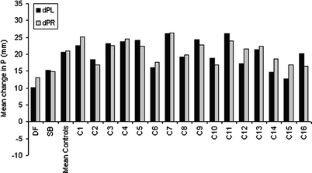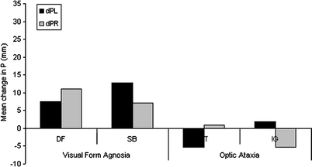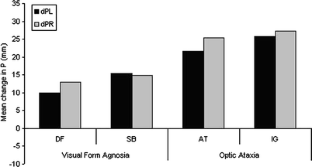 Notes
1.

In Experiment 2 two groups of control participants were tested; one group age-matched to D.F. and one group age-matched to S.B. A comparison between the results of the two control groups revealed no difference, suggesting that the age difference between them did not affect performance.
References
Benson DF, Greenberg JP (1969) Visual form agnosia: a specific deficit in visual discrimination. Arch Neurol 20:82–89

Castiello U (1999) Mechanisms of selection for the control of hand action. Trends Cogn Sci 3:264–271

Crawford JR, Garthwaite PH (2002) Investigation of the single case in neuropsychology: confidence limits on the abnormality of test scores and test score differences. Neuropsychologia 40:1196–1208

Culham J (2004) Neuroimaging investigations of visually-guided grasping. In: Attention and performance XX: Functional brain imaging of human cognition, Oxford University Press, Oxford, pp 415–436

Culham JC, Kanwisher NG (2001) Neuroimaging of cognitive functions in human parietal cortex. Curr Opin Neurobiol 11:157–163

Fitts PM (1954) The information capacity of the human motor system in controlling the amplitude of movement. J Exp Psychol 47:381–391

Goodale MA, Milner AD (2004) Sight Unseen: An exploration of conscious and unconscious vision. Oxford University Press, Oxford

Goodale MA, Milner AD, Jakobson LS, Carey DP (1991) A neurological dissociation between perceiving objects and grasping them. Nature 349:154–156

Heider B (2000) Visual form agnosia: neural mechanisms and anatomical foundations. Neurocase 6:1–12

Howard LA, Tipper SP (1997) Hand deviations away from visual cues: indirect evidence for inhibition. Exp Brain Res 113:144–152

Jackson SR, Jackson GM, Rosicky J (1995) Are non-relevant objects represented in working memory? The effects of non-target objects on reach and grasp kinematics. Exp Brain Res 102:519–530

James TW, Culham J, Humphrey GK, Milner AD, Goodale MA (2003) Ventral occipital lesions impair object recognition but not object-directed grasping: a fMRI study. Brain 126:2463–2475

Jeannerod M (1997) The cognitive neuroscience of action. Blackwell, Oxford

Kanwisher N, Woods RP, Iacoboni M, Mazziotta JC (1997) A locus in human extrastriate cortex for visual shape analysis. J Cogn Neurosci 9:133–142

Lê S, Cardebat D, Boulanouar K, Hénaff M-A, Michel F, Milner AD, Dijkerman HC, Puel M, Démonet J-F (2002) Seeing, since childhood, without ventral stream: a behavioural study. Brain 125:58–74

McIntosh RD, McClements KI, Dijkerman HC, Birchall D, Milner AD (2004a) Preserved obstacle avoidance during reaching in patients with left visual neglect. Neuropsychologia 42:1107–1117

McIntosh RD, McClements KI, Schindler I, Cassidy TP, Birchall D, Milner AD (2004b) Avoidance of obstacles in the absence of visual awareness. Proc R Soc Lond B 271:15–20

Malach R, Reppas JB, Benson RB, Kwong KK, Jiang H, Kennedy WA, Ledden PJ, Brady TJ, Rosen BR, Tootell RBH (1995) Object-related activity revealed by functional magnetic resonance imaging in human occipital cortex. Proc Natl Acad Sci USA 92:8135–8138

Milner AD (1997) Vision without knowledge. Philos Trans R Soc Lond B 352:1249–1256

Milner AD, Goodale MA (1995) The visual brain in action. Oxford University Press, Oxford

Milner AD, Heywood CA (1989) A disorder of lightness discrimination in a case of visual form agnosia. Cortex 25:489–494

Milner AD, McIntosh RD (2004) Reaching between obstacles in spatial neglect and visual extinction. Prog Brain Res 144:213–226

Milner AD, Perrett DI, Johnston RS, Benson PJ, Jordan TR, Heeley DW, Bettucci D, Mortara F, Mutani R, Terazzi E, Davidson DLW (1991) Perception and action in visual form agnosia. Brain 114:405–428

Mon-Williams M, McIntosh RD (2000) A test between two hypotheses and a possible third way for the control of prehension. Exp Brain Res 134:268–273

Mon-Williams M, Tresilian JR, Coppard VL, Carson RG (2001) The effect of obstacle position on reach-to-grasp movements. Exp Brain Res 137:497–501

Schindler I, Rice NJ, McIntosh RD, Rossetti Y, Vighetto A, Milner AD (2004) Automatic avoidance of obstacles is a dorsal stream function: evidence from optic ataxia. Nat Neurosci 7:779–784

Steeves JKE, Humphrey GK, Culham JC, Menon RS, Milner AD, Goodale MA (2004) Behavioral and neuroimaging evidence for a contribution of color and texture information to scene classification in a patient with visual form agnosia. J Cogn Neurosci 16:955–965

Steeves JKE, Culham JC, Duchaine BC, Cavina Pratesi C, Valyear KF, Schindler I, Humphrey GK, Milner AD, Goodale MA (2006) The fusiform face area is not sufficient for face recognition: evidence from a patient with dense prosopagnosia and no occipital face area. Neuropsychologia 44(4):594–609

Tipper SP, Howard LA, Jackson SR (1997) Selective reaching to grasp: evidence for distractor interference effects. Vis Cogn 4:1–38

Tresilian JR (1998) Attention in action or obstruction of movement? a kinematic analysis of avoidance behaviour in prehension. Exp Brain Res 120:352–368

Tresilian JR (1999) Selective attention in reaching: when is an object not a distractor? Trends Cogn Sci 3:407–408
Acknowledgements
This study was supported by research grants from the Wellcome Trust (grant 052443) and the Leverhulme Trust (grants F/268/T and F/00128/C). We are grateful to both DF and SB for their time, patience and good-humoured co-operation.
About this article
Cite this article
Rice, N.J., McIntosh, R.D., Schindler, I. et al. Intact automatic avoidance of obstacles in patients with visual form agnosia. Exp Brain Res 174, 176 (2006). https://doi.org/10.1007/s00221-006-0435-5
Received:

Accepted:

Published:
Keywords
Movement Time

Obstacle Avoidance

Grip Aperture

Dorsal Stream

Ventral Stream