Abstract
Many studies show consistently that repetitive transcranial magnetic stimulation (rTMS) with a frequency of 1 Hz and an intensity above the resting motor threshold (RMT) performed for several minutes over the primary motor cortex (M1) leads to a depression of cortical excitability. Furthermore, most studies concur on a facilitation of the non-stimulated contralateral M1. Little is known, however, about the physiological mechanisms underlying these effects. In 11 healthy volunteers, we stimulated the left M1 for 15 min with 1 Hz-rTMS of 115% RMT. Before, immediately after, and 30 min after the rTMS train, we examined short-interval intracortical inhibition (SICI; interstimulus interval (ISI) of 2 and 4 ms), intracortical facilitation (ICF; ISI 10 ms), and short-interval intracortical facilitation (SICF; ISI 1.5 ms) with established paired-pulse protocols. Mean unconditioned motor evoked potential (MEP) amplitudes and RMT were also measured. Two sessions were run at least 1 week apart, in one excitability of the stimulated M1 was tested, in the other one excitability of the non-stimulated M1. rTMS led to the expected reduction of MEP amplitude of the stimulated M1, which was significant only immediately after the rTMS train. rTMS increased MEP amplitude of the non-stimulated M1, which lasted for at least 30 min. RMT, SICI, ICF and SICF did not show any significant change in either M1, except for a long lasting increase of SICF in the non-stimulated M1. In conclusion, the MEP increase in the non-stimulated M1 lasted longer than the MEP decrease in the stimulated M1. Only the long-lasting MEP increase was associated with a specific change in intracortical excitability (increase in SICF). Modulation of motor cortical inhibition did not play a role in explaining the rTMS induced changes in MEP amplitude.
Access options
Buy single article
Instant access to the full article PDF.
USD 39.95
Price includes VAT (USA)
Tax calculation will be finalised during checkout.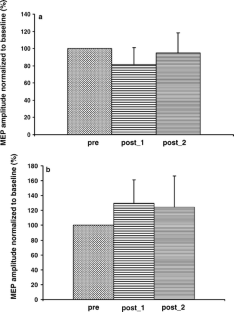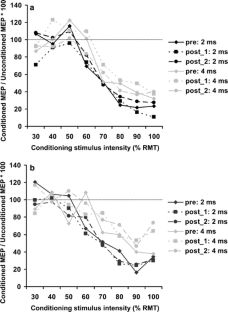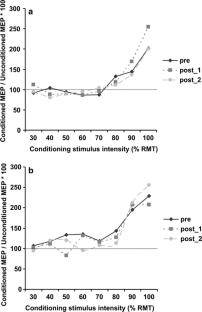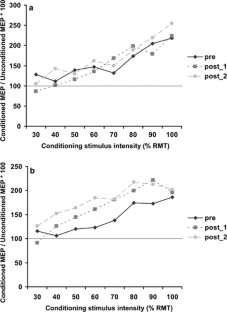 References
Asanuma H, Okuda O (1962) Effects of transcallosal volleys on pyramidal tract cell activity of cat. J Neurophysiol 25:198–208

Bagnato S, Currà A, Modugno N, Gilio F, Quartarone A, Rizzo V, Girlanda P, Inghillieri M, Berardelli A (2005) One-hertz subthreshold TMS increases the threshold for evoking inhibition in the human motor cortex. Exp Brain Res 160:368–374

Boroojerdi B, Battaglia F, Muellbacher W, Cohen LG (2001) Mechanisms influencing stimulus-response properties of the human corticospinal system. Clin Neurophysiol 112:131–137

Bütefisch CM, Davis BC, Wise SP, Sawaki L, Kopylev L, Classen J, et al (2000) Mechanisms of use-dependent plasticity in the human motor cortex. Proc Natl Acad Sci USA 97:3661–3665

Calford MB, Tweedale R (1990) Interhemispheric transfer of plasticity in the cerebral cortex. Science 249:805–807

Chen R, Classen J, Gerloff C, Celnik P, Wassermann EM, Hallett M, Cohen LG (1997) Depression of motor cortex excitability by low-frequency transcranial magnetic stimulation. Neurology 48:1398–1403

Di Lazzaro V, Oliviero A, Profice P, Pennisi MA, Pilato F, Zito G, Dileone M, Nicoletti R, Pasqualetti P, Tonali PA (2003) Ketamine increases motor cortex excitability to transcranial magnetic stimulation. J Physiol 547:485–496

Di Lazzaro V, Oliviero A, Pilato F, Saturno E, Dileone M, Mazzone P, Insola A, Tonali PA, Rothwell JC (2004) The physiological basis of transcranial motor cortex stimulation in conscious humans. Clin Neurophysiol 115:255–266

Ferbert A, Priori A, Rothwell JC, Day BL, Colebatch JG, Marsden CD (1992) Interhemispheric inhibition of the human motor cortex. J Physiol 453:525–546

Fitzgerald PB, Brown TL, Daskalakis ZJ, Chen R, Kulkarni J (2002) Intensity-dependent effects of 1 Hz rTMS on human corticospinal excitability. Clin Neurophysiol 113:1136–1141

Gilio F, Rizzo V, Siebner HR, Rothwell JC (2003) Effects on the right motor hand-area excitability produced by low-frequency rTMS over human contralateral homologous cortex. J Physiol 551:563–573

Hanajima R, Ugawa Y, Terao Y, Sakai K, Furubayashi T, Machii K, Kanazawa I (1998) Paired-pulse magnetic stimulation of the human motor cortex: differences among I waves. J Physiol 509:607–618

Ilic TV, Meintzschel F, Cleff U, Ruge D, Kessler KR, Ziemann U (2002) Short-interval paired-pulse inhibition and facilitation of human motor cortex: the dimension of stimulus intensity. J Physiol 545:153–167

Kammer T, Beck S, Thielscher A, Laubis-Herrmann U, Topka H (2001) Motor thresholds in humans: a transcranial magnetic stimulation study comparing different pulse waveforms, current directions and stimulator types. Clin Neurophysiol 112:250–258

Kujirai T, Caramia MD, Rothwell JC, Day BL, Thompson FD, Ferbert A, Wroe S, Asselman P, Marsden CD (1993) Corticocortical inhibition in human motor cortex. J Physiol 471:501–519

Liepert J, Hamzei F, Weiller C (2000) Motor cortex disinhibition of the unaffected hemisphere after acute stroke. Muscle Nerve 23:1761–1763

Matsunami K, Hamada I (1984) Effects of stimulation of corpus callosum on precentral neuron activity in the awake monkey. J Neurophysiol 52:676–691

Modugno N, Nakamura Y, MacKinnon CD, Filipovic SR, Bestmann S, Berardelli A, Rothwell JC (2001) Motor cortex excitability following short trains of repetitive magnetic stimuli. Exp Brain Res 140:453–459

Muellbacher W, Ziemann U, Boroojerdi B, Hallett M (2000) Effects of low-frequency transcranial magnetic stimulation on motor excitability and basic motor behavior. Clin Neurophysiol 111:1002–1007

Nitsche MA, Fricke K, Henschke U, Schlitterlau A, Liebetanz D, Lang N, Henning S, Tergau F, Paulus W (2003) Pharmacological modulation of cortical excitability shifts induced by transcranial direct current stimulation in humans. J Physiol 553:293–301

Orth M, Snijders AH, Rothwell J (2003) The variability of intracortical inhibition and facilitation. Clin Neurophysiol 114:2362–2369

Pascual-Leone A, Valls-Sole J, Wassermann EM, Hallett M (1994) Responses to rapid-rate transcranial magnetic stimulation of the human motor cortex. Brain 117:847–858

Plewnia C, Lotze M, Gerloff C (2003) Disinhibition of the contralateral motor cortex by low-frequency rTMS. Neuroreport 14:609–612

Rossini PM, Barker AT, Berardelli A, Caramia MD, Caruso G, Cracco RQ, Dimitrijevic MR, Hallett M, Katayama Y, Licking CH (1994) Non invasive electrical and magnetic stimulation of the brain, spinal cord and roots: basic principles and procedures for routine clinical application. Report of an IFCN committee. Electroencephalogr Clin Neurophysiol 91:79–92

Schambra HM, Sawaki L, Cohen LG. (2003) Modulation of excitability of human motor cortex (M1) by 1 Hz transcranial magnetic stimulation of the contralateral M1. Clin Neurophysiol 114:130–133

Schwenkreis P, Witscher K, Janssen F, Addo A, Dertwinkel R, Zenz M, Malin J-P, Tegenthoff M (1999) Influence of the N-methyl-d-aspartate antagonist memantine on human motor cortex excitability. Neurosci Lett 270:137–140

Siebner HR, Auer C, Conrad B (1999) Abnormal increase in the corticomotor output to the affected hand during repetitive transcranial magnetic stimulation of the primary motor cortex in patients with writer's cramp. Neurosci Lett 262:133–136

Stefan K, Kunesch E, Cohen LG, Benecke R, Classen J (2000) Induction of plasticity in the human motor cortex by paired associative stimulation. Brain 123:572–584

Stefan K, Kunesch E, Benecke R, Cohen LG, Classen J (2002) Mechanisms of enhancement of human motor cortex excitability induced by interventional paired associative stimulation. J Physiol 543:699–708

Tokimura H, Ridding MC, Tokimura Y, Amassian VE, Rothwell JC (1996) Short latency facilitation between pairs of threshold magnetic stimuli apllied to human motor cortex. Electroencephalogr Clin Neurophysiol 101:263–272

Touge T, Gerschlager W, Brown P, Rothwell JC (2001) Are the after-effects of low-frequency rTMS on motor cortex excitability due to changes in the efficacy of cortical synapses? Clin Neurophysiol 112:2138–2145

Ugawa Y, Hanajima R, Kanazawa I (1993) Interhemispheric facilitation of the hand area of the human motor cortex. Neurosci Lett 160:153–155

Wassermann EM, Wedegaertner FR, Ziemann U, George MS, Chen R (1998) Crossed reduction of human motor cortex excitability by 1-Hz transcranial magnetic stimulation. Neurosci Lett 250:141–144

Werhahn KJ, Mortensen J, Kaelin-Lang A, Boroojerdi B, Cohen LG (2002) Cortical excitability changes induced by deafferentiation of the contralateral hemisphere. Brain 125:1402–1413

Ziemann U, Lonnecker S, Steinhoff BJ, Paulus W (1996a) Differential effects of various antiepileptic drugs on motor cortex excitability in man. A transcranial magnetic stimulation study. Ann Neurol 40:367–378

Ziemann U, Rothwell JC, Ridding MC (1996b) Interaction between intracortical inhibition and facilitation in human motor cortex. J Physiol 496:873–881

Ziemann U, Chen R, Cohen LG, Hallett M (1998a) Dextromethorphan decreases the excitability of the human motor cortex. Neurology 51:1320–1324

Ziemann U, Tergau F, Wassermann EM, Wischer S, Hildebrandt J, Paulus W (1998b) Demonstration of facilitatory I-wave interaction in the human motor cortex by paired transcranial magnetic stimulation. J Physiol 511:181–190

Ziemann U, Tergau F, Wischer S, Hildebrandt J, Paulus W (1998c) Pharmacological control of facilitatory I-wave interaction in the human motor cortex. A paired transcranial magnetic stimulation study. Electroencephalogr Clin Neurophysiol 109:321–330

Ziemann U, Muellbacher W, Hallett M, Cohen LG (2001) Modulation of practice-dependent plasticity in human motor cortex. Brain 124:1171–1181

Ziemann U (2004a) TMS induced plasticity in human cortex. Rev Neurosci 15:253–266

Ziemann U (2004b) TMS and drugs. Clin Neurophysiol 115:1717–1729
About this article
Cite this article
Heide, G., Witte, O. & Ziemann, U. Physiology of modulation of motor cortex excitability by low-frequency suprathreshold repetitive transcranial magnetic stimulation. Exp Brain Res 171, 26–34 (2006). https://doi.org/10.1007/s00221-005-0262-0
Received:

Accepted:

Published:

Issue Date:
Keywords
Repetitive transcranial magnetic stimulation

Motor cortex

Cortical excitability

Intracortical inhibition

Human