Abstract
Different neural pathways are proposed to mediate the long-latency stretch reflex response (M2) in muscles spanning distal and proximal joints of the upper limb. The M2 at the wrist joint is present only if the duration of the perturbation exceeds a critical time. Lee and Tatton put forward a converging input hypothesis, requiring an interaction of excitatory volleys at the spinal cord, to account for this feature. The goal of the present study was to examine the influence of the duration of perturbation on M2 responses elicited in a muscle spanning the elbow joint. Reflex responses were induced in the biceps brachii muscle by applying ramp-and-hold position displacements to the elbow. It was found that the M2 was strongly dependent on the duration of the perturbation. On average, responses were not elicited following perturbations of less than 35±5 ms. Using a novel double-movement paradigm, we were unable to provide support for the converging input hypothesis. The effect of the duration of perturbation on the M2 may account for the conflicting characteristics of the M2 that have been provided by previous studies applying mechanical or electrical perturbations of varying time durations.
Access options
Buy single article
Instant access to the full article PDF.
USD 39.95
Price includes VAT (USA)
Tax calculation will be finalised during checkout.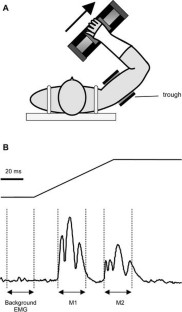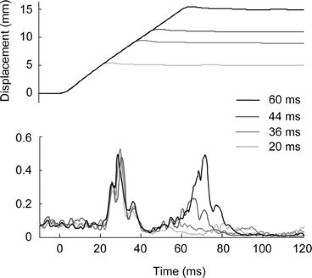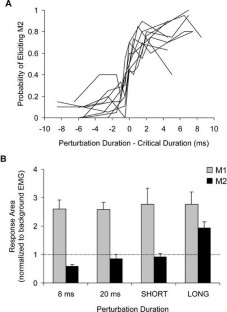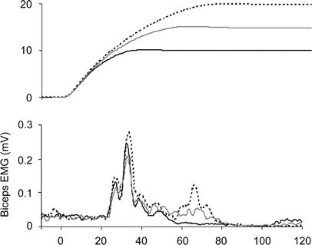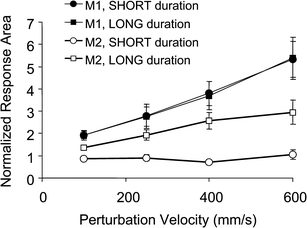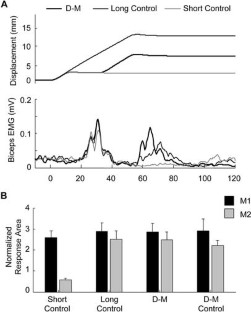 References
Brooke JD, McIlroy WE, Collins DF, Misiaszek JE (1993) Locomotor-like movement depression of H reflex transmission can be induced at the spinal level in the human. Physiologist 36: A20

Burke RE, Rudomin P (1977) Spinal neurons and synapses. Handbook of physiology. The nervous system. Bethesda, American Physiological Society 877–944

Calancie B, Bawa P (1985) Firing patterns of human flexor carpi radialis motor units during the stretch reflex. J Neurophysiol 53:1179–1193

Calancie B, Broton JG, Klose KJ, Traad M, Difini J, Ayyar DR (1993) Evidence that alterations in presynaptic inhibition contribute to segmental hypo- and hyperexcitability after spinal cord injury in man. Electroencephalogr Clin Neurophysiol 89:177–186

Capaday C, Forget R, Fraser R, Lamarre Y (1991) Evidence for a contribution of the motor cortex to the long-latency stretch reflex of the human thumb. J Physiol 440:243–255

Capaday C, Forget R, Milner T (1994) A re-examination of the effects of instruction on the long-latency stretch reflex response of the flexor pollicis longus muscle. Exp Brain Res 100:515–521

Cohen LG, Meer J, Takka I, Biemer S, Leidermann DB, Dubinsky RM, Sanes JM, Jabbari B, Bransum B, Hallet M (1991) Congenital mirror movements: abnormal organisation of motor pathways in two patients. Brain 114:381–403

Corden DM, Lippold OC, Buchanan K, Norrington C (2000) Long-latency component of the stretch reflex in human muscle is not mediated by intramuscular stretch receptors. J Neurophysiol 84:184–188

Curtis DR, Eccles JC (1960) Synaptic action during and after repetitive stimulation. J Physiol 150:374–398

Darton K, Lippold OCJ, Shahani M, Shahani U (1985) Long-latency spinal reflexes in humans. J Neurophysiol 53:1604–1618

Day BL, Riescher H, Struppler A, Rothwell JC, Marsden CD (1991) Changes in the response to magnetic and electrical stimulation of the motor cortex following muscle stretch in man. J Physiol 433:41–57

Deuschl G, Eisen AA (1999) Long-latency reflexes following electrical nerve stimulation. Electroencephalogr Clin Neurophysiol S52:263–268

Eccles JC, Eccles RM, Lundberg A (1958) The action potentials of the alpha motoneurons supplying fast and slow muscles. J Physiol 142:275–291

Fellows SJ, Topper R, Schwarz M, Thilmann AF, Noth J (1996) Stretch reflexes of the proximal arm in a patient with mirror movements: absence of bilateral long-latency components. Electroencephalogr Clin Neurophysiol 101:79–83

Haftel VK, Bichler EK, Nichols TR, Pinter MJ, Cope TC (2004) Movement reduces the dynamic response of muscle spindle afferents and motoneuron synaptic potentials in rat. J Neurophysiol 91:2164–2171

Hammond PH (1955) Involuntary activity in biceps following the sudden application of velocity to the abducted forearm. J Physiol 127:23P–25P

Hultborn H, Illert M, Nielsen J, Paul A, Ballegaard M, Wiese H (1996) On the mechanism of the post-activation depression of the H-reflex in human subjects. Exp Brain Res 108:450–462

Kagamihara Y, Hayashi A, Okuma Y, Nagaoka M, Nakajima Y, Tanaka R (1998) Reassessment of H-reflex recovery curve using the double stimulation procedure. Muscle Nerve 21:352–360

Kohn AF, Floeter MK, Hallett M (1997) Presynaptic inhibition compared with homosynaptic depression as an explanation for soleus H-reflex depression in humans. Exp Brain Res 116:375–380

Lee RG, Tatton WG (1975) Motor responses to sudden limb displacements in primates with specific CNS lesions and in human patients with motor system disorders. Can J Neurol Sci 2:285–293

Lee RG, Tatton WG (1982) Long latency reflexes to imposed displacements of the human wrist: dependence on duration of movement. Exp Brain Res 45:207–216

Lenz FA, Tatton WG, Tasker RR (1983) The effect of cortical lesions on the electromyographic response to joint displacement in the squirrel monkey forelimb. J Neurosci 3:795–805

Lewis GN, Polych MA, Byblow WD (2004) Proposed cortical and sub-cortical contributions to the long-latency stretch reflex in the forearm. Exp Brain Res 156:72–79

Magladery JW, Teasdall RD, Park AM, Porter WE (1951) Electrophysiological studies of nerve and reflex activity in normal man. V. Excitation and inhibition of two-neurone reflexes by afferent impulses in the same nerve trunk. Bull Johns Hopkins Hosp 88:520–537

Marsden CD, Merton PA, Morton HB (1973) Is the human stretch reflex cortical rather than spinal? Lancet i:759–761

Marsden CD, Merton PA, Morton HB, Adam J (1977) The effect of lesions in of the sensory motor cortex and capsular pathways on servo-responses from the human long thumb flexor. Brain 100:503–526

Matthews PBC (1972) Mammalian muscle receptors and their central actions. London, Arnold

Matthews PBC (1984) Evidence from the use of vibration that the human long-latency stretch reflex depends upon spindle secondary afferents. J Physiol 348:373–415

Matthews PBC (1989) Long-latency stretch reflexes of two intrinsic muscles of the human hand analysed by cooling the arm. J Physiol 419:519–538

Palmer E, Ashby P (1992) Evidence that a long latency stretch reflex in humans is transcortical. J Physiol 449:429–440

Poliakov AV, Miles TS (1994) Stretch reflexes in human masseter. J Physiol 476:323–331

Renshaw B (1941) Influence of discharge of motoneurons upon excitation of neighboring motoneurons. J Neurophysiol 4:167–183

Rossi-Durand C, Jones KE, Adams S, Bawa P (1999) Comparison of the depression of H-reflexes following previous activation in upper and lower limb muscles in human subjects. Exp Brain Res 126:117–127

Schieppati M, Crenna P (1984) From activity to rest: gating of excitatory autogenic afferences from the relaxing muscle in man. Exp Brain Res 56:448–457

Schindler-Ivens S, Shields RK (2000) Low frequency depression of H-reflexes in humans with acute and chronic spinal-cord injury. Exp Brain Res 133:233–241

Thilmann AF, Schwarz M, Topper R, Fellows SJ, Noth J (1991) Different mechanisms underlie the long-latency stretch reflex response of active human muscle at different joints. J Physiol 444:631–643

Tsuji T, Rothwell JC (2002) Long lasting effects of rTMS and associated peripheral sensory input on MEPs, SEPs and transcortical reflex excitability in humans. J Physiol 540:367–376

Turker KS, Powers RK (2001) Effects of common excitatory and inhibitory inputs on motoneuron synchronization. J Neurophysiol 86:2807–2866

Wallace JC, Miles TS (2001) Cortical excitability is not depressed in movement-modulated stretch response of human thumb flexor. Exp Brain Res 139:448–453
Acknowledgements
The authors would like to express their gratitude to Tiffany Viant for technical assistance. Support for this study was provided by NIH grant 1-K25-HD044720 (EP), the Whitaker Foundation (EP), and a fellowship from the Brinson Foundation (GL).
About this article
Cite this article
Lewis, G.N., Perreault, E.J. & MacKinnon, C.D. The influence of perturbation duration and velocity on the long-latency response to stretch in the biceps muscle. Exp Brain Res 163, 361–369 (2005). https://doi.org/10.1007/s00221-004-2182-9
Received:

Accepted:

Published:

Issue Date:
Keywords
Ia afferent

Stretch reflex

Upper limb