Abstract
The purpose of this investigation was to determine whether the coupling between dynamic somatosensory information and body sway is similar in children and adults. Thirty children (4-, 6-, and 8-year-olds) and 10 adults stood upright, with feet parallel, and lightly contacting the fingertip to a rigid metal plate that moved rhythmically at 0.2, 0.5, and 0.8 Hz. Light touch to the moving contact surface induced postural sway in all participants. The somatosensory stimulus produced a broadband frequency response in children, while the adult response was primarily at the driving frequency. Gain, as a function of frequency, was qualitatively the same in children and adults. Phase decreased less in 4-year-olds than other age groups, suggesting a weaker coupling to position information in the sensory stimulus. Postural sway variability was larger in children than adults. These findings suggest that, even as young as age 6, children show well-developed coupling to the sensory stimulus. However, unlike adults, this coupling is not well focused at the frequency specified by the somatosensory signal. Children may be unable to uncouple from sensory information that is less relevant to the task, resulting in a broadband response in their frequency spectrum. Moreover, higher sway variability may not result from the sensory feedback process, but rather from the children's underdeveloped ability to estimate an internal model of body orientation.
Access options
Buy single article
Instant access to the full article PDF.
US$ 39.95
Tax calculation will be finalised during checkout.
Subscribe to journal
Immediate online access to all issues from 2019. Subscription will auto renew annually.
US$ 119
Tax calculation will be finalised during checkout.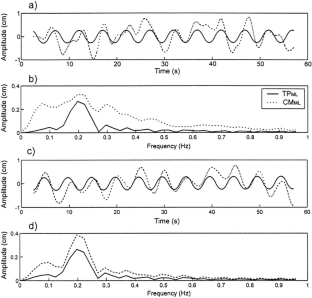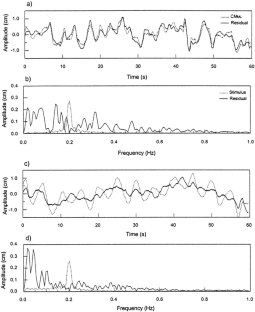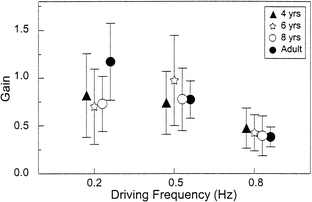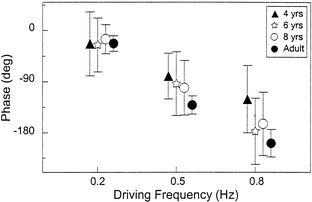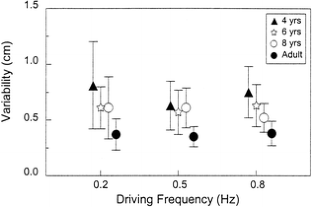 References
Barela JA, Jeka JJ, Clark JE (1999) The use of somatosensory information during the acquisition of independent upright stance. Infant Behav Dev 22:87–102

Benson AJ (1982) The vestibular sensory system. In: Barlow HB, Mollon JD (eds) The senses. Cambridge University Press, New York, pp 333–368

Bertenthal BI, Bai DL (1989) Infant's sensitivity to optical flow for controlling posture. Dev Psychol 25:936–945

Bertenthal BI, Rose JL, Bai DL (1997) Perception-action coupling in the development of visual control of posture. J Exp Psychol Hum Percept Perform 23:1631–1643

Butterworth G, Hicks L (1977) Visual proprioception and postural stability in infancy. A developmental study. Perception 6:256–262

Chow CC, Collins JJ (1995) Pinned polymer model of posture control. Phys Rev E Stat Nonlin Soft Matter Phys 52(1):907–912

Delorme A, Frigon JY, Lagacé C (1989) Infant's reactions to visual movement of the environment. Perception 18:667–673

Dijkstra TMH, Schöner G, Giese MA. Gielen CCAM (1994) Frequency dependence of the action-perception cycle for postural control in a moving visual environment: Relative phase dynamics. Biol Cybern 71:489–501

Esteky H, Schwark H (1994) Responses of rapidly adapting neurons in cat primary somatosensory cortex to constant-velocity mechanical stimulation. J Neurophysiol 5:2269–2279

Feynman R, Leighton R, Sands M (1963) The Feynman lectures on physics, Chap 21. Addison-Wesley, Reading, MA

Forssberg H, Nashner LM (1982) Ontogenetic development of postural control in man: adaptation to altered support and visual conditions during stance. J Neurosci 2:545–552

Haas G, Diener HC, Rapp H, Dichgans J (1989) Development of feedback and feedforward control of upright stance. Dev Med Child Neurol 31:481–488

Hay L, Redon C (1999) Feedforward versus feedback control in children and adults subjected to a postural disturbance. Exp Brain Res 125:153–162

Higgins CI, Campos JJ, Kermoian R (1996) Effect of self-produced locomotion on infant postural compensation to optic flow. Dev Psychol 32:836–841

Howard IP (1982) Human visual orientation. New York: John Wiley

Jeka JJ, Lackner JR (1994) Fingertip contact influences human postural control. Exp Brain Res 100:495–502

Jeka JJ, Lackner JR (1995) The role of haptic cues from rough and slippery surfaces in human postural control. Exp Brain Res 103:267–276

Jeka JJ, Schöner G, Dijkstra T, Ribeiro P, Lackner JR (1997) Coupling of fingertip somatosensory information to head and body sway. Exp Brain Res 113:475–483

Jeka JJ, Oie KS, Schöner G, Dijkstra T, Henson E (1998) Position and velocity coupling of postural sway to somatosensory drive. J Neurophysiol 79:1661–1674

Johansson RS, Landstrom U, Lundstrom R (1982) Responses of mechanoreceptive afferent units in the glabrous skin of the human hand to sinusoidal skin displacements. Brain Res 244:17–25

Kawato M (1999) Internal models for motor control and trajectory planning. Curr Opin Neurobiol 9:718–727

Kiemel T, Oie KS, Jeka JJ (2002) Multisensory fusion and the stochastic structure of postural sway. Biol Cybern 87:262–277

Kooij H van der, Jacobs R, Koopman B, Helm F van der (2001) An adaptive model of sensory integration in a dynamic environment applied to human stance control. Biol Cybern 84:103–115

Krebs DE, Gill-Body KM, Riley PO, Parker SW (1993) Double-blind, placebo-controlled trial of rehabilitation for bilateral vestibular hypofunction: preliminary report. Arch Otolaryngol Head Neck Surg 109:735–741

Lackner JR (1988) Some proprioceptive influences on the perceptual representation of body shape and orientation. Brain 111:281–297

Lee DN, Aronson E (1974) Visual proprioceptive control of standing in human infants. Percept Psychophys 15:529–532

Matthews PBC (1988) Proprioceptors and their contribution to somatosensory mapping: complex messages require complex processing. Can J Physiol Pharmacol 66:430–438

Merfeld D, Zupan L, Peterka RJ (1999) Humans use internal models to estimate gravity and linear acceleration. Nature 398:615–618

Nashner L, Berthoz A (1978) Visual contribution to rapid motor responses during postural control. Brain Res 150:403–407

Newell KM, Slobounov SM, Slobounova ES, Molenaar PCM (1997) Stochastic processes in postural center-of-pressure profiles. Exp Brain Res 113:158–164

Oie K, Kiemel T, Jeka JJ (2001) Human multisensory fusion of vision and touch: detecting nonlinearity with small changes in the sensory environment. Neurosci Lett 315:113–116

Oie K, Kiemel T, Jeka JJ (2002) Multisensory fusion: simultaneous re-weighting of vision and touch for the control of human posture. Brain Res Cogn Brain Res 14(1):164–176

Peterka RJ, Benolken MS (1995) Role of somatosensory and vestibular cues in attenuating visually induced human postural sway. Exp Brain Res 105:101–100

Schöner G (1991) Dynamics theory of action-perception patterns: the moving-room paradigm. Biol Cybern 64:455–462

Schöner G, Dijkstra TMH, Jeka JJ (1999) Action-perception patterns emerge from coupling and adaptation. Ecol Psychol 10:323–346

Schmuckler MA (1997) Children's postural sway in response to low- and high-frequency visual information for oscillation. J Exp Psychol Hum Percept Perform 23:528–545

Shumway-Cook A, Woollacott M (1985) The growth of stability: postural control from a developmental perspective. J Mot Behav 17:131–147

Stoffregen TA, Schmuckler MA, Gibson EJ (1987) Use of central and peripheral optical flow in stance and locomotion in young walkers. Perception 16:113–119

Vidal PP, Berthoz A, Milanvoye M (1982) Difference between eye closure and visual stabilization in the control of posture in man. Aviat Space Environ Med 53(2):166–170

Wilson V, Melvill Jones G (1979) Mammalian vestibular physiology. Plenum, New York

Wolpert DM, Ghahramani Z, Jordan MI (1995) An internal model for sensorimotor integration. Science 269:1880–1882

Woollacott M, Debû B, Mowatt M (1987) Neuromuscular control of posture in the infant and child: Is vision dominant? J Mot Behav 19:167–186
Acknowledgements
The authors wish to express their gratitude to the adults, children, and their parents who gave willingly of their time and effort. A special acknowledgment to Ana M. F. Barela, Steve Andrews, and Courtney Conley for their help during data collection and data analysis. J. A. Barela was sponsored by Conselho Nacional de Desenvolvimento Científico (CNPq). Doctoral Program Grant: Brazilian Government. Process 200952/93.5 and FAPESP/Brazil grant 97/6137-3. John Jeka was supported by NIH grant R01 NS35070 and NSF grant SBR-9709361.
About this article
Cite this article
Barela, J.A., Jeka, J.J. & Clark, J.E. Postural control in children. Exp Brain Res 150, 434–442 (2003). https://doi.org/10.1007/s00221-003-1441-5
Received:

Accepted:

Published:

Issue Date:
Keywords
Posture

Development

Touch

Sensorimotor

Somatosensation