Abstract
Clonus, presented behaviorally as rhythmic distal joint oscillation, is a common pathology that occurs secondary to spinal cord injury (SCI) and other neurological disabilities. There are two predominant theories as to the underlying mechanism of clonus. The prevailing one is that clonus results from recurrent activation of stretch reflexes. An alternative hypothesis is that clonus results from the action of a central oscillator. We present evidence that the mechanism underlying clonus in individuals with SCI is not solely related to muscle stretch. We studied electromyography (EMG) of the soleus (SOL), medial gastrocnemius (MG), tibialis anterior (TA), medial and lateral hamstrings, vastus medialis, vastus lateralis, and rectus femoris from subjects with clinically complete and clinically incomplete SCI during stretch-induced ankle clonus, stepping, and non-weight-bearing standing. Clonic EMG of the SOL, MG, and TA occurred synchronously and were not consistently related to muscle-tendon stretch in any of the conditions studied. Further, EMG activity during stretch-induced ankle clonus, stepping, and non-weight-bearing standing had similar burst frequency, burst duration, silent period duration, and coactivation among muscles, indicating that clonic EMG patterns occurred over a wide range of kinematic and kinetic conditions, and thus proprioceptive inputs. These results suggest that the repetitive clonic bursts could not be attributable solely to immediate afferent feedback such as recurrent muscle stretch. However, these results support the theory that the interaction of central mechanisms and peripheral events may be responsible for clonus.
Access options
Buy single article
Instant access to the full article PDF.
US$ 39.95
Tax calculation will be finalised during checkout.
Subscribe to journal
Immediate online access to all issues from 2019. Subscription will auto renew annually.
US$ 119
Tax calculation will be finalised during checkout.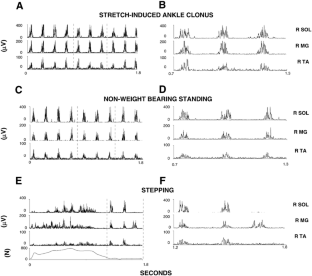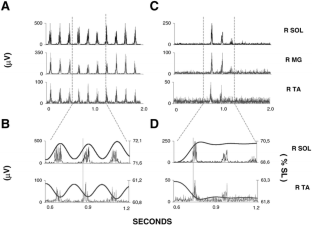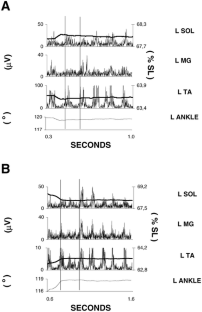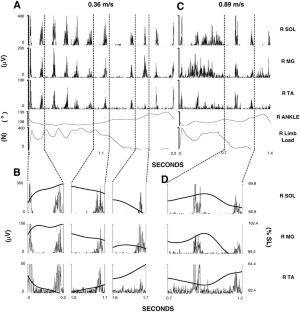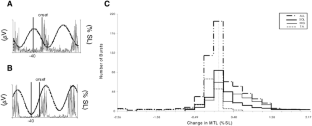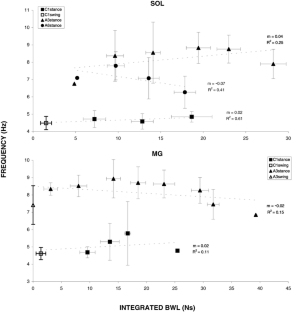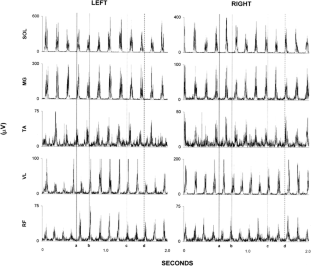 References
Altman D (1991) Practical statistics for medical research. Chapman and Hall/CRC, New York

Andary MT, Green DF, Hulce VD, Pysh JJ (1997) Spinal myoclonus complicating spasticity in spinal cord injury: a case study. Arch Phys Med Rehabil 78:1007–1009

Andersson O, Grillner S, Lindquist M, Zomlefer M (1978) Peripheral control of the spinal pattern generators for locomotion in the cat. Brain Res 150:625–630

Andrews CJ, Burke D, Lance JW (1972) The response to muscle stretch and shortening in parkinsonian rigidity. Brain 95:795–812

Andrews CJ, Neilson PD, Lance JW (1973) Comparison of stretch reflexes and shortening reactions in activated normal subjects with those in Parkinson's disease. J Neurol Neurosurg Psychiatry 36:329–333

Angel RW (1982) Shortening reaction in normal and parkinsonian subjects. Neurology 32:251

Ashby P, McCrea DA (1987) Neurophysiology of spinal spasticity. In: Davidoff RA (ed) Handbook of the spinal cord. Dekkar, New York, pp 119–143

Barbeau H, Fung J (1992) New experimental approaches in the treatment of spastic gait disorders. Med Sport Sci 36:234–246

Barbeau H, Rossignol S (1990) The effects of serotonergic drugs on the locomotor pattern and on cutaneous reflexes of the adult spinal cat. Brain Res 514:55–67

Barbeau H, Fung J, Stewart JE, Visintin M (1988) Impairment of spastic paraparetic gait: implications for new rehabilitation strategies. In: Proceedings of the 5th biannual conference and human locomotion symposium of the Canadian society for biomechanics, pp 12–16

Bathien N, Toma S, Rondot P (1981) Etude de la reaction de raccourcissement presente chez l'homme dans diverses affections neurologiques. Role des afferences articulaires. Electroencephalogr Clin Neurophysiol 51:156–164

Berardelli A, Hallett M (1984) Shortening reaction of human tibialis anterior. Neurology 34:242–245

Brown PJ, Rothwell JC, Thompson PD, Marsden CD (1994) Propriospinal myoclonus: evidence for spinal "pattern" generators in humans. Mov Disord 9:571–576

Carollo JJ, Parekh R, Winchester P (1993) Calibration and force correction of the F-Scan foot pressure measurement system. RESNA 189–191

Cioni B, Meglio M, Prezioso A, Talamont G, Tirendi M (1989) Spinal cord stimulation (SCS) in spastic hemiparesis. Pacing Clin Electrophysiol 12:739–742

Conway BA, Hultborn H, Kiehn O (1987) Proprioceptive input resets central locomotor rhythm in the spinal cat. Exp Brain Res 68:643–656

Cook WA Jr (1967) Antagonistic muscles in the production of clonus in man. Neurology 17:779–781

Cowley KC, Schmidt BJ (1995) Effects of inhibitory amino acid antagonists on reciprocal inhibitory interactions during rhythmic motor activity in the in vitro neonatal rat spinal cord. J Neurophysiol 74:1109–1117

Dimitrijevic MR, Nathan PW (1967) Studies of spasticity in man. 3. Analysis of reflex activity evoked by noxious cutaneous stimulation. Brain XCI:350–368

Dimitrijevic MR, Spencer WA, Trontelj J, Dimitrijevic MM (1977) Reflex effects of vibration in patients with spinal cord lesions. Neurology 27:1078–1086

Dimitrijevic MR, Sherwood AM, Nathan PW (1978) Clonus: peripheral and central mechanisms. Prog Clin Neurophysiol 5:173–182

Dimitrijevic MR, Nathan PW, Sherwood AM (1980) Clonus: the role of central mechanisms. J Neurol Neurosurg Psychiatry 43:321–332

Dimitrijevic MR, Dimitrijevic MM, Faganel J, Sherwood AM (1984) Suprasegmentally induced motor unit activity in paralyzed muscles of patients with established spinal cord injury. Ann Neurol 16:216–221

Ditunno JF, Young W, Donovan WH, Creasey G (1994) The international standards booklet for neurological and functional classification of spinal cord injury. Paraplegia 32:70–80

Dobkin BH, Harkema SJ, Requejo PS, Edgerton VR (1995) Modulation of locomotor-like EMG activity in subjects with complete and incomplete spinal cord injury. J Neurol Rehabil 9:183–190

Duysens J, Pearson KG (1980) Inhibition of flexor burst generation by loading ankle extensor muscle in walking cats. Brain Res 187:321–332

Fukunaga T, Roy RR, Shellock FG, Hodgson JA, Edgerton VR (1996) Specific tension of human plantar flexors and dorsiflexors. J Appl Physiol 80:158–165

Fung J, Barbeau H (1989) A dynamic EMG profile index to quantify muscular activation disorder in spastic paretic gait. Electroencephalogr Clin Neurophysiol 73:233–244

Fung J, Barbeau H (1994) Effects of conditioning cutaneomuscular stimulation on the soleus H-reflex in normal and spastic paretic subjects during walking and standing. J Neurophysiol 72:2090–2104

Fung J, Stewart JE, Barbeau H (1990) The combined effects of clonidine and cyproheptadine with interactive training on the modulation of locomotion in spinal cord injured subjects. J Neurol Sci 100:85–93

Good P (1994) Permutation tests: a practical guide to resampling methods for testing hypotheses. Springer, Berlin Heidelberg New York

Gottlieb GL, Agarwal GC (1977) Physiological clonus in man. Exp Neurol 54:616–621

Gottlieb GL, Agarwal GC (1979) Response to sudden torques about ankle in man: myotatic reflex. J Neurophysiol 42:91–106

Gottlieb G, Agarwal GC, Penn RD (1978) Sinusoidal oscillation of ankle as means of evaluating spastic patient. J Neurol Neurosurg Psychiatry 41:32–39

Grillner S, Zangger P (1979) On the central generation of locomotion in the low spinal cat. Exp Brain Res 34:241–261

Guthrie TC, Krout RM, Shires EB (1954) A study of hyper-reflexia, clonus and involuntary reflex movement using a multi-channel electromyograph. Trans Am Neurol Assoc 79:194–196

Hagbarth KE, Wallin G, Lofstedt L (1973) Muscle spindle response to stretch in normal and spastic subjects. Scand J Rehabil Med 5:156–159

Hagbarth KE, Wallin G, Leofstedt L, Aquilonius SM (1975) Muscle spindle activity in alternating tremor of Parkinsonism and in clonus. J Neurol Neurosurg Psychiatry 38:636–641

Harkema SJ, Hurley SL, Patel UK, Requejo P, Dobkin BH, Edgerton VR (1997) Human lumbosacral spinal cord interprets loading during stepping. J Neurophysiol 77:797–811

Hawkins D, Hull ML (1990) A method for determining lower extremity muscle-tendon lengths during flexion/extension movements. J Biomech 23:487–494

Hidler JM, Rymer WZ (1999) A simulation study of reflex instability in spasticity: origins of clonus (in process citation). IEEE Trans Rehabil Eng 7:327–340

Hidler JM, Rymer WZ (2000) Limit cycle behavior in spasticity: analysis and evaluation. IEEE Trans Biomed Eng 47:1565–1575

Iaizzo PA, Pozos RS (1982) Exercise-induced amplitude modification of physiological action tremor of the ankle. J Appl Physiol 53:1164–1170

Iansek R (1984) The effects of reflex path length on clonus frequency in spastic muscles. J Neurol Neurosurg Psychiatry 47:1122–1124

Latash ML, Penn RD, Corcos DM, Gottlieb GL (1989) Short-term effects of intrathecal baclofen in spasticity. Exp Neurol 103:165–172

Lovely RG, Gregor R, Roy RR, Edgerton VR (1990) Weight-bearing hindlimb stepping in treadmill-exercised adult spinal cats. Brain Res 514:206–218

Maegele M, Müller S, Wernig A, Edgerton VR, Harkema SJ (2002) Differential recruitment of spinal motor pools during voluntary attempts at lower limb movements versus load bearing stepping following human spinal cord injury. J Neurotrauma 19:1217–1229

Mills WJ, Pozos RS (1985) A decrease in clonus amplitude by topical anesthesia. Electroencephalogr Clin Neurophysiol 61:509–518

Rack PMH, Ross HF, Thilmann AF (1984) The ankle stretch reflexes in normal and spastic subjects. Brain 107:637–654

Recktenwald MR, Hodgson JA, Roy RR, Riazanski S, McCall GE, Kozlovskaya I, Washburn DA, Fanton JW, Edgerton VR (1999) Effects of spaceflight on Rhesus quadrupedal locomotion after return to 1G. J Neurophysiol 81:2451–2463

Rossi A, Mazzocchio R, Scarpini C (1990) Clonus in man: a rhythmic oscillation maintained by a reflex mechanism. Electroencephalogr Clin Neurophysiol 75:56–63

Sessler D, Israel D, Pozos R, Pozos M, Rubinstein E (1988) Spontaneous post-anesthetic tremor does not resemble thermoregulatory shivering. Anesthesiology 68:843–850

Stein RB, Lee RG (1981) Tremor and clonus. Handbook of physiology—nervous system. American Physiological Society, Washington DC, pp 325–343

Szumski AJ, Burg D, Struppler A, Velho F (1974) Activity of muscle spindles during muscle twitch and clonus in normal and spastic human subjects. Electroencephalogr Clin Neurophysiol 37:589–597

Visintin M, Barbeau H (1989) The effects of body weight support on the locomotor pattern of spastic paretic patients. Can J Neurol Sci 16:315–325

Visintin M, Barbeau H (1994) The effects of parallel bars, body weight support and speed on the modulation of the locomotor pattern of spastic paretic gait. A preliminary communication. Paraplegia 32:540–553

Walsh EG (1976) Clonus: beats provoked by the application of a rhythmic force. J Neurol Neurosurg Psychiatry 39:266–274

Walsh EG, Wright GW (1987) Patellar clonus: an autonomous central generator. J Neurol Neurosurg Psychiatry 50:1225–1227

Yang JF, Fung J, Edamura M, Blunt R, Stein RB, Barbeau H (1991) H-reflex modulation during walking in spastic paretic subjects. Can J Neurol Sci 18:443–452
Acknowledgements
We thank the members of the UCLA Human Locomotion Research Center and Dr. Andrea Behrman for their participation in data collection and analysis, and Dr. V. Reggie Edgerton for his critical review of the manuscript. We thank the subjects for their valuable contribution to this study. National Institutes of Health grants NS-16333, NS-36584, and MO1-RR-00865–19 supported this research.
About this article
Cite this article
Beres-Jones, J.A., Johnson, T.D. & Harkema, S.J. Clonus after human spinal cord injury cannot be attributed solely to recurrent muscle-tendon stretch. Exp Brain Res 149, 222–236 (2003). https://doi.org/10.1007/s00221-002-1349-5
Received:

Accepted:

Published:

Issue Date:
Keywords
Clonus

Sensory information

Spinal cord injury

Stretch reflex