Abstract
Two cocoa types are predominantly being cultivated in Ecuador, the highly appreciated fine Nacional and the high-yielding and disease-resistant CCN51, classified as bulk. With the introduction of foreign germplasm in Ecuador and the international demand for high-quality Nacional cocoa, the present study aims to characterize and compare the flavor profile of Nacional hybrids (EET103, EET559, EET576 and EET577) and CCN51, and to assess the effect of the genotype. The fermented dried beans were processed into liquor and their sensory properties, volatile composition and odor fingerprint were analyzed by trained panelists, headspace–solid phase microextraction gas chromatography–mass spectrometry (HS–SPME–GC–MS), and GC electronic nose (e-nose), respectively, combined with multivariate statistics. Seventy volatiles were identified and semi-quantified, among them, 16 and 14 volatiles conferring fruity and floral aroma notes, respectively. CCN51 was mainly characterized by undesirable odor-active volatiles, whereas the EET cultivars contained the highest concentration of most fruity and floral volatiles, with differences in between EET cultivars. Sensory data highlighted organoleptic differences between the fine and bulk liquors, i.e. the fruity and acid EET flavor strongly differed from the bitter, astringent and off-flavor attributes of CCN51. Principal component analysis (PCA) discriminated firstly between fine and bulk, and secondly between EET identity. Partial least squares analysis identified possible correlations between sensory attributes and volatile compounds. Besides, e-nose proved its usefulness for rapid assessment of the liquors' sensory profile. The results provide a foundation for understanding the genotype's contribution to and the compositional basis of Ecuadorian fine and bulk cocoa flavor.
Access options
Buy single article
Instant access to the full article PDF.
US$ 39.95
Tax calculation will be finalised during checkout.
Subscribe to journal
Immediate online access to all issues from 2019. Subscription will auto renew annually.
US$ 119
Tax calculation will be finalised during checkout.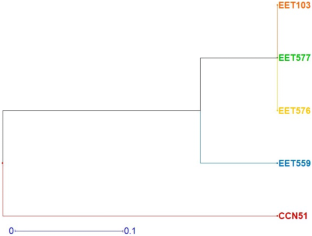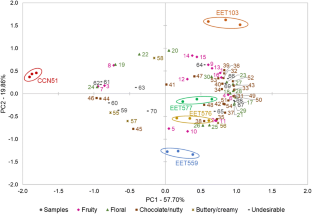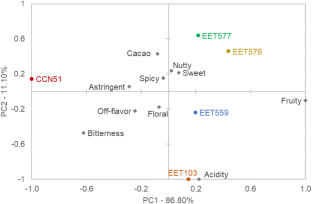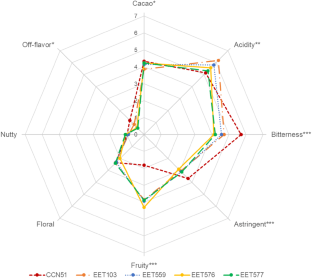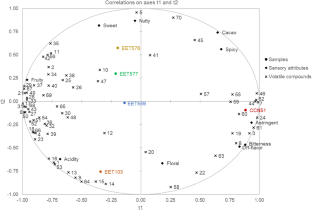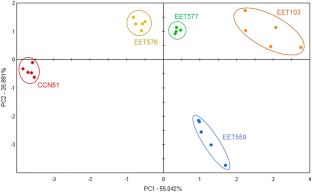 Abbreviations
A.S.S.(P.)S.:

Arriba Superior Summer (Plantación) Selecto

CCAT:

Centro de Cacao Aroma Tenguel

E-nose:

Electronic nose

EET-P:

Estación Experimental Tropical Pichilingue

FI:

Fermentation index

FID:

Flame ionization detector

GC–MS:

Gas chromatography–mass spectrometry

HS:

Headspace

INEN:

Servicio Ecuatoriano de Normalización

ISO:

International Organization for Standardization

KI:

Kovat indices

NTE:

Norma Técnica Ecuatoriana

OAV:

Odor activity value

OTV:

Odor threshold value

PCA:

Principal component analysis

PLS:

Partial least squares

SPME:

Solid phase microextraction

TA:

Titratable acidity

UPGMA:

Unweighted pair group method with arithmetic mean
References
1.

ICCO (2018) ICCO quarterly bulletin of cocoa statistics, vol XLIV, No. 3, Cocoa year 2017/18. Accessed 30 Dec 2018

2.

Beckett ST, Fowler MS, Ziegler GR (2017) Beckett's industrial chocolate manufacture and use. Wiley, Hoboken

3.

Afoakwa EO, Paterson A, Fowler M, Ryan A (2008) Flavor formation and character in cocoa and chocolate: a critical review. Crit Rev Food Sci Nutr 48(9):840–857

4.

Loor RG, Risterucci AM, Courtois B, Fouet O, Jeanneau M, Rosenquist E, Amores F, Vasco A, Medina M, Lanaud C (2009) Tracing the native ancestors of the modern Theobroma cacao L. population in Ecuador. Tree Genet Genom 5(3):421–433

5.

Deheuvels O, Decazy B, Perez R, Roche G, Amores F (2004) The first Ecuadorean "Nacional" cocoa collection based on organoleptic characteristics. Trop Sci 44:23–27

6.

Amores F, Vasco A, Suárez C, Loor G, Jiménez J, Terán M, Quijano G, Baños S, Montoya J, Quinaluisa C (2009) Cocoa productivy and quality improvement, a participative aproach. INIAP, Estación Experimental Tropical Pichilingue, Programa Nacional de Café y Cacao, Quevedo

7.

Boza EJ, Motamayor JC, Amores F, Cedeno-Amador S, Tondo CL, Livingstone DS, Schnell R, Gutiérrez O (2014) Genetic characterization of the cacao cultivar CCN 51: its impact and significance on global cacao improvement and production. J Am Soc Hortic Sci 139(2):219–229

8.

Castro H (1981) Posibilidad de creacion de una nueva variedad de cacao de fruto hexalocular por cruzamiento entre flores mutantes hexameras. Arch de Victor Chacon Salinas (FEDECADE), Jesus Maria

9.

Chetschik I, Kneubühl M, Chatelain K, Schlüter A, Bernath K, Hühn T (2017) Investigations on the aroma of cocoa pulp (Theobroma cacao L.) and its influence on the odor of fermented cocoa beans. J Agric Food Chem 66(10):2467–2472

10.

Kadow D, Bohlmann J, Phillips W, Lieberei R (2013) Identification of main fine flavour components in two genotypes of the cocoa tree (Theobroma cacao L.). J Appl Bot Food Qual 86(1):90–98

11.

Chambers EI, Koppel K (2013) Associations of volatile compounds with sensory aroma and flavor: the complex nature of flavor. Molecules 18(5):4887–4905

12.

Ducki S, Miralles-Garcia J, Zumbe A, Tornero A, Storey DM (2008) Evaluation of solid-phase micro-extraction coupled to gas chromatography–mass spectrometry for the headspace analysis of volatile compounds in cocoa products. Talanta 74(5):1166–1174

13.

Hinneh M, Semanhyia E, Van de Walle D, De Winne A, Tzompa-Sosa DA, Scalone GLL, De Meulenaer B, Messens K, Van Durme J, Afoakwa EO (2018) Assessing the influence of pod storage on sugar and free amino acid profiles and the implications on some Maillard reaction related flavor volatiles in Forastero cocoa beans. Food Res Int 111:607–620

14.

Counet C, Ouwerx C, Rosoux D, Collin S (2004) Relationship between procyanidin and flavor contents of cocoa liquors from different origins. J Agric Food Chem 52:6243–6249

15.

Moreira DVIM, de Figueiredo Vilela L, Santos C, Lima N, Schwan RF (2018) Volatile compounds and protein profiles analyses of fermented cocoa beans and chocolates from different hybrids cultivated in Brazil. Food Res Int 109:196–203

16.

Moreira DVIM, da Cruz Gabriela, Pedrozo Miguel M, Lacerda Ramos C, Ferreira Duarte W, Efraim P, Freitas Schwan R (2016) Influence of cocoa hybrids on volatile compounds of fermented beans, microbial diversity during fermentation and sensory characteristics and acceptance of chocolates. J Food Qual 39(6):839–849

17.

Ramos CL, Dias DR, Miguel MGdCP, Schwan RF (2014) Impact of different cocoa hybrids (Theobroma cacao L.) and S. cerevisiae UFLA CA11 inoculation on microbial communities and volatile compounds of cocoa fermentation. Food Res Int 64:908–918

18.

Rottiers H, Tzompa Sosa DA, Van de Vyver L, Hinneh M, Everaert H, De Wever J, Messens K, Dewettinck K (2019) Discrimination of cocoa liquors based on their odor fingerprint: a fast GC electronic nose suitability study. Food Anal Method 12(2):475–488

19.

Peris M, Escuder-Gilabert L (2009) A 21st century technique for food control: electronic noses. Anal Chim Acta 638(1):1–15

20.

Clapperton J, Yow S, Lim D, Lockwood G (1993) Genetic variation in cocoa flavour. In: Proceedings of 11th international Cocoa Research Conference, Yamassoukro, Ivory Coast, pp 749–754

21.

Clapperton J, Yow S, Chan J, Lim D, Lockwood R, Romanczyk L, Hammerstone J (1994) The contribution of genotype to cocoa (Theobroma cacao L.) flavour. Trop Agric (Trinidad) 71:303–308

22.

Luna F, Crouzillat D, Cirou L, Bucheli P (2002) Chemical composition and flavor of Ecuadorian cocoa liquor. J Agric Food Chem 50(12):3527–3532

23.

Counet C, Callemien D, Ouwerx C, Collin S (2002) Use of gas chromatography-olfactometry to identify key odorant compounds in dark chocolate. Comparison of samples before and after conching. J Agric Food Chem 50:2385–2391

24.

Liu J, Liu M, He C, Song H, Guo J, Wang Y, Yang H, Su X (2015) A comparative study of aroma-active compounds between dark and milk chocolate: relationship to sensory perception. J Sci Food Agric 95(6):1362–1372

25.

Lozada Vargas PF (2014) Caracterización molecular de 42 accesiones de la colección de genotipos de cacao nacional (Theobroma cacao L.) de la EET Pichilingue, INIAP, mediante el uso de marcadores microsatélites (SSRs). Universidad de las fuerzas armadas, ESPE, Sangolqui

26.

Rottiers H, Everaert H, Boeckx P, Limba G, Baert G, De Wever J, Maebe K, Smagghe G, Dewettinck K, Messens K (2018) Unraveling the genetic background of the Yangambi Research Center cacao germplasm collection, DR Congo. Tree Genet Genom 14(5):68

27.

Perrier X, Jacquemoud-Collet J (2006) DARwin software: dissimilarity analysis and representation for windows. http://darwin.cirad.fr/. Accessed 11 June 2019

28.

Saputro AD, Van de Walle D, Aidoo RP, Mensah MA, Delbaere C, De Clercq N, Van Durme J, Dewettinck K (2017) Quality attributes of dark chocolates formulated with palm sap-based sugar as nutritious and natural alternative sweetener. Eur Food Res Technol 243(2):177–191

29.

Hii CL, Law CL, Cloke M, Sharif S (2011) Improving Malaysian cocoa quality through the use of dehumidified air under mild drying conditions. J Sci Food Agric 91(2):239–246

30.

Gourieva KB, Tserevitinov OB (1979) Methods of evaluating the degree of fermentation of cocoa beans. USSR Patent No. 64654

31.

Rottiers H, Tzompa Sosa DA, De Winne A, Ruales J, De Clippeleer J, De Leersnyder I, De Wever J, Everaert H, Messens K, Dewettinck K (2019) Dynamics of volatile compounds and flavor precursors during spontaneous fermentation of fine flavor Trinitario cocoa beans. Eur Food Res Technol 245(9):1917–1937

32.

Van Gemert L (2011) Odour thresholds: compilations of odour threshold values in air, water and other media, 2nd edn. Oliemans Punter & Partners, BV, Utrecht

33.

Sukha D, Seguine E (2015) Flavour wheel with main categories and sub categories for both liquor and chocolates. Cocoa Research Centre Sensory Training Guide, Cocoa Research Centre, University of the West Indies, Trinidad

34.

Sukha DA, Butler DR, Umaharan P, Boult E (2008) The use of an optimised organoleptic assessment protocol to describe and quantify different flavour attributes of cocoa liquors made from Ghana and Trinitario beans. Eur Food Res Technol 226(3):405–413

35.

Lawless HT, Heymann H (2010) Sensory evaluation of food: principles and practices, 2nd edn. Springer Science & Business Media, New York

36.

De Wever J, Everaert H, Coppieters F, Rottiers H, Dewettinck K, Lefever S, Messens K (2019) The development of a novel SNP genotyping assay to differentiate cacao clones. Sci Rep 9(1):9512

37.

Wood GAR, Lass R (1985) Cocoa, 4th edn. Longman Group, London

38.

Guehi TS, Dadie AT, Koffi KPB, Dabonne S, Ban-Koffi L, Kedjebo KD, Nemlin GJ (2010) Performance of different fermentation methods and the effect of their duration on the quality of raw cocoa beans. Int J Food Sci Technol 45(12):2508–2514

39.

Holm CS, Aston JW, Douglas K (1993) The effects of the organic acids in cocoa on the flavour of chocolate. J Sci Food Agric 61(1):65–71

40.

Jinap S, Dimick PS (1990) Acidic characteristics of fermented and dried cocoa beans from different countries of origin. J Food Sci 55(2):547–550

41.

Schwan RF, Wheals AE (2004) The microbiology of cocoa fermentation and its role in chocolate quality. Crit Rev Food Sci Nutr 44(4):205–221

42.

Jinap S, Thien J, Yap T (1994) Effect of drying on acidity and volatile fatty acids content of cocoa beans. J Sci Food Agric 65(1):67–75

43.

Jinap S, Dimick PS, Hollender R (1995) Flavour evaluation of chocolate formulated from cocoa beans from different countries. Food Control 6(2):105–110

44.

Saltini R, Akkerman R, Frosch S (2013) Optimizing chocolate production through traceability: a review of the influence of farming practices on cocoa bean quality. Food Control 29(1):167–187

45.

Dzialo MC, Park R, Steensels J, Lievens B, Verstrepen KJ (2017) Physiology, ecology and industrial applications of aroma formation in yeast. FEMS Microbiol Rev 41:S95–S128

46.

Schwab W, Davidovich-Rikanati R, Lewinsohn E (2008) Biosynthesis of plant-derived flavor compounds. Plant J 54(4):712–732

47.

Aprotosoaie AC, Luca SV, Miron A (2016) Flavor chemistry of cocoa and cocoa products—an overview. Compr Rev Food Sci Food Saf 15(1):73–91

48.

Schmarr H-G, Engel K-H (2012) Analysis and stereodifferentiation of linalool in Theobroma cacao and cocoa products using enantioselective multidimensional gas chromatography. Eur Food Res Technol 235(5):827–834

49.

Ziegleder G (1990) Linalool contents as characteristic of some flavor grade cocoasLinaloolgehalt als Merkmal einiger Edelkakaos. Z Lebensm Unters Forsch 191(4–5):306–309

50.

Reineccius GA, Keeney PG, Weissberger W (1972) Factors affecting the concentration of pyrazines in cocoa beans. J Agric Food Chem 20(2):202–206

51.

Fadel HHM, Abdel Mageed MA, Abdel Samad AKME, Lotfy SN (2006) Cocoa substitute: evaluation of sensory qualities and flavour stability. Eur Food Res Technol 223(1):125–131

52.

Ballance P (1961) Production of volatile compounds related to the flavour of foods from the Strecker degradation of DL-methionine. J Sci Food Agric 12(7):532–536

53.

Lopez A, Quesnel V (1974) The contribution of sulphur compounds to chocolate aroma. In: Proceedings of the 1st international congress on cocoa and chocolate research, Munich, pp 92–104

54.

Stark T, Bareuther S, Hofmann T (2006) Molecular definition of the taste of roasted cocoa nibs (Theobroma cacao) by means of quantitative studies and sensory experiments. J Agric Food Chem 54:5530–5539

55.

Pineau N, Schlich P, Cordelle S, Mathonnière C, Issanchou S, Imbert A, Rogeaux M, Etiévant P, Köster E (2009) Temporal dominance of sensations: construction of the TDS curves and comparison with time–intensity. Food Qual Prefer 20(6):450–455

56.

Misnawi Jinap S, Jamilah B, Nazamid S (2004) Sensory properties of cocoa liquor as affected by polyphenol concentration and duration of roasting. Food Qual Prefer 15(5):403–409

57.

Ramli N, Hassan O, Said M, Samsudin W, Idris NA (2006) Influence of roasting conditions on volatile flavor of roasted Malaysian cocoa beans. J Food Process Preserv 30(3):280–298

58.

Owusu M, Petersen MA, Heimdal H (2013) Relationship of sensory and instrumental aroma measurements of dark chocolate as influenced by fermentation method, roasting and conching conditions. J Food Sci Technol 50(5):909–917

59.

Company TGS. http://www.thegoodscentscompany.com. Accessed 3 May 2019

60.

Alvarez C, Pérez E, Boulanger R, Lares M, Ssemat A, Davrieux F, Emile C (2012) Identificación de los compuestos aromáticos en el cacao criollo de Venezuela usando microextracción en fase sólida y cromatografía de gases. Vitae 19(1):S370–S372

61.

Antoce AO (2012) Study of the possibility of discrimination by an electronic nose of feteasca regala wines produced with neutral and aromatic yeasts. Scientific papers Series B Horticulture
Acknowledgements
The authors would like to thank CECAO (Compañía exportadora de cacao aromático y orgánico), KAOKA, Vitaliano Sarabia and SALPA Ecuador for providing the fermented dried cocoa bean samples. All sensory panelists are gratefully acknowledged for their motivation and participation in this study. Anrieke Pattyn and Mattijs Bulte are acknowledged for their technical assistance.
Funding
This study was funded by a doctoral scholarship of the Ghent University Special Research Fund (BOF, Grant number BOF15/DOC/028). BOF is further recognized for its financial support in the acquisition of the Heracles II GC E-nose (Grant number BOF 01B05915). Further financial support for this research was obtained from Global minds funds (UGent). The Fund for Scientific Research (Flanders) (Grant number S004617N) is recognized for its financial support in the training of the expert panel in the framework of the REVICO project (Revisiting Cocoa: Exploiting the full potential of cocoa raw materials through novel processing).
Ethics declarations
Conflict of interest
The authors declare that they have no conflict of interest.
Compliance with ethics requirements
All procedures performed in studies involving human participants were in accordance with the ethical standards of the institutional research committee (GDPR, EC2018/0321, UGent).
Informed consent
All participants of the trained panel were provided with consent forms before taking part in this study.
Additional information
Publisher's Note
Springer Nature remains neutral with regard to jurisdictional claims in published maps and institutional affiliations.
Electronic supplementary material
Below is the link to the electronic supplementary material.
About this article
Cite this article
Rottiers, H., Tzompa Sosa, D.A., Lemarcq, V. et al. A multipronged flavor comparison of Ecuadorian CCN51 and Nacional cocoa cultivars. Eur Food Res Technol 245, 2459–2478 (2019). https://doi.org/10.1007/s00217-019-03364-3
Received:

Revised:

Accepted:

Published:

Issue Date:
Keywords
Cocoa liquor

Fine and bulk

Aroma profile

Sensory evaluation

GC e-nose