Abstract
Pollen-induced anaphylaxis is recognized as the most common allergic disease. Methods for pollen species identification are thus regarded as important and urgent for the protection of sensitive consumers. In our study, a multiplex real-time PCR assay was established targeting eight pollens that have been reported recently as potential allergens or were uncommon species that have been newly exploited for marketing purposes (pine pollen, canola bee pollens, kiwi bee pollens, willow bee pollens, corn poppy bee pollens, rose bee pollens, lotus bee pollens, and camellia bee pollens). This method proved to be highly specific and efficient, with four pollen species being identified simultaneously from a single reaction. The absolute sensitivity was 1 pg/μL to 1 ng/μL for DNA from the eight pollen species, and as low as 0.5% (w/w) mixed bee pollen powder could be discriminated. A microscopy method using SEM was compared with our multiplex real-time PCR method. Results demonstrated that SEM was much less sensitive than multiplex real-time PCR, with the sensitivity of the former being approximately 10–50% (w/w).
Access options
Buy single article
Instant access to the full article PDF.
USD 39.95
Price excludes VAT (USA)
Tax calculation will be finalised during checkout.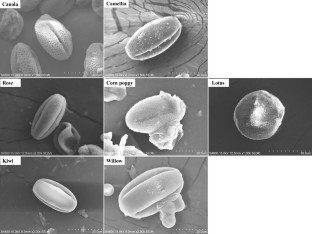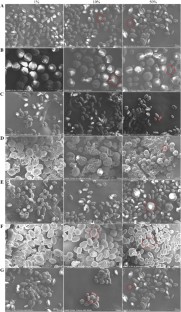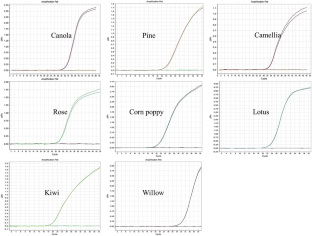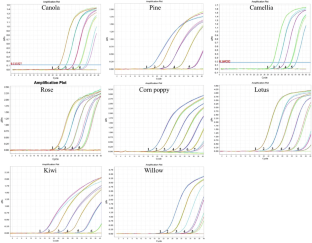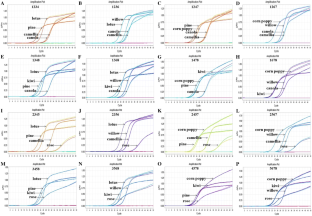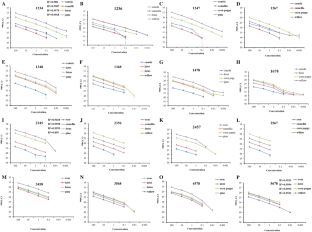 References
Campos MGR, Frigerio C, Lopes J, Bogdanov S (2010) What is the future of bee-pollen? J ApiProduct ApiMed Sci 2(4):131–144. https://doi.org/10.3896/IBRA.4.02.4.01

Kroyer G, Hegedus N (2001) Evaluation of bioactive properties of pollen extracts as functional dietary food supplement. Innov Food Sci Emerg Technol 2(3):171–174. https://doi.org/10.1016/S1466-8564(01)00039-X

Feás X, Vázquez-Tato MP, Estevinho L, Seijas JA, Iglesias A (2012) Organic bee pollen: botanical origin, nutritional value, bioactive compounds, antioxidant activity and microbiological quality. Molecules 17(7):8359–8377. https://doi.org/10.1111/j.1365-2621.2011.02859.x

Estevinho LM, Rodrigues S, Pereira AP, Feás X (2012) Portuguese bee pollen: palynological study, nutritional and microbiological evaluation. Int J Food Sci Technol 47(2):429–435

Martin-Munoz MF, Bartolome B, Caminoa M, Bobolea I, Ara MG, Quirce S (2010) Bee pollen: a dangerous food for allergic children. Identification of responsible allergens. Allergol Immunopathol 38(5):263–265. https://doi.org/10.1016/j.aller.2009.12.003

Choi JH, Jang YS, Oh JW, Kim CH, Hyun IG (2015) Bee pollen-induced anaphylaxis: a case report and literature review. Allergy Asthma Immunol Res 7(5):513–517. https://doi.org/10.4168/aair.2015.7.5.513

de Arruda VAS, Pereira AAS, Estevinho LM, de Almeida-Muradian LB (2013) Presence and stability of B complex vitamins in bee pollen using different storage conditions. Food Chem Toxicol 51:143–148. https://doi.org/10.1016/j.fct.2012.09.019

Campos MG, Bogdanov S, de Almeida-Muradian LB, Szczesna T, Mancebo Y, Frigerio C, Ferreira F (2008) Pollen composition and standardisation of analytical methods. J Apic Res 47(2):154–161. https://doi.org/10.1080/00218839.2008.11101443

Yang K, Wu D, Ye X, Liu D, Chen J, Sun P (2013) Characterization of chemical composition of bee pollen in China. J Agric Food Chem 61(3):708–718. https://doi.org/10.1021/jf304056b

GB 31636-2016 National food safety standard pollen (in Chinese) (2016) National standard of the People's Republic of China. State food and drug administration, Beijing

GB/T 30359-2013 Bee Pollen (in Chinese) (2013) National standard of the People's Republic of China. General Administration of Quality Supervision, Inspection and Quarantine of the People's Republic of China, Beijing

Wu Y, Yang Y, Liu M, Wang B, Li M, Chen Y (2017) Molecular tracing of the origin of six different plant species in bee honey using real-time PCR. J AOAC Int 100(3):744–752. https://doi.org/10.5740/jaoacint.16-0265

Sealey-Voyksner J, Zweigenbaum J, Voyksner R (2016) Discovery of highly conserved unique peanut and tree nut peptides by LC–MS/MS for multi-allergen detection. Food Chem 194:201–211. https://doi.org/10.1016/j.foodchem.2015.07.043

Jeanmougin F, Thompson JD, Gouy M, Higgins DG, Gibson TJ (1998) Multiple sequence alignment with Clustal X. Trends Biochem Sci 23(10):403–405. https://doi.org/10.1016/S0968-0004(98)01285-7

Lalitha S (2000) Primer premier 5. Biotech Softw Internet Rep Comput Softw J Sci 1(6):270–272. https://doi.org/10.1089/152791600459894

SN, T 1197–2016 Detection of genetically modified ingredients in oilseed rape Conventional and real-time PCR methods (in Chinese) (2016) Entry-exit inspection and quarantine industry standard of the People's Republic of China. General Administration of Quality Supervision, Inspection and Quarantine of the People's Republic of China, Beijing

Arzani K, Nejatian MA, Karimzadeh G (2005) Apricot (Prunus armeniaca) pollen morphological characterisation through scanning electron microscopy, using multivariate analysis. N Zeal J Crop Hortic Sci 33(4):381–388. https://doi.org/10.1080/01140671.2005.9514374

Bustin SA (2005) Real-time PCR. Encycl Diagn Genom Proteom 10(1):1117–1125. https://doi.org/10.1081/E-EDGP120020684

Iwobi A, Sebah D, Kraemer I, Losher C, Fischer G, Busch U, Huber I (2015) A multiplex real-time PCR method for the quantification of beef and pork fractions in minced meat. Food Chem 169:305–313

Shahali Y (2015) Allergy after ingestion of bee-gathered pollen: influence of botanical origins. Ann Allergy Asthma Immunol 114(3):250–251. https://doi.org/10.1016/j.anai.2014.11.009
Acknowledgements
We gratefully acknowledge Prof. Liming Wu and Dr. Kai Wang with the Institute of Apicultural Research, Chinese Academy of Agricultural Sciences, for providing raw pollen samples. This work was supported by the CAIQ (Chinese Academy of Inspection and Quarantine) project (2017JK011) and the National Key Research and Development Program of China (2016YFD0401203). We thank LetPub (http://www.letpub.com) for its linguistic assistance during the preparation of this manuscript.
Ethics declarations
Conflict of interest
All authors declare no conflict of interest.
Compliance with ethics requirements
This article does not contain any studies with animal or human subjects.
Additional information
Publisher's Note
Springer Nature remains neutral with regard to jurisdictional claims in published maps and institutional affiliations.
About this article
Cite this article
Yang, Y., Wang, H., Liu, M. et al. A multiplex real-time PCR method applied to detect eight pollen species in food for the prevention of allergies. Eur Food Res Technol 245, 2195–2207 (2019). https://doi.org/10.1007/s00217-019-03327-8
Received:

Revised:

Accepted:

Published:

Issue Date:

DOI: https://doi.org/10.1007/s00217-019-03327-8
Keywords
Pollen

Identification

Allergen

Multiplex real-time PCR