Abstract
The exposure of humans to the aromatic hydrocarbon benzene should be minimized due to its carcinogenicity. Previous studies have reported on the presence of benzene, in particular in foods with added cherry aroma compounds, in particular benzaldehyde. To allow a reliable quantitation of benzene, a stable isotope dilution assay using (2H3)benzene as the internal standard was developed and solid phase microextraction (SPME) was used for volatile isolation followed by GC × GC–TOFMS analysis. Care was taken to avoid any exposure to light and to use materials during work-up, which were free of benzene contamination. The method, applied on 22 liquid foods with added flavour showed that benzene did not exceed a concentration of 1 µg/L in any sample (i.e. the limit established for drinking water). Furthermore, flavourings containing benzaldehyde and the corresponding raw material were analysed. The major source of benzene in flavourings turned out to be benzaldehyde itself. First insights into parameters supporting the formation pathway of benzene from benzaldehyde were obtained indicating that the presence of light and either acidic or alkaline conditions favoured benzene formation.
Access options
Buy single article
Instant access to the full article PDF.
US$ 39.95
Tax calculation will be finalised during checkout.
Subscribe to journal
Immediate online access to all issues from 2019. Subscription will auto renew annually.
US$ 119
Tax calculation will be finalised during checkout.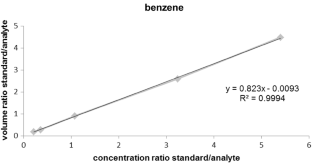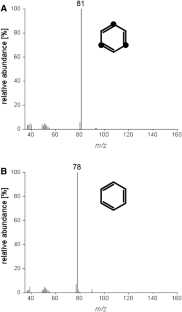 References
1.

Stiftung Warentest (05/2013) Wasser mit Geschmack: Krebserzeugendes Benzol gefunden

2.

Stiftung Warentest (07/2013) Aromatisierte Getränke mit Kirschgeschmack: Kritisches Kirscharoma

3.

TrinkwV (01/2018) Verordnung über die Qualität von Wasser für den menschlichen Gebrauch

4.

McNeal TP, Nyman PJ, Diachenko GW, Hollifield HC (1993) Survey of benzene in foods by using headspace concentration techniques and capillary gas chromatography. J AOAC Int 76:1213–1219

5.

Loch C, Reusch H, Ruge I, Godelmann R, Pflaum T, Kuballa T, Schumacher S, Lachenmeier DW (2016) Benzaldehyde in cherry flavour as a precursor of benzene formation in beverages. Food Chem 206:74–77

6.

Amtliche Sammlung § 64 LFGB: L 00.00–24 Bestimmung von Benzol, Toluol und Xylol-lsomeren in Lebensmitteln

7.

Vinci RM, Canfyn M, Meulenaer BD, de Schaetzen T, Overmeire IV, Beer JD, Loco JV (2010) Determination of benzene in different food matrices by distillation and isotope dilution HS-GC/MS. Anal Chim Acta 672:124–129

8.

Nyman PJ, Limm W, Begley TH, Chirtel SJ (2014) Single-laboratory validation of a method for the determination of select volatile organic compounds in foods by using vacuum distillation with gas chromatography/mass spectrometry. J AOAC Int 97:510–520

9.

Siebers J, Besinger-Riedel A, Vinke C (2014) Determination of active substances, co-formulants and impurities in plant protection products using high performance liquid chromatography and gas chromatography. J Verbraucherschutz Lebensmittelsicherh 9:137–144

10.

Anumolu PD, Krishna VL, Rajesh CH, Alekya V, Priyanka B, Sunitha G (2016) Gas chromatographic assessment of residual solvents present in excipient-benzyl alcohol. J Chromatogr Sep Tech 7:321

11.

Becalski A, Nyman P (2009) In: Stadler RH, Lineback DR (eds) Process-induced food toxicants: occurrence, formation, mitigation, and health risks, 1st edn. Wiley, Hoboken

12.

Lachenmeier DW, Reusch H, Sproll C, Schoeberl K, Kuballa T (2008) Occurence of benzene as heat-induced contaminant of carrot juice for babies in a general survey of beverages. Food Addit Contam 25:1216–1224

13.

Orazbayeva D, Kenessov B, Koziel JA, Nassyrova D, Lyabukhova NV (2017) Quantification of BTEX in soil by headspace SPME-GC-MS using combined standard addition and internal standard calibration. Chromatographia 80:1249–1256

14.

Aprea E, Biasioli F, Carlin S, Märk TD, Gasperi F (2008) Monitoring benzene formation from benzoate in model systems by proton transfer reaction-mass spectrometry. Int J Mass Spectrom 275:117–121

15.

Monakhova YB, Mushtakova SP (2017) Multicomponent quantitative spectroscopic analysis without reference substances based on ICA modelling. Anal Bioanal Chem 409:3319–3327

16.

Engel W, Bahr W, Schieberle P (1999) Solvent assisted flavour evaporation - a new and versatile technique for the careful and direct isolation of aroma compounds from complex food matrices. Eur Food Res Technol 209:237–241

17.

Likens ST, Nickerson GB (1964) Detection of certain hop oil constituents in brewing products. Proc Am Soc Brew Chem 5:5–13

18.

van Poucke C, Detavernier C, van Bocxlaer JF, Vermeylen R, van Peteghem C (2008) Monitoring the benzene contents in soft drinks using headspace gas chromatography-mass spectrometry: a survey of the situation on the Belgian market. J Agric Food Chem 56:4504–4510

19.

Arisseto AP, Vicente E, Furlani RPZ, Pereira ALD, Toledo MCF (2013) Development of a headspace-solid phase microextraction-gas chromatography/mass spectrometry (HS-SPME-GC/MS) method for the determination of benzene in soft drinks. Food Anal Methods 6:1379–1387

20.

Nyman PJ, Diachenko GW, Perfetti GA, McNeal TP, Hiatt MH, Morehouse KM (2008) Survey results of benzene in soft drinks and other beverages by headspace gas chromatography/mass spectrometry. J Agric Food Chem 56:571–576

21.

Cao X-L, Casey V, Seaman S, Tague B, Becalski A (2007) Determination of benzene in soft drinks and other beverages by isotope dilution headspace gas chromatography/mass spectrometry. J AOAC Int 90:479–484

22.

Cao X-L, Casey V (2008) Improved method for the determination of benzene in soft drinks at sub-ppb levels. Food Addit Contam 25:401–405

23.

Fleming-Jones MA, Smith RE (2003) Volatile organic compounds in foods: a five year study. J Agric Food Chem 51:8120–8127
Acknowledgements
The authors thank L. Romanski, I. Otte, and S. Kaviani-Nejad for excellent technical assistance.
Funding
This research project was supported by the German Ministry of Economics and Energy (via AiF) and the FEI (Forschungskreis der Ernährungsindustrie e.V., Bonn). Project AiF 18813 N.
Ethics declarations
Conflict of interest
The authors declare that they have no conflict of interest.
Compliance with ethics requirements
This article does not contain any studies with human or animal subjects.
Additional information
Publisher's Note
Springer Nature remains neutral with regard to jurisdictional claims in published maps and institutional affiliations.
About this article
Cite this article
Frank, S., Hofmann, T. & Schieberle, P. Quantitation of benzene in flavourings and liquid foods containing added cherry-type flavour by a careful work-up procedure followed by a stable isotope dilution assay. Eur Food Res Technol 245, 1605–1610 (2019). https://doi.org/10.1007/s00217-019-03267-3
Received:

Revised:

Accepted:

Published:

Issue Date:
Keywords
Benzene quantitation

Stable isotope dilution assay

Solid phase microextraction

Liquid flavoured food

Flavouring

Light exposure