Abstract
Genetic identification of varieties of grapevines in finished wines is still debated: several papers showed that DNA is extracted and analysed by PCR rather easily from the must, but few barely reproducible results have been presented for DNA extracted in wines after fermentation. This work experimented a method based on CTAB followed by silica purification with NucleoSpin Plant Kit columns to extract DNA from experimental wines of 1 year and commercial wines of 1 or 2 years. The comparison of SSR profiles of wines with those of their grapevine varieties showed that total identity was equal to 47.41% in experimental wines and to 24.31% in commercial wines. In experimental wines, three PCR replicates of three independent DNA preparations are sufficient to capture the alleles of the original grapevine variety, while in the commercial ones this possibility is related to the kind of wine and microsatellite.
This is a preview of subscription content, log in to check access.
Access options
Buy single article
Instant access to the full article PDF.
US$ 39.95
Price includes VAT for USA
Subscribe to journal
Immediate online access to all issues from 2019. Subscription will auto renew annually.
US$ 199
This is the net price. Taxes to be calculated in checkout.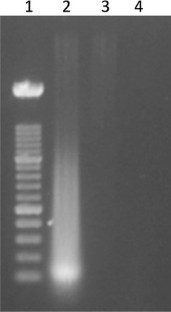 References
1.

Le Bourse D, Jégou S, Conreux A, Villaume S, Jeandet P (2010) Review of preparative and analytical procedures for the study of proteins in grape juice and wine. Anal Chem Acta 667:33–42. https://doi.org/10.1016/j.aca.2010.03.062

2.

Mirnaghi FS, Mousavi F, Rocha AM, Pawliszyn J (2013) Automated determination of phenolic compounds in wine, berry, and grape samples using 96-blade solid phase microextraction system coupled with liquid chromatography–tandem mass spectrometry. J Chromatogr A 1276:12–19. https://doi.org/10.1016/j.chroma.2012.12.043

3.

Lehtonen P (1996) Determination of amines and amino acids in wine—a review. Am J Enol Vitic 47:127–133

4.

Hernández-Orte P, Cacho JF, Ferreira V (2002) Relationship between varietal amino acid profile of grapes and wine aromatic composition. Experiments with model solutions and chemometric study. J Agric Food Chem 50:2891–2899. https://doi.org/10.1021/jf011395o

5.

Raco B, Dotsika E, Poutoukis D, Battaglini R, Chantzi P (2015) O–H–C isotope ratio determination in wine in order to be used as a fingerprint of its regional origin. Food Chem 168:588–594. https://doi.org/10.1016/j.foodchem.2014.07.043.

6.

Vinciguerra V, Stevenson R, Pedneault K, Poirier A, Hélie JF, Widory D (2015) Strontium isotope characterization of wines from the Quebec (Canada) terroir. Proc Earth Planet Sci 13:252–255. https://doi.org/10.1016/j.proeps.2015.07.059

7.

Martín JP, Borrego J, Cabello F, Ortiz JM (2003) Characterization of Spanish grapevine cultivar diversity using sequence-tagged microsatellite site markers. Genome 46:10–18. https://doi.org/10.1139/g02-098

8.

Maul E, Töpfer R, Carka F, Cornea V, Crespan M, Dallakyan M, de Andrés Domínguez T, de Lorenzis G, Dejeu L, Goryslavets S, Grando S, Hovannisyan N, Hudcovicova M, Hvarleva T, Ibáñez J, Kiss E, Kocsis L, Lacombe T, Laucou V, Maghradze D, Maletić E, Melyan G, Mihaljević MZ, Muñoz-Organero G, Musayev M, Nebish A, Popescu CF, Regner F, Risovanna V, Ruisa S, Salimov V, Savin G, Schneider A, Stajner N, Ujmajuridze L, Failla O (2015) Identification and characterization of grapevine genetic resources maintained in Eastern European Collections. Vitis 54:5–12

9.

Faria MA, Magalhães R, Ferreira MA, Meredith CP, Monteiro FF (2000) Vitis vinifera must varietal authentication using microsatellite DNA analysis (SSR). J Agric Food Chem 48:1096–1100

10.

Siret R, Boursiquot JM, Merle MH, Cabanis JC, This P (2000) Toward the authentication of varietal wines by the analysis of grape (Vitis vinifera L.) residual DNA in must and wine using microsatellite markers. J Agric Food Chem 48:5035–5040

11.

Siret R, Gigaud O, Rosec JP, This P (2002) Analysis of grape Vitis vinifera L. DNA in must mixtures and experimental mixed wines using microsatellite markers. J Agric Food Chem 50:3822–3827

12.

García-Beneytez E, Moreno-Arribas MV, Borrego J, Polo MC, Ibáñez J (2002) Application of a DNA analysis method for the cultivar identification of grape musts and experimental and commercial wines of Vitis vinifera L. using microsatellite markers. J Agric Food Chem 50:6090–6096

13.

Baleiras-Couto MM, Eiras-Dias E (2006) Detection and identification of grape varieties in must and wine using nuclear and chloroplast microsatellite markers. Anal Chem Acta 563:283–291. https://doi.org/10.1016/j.aca.2005.09.076

14.

Savazzini F, Martinelli L (2006) DNA analysis in wines. Development of methods for enhanced extraction and real-time polymerase chain reaction quantification. Anal Chem Acta 563:274–282. https://doi.org/10.1016/j.aca.2005.10.078

15.

Spaniolas S, Tsachaki M, Bennett MJ, Tucker GA (2008) Toward the authentication of wines of nemea denomination of origin through cleaved amplified polymorphic sequence (CAPS)-based assay. J Agric Food Chem 56:7667–7671. https://doi.org/10.1021/jf801036f

16.

Boccacci P, Akkak A, Torello Marinoni D, Gerbi V, Schneider A (2012) Genetic traceability of Asti Spumante and Moscato d'Asti musts and wines using nuclear and chloroplast microsatellite markers. Eur Food Res Technol 235:439–446. https://doi.org/10.1007/s00217-012-1770-3

17.

Pereira L, Martins-Lopes P, Batista C, Zanol GC, Clímaco P, Brazão J, Eiras-Dias JE, Guedes-Pinto H (2012) Molecular markers for assessing must varietal origin. Food Anal Methods 5:1252–1259. https://doi.org/10.1007/s12161-012-9369-7

18.

Recupero M, Garino C, De Paolis A, Cereti E, Coïsson JD, Travaglia F, Arlorio M (2013) A method to check and discover adulteration of nebbiolo-based monovarietal musts: detection of Barbera and Dolcetto cv via SSR analysis coupled with Lab-On-Chip® microcapillary electrophoresis. Food Anal Methods 6: 952–962. https://doi.org/10.1007/s12161-012-9506-3

19.

di Rienzo V, Miazzi MM, Fanelli V, Savino V, Pollastro S, Colucci F, Miccolupo A, Blanco A, Pasqualone A, Montemurro C (2015) An enhanced analytical procedure to discover table grape DNA adulteration in industrial musts. Food Control 60: 124–130. https://doi.org/10.1016/j.foodcont.2015.07.015

20.

Catalano V, Moreno-Sanz P, Lorenzi S, Grando MS (2016) Experimental review of DNA-based methods for wine traceability and development of a single-nucleotide polymorphism (SNP) genotyping assay for quantitative varietal authentication. J Agric Food Chem 64:6969–6984. https://doi.org/10.1021/acs.jafc.6b02560

21.

Nakamura S, Haraguchi K, Mitani N, Ohtsubo K (2007) Novel preparation method of template DNAs from wine for PCR to differentiate grape (Vitis vinifera L.) cultivar. J Agric Food Chem 55:10388–10395. https://doi.org/10.1021/jf072407u

22.

Hârta MH, Pamfil D, Pop R, Vicaş S (2011) DNA fingerprinting used for testing some Romanian wine varieties. Bull Univ Agric Sci Vet Med Cluj-Napoca Hortic 68:143–148

23.

Pereira L, Guedes-Pinto H, Martins-Lopes P (2011) An enhanced method for Vitis vinifera L. DNA extraction from wines. Am J Enol Vitic 62:547–552. https://doi.org/10.5344/ajev.2011.10022

24.

Bigliazzi J, Scali M, Paolucci E, Cresti M, Vignani R (2012) DNA extracted with optimized protocols can be genotyped to reconstruct the varietal composition of monovarietal wines. Am J Enol Vitic 63:568–573. https://doi.org/10.5344/ajev.2012.12014

25.

Scali M, Paolucci E, Bigliazzi J, Cresti M, Rita V (2014) Vineyards genetic monitoring and Vernaccia di San Gimignano wine molecular fingerprinting. Adv Biosci Biotechnol 5:142–154. https://doi.org/10.4236/abb.2014.52018

26.

Lodhi MA, Guang-Ning Y, Weeden NF, Reisch BI (1994) A simple and efficient method for DNA extraction from grapevine cultivars, Vitis species and Ampelopsis. Plant Mol Biol Rep 12:6–13. https://doi.org/10.1007/BF02668658

27.

Thomas MR, Matsumoto S, Cain P, Scott NS (1993) Repetitive DNA of grapevine: classes present and sequences suitable for cultivar identification. Theor Appl Genet 86:173–180. https://doi.org/10.1007/BF00222076

28.

Bowers JE, Dangl GS, Meredith CP (1999) Development and characterization of additional microsatellite DNA markers for grape. Am J Enol Vitic 50:243–246

29.

Sefc KM, Regner F, Turetschek E, Glössl J, Steinkellner H (1999) Identification of microsatellite sequences in Vitis riparia and their applicability for genotyping of different Vitis species. Genome 42:367–373

30.

Weising K, Winter P, Huttel B, Kahl G (1998) Microsatellite markers for molecular breeding. J Crop Prod 1:113–143. https://doi.org/10.1300/J144v01n01_06

31.

Arroyo-García R, Lefort F, de Andrés MT, Ibáñaez J, Borrego J, Jouve N, Cabello F, Martínez-Zapater JM (2002) Chloroplast microsatellite polymorphisms in Vitis species. Genome 45:1142–1149

32.

Hunter PR (1990) Reproducibility and indices of discriminatory power of microbial typing methods. J Clin Microbiol 28:1903–1905

33.

Schmerer WM, Hummel S, Herrmann B (2000) STR-genotyping of archaeological human bone: experimental design to improve reproducibility by optimisation of DNA extraction. Anthropol Anz 58:29–35

34.

Miller CR, Joyce P, Waits LP (2002) Assessing allelic dropout and genotype reliability using maximum likelihood. Genetics 160:357–366

35.

Taberlet P, Griffin S, Goossens B, Questiau S, Manceau V, Escaravage N, Waits LP, Bouvet J (1996) Reliable genotyping of samples with very low DNA quantities using PCR. Nucleic Acids Res 24:3189–3194

36.

Japelaghi RH, Haddad R, Garoosi GA (2011) Rapid and efficient isolation of high quality nucleic acids from plant tissues rich in polyphenols and polysaccharides. Mol Biotechnol 49:129–137. https://doi.org/10.1007/s12033-011-9384-8

37.

Vietina M, Agrimonti C, Marmiroli N (2013) Detection of plant oil DNA using high resolution melting (HRM) post PCR analysis: a tool for disclosure of olive oil adulteration. Food Chem 141:3820–3826. https://doi.org/10.1016/j.foodchem.2013.06.075

38.

Butler JM, Shen Y, McCord BR (2003) The development of reduced size STR amplicons as tools for analysis of degraded DNA. J Forensic Sci 48:1054–1064

39.

Ellegren H (2004) Microsatellites: simple sequences with complex evolution. Nat Rev Genet 25: 435–445 https://doi.org/10.1038/nrg1348

40.

Salmaso M, Dalla Valle R, Lucchin M (2008) Gene pool variation and phylogenetic relationship of an indigenous northeast Italian grapevine collection revealed by nuclear and chloroplast SSRs. Genome 51:838–855. https://doi.org/10.1139/G08-064
Acknowledgements
Authors acknowledge the contribution of the projects FOODINTEGRITY (Grant agreement no. 613688) funded by the European Union's Seventh Framework Programme for research, technological development and INTENSE-FACCE SURPLUS (Grant agreement no. 652615) funded by European Union's Horizon 2020 research and innovation programme. Authors are also grateful to University of Parma for technical infrastructures and to "Regione Emilia-Romagna" (Technopole SITEIA-Parma). The authors are also thankful to the University of Parma for providing physical infrastructures in which this work has been performed.
Ethics declarations
Conflict of interest
There are no conflicts to declare.
Compliance with ethics requirements
In this study no animal or human subjects were employed.
About this article
Cite this article
Agrimonti, C., Marmiroli, N. PCR analysis of experimental and commercial wines by means of nuclear and chloroplast SSRs. Eur Food Res Technol 244, 2127–2140 (2018). https://doi.org/10.1007/s00217-018-3121-5
Received:

Revised:

Accepted:

Published:

Issue Date:
Keywords
Wine traceability

DNA extraction

Microsatellites

PCR