Abstract
Facing the worldwide increasing demand for edible oil and protein and their production deficit in many developing countries, we investigated the nutritional value of chuta (edible Jatropha curcas L.). Chuta is a perennial tropical and subtropical plant that survives in unfavorable environments. Lower inputs are required for chuta cultivation than for other crops. The oil- and protein-rich kernels can be exploited as a snack, as an ingredient for foodstuffs, or for production of edible oil and protein. We analyzed seed and kernel characteristics, the fatty and amino acid profiles, vitamin and vitamer contents, and the levels of minerals in kernels of 40 chuta genotypes and compared mean values to crops commonly used as oil and protein sources. Our results showed that chuta oil and protein have high nutritional value for humans. We concluded that chuta products can compete with products of other crops such as soybean and peanut. Chuta products can complement the diets of vegetarians and vegans, professional athletes or persons who have to restrict their consumption of carbohydrates for medical reasons. Further, chuta can be cultivated in rural areas of developing countries, where protein sources might be scarce. Oil content in kernels and other parameters investigated here can be influenced by environmental factors during plant growth and factors of the processing chain. Considering the excellent nutritional value and promising breeding opportunities to improve important parameters, we expect an expansion of the cultivation area of this underutilized crop in the near future for production of edible oil and protein.
Access options
Buy single article
Instant access to the full article PDF.
US$ 39.95
Tax calculation will be finalised during checkout.
Subscribe to journal
Immediate online access to all issues from 2019. Subscription will auto renew annually.
US$ 119
Tax calculation will be finalised during checkout.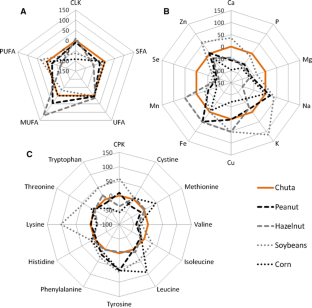 References
1.

FAO (2015) FAOSTAT online database. Trade of crops and livestock products. http://faostat3.fao.org/browse/T/TP/E. 11 Nov 2015

2.

Nepstad D, McGrath D, Stickler C, Alencar A, Azevedo A, Swette B, Bezerra T, DiGiano M, Shimada J, Seroa da Motta R, Armijo E, Castello L, Brando P, Hansen MC, McGrath-Horn M, Carvalho O, Hess L (2014) Slowing Amazon deforestation through public policy and interventions in beef and soy supply chains. Science 344(6188):1118–1123

3.

Koh LP, Ghazoul J, Butler RA, Laurance WF, Sodhi NS, Mateo-Vega J, Bradshaw CJ (2010) Wash and spin cycle threats to tropical biodiversity. Biotropica 42(1):67–71

4.

West AP, Brown WH (1920) Philippine resins, gums, seed oils, and essential oils. Bureau of Printing, Manila

5.

Serra M (1950) O valor da purgueira na economia de Cabo Verde. Rev Ultramar 18:9-16 Cited in: Heller J (1996) Physic nut. Jatropha curcas L. Promoting the conservation and use of underutilized and neglected crops. Institute of Plant Genetics and Crop Plant Research, Gatersleben/International Plant Genetic Resources Institute, Rome

6.

Wilbur RL (1954) A synopsis of Jatropha, subsection Eucurcas, with the description of two new species from Mexico. J Elisha Mitchell Sci Soc 70:92–101

7.

Heller J (1996) Physic nut. Jatropha curcas L. Promoting the conservation and use of underutilized and neglected crops. 1. Institute of Plant Genetics and Crop Plant Research, Gatersleben/International Plant Genetic Resources Institute, Rome

8.

Becker K, Wulfmeyer V, Berger T, Gebel J, Münch W (2013) Carbon farming in hot, dry coastal areas: an option for climate change mitigation. Earth Syst Dyn 4:237–251

9.

Gübitz GM, Mittelbach M, Trabi M (1999) Exploitation of the tropical oil seed plant Jatropha curcas L. Bioresour Technol 67:73–82

10.

Jiofack T, Fokunang C, Guedje N, Kemeuze V, Fongzossie E, Nkongmeneck BA, Mapongmetsem PK, Tsabang N (2010) Ethnobotanical uses of medicinal plants of two ethnoecological regions of Cameroon. Int J Med Med Sci 2(3):60–79

11.

Yongabi KA, Lewis DM, Harris PL (2011) Application of phytodisinfectants in water purification in rural Cameroon. Afr J Microbiol Res 5(6):628–635

12.

Makkar HPS, Aderibigbe AO, Becker K (1998) Comparative evaluation of non-toxic and toxic varieties of Jatropha curcas for chemical composition, digestibility, protein degradability and toxic factors. Food Chem 62(2):207–215

13.

Devappa RK, Makkar HPS, Becker K (2010) Optimization of conditions for the extraction of phorbol esters from Jatropha oil. Biomass Bioenergy 34(8):1125–1133

14.

Montes JM, Technow F, Bohlinger B, Becker K (2013) Grain quality determination by means of near infrared spectroscopy in Jatropha curcas L. Ind Crops Prod 43:301–305

15.

Cano-Asseleih LM (1992) El piñoncillo (Jatropha curcas L.) una especie oleaginosa con potencial de uso agroindustrial. La Ciencia y el Hombre (Univ Veracruz) 10:131–138

16.

Montes JM, Technow F, Martin M, Becker K (2014) Genetic diversity in Jatropha curcas L. assessed with SSR and SNP markers. Diversity 6(3):551–566

17.

Sánchez-Sánchez O (2009) In: Cuéllar-Martínez M (ed) La Xuta se come. Universidad Veracruzana, Xalapa

18.

Valdes-Rodríguez OA, Sánchez-Sánchez O, Pérez-Vazquez A, Caplan J (2013) The Mexican non-toxic Jatropha curcas L., food resource or biofuel? Ethnobot Res Appl 11:001–007

19.

Cuéllar-Martínez M (2009) In: Cuéllar-Martínez M (ed) La Xuta se come. Universidad Veracruzana, Xalapa

20.

Martínez-Herrera J, Martínez-Ayala AL, Makkar HPS, Francis G, Becker K (2010) Agroclimatic conditions, chemical and nutritional characterization of different provenances of Jatropha curcas L. from Mexico. Eur J Sci Res 39(3):396–407

21.

Verkerk R, Schreiner M, Krumbein A, Ciska E, Holst B, Rowland I, de Schrijver R, Hansen M, Gerhäuser C, Mithen R, Dekker M (2009) Glucosinolates in Brassica vegetables: the influence of the food supply chain on intake, bioavailability and human health. Mol Nutr Food Res 53:219–265

22.

Makkar HPS, Kumar V, Oyeleye OO, Akinleye AO, Angulo-Escalante MA, Becker K (2011) Jatropha platyphylla, a new non-toxic Jatropha species: physical properties and chemical constituents including toxic and antinutritional factors of seeds. Food Chem 125:63–71

23.

Makkar HPS, Kumar V, Becker K (2012) In: Makkar HPS (ed) Biofuel co-products as livestock feed. Food and Agriculture Organization of the United Nation (FAO), Rome

24.

Akowuah JO, Addo A, Kemausuor F (2012) Influence of storage duration of Jatropha curcas seed on oil yield and free fatty acid content. ARPN J Agric Biol Sci 7(1):41–45

25.

Tasan M, Gecgel U, Demirci M (2011) Effects of storage and industrial oilseed extraction methods on the quality and stability characteristics of crude sunflower oil (Helianthus annuus L.). Grasas Aceites 62(4):389–398

26.

Millward DJ, Layman DK, Tomé D, Schaafsma G (2008) Protein quality assessment: impact of expanding understanding of protein and amino acid needs for optimal health. Am J Clin Nutr 87(5):1576–1581

27.

van Boekel M, Fogliano V, Pellegrini N, Stanton C, Scholz G, Lallje S, Somoza V, Knorr D, Jasti PR, Eisenbrand G (2010) A review on the beneficial aspects of food processing. Mol Nutr Food Res 54:1215–1247

28.

Montes JM, Bulach A, Martin M, Senger E (2015) Quantitative trait variation in self- and cross-fertilized seeds of Jatropha curcas L.: parental effects of genotypes and genetic pools. Bioenergy Res 8(3):1197–1202

29.

Craft NE, Wise S (1992) Optimization of an isocratic high-performance liquid chromatographic separation of carotinoids. J Chromatogr 589:171–176

30.

USDA (2015) National nutrient database for standard reference, release 28. http://ndb.nal.usda.gov/ndb/search. 11 Nov 2015

31.

Colin-Ramirez E, Castillo-Martinez L, Orea-Tejeda A, Zheng Y, Westerhout CM, Ezekowitz JA (2014) Dietary fatty acids intake and mortality in patients with heart failure. Nutrition 30(11):1366–1371

32.

Virtanen JK, Mursu J, Tuomainen TP, Voutilainen S (2014) Dietary fatty acids and risk of coronary heart disease in men; the Kuopio Ischemic Heart Disease Risk Factor Study. Arterioscler Thromb Vasc Biol 34(12):2679–2687

33.

FAO (2010) Fats and fatty acids in human nutrition. Report of an expert consultation. FAO Food Nutr Pap 91

34.

Sacks FM, Svetkey LP, Vollmer WM, Appel LJ, Bray GA, Harsha D, Obarzanek E, Conlin PR, Miller ER, Simons-Morton DG, Karanja N, Lin PH (2001) Effects on blood pressure of reduced dietary sodium and the dietary approaches to stop hypertension (DASH) diet. N Engl J Med 344(1):3–10

35.

FAO, WHO (2011) Working document for information and use in discussions related to contaminants and toxins in the GSCTFF. Joint FAO/WHO Food Standards Programme Codex Committee on Contaminants in Foods, 5th session

36.

Martin M, Montes JM (2014) Quantitative genetic parameters of agronomic and quality traits in a global germplasm collection reveal excellent breeding perspectives for Jatropha curcas L. GCB Bioenergy 7(6):1335–1343
Acknowledgements
We are deeply grateful to the technical team in Madagascar and Paraguay and Prof. Dr. med. Hans Konrad Biesalski (head of the Institute of Biological Chemistry and Nutritional Science of the University of Hohenheim) for their collaboration. Further, we appreciate the expert advice of Prof. Dr. med. Stephan Bischoff (managing director of the Institute of Clinical Nutrition of the University of Hohenheim).
Ethics declarations
Conflict of interest
The authors declare that they have no conflict of interest.
Compliance with ethical requirements
This article does not contain any studies with human or animal subjects.
Electronic supplementary material
Below is the link to the electronic supplementary material.
About this article
Cite this article
Senger, E., Bohlinger, B., Esgaib, S. et al. Chuta (edible Jatropha curcas L.), the newcomer among underutilized crops: a rich source of vegetable oil and protein for human consumption. Eur Food Res Technol 243, 987–997 (2017). https://doi.org/10.1007/s00217-016-2814-x
Received:

Revised:

Accepted:

Published:

Issue Date:
Keywords
Chuta

Edible Jatropha curcas

Nutritional value

Edible oil

Vegetable protein

Chuta processing