Abstract
Água-mel (honey–water) is a typical honey-based product produced by the Portuguese beekeepers, particularly in southern Portugal. Água-mel was characterized by mineral content and volatiles contents. Mineral content evaluation was performed based on a random sampling of 14 samples from a total of 16 samples provided by local producers. Mineral content showed that potassium predominated in água-mel samples (1270–4105 mg/kg). The concentration of aluminium in one sample was tenfold higher (5.8 mg/kg) than in the remaining samples (0.3–0.6 mg/kg). Água-mel volatiles were isolated by hydrodistillation and analysed by gas chromatography (GC) and gas chromatography–mass spectrometry (GC–MS) from a subset of eight samples. Cluster analysis showed two poorly correlated clusters (S corr < 0.3). Cluster I only sample was dominated by trans-β-ocimene (19 %), γ-terpinene (15 %) and 2-furfural (9 %). Cluster II that included the remaining seven samples showed two moderately correlated subclusters (S corr < 0.5). The six samples with high correlation from subcluster IIa were dominated by 2-furfural (18–41 %) and benzene acetaldehyde (12–39 %). n-Nonadecane (14 %), n-heneicosane and 2-furfural (both 13 %) were the main components of subcluster IIb sample. Although the presence of some volatile compounds can help in the correlation between água-mel and honey botanical source, the final product varies largely according to the preparation process even for the same producer, in different years. Água-mel detailed characterization may assist in bringing added value to this typical Portuguese honey-based product.
This is a preview of subscription content, log in to check access.
Access options
Buy single article
Instant access to the full article PDF.
US$ 39.95
Price includes VAT for USA
Subscribe to journal
Immediate online access to all issues from 2019. Subscription will auto renew annually.
US$ 199
This is the net price. Taxes to be calculated in checkout.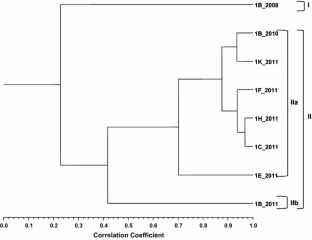 Abbreviations
GC:

Gas chromatography

GC–MS:

Gas chromatography–mass spectrometry
References
1.

Spano N, Ciulu M, Floris I, Panzanelli A, Pilo MI, Piu PC, Scanu R, Sanna G (2008) Food Chem 108(1):81–85

2.

Jerković I, Kasum A, Marijanović Z, Tuberoso CIG (2011) Food Chem 124(1):401–410

3.

Tornuka F, Karaman S, Ozturk I, Toker OS, Tastemur B, Sagdic O, Dogan M, Kayacier A (2013) Ind Crops Prod 46(1):124–131

4.

Čanadanović-Brunet J, Ćetković G, Šaponjac VT, Stajčić S, Vulić J, Djilas S, Štajnerb D, Popović B (2014) Ind Crops Prod 62(1):1–7

5.

Figueira AC, Cavaco T (2012) J Food Process Preserv 36(4):285–290

6.

Miguel MG, Antunes MD, Aazza S, Duarte J, Faleiro ML (2013) Ital J Food Sci 25:275–282

7.

Miguel MG, Faleiro L, Antunes MD, Aazza S, Duarte J, Silvério AR (2013) Food Chem Toxicol 56(1):136–144

8.

Council of Europe (COE) European Directorate for the Quality of Medicines (2007) European Pharmacopoeia 6th edn. Strasbourg, France

9.

Figueiredo AC, Garcia C, Sim-Sim M, Sérgio C, Pedro LG, Barroso JG (2010) Flavour Fragr J 25(4):219–222

10.

Rohlf JF NTSYS-pc (2000) Numerical Taxonomy and Multivariate Analysis System. Applied Biostatistics, Port Jefferson, New York

11.

Pestana MH, Gageiro JN (2000) Análise de dados para ciências sociais. A complementaridade do SPSS. Edições Sílabo, Lisboa

12.

Rodriguez-Otero JL, Paseiro P, Simal J, Cepeda A (1994) Food Chem 49(1):169–171

13.

Downey G, Hussey K, Kelly JD, Walshe TF, Martin PG (2005) Food Chem 91(2):347–354

14.

Silva LR, Videira R, Monteiro AP, Valentão P, Andrade PB (2009) Microchem J 93(1):73–77

15.

González-Miret ML, Terrab A, Hernanz D, Fernández-Recamales MA, Heredia FJ (2005) J Agric Food Chem 53:2574–2580

16.

Nozal Nalda MJ, Yague JLB, Calva JCD, Gomez MTM (2005) Anal Bioanal Chem 382(2):311–319

17.

Pérez RA, Sánchez-Brunete C, Calvo RM, Tadeo JL (2002) J Agric Food Chem 50(9):2633–2637

18.

Baroni MV, Nores ML, Díaz MDP, Chiabrando GA, Fassano JP, Costa C, Wunderlin DA (2006) J Agric Food Chem 54(19):7235–7241

19.

Manyi-Loh CE, Ndip RN, Clarke AM (2011) Int J Mol Sci 12(2):9514–9532

20.

Wolski T, Tambor K, Rybak-Chmielewska H, Kedzia B (2006) J Apic Sci 50(2):115–126

21.

Salgueiro LR, Vila R, Tomi F, Figueiredo AC, Barroso JG, Cañigueral S, Casanova J, da Proença AP, Adzet T (1997) Phytochemistry 45(2):307–311

22.

Cavaleiro C, Salgueiro L, Barroso JG, Figueiredo AC, Pedro LG, Fontinha SS, Bighelli A, Casanova J, Looman A, Scheffer JJC (2002) Flavour Fragr J 17(2):111–114

23.

Linstrom PJ, Mallard WG (eds) NIST chemistry webbook, NIST standard reference database number 69, National Institute of Standards and Technology, Gaithersburg MD, 20899, http://webbook.nist.gov. Accessed May 2015

24.

Joulain D, Köning WA (1998) The atlas of spectral data of sesquiterpene hydrocarbons. E.B.-Verlag, Hamburg
Acknowledgments
This study was partially funded by Ministério da Agricultura, Mar, Ambiente e Ordenamento do Território (Portugal) under research contract Programa Apícola Nacional 2011–2013, Medida 6A, and by Fundação para a Ciência e a Tecnologia (FCT), under Pest–OE/EQB/LA0023/2011 and UID/AMB/50017/2013.
Ethics declarations
Conflict of interest
None.
Compliance with Ethics Requirements
This article does not contain any studies with human or animal subjects.
About this article
Cite this article
Miguel, M.G., Aazza, S., Antunes, M.D. et al. Mineral and volatile composition of água-mel from Portugal. Eur Food Res Technol 242, 171–178 (2016). https://doi.org/10.1007/s00217-015-2528-5
Received:

Revised:

Accepted:

Published:

Issue Date:
Keywords
Portugal

Água-mel

Honey

Mineral composition

Volatiles